New Jersey Haunted Houses for Halloween 2018
Find 2018 Halloween haunted houses in New Jersey at Funtober.  We list all the haunted houses, haunted trails, haunted corn mazes and Halloween fun in our directory.  NJ is the ultimate bedroom community. So you know the Jersey shore in 2018 is likely to be hiding ghosts, vampires, and zombies in the haunted houses in New Jersey.
Also check out our list of the Top 100 Haunted Houses 2017 in America.  Is your favorite haunted attraction on the top 10 and top 100 state list?
Newark Haunted HousesTrenton Haunted Houses
Last Major Update:
Haunted House Owner? Advertise Here.
Do you run a haunted house in the United States? More than 500,000 people came to Funtober last year looking for a haunted attraction to attend.  Please see our advertising page or contact us for more information.
Bane Haunted House - Livingston, NJ
Opens this year on September 21st.  Bane advertises "Bringing Nightmares to Life". It is open every Friday, Saturday and Sunday in September and most Wednesday through Sunday nights in October.  Doors open at 7 pm. There is free parking. They play on every one of your fears; claustrophobic, separation anxiety, clowns, and more. This year Bane is even more interactive than ever with a brand new entrance and a terrifying exit! Get ready for the scare of your life!  Bane has over 28000 Facebook likes.
Bloodshed Farms Fear Fest - Columbus, NJ
Attraction opens on October 5th.  Open every Friday and Saturday night and most Sunday's in October. They have individual attraction tickets or a combo ticket for $30.  Check web page for ticket and discount options.  The combo gets you into 4 attractions.  See the Trail of Terror, Hellsgate, Last Ride, and Clown Phobia.
Brighton Asylum - Passaic, NJ
Expecting a great season beginning September 21st.  The asylum is an interactive indoor haunted house with actors, Hollywood quality sets, special effects and much more in their 13,000 square foot scare attraction. It is a warehouse located in an industrial complex. It has both basic and combo tickets available. It opens at 8:00 pm. Note this place has more events that run throughout the year. Check out their package for monthly activities. Open Friday and Saturday nights in September.  Open most Thursday, Friday, Saturday, and Sunday nights in October.  They also host full contact, blackout, and zombie hunt nights.  Brighton Asylum has over 32000 Facebook likes.
Casola Farms Haunted Attractions - Marlboro, NJ
The Haunted Hayride of Terror operates 4 attractions plus a Halloween gift store and food concession.  It runs from 7 pm to 11 pm or 10 pm on Sundays. It is open every Friday, Saturday and Sunday nights beginning September 28th through October.  You can enter a single attraction, the Haunted Hayride of Terror or all four attractions for a combo ticket. The attractions are The Living Maze, Haunted Wooded Trail, 3D Haunted Barn, and The Hayride of Terror. They also have a separate Zombie Paintball ticket.
Fear in the Forest - Pemberton, NJ
Open October 19th and 20th in 2018.  Fear in the Forest is open from dark until 10 pm.  The attraction has a 15 year history of fright. They have both a trail and haunted hayride.  Tickets are $10 for adults, $5 for kids.  Under 4 is free but why would you ever bring children this young to a fear attraction.
Field of Terror - East Windsor, NJ
Opening night is September 22nd.  Doors open at 7 pm. There are four attractions. You can buy one, two, three or all four. The attractions are Killer Kornfield, Zombie Attack Haunted Hayride, The Unknown Barn, and Dementia 3D Haunted House.  Also they have a zombie paintball wagon hunt.  Open Friday and Saturday in September and all weekend in October plus a few additional dates.
Frighfest at Schaefers Farm - Flemington, NJ
Back again starting on September 28th.  Frightfest is 45 minutes of fright covering 200 acres on Schaefers Farm. As you go through their four attractions you will ride, walk, and run for your life. The attractions are the Hair Raising Hayride, Trails of Terror, Massacre Maize, and The Carnival of Chaos. Frightfest is open every Friday, Saturday, and most Sundays plus additional dates (see web page). It opens at 7 pm and runs until 10 pm on Friday and Saturday or 9 pm on Sunday.
House of Horrors Haunted Asylum - East Brunswick, NJ
Advertised as a "House of Horror" The Haunted Asylum is put on by the Middlesex County 4 H Teen Council. They run Friday and Saturday nights starting in October.  Open from 7 pm to 11 pm. Tickets available for the haunted house or the hayride.
Night of Terror at Creamy Acres - Mullica Hill, NJ
Opens this season on September 21st.  Creamy Acres has put on Night of Terror for the last 20 years. There are six attractions: Slaughter Cave, Zombie Mayhem, 3D Fun House, Ride of Terror, Frozen Tundra, and Cornfield Maze. Tickets are $35 for most dates. Night of Terror runs every Friday and Saturday nights plus a few Thursday nights in October. They also have a separate Haunted Paintball Hayride which requires a separate timed ticket. Check their website for complete details.
Nightmare at Gravity Hill - Jackson, NJ
Opens this season on September 14th.  Check out this amazing walk-through attraction that will change the way you sleep at night. Gravity Hill takes about 45 minutes to explore the 5 acres grounds at the Cicconi Farms. Ticket are $25 for the Walk of Terror or $10 for the Zombie Zone Paintball experience of shooting zombies. The attraction consists of trails, themes, and adventures featuring a ghost town, graveyard, an Egyptian pyramid, jail cell, church, butcher shop, and more. Lots of ghouls, kreepy clowns, zombies and unknown creatures are walking about. Haunt runs every Friday and Saturday night in September and October . Doors open at dusk. Doors close at 11 pm. Added dates include Sundays in October until 9 pm.
Oasis Island of Terror - Robbinsville, NJ
Opening night is September 29th.  Tickets are $30 per person. Experience the walk through Back Woods Bayou. It may startle you and might make you cry as you squeeze through rat tunnels or hog traps just to escape. The Woods Have Eyes attraction features myths that are real. Next comes the Turnpike Apocalypse where the walking dead began. During the daytime they feature pumpkin picking, fall sand art, a decorated fun zone, fossil adventure and plenty of concession foods. Door for food opens at 5:30 pm, tickets at 6:30 pm, and the haunt starts at 7:00 pm. Haunt opens every Friday and Saturday night in October plus some additional dates.
State By State List of Halloween Haunted Houses
More Haunted Houses
If you are located in Southern Jersey, you might be better off crossing the state lines for a haunted house in Philadelphia. Or find a haunted house in one of these neighboring states.
Haunted Houses in Delaware
Haunted Houses in New York
Haunted Houses in Pennsylvania
Find other fall fun things to do in New Jersey in October:
Oktoberfest in New Jersey
New Jersey Festivals
New Jersey Corn Mazes
New Jersey Ghost Tours
Pumpkin Patches in New Jersey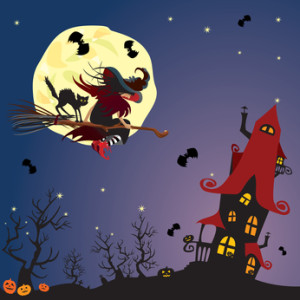 Improve This Page
Have you visited one of these haunted houses? Future readers would be interested in hearing what you thought. Did you have fun? Was it worth the price? Would you recommend it to our readers? Any suggestions to maximize your experience? I'll gladly publish what you send me and give you an over the internet hug.
If you are the owner or employee of a haunted house on this list, or one I missed and need to add, I would love to have more information about the haunted house, photos, dates/times/hours for 2018, etc. Use the contact form to get in touch and I'll tell you where to email your answers to these questions.