Haunted Houses in New Jersey for Halloween 2022
Find 2022 Halloween haunted houses in New Jersey at Funtober. New Hampshire has some of the biggest and best haunted houses anywhere in the country, and this year's list is no exception.  Most are mammoth full entertainment complexes complete with haunts, live entertainment, and carnival type midways. Funtober brings you a complete list of haunted houses, haunted trails, haunted corn mazes, haunted houses near me and other Halloween entertainment. Expect to be scared by Hollywood type design sets, animatronics, live actors, air blasters, and scary makeup. Find haunted houses near you below.
Newark Haunted HousesTrenton Haunted Houses
Last Major Update:
13th Hour - Wharton, NJ
The 13th Hour haunted house opens every Friday, Saturday and Sunday nights beginning in October.  New cleaning and safety measures in place.  They have an interesting story about the family of Haydens.  The people who investigated the interior of the farmhouse—residents, journalists, passers-by, media—spoke of sickening discoveries: utter squalor; human feces; bloodstained floors, walls, and ceiling; battered, rusty cages that might have been used for ghastly experiments; moldy food; dirty threadbare clothes; discolored drug bottles with unreadable labels—a real-life nightmare beyond human comprehension. A horrendous scene, a disturbingly baffling story through and through, permeated that farmhouse.
Bloodshed Farms Fear Fest - Columbus, NJ
Attraction opens in early October.  Open every Friday and Saturday night and most Sunday's in October. They have individual attraction tickets or a combo ticket for $30.  Check web page for ticket and discount options.  The combo gets you into 4 attractions.  See the Trail of Terror, Hellsgate, Last Ride, and Clown Phobia.
Brighton Asylum - Passaic, NJ
Expecting a great season beginning in early October.  The asylum is an interactive indoor haunted house with actors, Hollywood quality sets, special effects and much more in their 13,000 square foot scare attraction. It is a warehouse located in an industrial complex. It has both basic and combo tickets available. It opens at 8:00 pm. Note this place has more events that run throughout the year. Check out their package for monthly activities. Open most Friday, Saturday, and Sunday nights in October.  They also host full contact, blackout, and zombie hunt nights.  Brighton Asylum has over 36000 Facebook likes.  You can choose to wear a special illuminated necklace which will subject you to a full contact extreme haunted experience.
Brookdale Haunted Theater - Lincroft, NJ
Please check with the Performing Arts Center on schedule changes given the virus concerns.  The Haunted Theater is open Friday, Saturday, and Sunday nights the last three weekends in October. Celebrating 16 years of scares, Brookdale Performing Arts Center's Haunted Theater is locally regarded as one of the scariest and most immersive Halloween attractions in Monmouth County, New Jersey.  This indoor, self-guided walk-through haunted house maze – which is designed, built and operated by more than a 100 Brookdale students, staff, faculty, alumni and community members – features themed mazes, pitch black zones, and special effects, all contained within the walls of the Performing Arts Center.  This haunt runs rain or shine, including an indoor queue line.  Experience zombies, witches, sadistic clowns, dangerous inmates, psychotic doctors, and other horrific creatures that inhabit this twisted dream world of hidden bunkers, abandoned hospitals, eerie woodlands, and other frightening zones of terror on this 20-minute walk-through maze.
Casola Farms Haunted Attractions - Marlboro, NJ
The Haunted Hayride of Terror operates 4 attractions plus a Halloween gift store and food concession.  It runs from 7 pm to 11 pm or 10 pm on Sundays. It is open every Friday, Saturday and Sunday nights beginning in late September  through October.  You can enter a single attraction, the Haunted Hayride of Terror or all four attractions for a combo ticket. The attractions are The Living Maze, Haunted Wooded Trail, 3D Haunted Barn, and The Hayride of Terror. They also have a separate Zombie Paintball ticket.
Fear in the Forest - Pemberton, NJ
Sorry folks but Fear in the Forest will not open this fall due to virus concerns.  They hope to see everyone next fall.    The attraction has a 15 year history of fright. They have a haunted trail with a tour guide for your group.  (Guide attempts to get you back alive.)  Tickets are $10 for adults, $5 for kids.  Under 4 is free but why would you ever bring children this young to a fear attraction.
Fear the Farm Haunted Orchards - Hillsdale, NJ
Haunted Orchards at Demarest Farm hosts Fear the Farm.  This annual attraction is closed this fall given the current virus concerns.  Featuring a hayride and a bone chilling series of haunted adventures filled with ghouls, ghosts and all kinds of scary creatures… you will be transported deep into the orchard to visit the forgotten graveyard nestled within the apple trees.
Field of Terror - East Windsor, NJ

Opening in late September.  Doors open at 7 pm. There are four attractions. You can buy one, two, three or all four. The attractions are Killer Kornfield, Zombie Attack Haunted Hayride, The Unknown Barn, and Dementia 3D Haunted House
Frighfest at Schaefers Farm - Flemington, NJ
Back again starting in late September.  Frightfest is 45 minutes of fright covering 200 acres on Schaefers Farm. As you go through their four attractions you will ride, walk, and run for your life. The attractions are the Hair Raising Hayride, Trails of Terror, Massacre Maize, and The Carnival of Chaos. Frightfest is open every Friday, Saturday, and most Sundays plus additional dates (see web page). It opens at 7 pm and runs until 10 pm on Friday and Saturday or 9 pm on Sunday.
HallowFest at Six Flags Great Adventure - Jackson, NJ
Thrills By Day and Frights by Night!  Grab your family and friends from late September to Halloween Day to experience all of your favorite Six Flags Great Adventure rides and attractions, some family-friendly spooktacular shows and fall decorations. Thrills by Day runs from 11 a.m. to 6 p.m. After that? Don't be fooled by the friendly faces you'll see during the day – the demonic zombies take over as soon as the sun goes down. Ghouls will sneak up behind you as you walk the midways, the coasters are scarier in the pitch dark…don't forget the haunted mazes!  HallowFest is included in the season pass/membership.
Haunted Red Mill - Clinton, NJ
This is the 30th annual Haunted Red Mill.  They are open the last three Friday and Saturday night weekends in October.  Tickets are $30.  They are also open for a non scary kids event the last three Thursday nights.  They feature a haunted hayride, maze, terror trail, and mill. Start your adventure by entering the labyrinth not knowing what awaits you in each new room, disturbing Creatures of The Night and terror will emerge from every dark corner.  Finding your way through will determine if you can continue. If you make it out, you will exit into the darkness and start your journey on to the Terror Trail deep in the woods.  The Terror Trail is known to allow more bodies in than it allows out.  Leaving the trail is not the end of you fright, you will be tested to see what you learned in the school house maze. Hayrides are usually fun, ours fright filled, no happy pumpkins, oh no, just more Creatures of The Night rising from the river through the fog. The hayride lets you off at the River Maze where you will wade through the swamp and confront the creatures face to face.  At last you will enter the Haunted Red Mill and it's spooky corridors, protected by ghouls, zombies and mutants. Run screaming out of the Mill to live another day and share the adventures of how you were able to survive the Creatures Of The Night!
House of Horrors Haunted Asylum - East Brunswick, NJ
Advertised as a "House of Horror" The Haunted Asylum is put on by the Middlesex County 4 H Teen Council. They run Friday and Saturday nights starting in October.  Open from 7 pm to 11 pm. Tickets available for the haunted house or the hayride.
Jefferson Township Haunted House - Lake Hopatcong, NJ
An annual community haunted house that has run for over 30 years.  However given the current virus situation they will not open this fall.  They hope to see everyone in 2021.
Night of Terror at Creamy Acres - Mullica Hill, NJ
Opens this season in late September.  Creamy Acres has put on Night of Terror for the last 25 years. There are six attractions: Slaughter Cave, Zombie Mayhem, 3D Fun House, Ride of Terror, Frozen Tundra, and Cornfield Maze. Tickets are $35 for most dates. Night of Terror runs every Friday and Saturday nights plus a few Thursday nights in October. They also have a separate Haunted Paintball Hayride which requires a separate timed ticket. Check their website for complete details.
Nightmare at Gravity Hill - Jackson, NJ
Opens this season in late September.  Check out this amazing walk-through attraction that will change the way you sleep at night. Gravity Hill takes about 45 minutes to explore the 5 acres grounds at the Cicconi Farms. Ticket are $30 for the Walk of Terror. The attraction consists of trails, themes, and adventures featuring a ghost town, graveyard, an Egyptian pyramid, jail cell, church, butcher shop, and more. Lots of ghouls, kreepy clowns, zombies and unknown creatures are walking about. Haunt runs every Friday and Saturday night in September and October . Doors open at dusk. Doors close at 11 pm. Added dates include Sundays in October until 9 pm.
Nine Circles Haunted Trail - Monroe, NJ
One weekend only – Just Off Main Productions (Main Street Theatre Company's new immersive theater program) is inviting the Central Jersey community to take a trip through the Nine Circles Haunted Trail in Monroe. Guests will be able to visit different layers of H-E-Double Hockey Sticks and find themselves meeting all sorts of spooky spirits concluding with meeting the devil himself, Satan. The trail is family-friendly and works with the audience to ensure everybody is comfortable while going through the trail.
Oasis Island of Terror - Robbinsville, NJ
Opening night is in early October.  Tickets are per person any vary by attraction or combo. Experience the walk through Back Woods Bayou. It may startle you and might make you cry as you squeeze through rat tunnels or hog traps just to escape. The Woods Have Eyes attraction features myths that are real. Next comes the Turnpike Apocalypse where the walking dead began. During the daytime they feature pumpkin picking, fall sand art, a decorated fun zone, fossil adventure and plenty of concession foods. Door for food opens at 5:30 pm, tickets at 6:30 pm, and the haunt starts at 7:00 pm. Haunt opens every Saturday and Sunday night in October plus some additional dates.
Scary Rotten Farms - Brick Township, NJ
Three amazing haunts named Blackened the Plague, Twisted Tales, and Chaotic Carnival of Chaos will entertain you every Friday and Saturday nights beginning in late September through Halloween.  Also added nights on Thursday and Sundays in October and more added nights Halloween week.  Ticket prices for each attraction are $18 or they have a combo for $40.
The Dark Carnival - Bayville, NJ
The Dark Carnival returns on Friday, Saturday, and Sunday nights this fall.  So come one, come all to the Dark Carnival.   If you have unquenchable curiosity for the outlandish,  thirst for the unknown, and both an attraction and repulsion for the diseased and deformed, we have put together the show for you.  Visit our Sideshow of Oddities and we assure you that your mind, your curiosity, and all the beliefs you have ever held true will be questioned forever.    This is similar to the old time carnival sideshow.  Expect to see Mongo the Human Mutant, Morbus the Aquatic Fish Boy, Algano the Amphibious Lizard Man and so many more oddities.
The Hayride of Horrors - Hackettstown, NJ
The Hayride of Horrors is held at Corrado's Farm each fall.  The Hayride opens late September and runs every Friday, Saturday, and Sunday nights in October.  COME VISIT CORRADOS FARM FOR A 45 MINUTE HAUNTED HAYRIDE THROUGH THE WOODS..BEWARE THE CREATURES OF THE NIGHT..CAN YOU LIVE THROUGH THE CEMETARY OF THE WALKING DEAD…HAVE SNACK WITH OUR WICKED WITCHES…HMMM THAT CYANIDE CIDER AND HOMEMADE DECOMPOSING DONUTS…TO ALL WHO VENTURE! DON'T FORGET TO ALSO VISIT THE HAUNTED HOUSE…WHERE YOUR NIGHTMARES WILL BECOME REALITY! 
V and V Adventure Farm - Shamong, NJ
This farm has a little of everything including a haunted attraction called Jersey Devil Haunt.  They also feature a 10 Acre Corn Maze, flashlight corn maze, hayrides, maze, Zombie Invasion Shootout and more.  They have separate daytime and nighttime activities.  At night the flashlight corn maze is just $6.  The hayride is $8.  Jersey Devil Haunt is $15.
If you are located in Southern Jersey, you might be better off crossing the state lines for a haunted house in Philadelphia. Or find a haunted house in one of these neighboring states: Delaware, New York, andPennsylvania
Find other fall fun things to do in New Jersey in October:
Oktoberfest in New Jersey
New Jersey Festivals
New Jersey Corn Mazes
New Jersey Ghost Tours
Pumpkin Patches in New Jersey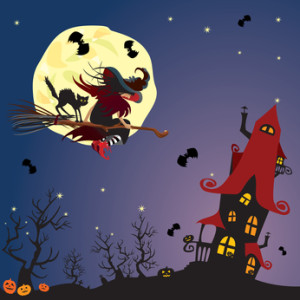 You may also be interested in our article on Haunted Houses and Horror Movies | History of Fear.
Add Your Feedback!
Have you been to one of these haunts? Future readers would be interested in hearing what you thought. Did you have fun? Was it worth the price? Would you suggest it to visitors here? Any tips to maximize your experience? I'll gladly publish what you send me and give you an over-the-Internet hug.
If you are the owner or employee of a house in this directory, or one we missed and need to add, we would love to have more information about your place, including the url, photos, dates/times/hours etc. Use the contact form on our advertising page to get in touch and we'll follow up if we still need your response to any of these questions.
Check out Black Friday ads, Cyber Monday ads, and holiday sale prices from top retailers this Christmas season.