Haunted Houses in Wisconsin for Halloween 2019
Funtober has a complete list of Halloween haunted houses in Wisconsin for 2019. We list popular haunted attractions America's Dairyland including haunted houses, haunted trails, haunted hayrides, haunted corn mazes, and more Halloween worthy events. Expect to find lots of zombies, vampires, witches, and monsters roaming throughout Wisconsin. Lots of wonderful entertainment with most having live actors, animatronics, creepy costumes, air blasters, and plenty of screams.
Madison Haunted Houses
Milwaukee Haunted Houses
Green Bay Haunted Houses
Wausau Haunted Houses
Burial Chamber - Neenah, WI
Get ready for this years opening on September 20st, 2019.  A top haunted complex in the United States, the Burial Chamber hosts four professional attractions at one location, including two massive indoor haunted houses (Adrenaline and Insanity), one outdoor haunted woods (Phobia), and their Burial Simulators. Expect a full night of entertainment that you'll never forget. You WILL be scared. Nothing like creating memories that will last a lifetime! Attraction features professional Hollywood-style sets and sounds and top-notch acting and entertainment with over 125 actors nightly. It takes about 20 minutes for each of the haunted houses.  Doors open at 7 pm and close at 11:30 pm on Friday and Saturday nights and 10 pm the other nights. Tickets are $15 to go through one haunted attraction. You get two attractions for $25, and all three for $30. The attractions are Adrenalin Haunted House, Insanity Haunted House, Phobia in the Woods, and The Last Ride.  Attraction runs Friday and Saturday nights from September 21st through November 2nd plus some Thursday and Sunday nights right before Halloween.
Chamber of Horrors - Fall River, WI
The fright begins 2019 on October 4th.  Chamber of Horrors is charity haunt open Friday and Saturday nights.  The ticket booth is open between 7 pm to 10 pm. Tickets on sale for $14 to Thunder Ridge Mansion Haunted House.  All that is evil, all that is corrupt and all that is nightmarish resides at Chamber of Horrors Haunt; you never know what terror arise from year to year. Undead souls wander endlessly through Thunder Ridge Mansion, blaming mortals for their misfortune. What would they do to come back to life? Find out what agony and madness awaits at Chamber of Horrors Haunted Attraction in Fall River WI this October.  Plenty of zombies and paintball as you ride the wagon.
Dark Side Haunted Adventure - Ixonia, WI
Glacier Rock Farms hosts the Dark Side Haunted Adventure. The seven haunt attracts include Dark Side are Backwoods Revenge, Twilight Nightmare, Foxglove Nursery, Schizophrenia, and The Descent. They are also testing an all new attraction Terror Treatment. Dark Side is open Friday and Saturday nights beginning late September 2019.  Enjoy between the hours of 7 pm to 10 pm. They also have a separate Zombie Expedition paintball shooting experience.
Deadwood Haunted Forest - Hudson, WI
Deadwood opens this fall on October 4th, 2019.  It runs every Friday and Saturday night in October.  This attraction has a half mile haunted trail, a bonfire, and concessions. Dreadwood Haunted Forest is open from 7:30 pm to 10:30 pm. Tickets are $16 but check web page for discount coupon.  You will walk a half mile on a dirt path in the late autumn, so bring warm clothes and comfortable shoes. You may see things that disgust you. You may feel disoriented, stifled, pursued, and preyed upon. Your guide will know the way. You MUST stay with your guide. There are no side-doors or escape routes — once you have entered Dreadwood, the only way out is through.
Dominion of Terror Sheboygan Jaycees - Sheboygan, WI
For 45 years the Sheboygan Jaycees have operated the Dominion of Terror haunted house. This is a big scary attraction with 20 plus rooms and over 75 volunteers who create an all new attraction every year. Every year has all new blood, gore, and fright as each room is themed and designed. Proceeds from the haunt are used to support a number of local charities and organizations. Tickets available at the door for $15.  Discount $10 tickets are available for their "throwback weekend" in October. Attraction opens weekends beginning October 4th. Sheboygan is located about halfway between Milwaukee and Green Bay.
Dr. Scary's Haunted House - Delavan, WI
Open every Friday and Saturday nights beginning October 4th, 2019.  Your adventure starts by entering Dr. Scary's Ghoulish Realms, where you will descend into the ancient crypts filled with ghoulish horrors and scares to find your way to Dr. Scary's Dungeons of Terror. But not before finding your way out of the crypts through a Swamp filled with snakes, spiders and gators. After the initial screams, frights and scares you will continue only to face more screams, evil and terror. Only those that make it through Ghoulish Realms may enter Dr. Scary's Dungeons of Terror.  Next, you will enter the second house of my haunted attraction, only to face more evil and terror as you descend into our Dungeons or Terror! The horror will start immediately as you proceed through the storage area and sewer tunnels to Dr. Scary's chambers of torture that will lead you to his labs where his experiments come alive and the terror continues. My minions will feast on your souls and only leave you with nightmares that will haunt you for nights to come!  Location: 5020 State Rd 50, Delavan, WI 53115
Ghost Boat - Wisconsin Dells, WI
Season begins with "Season of the Witch".  Open weekends in September and October.  The Ghost Boat operates Friday and Saturday 2019. This is really a 90 minute night cruise that includes a stop at Witches Gulch shore landing. There are those who believe the wilderness just beyond the borders of Wisconsin Dells is home to an ancient, evil entity, a malevolent monster whose power waxes in the dying days of Autumn. This is the Witch of Wisconsin Dells, and those who dare can join in a fright-filled Halloween season journey to its haunted lair. You'll embark at dusk on a boat filled with fellow explorers (and a few uninvited ghastly guests), hearing legends and folklore of the Dells as you ride upriver. Then comes a walk through a forest haunted by all manner of ghost and ghoul, vampire and werewolf, leading you straight to the dark heart of the witch's canyon crypt! A Halloween adventure that will haunt your nightmares! Tickets for adults are $27.75.  They run an 8:15 pm cruise. Operated by Dells Boat Tours which does dinner cruises all year. They also run a Haunted Canyon cruise starting in June.
Ghost Outpost Haunted House - Wisconsin Dells, WI
Ghost Out-Post is a haunted house open all year and every Thursday through Sunday from May 15th through October 30th. The theme deals with movie fears such as Williard the Rat, Hellhound, and a Vortex room. Tickets are $5.00.  Check web page for details.  In September they are open from 10am until 10pm on Monday through Sunday.
Green Bay Fear Haunted Attractions - Green Bay, WI
Expect to find ghoulish creatures, a dark labyrinth, optical illusions, and horror scenes at the Green Bay Fear attraction. It operates Thursday, Friday, and Saturday nights beginning September 27th, 2019. Doors open at 7 pm and close at 11 pm on Friday and Saturday and 10 pm on the other nights. Once you make it out alive (hopefully), you will enjoy their many amenities, from their Odditorium, featuring artifacts of oddities including the Egyptian Mummified Cat and the shrunken head of an unfortunate adventurer. Cozy up by the fire and take in some live music, or a sideshow at their Freakshow center stage. Perhaps you'll find yourself hungry for a bite to eat? Grab a snack from their food vendors and take a gander at the Voodoo Hoodoo gift shop.
Halls of Terror - Prairie du Chen, WI
Haunted Halls of Terror opens October 11th, 2019 on St. Feriole Island. An all new layout, scenes, and scares for more terror. It runs from 7:00 pm to 10:00 pm. Open Friday and Saturday nights in October.
Hartford Jaycees Dwelling of Despair - Slinger, WI
Get ready for opening night on October 4th, 2019.  Now known as Dwelling & Despair, the Jaycees have operated this charity haunted house for the last 35 years. It has both a haunted trail and a haunted house. Lots of chainsaws provide a real scare on that trail. Tickets are $14. The Hartford Jaycees Haunted House opens Friday and Saturday nights in October.
Haunted Sawmill - Merrill, WI
Opens this year on October 4th, 2019.  Runs every Friday and Saturday nights in October.  The Haunted Sawmill near Wausau is really the story of Skullface Vincent Mudgett and how he went from an employee at the sawmill to murderer and butcher of boy scout victims. This house is run by scout troop 599.  This years theme is carnival.
House of Shadows - Sparta, WI
Their season begins on October 4th, 2019.  Tickets are $10 for the House of Shadows. It operates a Scary haunt between 7 pm to 10 pm. Also there is a not so scary flashlight attraction for $6 that runs for an hour beginning at 6 pm. They are open Friday and Saturday nights in October plus Halloween.  Proceeds benefit the Boys and Girl Club of Sparta..
Meadowbrook's Haunted Cornfield - West Bend, WI
Open Friday and Saturday nights in October 2019.  Meadowbrook Haunted Cornfield has live actors, fog, sound effects, action creatures, and lighting effects. Meadowbrook Pumpkin Farm has operated the haunted cornfield for over 12 years. In the waiting area there is a bonfire, BBQ foods, and a ghost storytelling time. It takes about 45 minutes to go through the 3/4 mile haunted cornfield. Enjoy another 8 haunted house scenes.  Open 7 pm to 12 am on Friday and Saturday nights. The farm has daytime activities everyday. Tickets are around $25 including the country style bonfire.
Screamin Acres Haunted Houses - Stoughton, WI
The attraction opens up on October 4th, 2019.  Screamin Acres Haunted Scream Park is an in your face high intensity 9000 square foot attraction. The main haunts The Last Resort, Slaughterhouse, and Side Effects are again built new and bigger for 2019. The park is open from 7 pm to 11 pm. Enjoy Friday and Saturday evenings in October plus Halloween night. Tickets are $25 online.
Shockwave Haunts - Whitewater, WI
Three haunts at one location with a great pricing schedule. Tickets are available for one attraction, two or three. The fun begins in October with an new Mystery Haunt. Doors open at 7:00 pm. The fun runs every Friday and Saturday nights in October 2019.
Splatter Haus - Two Rivers, WI
Sadly after 21 years the extreme haunt Splatterhaus has been permanently closed and sold.  They will be missed.
Terror on Rural Street - Hartford, WI
The terror returns on October 4th, 2019.  Open Friday and Saturday nights in October.  Terror on Rural Street has frightened folks for over 20 years. Live actors and creative animatronics await to scare you in this 17 room haunted house. Free parking and a heated waiting area are for your convenience. Very intense so I hope you make it through alive.
Terror on the Fox - Green Bay, WI
Terror on the Fox operates 2 main attractions. Tickets are $20-25. The attraction is open Friday and Saturday nights in beginning late September 2019.  Open Friday through Sunday in October. Check web page for added dates they are open in October. Doors open at 6:30 pm.  Attractions are The Possession and Blackthorne Cemetery.  Terror has over 26000 Facebook likes.
Terror Trail - Wautoma, WI
Terror Trail is a 13 acre walk through terror with blood curdling screams and unstable, menacing ghouls. What lies beneath death? It really sounds scary doesn't it. They are open on Friday and Saturday beginning October 18th plus Halloween night.  Admission tickets are $15.  Check web page for full schedule information.  This is a charity haunt with all proceeds going to local not for profit organizations.
The Haunted Mansion - Brussels, WI
Their season opens on October 4th, 2019.  The Haunted Mansion is open on Friday and Saturday nights in October. It is located at Quietwoods South Camping Resort. It features a haunted trail, dark corn maze, bus ride, and haunted house. Also it has paintball. Tickets are $13. They are open from 7 pm to 10 pm.  All proceeds go for the benefit of the local county school system.  They have been frightening folks for 14 years.
Warriors Haunted Asylum - Mt Calvary, WI
Three floors of scares! Start on the second floor and working your way through twists and turns all the way down to the 100 year old basement – but it doesn't end there.  Friday and Saturdays 7pm till 10pm in October. Halloween night from 7pm till 9pm BLACK OUT NIGHT!!!!!! Your group will be handed 1 flashlight to find your way though in the dark… if you can! Each year, this haunt also donates a portion of the proceeds to charitable causes…. If you escape the basement, the fright continues throughout the outside maze.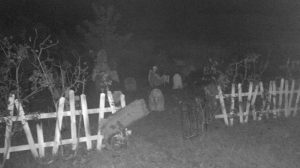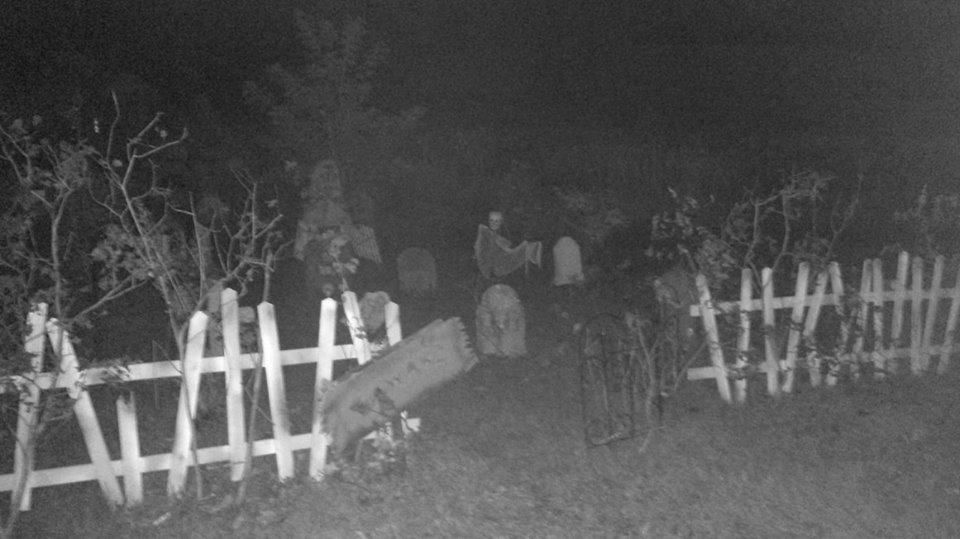 Wilke's Haunted Weekends - Wausau, WI
Haunt runs the last two weekends in October 2019.  Located on the huge Wilke's Dairy Farm, Haunted Weekends features a haunted house, haunted maze, and haunted hayride. Note I believe this attraction is best for families and children above the age of 6 years old. They also run a corn maze and pumpkin patch with lots of daytime activities beginning in September. The farm runs everyday during the fall season. Daytime activities include hayride, corn maze, pumpkin patch, tractor tricycles, bouncing tubes, sandbox, rabbits and goats with lots more fun. Their haunted weekends run Friday and Saturday nights.
Wisconsin Fear Grounds - Waukesha, WI
The season begins on October 4th. 2019.  Waukesha Expo Center Grounds hosts the 15 year old haunt Wisconsin Feargrounds. There are three attractions named Morgan Manor, Torment,  and Slaughterhouse.  Tickets are $15 for Morgan Manor or a combo ticket for all three haunts is $35. Wisconsin Feargrounds is open Friday and Saturday nights in October. The open times are 7 pm to 11:30 pm.  Note this year's theme is Anarchy.  This is their last and final year running Feargrounds so they expect to make it their best ever.
What's the harm, if you live near one of them, in also looking for your next haunted house across the border? Check out our listings for states near you here:
Illinois,
Iowa,
and
Minnesota.
Find other fall fun things to do in Wisconsin in October:
Oktoberfest in Wisconsin
Wisconsin Festivals
Wisconsin Corn Mazes
Wisconsin Ghost Tours
Pumpkin Patches in Wisconsin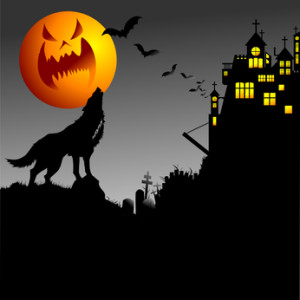 Check out the TOP 100 HAUNTED HOUSES FOR HALLOWEEN 2018 and our list of the Top 100 Haunted Houses 2017 in America.  Is your favorite haunted attraction on the top 10 and top 100 state list?
You may also be interested in our article on Haunted Houses and Horror Movies | History of Fear.
Add Your Feedback!
Have you been to one of these haunts? Future readers would be interested in hearing what you thought. Did you have fun? Was it worth the price? Would you suggest it to visitors here? Any tips to maximize your experience? I'll gladly publish what you send me and give you an over the Internet hug.
If you are the owner or employee of a house in this directory, or one we missed and need to add, we would love to have more information about your place, including the url, photos, dates/times/hours etc. Use the contact form on our advertising page to get in touch and we'll follow up if we still need your response to any of these questions.