Haunted Houses in Virginia for Halloween 2018
Find the best 2018 Halloween haunted houses in Virginia at Funtober's directory of haunted houses.  Funtober has a complete list of popular local haunted attractions including haunted corn mazes, haunted trails, haunted houses, scream parks, and other Halloween entertainment fun.  Expect to find more ghosts, vampires, zombies, monsters, and clowns roaming the Virginia landscape at our haunt list.  Most have Hollywood type set design, air blasters, creepy costumes, professional makeup, and all the sights and sounds to terrify grownups.
Last Major Update:
Haunted House Owner? Advertise Here.
Do you run a haunted house in the United States? More than 500,000 people came to Funtober last year looking for a haunted attraction to attend this fall.  Please see our advertising page or contact us for more information.
When these ghosts decide to haunt a new house, they even pack the kitchen sink. So you know they will be ready to frighten you half to death at these Virginia haunted houses in 2018.  We have separate attraction links and listings for haunted houses USA,  haunted corn mazes, haunted trails, haunted zombie paintball, haunted forests, haunted hayrides, and ghost tours.
Blood Lake Haunted Trail - Midothian, VA
The trail opens on October 7th this year.  Located at the Windy Hills Sports Complex the Blood Lake Haunted House has more than its share of werewolves in the area.  There are several attractions including Sandman's Nightmare, Z-Alamo, and Grimm's Reapers.  Grimm Reapers is about fairy tales without the happy ending.  You can purchase a single attraction.
Bradley Farm Haunted Househer - Herndon, VA
Appears this popular haunt has closed after 10 years.  They will be missed.
Darkwood Manor Haunted House - Luray, VA
Opening night is October 6th this year.  Both attractions Darkwood Manor and Dr. Brain's 3D Mind Maze are open every Friday, Saturday, and Sunday nights in October plus Halloween.  Doors open at 7 PM.  Tickets are $15 for Darkwood Manor or both haunts for $20.
Fear Forest - Harrisonburg, VA
The fear begins on October 6th at this two attraction haunt.  It runs every Friday and Saturday nights in October plus a few more dates near Halloween.  Individual tickets are $13 per haunt or save with a combo ticket for $18.  This is a fun trail walk through a real scary forest.  Now open for their 12th season.
Fields of Fear - Centreville, VA
Lots of fun beginning opening night on September 22nd.  Enjoy the Darkside Hayride and the Firegrounds for just $15-20.  More ticket options and entertainment available.  They are open every Friday and Saturday nights through Halloween.
Haunted Forest at Halloween Woods - Sterling, VA

Haunted Hollow - Warrenton, VA
Haunted Hollow has their season opening on September 29th.  They run Friday and Saturday evening through Halloween.  Hours open are dusk until 10 PM.  Tickets are $18.  The attraction centers around a haunted farm and haunted trails.
Hunt Club Farm Haunted House - Virginia Beach, VA
Enjoy the Haunted Hayride, Field of Screams, and The Village of the Dead at the popular Hunt Club Farm.  Generally open most nights in October.  Check their webpage for schedule and prices.
Nightmare Mansion - Virginia Beach, VA
Open every day at 2 PM.  Located on Atlantic Avenue at the popular Virginia Beach tourist area.  Lots of frights.  Expect intense scary scenes.
Route 29 Haunted Farm - Warrenton, VA
An intense attraction opening for the season on October 6th.  Open every Friday and Saturday night in October.  Tickets are $17-20 per person.  Come by and enjoy the concessions, bonfire, DJ, music, live entertainment and oh yes, the scares.
Scaremare - Lynchburg, VA
Scaremare opens their season on October 12th.  They run every Thursday, Friday, and Saturday nights until Halloween.  Doors open at 7:30 PM.  They close at 11 PM.  Tickets are $10.  It is about a 40 minute walk along a haunted trail, through the creepy woods and then into the haunted house.
Scream Forest - Glen Allen, VA
Haunt features a haunted trail and 2 haunted houses.  You are dropped off and must find your way back.  The creatures of the night are real.  Attractions are named Scream Forest, Axl's Fun House, and Staples Mill.
Shocktober - Leesburg, VA
The fun begins with opening night on September 29th.  Open every Friday, Saturday, and Sunday nights in October.  Hours are from 7 PM until 10 PM.  Tickets are $35.
Spooky Acrea Haunted House - Norfolk, VA
Located in the Military Crossing Shopping Center this haunt has run for over 22 years.  It is a charity haunt supporting the March of Dimes.  Plenty of scary fun for all.  Generally open most Friday, Saturday, and Sunday nights in October.
The Haunted Hill - Partlow, VA
Opening night this year is October 6th.  You ride the haunted hayride and then are dropped in the woods and walk the trail nearly one mile back through a series of mazes, ghouls, and scary creatures.  The fun starts at dark and runs every Friday and Saturday night in October.  Tickets are $20.
Wicked Woods Haunted Forest - Spotsylvania, VA
This attraction has permanently closed after 10 years.  They will be missed.
Home Haunts (New List of Home Haunted Houses for Halloween 2014)
State By State List of Halloween Haunted Houses
More Haunted Attractions
There's a lot of great houses in Virginia. But there's also a number across the border in these states which might prove worthy of a visit.
Haunted Houses in Kentucky
Haunted Houses in Maryland
Haunted Houses in North Carolina
Haunted Houses in Tennessee
Haunted Houses in West Virginia
Find other fall fun things to do in Virginia in October:
Oktoberfest in Virginia
Virginia Festivals
Virginia Corn Mazes
Virginia Ghost Tours
Virginia Pumpkin Patches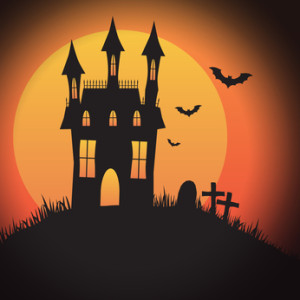 Add Info
Have you visited one of these haunted houses? I would be interested in hearing what you thought. Did you have a good time? Was it worth the price? Would you recommend it to our readers? Any suggestions to maximize the experience? I'll gladly publish what you send me and give you a great big hug.
If you are the owner or employee of a haunted house on this list, or one I missed and need to add, I would love to have more information about the haunted house, photos, dates/times/hours for 2018, etc. Use the contact form to get in touch and I'll tell you where to email your answers to these questions.