Haunted Houses in Virginia for Halloween 2022
Virginia haunted houses are some of the scariest in the United States. Enjoy a great night out with your spouse, date, or friends. Expect to be terrified at these haunted houses. For the price of a movie ticket you can be part of the action as you come face to face with terror. Most haunts use animatronics, great props, Hollywood-worthy sets, sound FX and actors with makeup beyond belief. You will be frightened.  Find all the local haunted houses, haunted trails, haunted corn mazes, haunted hayrides, haunted house near me, scream parks, and other Halloween fun attractions across the state. Look out for zombies, witches, vampires, creatures, monsters, and more than a couple Freddys and Jasons roaming the countryside in 2022.
Last Major Update:
American Scream by Gravensteen - Fort Belvoir, VA
Gravensteen is back with American Scream.  Opening night is around the middle of September.  It runs through early November.
Ashland Berry Farm Terror on the Farm - Beaverdam, VA

Blood Lake Haunted Trail - Midothian, VA
After being closed Blood Lake Haunted Trail has returned.  They feature two haunted trails with Richmond's most twisted, cruel and unusual haunted scenes.  Check web page for details.
Creepy Hollow Scream Park - Glen Allen, VA
Enjoy Richmond's tradition and Scream Forest and Creepy Hollow Hayride as separate but sister haunt attractions.  The theme is based on Doctor Farrington's experiments and their aftereffects.  It's been running more than 20 years so you know the screams are real. Creepy Hollow runs Friday, Saturday nights in October plus some Sunday and Thursday nights.  Check web page for details..
Darkwood Manor Haunted House - Luray, VA
Opening night is in early October.  Both attractions Darkwood Manor and Dr. Brain's 3D Mind Maze are open every Friday, Saturday, and Sunday nights in October plus Halloween.  Doors open at 7 PM.  Tickets are individual priced  for Darkwood Manor or both haunts for a combo ticket price. We combined detailed sets, movie quality make-up, and talented actors to create a scary and unique haunted house experience.  Each year we tell a new story surrounding the legend of DarkWood Manor, with new characters and scenes.
Fear Forest - Harrisonburg, VA
The fear begins in early October at this two attraction haunt.  It runs most Friday and Saturday nights in October plus a few more dates near Halloween.  Individual tickets are $15 per haunt or save with a combo ticket for $25.  This is a fun trail walk through a real scary forest.  Now open for their 15th season.
Fields of Fear - Centreville, VA
Given the current virus situation Fields of Fear will not open in 2020.  Enjoy the Darkside Hayride and the Firegrounds for just $15.  More ticket options and entertainment available.  Additional attractions are the Cornightmare and Forest.  They are open every Friday and Saturday nights from late September through Halloween.  Enjoy daytime fun at Cox Farm with both a daytime and nighttime corn maze.
Hanover Vegetable Farm - Ashland, VA
RED VEIN Haunted House is a scary indoor/outdoor haunted attraction. Created by RED VEIN ARMY in 2016 and located at Hanover Vegetable Farm, which is just 10 miles from Short Pump and 20 miles from downtown Richmond. We've been featured in RVA Magazine, Richmond Magazine, and Style Weekly. Where Richmond goes for horror!  Experience a history long forgotten and recently unearthed in the cornfield surrounding the old witch house. Witness firsthand the ancient evil inhabiting the grounds and savage creatures protecting their coven. RED VEIN Haunted House combines an immersive storyline, realistic sets, and extreme scares. The haunted attraction includes both indoor and outdoor elements
Haunted Hollow - Warrenton, VA
Haunted Hollow has their season opening in late September.  They run Friday and Saturday evening through Halloween.  Hours open are dusk until 10 PM.  Tickets are $18.  The attraction centers around a haunted farm and haunted trails. This haunted trail in and around the barns of an abandoned haunted farm will leave you breathless or gasping for your last breath…come if you dare!
Haunted Nightmares - Winchester, VA
Step inside and experience horror like never before! Haunted Nightmares is an intense attraction that features professional sets with theatrical lighting and special effects. (Our attraction is open during daylight hours on Saturdays and Sundays with a less aggressive show for a younger audience.)  We offer moonlit hayrides out to our pumpkin patch each night that the haunt is open, where you are able to pick a small pumpkin to take home with you.  Hill High Farm is home to one of the largest corn mazes in the area! If you visit after the sun goes down, be sure to bring a flashlight so you can try to find all of the checkpoints within the maze.
Hexed - Elliston, VA
Hexed Haunted House runs every Friday and Saturday nights beginning in late September.  It runs every weekend in October through November 2nd.
Hunt Club Farm Haunted House - Virginia Beach, VA
Enjoy the Haunted Hayride, Field of Screams, and The Village of the Dead at the popular Hunt Club Farm.  Open Thursday, Friday, Saturday, and Sunday nights beginning the last weekend in September plus more dates closer to Halloween.  Check their webpage for schedule and prices. Haunted Hunt Club Farm celebrates 30 years of HAUNTING Coastal Virginia! The festival features three main attractions – the Haunted Hayride, Village of the Dead and Field of Screams for this year's scare-fest! This Festival of Fear includes Carnival Rides, Concessions & Nightly Entertainment. The festival's most-screamed about attraction, the Haunted Hayride, will take you on a voyage on a slow-moving, spine-tingling tractor pulled Hayride through the dark woods of Haunted Hunt Club Farm. Unprotected from the elements and all the things that go "bump" in the night, daring riders will experience theatrical displays by dozens of freakish inhabitants that lurk in the woods and along the narrow, winding path and an old decrepit old barn.
Journey Trails - Providence Forge, VA
Journey Haunted Trails has 3 attractions.  A little different than most haunted houses you simply must experience Journey, The Dark Side, and Castle Bloodworth.  The fear comes from spiders, snakes, worms, death, and the unknown caused by Satan's demons.  The doors are open from 7:30 pm to 10:30 pm.
Nightmare Mansion - Virginia Beach, VA
An intense haunted attraction that takes about 10 minutes to go through.  Tickets are $11. Open Friday at 6 PM and Saturday and Sunday at 2 PM.  Located on Atlantic Avenue at the popular Virginia Beach tourist area.  Lots of frights.  Expect intense scary scenes.  Note Nightmare Mansion is open all year around and for example they are open every night during the summer season.
Scaremare - Lynchburg, VA
Scaremare opens their season in early October.  They run every Thursday, Friday, and Saturday nights until Halloween.  Doors open at 7:30 PM.  They close at 11 PM.  Tickets are $10.  It is about a 40 minute walk along a haunted trail, through the creepy woods and then into the haunted house.
Scream Forest - Glen Allen, VA
Open Friday and Saturday nights starting in early October plus more October nights closer to Halloween.  Haunt features a haunted trail and 2 haunted houses.  Tickets are $24. You are dropped off and must find your way back.  The creatures of the night are real.  Attractions are named Scream Forest, Axl's Fun House, and Staples Mill. Scream Forest is an intense walking adventure. We take you out to the edge of the woods…leave you…on foot with nothing between you and the creatures of the night…where no one cares if you Scream! Deep within Scream Forest you'll discover Staple's Mill, experience first hand the horrors and fear created by the strange experiments within it's walls. Escape from the forest and you'll find yourself entering Axl's Fun House, a swirling maze of clowns, mysterious oddities and nightmares.
Shocktober - Leesburg, VA
The fun begins with opening night in early October.  Open every Friday, Saturday, and Sunday nights in October.  Hours are from 7 PM until 10 PM.  Tickets are $35 online.  Paxton Manor is Northern Virginia's only REAL Haunted House for Halloween entertainment in Leesburg, Virginia and the DC area.  Back again this year the first 3 levels of the haunted manor has turned into Paxton Hall, a horrifying and haunted boarding school. Encounter new characters, including rebellious students and frightening teachers, as you unravel the dark and mysterious past of Paxton Hall.  The haunt also includes Carnival of Souls, the basement of Paxton Manor, an attraction full of creepy clowns and carnival carnage. Our haunted attractions are not for the faint of heart.  Note they have paranormal events all year.  Check web page for ghost adventures.
Spooky Acrea Haunted House - Portsmouth, VA
All new location at 2850 Airline Blvd., Portsmouth, VA 23701. This haunt has run for over 25 years.  It is a charity haunt supporting the March of Dimes.  Plenty of scary fun for all.  Generally open most Friday, Saturday, and Sunday nights in October.  I believe they open the last weekend in September.  See web page for additional nights around Halloween.
The Death Trail - Dumfries, VA
The Death Trail is open Friday and Saturday evenings beginning in early October.  As dusk settles around the foggy woods for Dumfires VA. Shadows begin to move through the trees. It quickly becomes clears why only the brave and foolish are willing to test fate along these dark and twisting trails. Come and experience it for yourself!!  Gates open at 7:00 PM.  Tickets are $15.
The Death Trail - Dumfries, VA
A scary event held the last three Friday and Saturday nights in October 2019 plus the last Sunday.  Opens October 18th for fun and fright.  As dusk settles around the foggy woods for Dumfires VA. Shadows begin to move through the trees. It quickly becomes clears why only the brave and foolish are willing to test fate along these dark and twisting trails. Come and experience it for yourself!
The Haunted Hill - Partlow, VA
Opens in late September.  Open Friday and Saturday nights in October. You ride the haunted hayride and then are dropped in the woods and walk the trail nearly one mile back through a series of mazes, ghouls, and scary creatures.  The fun starts at dark and runs every Friday and Saturday night in October.  Tickets are $20. Deep in the woods of Spotsylvania County (Partlow, VA) the hills come alive in October.  We take you on a LONGER haywagon, and drop you off in the woods. You will fear your journey through nearly a mile of live ghouls, zombies, clowns, mazes, and various other scares.
The Warehouse - Weber City, VA
Tickets are $20 per person for this two attraction event.  Attraction has been open since 2016.  An all indoor haunt that turns your nightmares into reality.  They focus on Nyctophobia or the fear of darkness.  Over 18,000 square feet of fear.
Workhouse Haunt - Lorton, VA
This year's Workhouse Haunt immerses guests through a highly-themed walk-through experience, as creepy characters deliver contactless scares in multiple scenes. Guests will travel in small groups for a frightening 30-minute experience that brings them next to the site's abandoned, historic buildings and into the dark woods where they will encounter terrifying characters and sights that are not for the faint of heart. Set on the grounds of the former District of Columbia's Correctional Facility, the Workhouse campus provides a unique and extra eerie setting for this unusual Halloween attraction. Please note that this outdoor route includes paved and unpaved surfaces, so guests are cautioned to wear appropriate footwear. Tickets are being sold by timed entry, and advance purchase is highly recommended to reserve your time slot. Snacks and beverages will be available for purchase at the Haunt Bar, located near the check-in area in the campus quad.
Cox Farms – Centreville, VA
A fall festivals with pumpkins for sale, hayrides, slides, cornundrum, farm animals and pumpkin madness (weekend after Halloween). Other activities include farm chores, gem mining, swings, and games. Fields of Fear offers 20 acres of haunted attractions, including a hayride through the zombie zoo and a 3/4 mile walk through a dark and haunted cornfield.  Check their website for changes to their fall festival because of this ongoing virus issue.
Greenbrier Farms – Chesapeake, VA
A working tree farm and nursery on 800 acres that was originally established in 1916. In the fall, it has a pumpkin patch, corn maze and Trail of Fears. Pumpkins available for $4-5. They also have a small petting zoo available at no charge. They host several festival throughout the year and also have wedding facilities. The location is 225 Sign Pine Road, Chesapeake, VA 23322. It is only 17 miles south of Norfolk.
Layman Family Farms – Blue Ridge, VA
The 80 acre Blue Ridge Mountains farm of Eric and Sarah Layman. 40 acres of pumpkins with all shapes, sizes and colors. They boast the largest hay wagons in the State of Virginia, pulled by John Deere tractors. The 10 acre cornfield maze is divided into two sections, offering families with small children the option to exit at the halfway mark. There are 10 numbered scarecrows throughout the maze to help you make your way through it successfully if you answer the questions correctly. There is also a corn crib, cow train, corn cannon, tunnel slide, animal alley, jumping pillow and pumpkin blaster. Haunted Harvest on Friday and Saturday evenings in October is a spooky adventure through the cornfield and woods. The address is 1815 Mountain View Church Road, Blue Ridge, VA 24064. It is 81 miles north of Danville.
There are a lot of great haunted houses in Virginia. But there's also a number across the border in these states which might prove worthy of a visit.Check out our listings in: Kentucky, Maryland, North Carolina, Tennessee, and West Virginia.
Find other fall fun things to do in Virginia in October:
Oktoberfest in Virginia
Virginia Fall Festivals
Virginia Corn Mazes
Virginia Ghost Tours
Virginia Pumpkin Patches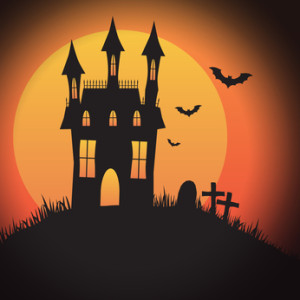 Haunted House Videos
You may also be interested in our article on Haunted Houses and Horror Movies | History of Fear.
Add Your Feedback!
Have you been to one of these haunts? Future readers would be interested in hearing what you thought. Did you have fun? Was it worth the price? Would you suggest it to visitors here? Any tips to maximize your experience? I'll gladly publish what you send me and give you an over-the-Internet hug.
If you are the owner or employee of a house in this directory, or one we missed and need to add, we would love to have more information about your place, including the url, photos, dates/times/hours etc. Use the contact form on our advertising page to get in touch and we'll follow up if we still need your response to any of these questions.
Check out Black Friday ads, Cyber Monday ads, and holiday sale prices from top retailers this Christmas season.