Haunted Houses in Arkansas for Halloween 2022
In 2022, Halloween haunted houses in Arkansas are very scary entertainment. Haunted attractions have lots of zombies, demons, chainsaw murders, and aliens come out around Halloween.  Most haunted houses have animatronics, quality Hollywood type sets, air blasters, costumed actors, and professional makeup.  Just visit one of the many haunted attractions near you, including those around Little Rock, Hot Springs, Fayetteville or Jonesboro. So in October avoid the Arkansas haunted houses at all costs…unless you are up for a good scare at Halloween!
Little Rock Haunted Houses  Fayetteville Haunted Houses
Last Major Update:
Arkansas Haunted Houses 2022

Asylum - Cave Springs, AR
Asylum is an annual haunted house in Cave Springs, Arkansas. Tickets are low priced entertainment with basic ticket at $15. The Asylum runs from 7 pm to midnight. It is open every Friday and Saturday starting around the middle of October plus added dates Halloween week.
Banshee Manor - Fayetteville, AR
An annual attraction located inside the Lokomotion Family Fun Center in October.  Features include a Haunted House and Haunted Laser Tag fun.  Open every Friday, Saturday, and Sunday beginning around the middle of October.
Carpenter's Mortuary Spook House - Gentry, AR
The Mortuary is open every Friday and Saturday nights in October.  All the gravediggers and undertakers are waiting for you.  This is a real abandoned mortuary so keep looking for real ghosts.
Creepy Works - Conway, AR
Creepy Works is a family oriented 3D haunt for all ages. Seasoned staff provide realistic terror. You will be drawn into the depths and lose control of rational thoughts.  Open Friday and Saturday nights beginning in early October. Adult tickets are $12.  Creepy Works strives to provide realism to draw in and distort a persons psyche. You will be looking to leave just as quickly as you enter. Creepy Works is staffed by seasoned haunt enthusiasts who's only desire is for you to have a frightning experience. We have gone to great lengths to provide detailed sets and settings which can be far and few in between. One of the most common questions we receive is "How long does it last?" I can tell you that the effects are residual and will gradually wear off, but you will remember for a lifetime. You will not forget.
Fear Factory - Jacksonvile, AR
At the Fear Factory 501 tickets are for "a place where fear is made". There are 3 horrifying haunted attractions at this one location. Doors open at 7 pm and close at 12 am. Lots of screams here.  Open every Friday and Saturday nights in October plus some added dates near Halloween.  Check web page for details.  Tickets are $15.
Haunted Barn - Concord, AR
The Haunted Barn opens in early October.  This is an annual charity haunted house for the benefit of children and adults born with certain diseases.  It is open every Friday and Saturday nights in October.  Tickets are $10.
Haunted Hotel - Little Rock, AR
Attraction is open Friday and Saturday nights beginning in early October.  Then beginning late October it is open every night through early November.  Doors open at 7 pm until 10 pm weeknights or later on Friday and Saturday.
Horrow in the Hollow - Pigott, AR
Again this fall you'll hear the screams from the Forest of Fright, the Butcher Barn and the Miserly Manor. Three great haunts open on Friday and Saturday and yes it also is open on Halloween. Hours are 7 pm to 10 pm. Forest of Fright has twisted in-breds and cannibals waiting. You pay to get in and pray to get out. Bubba's Butcher Barn has gut gripping fear. The butcher is waiting for fresh meat. Miserly Manor was the home to mortician Dr. Soares. The gates are chained shut to keep something (the undead) inside.  Forest of Fright opens for the season. Don't miss their Zombie paintball experience.
Magic Screams - Hot Springs, AR
Magic Screams opens this fall on October 10th.  They are working hard to modify this event for everyone's safety during this virus.  This is the Halloween attraction for Magic Springs Theme Park. Things kick off with a shadow cast showing of the Rocky Horror Picture Show and more throughout October! Don't miss this haunted theme park, with attractions for kids and adults like a haunted house, haunted trails, zombie hunt and a spooky hayride, plus a family movie series, live entertainment, and more. They run from 4 pm and close at 11 pm on Saturday and 9 pm on Sunday nights.  The theme this year is "Wasteland".
Night Terrors 13 - Little Rock, AR
Horrific and gory as this one scary haunt. Prepare yourself or you will be begging to be let out. It features live special effects, computer animation, and over 18,000 square feet of terror in their new location behind Colonial Wine & Spirits. Experience the Abandoned Abyss complete with Hollywood quality costumes and special effects. So scream all you want because no one will hear you. Call 501-398-FEAR for more information.  Open Friday, Saturday, and Sunday nights in October.
Nightmares - Bentonville, AR
Attraction proceeds support the Bentonville Breakfast Lions Club charities. Nightmares Haunted House has operated for 30 years. Attraction is operated by the local Lions Club. The feature is the Phantom 13 bus ride with a haunted house and a second attraction the Maximum Terror Drive. The ticket booth is open from Sunset until 11 pm.  Open Friday and Saturday nights starting in late September.  Tickets are $20.
Riverside Warehouse of Fear - Siloam Springs, AR
Riverside Entertainment offers a new level of fear for this fall season. As night descends, the creatures come out to play. Face your deepest fears as you go through 24 movie set quality rooms.  Open every Friday and Saturday in October plus Halloween Night (Haunt Only).  Activities include their Warehouse of Fear, Lost Corn Maze, and the Swamp Walker Zombie Shoot.
Scared City - Jonesboro, AR
The scary fun starts this year in October.  Scared City operates 4 haunted attractions. Haunted Farmhouse, Slaughtershed, Neon Demon, and 3D Funhouse. The Last Ride is $5. A combo ticket for all four attractions is available. Doors are open weeknights until 10:30 pm or on weekends until between 11-12 pm. Call 870-219-0810 for more information.  Open every Friday and Saturday nights in October plus every night the week of Halloween.
Shriner's Temple of Terror - Pine Bluff, AR
This haunt features scenes of horror, plus concessions, and food.  Doors open at 7 pm on Friday, Saturday and Sunday nights beginning October 18th, 2019. It is one of the major charity events put on by the Shriner's to support the Shriner's Hospital.
The Expelled - Huntsville, AR
Opens every Friday and Saturday nights in October.  They want you trembling with fear as you navigate through their 6000 square foot attraction located in an Abandoned Slaughter House. This is a charity haunt.  They also operate Halloween and Family nights with possibly some added dates.  Tickets are $15.
The Reaper Haunted House - North Little Rock, AR
Reaper is open every Friday and Saturday nights starting in early October plus every night the last two weeks before Halloween.  Are you ready for intensity never before seen in a haunt? Are you ready to cry and scream and beg for your life? Step inside The Reaper Haunted House, the most intense haunted house in Arkansas, and see if you can make it through. In The Reaper's world, anything goes…and no one will be there to save you.  They have an all new location and all new attractions this fall.  They are now located at 7324 Lunn Road, North Little Rock, AR 72118.
Twisted Intent Torture Chamber - Benton, AR
The new Twisted Intent Haunted Attraction was formerly the Torture Chamber located at The Warehouse off Edison which operated for 13 years. They are in the scream business. At Twisted Intent you will need to be able to crouch, crawl, and beg for your life. Doors open at 7 pm and close at 12 am on Friday and Saturday or 10 pm on other nights.  Attraction opens in early October.
WoolyBoogers Haunted House - Conway, AR
WoolyBoogers is all about family friendly entertainment.  They are kid friendly with live music, escape games, and of course a haunted house.  They are open every Friday and Saturday night in October starting in early October plus Halloween night.
Pumpkin Hollow – Piggott, AR
The fun begins on September 19th this fall.  For over 20 years, home of NE Arkansas's only pumpkin patch and Arkansas's original corn maze offers hayrides, pig scramble, pony rides, Pedal tractors, Friendly Forest, and much more farm fun. Pumpkin Hollow is also home to Horror in the Hollow, scariest haunted attractions in the tri-state area.
Schaefers and Collins Pumpkin Patch and Farm – Mayflower, AR
Pumpkin patch is open every day starting in late September.  Fall activities on weekends.  Join them for their 20th season growing pumpkins and pick your own pumpkin off the vine. Enjoy a corn maze, rock wall and pony rides. There is also a have haunted hayrides on Friday and Saturday nights. Note: Cash and check only! Located 50 minutes northwest of downtown Little Rock near Conway. Their address is 864 Lollie Road, Mayflower, AR 72106.
Exeter Corn Maze – Exeter, MO – Enjoy 7 acres of twist and turns at one of the area best corn mazes with much more fun.  Exeter Corn Maze has a huge pumpkin patch, a giant orange pillow for their pumpkin jump, a zip line, pumpkin cannon, hayride, cow train, campfires, Zombie Paintball, Haunted Barn and Haunted Maze, concessions and more.  Located less than 30 minutes from NW Arkansas.  Address is State Highway MM, Exeter, MO 65647.  Opens around September 5th through Halloween.  They have nearly 8000 Facebook likes.
Sometimes the best haunted house for you is across state lines. If you find yourself close to the boundary of Arkansas, or that is where the nearest metropolitan area is, there probably is a haunted house that is worth visiting there. Check out the listings for the surrounding states: 
Louisiana,
Mississippi,
Missouri,
Oklahoma,
Tennessee and 
Texas.
Find other fall fun things to do in Arkansas in October:
Oktoberfest in Arkansas
Arkansas Festivals
Arkansas Corn Mazes
Arkansas Ghost Tours
Check out Black Friday ads, Cyber Monday ads, and holiday sale prices from top retailers this Christmas season.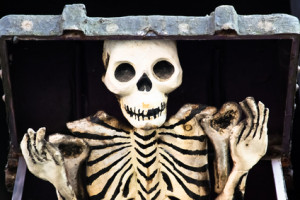 You may also be interested in our article on Haunted Houses and Horror Movies | History of Fear.
Add Your Feedback!
Have you been to one of these haunts? Future readers would be interested in hearing what you thought. Did you have fun? Was it worth the price? Would you suggest it to visitors here? Any tips to maximize your experience? I'll gladly publish what you send me and give you an over-the-Internet hug.
If you are the owner or employee of a house in this directory, or one we missed and need to add, we would love to have more information about your place, including the url, photos, dates/times/hours etc. Use the contact form on our advertising page to get in touch and we'll follow up if we still need your response to any of these questions.