Haunted Houses in Florida for Halloween 2020
Find the best Halloween haunted houses in Florida for 2020 at Funtober's directory of haunted houses including haunted houses, haunted hayrides, haunted trails, and scream parks with dates, ticket prices, and locations.  Do you want zombies, clowns, murderers, devils, or vampires who roam both commercial and charity haunts in Florida? Check the list, get your friends together and plan a night out of thrilling scare entertainment. Check out our TOP 100 HAUNTED HOUSES FOR HALLOWEEN 2018 and the Top 100 Haunted Houses 2017 in America.  Is your favorite haunted attraction on the top 10 and top 100 state list? Jacksonville Haunted HousesMiami Haunted HousesOrlando Haunted HousesTampa Haunted Houses Last Major Update:
[DISPLAY_ULTIMATE_SOCIAL_ICONS] The people of Florida have been dodging alligators and panthers since the time of its exploration by Ponce de Leon.  They have been kept young by their discovery of the fountain of youth, the yellow polka dot bikini. So these Florida haunted houses are not a place for the old and weary. Women and children may want to avoid them as well. Only the smartest and strongest Floridians will survive the encounter.
13th Floor Jacksonville - Jacksonville Beach, FL
The 13th Floor opens on Friday, September 13th for the 2019 season.  They are open every Friday and Saturday nights through November 9th.  They are also open lots of added Thursday and Sunday nights in October plus more nights Halloween week.  Tickets run from $19 up to $29 depending on the night. This year, as in the past, and future, we will open one of these locations for you to tour. Step inside, take a ride, and travel through the 13th floor, visit the current occupants who call it their "home", witness the oddities and strange occurances that have created the legend of the 13th floor, and discover why it continues to be one of the world's greatest mysteries.
A Petrified Forest - Altamonte Springs, FL
The season opens October 2019.  A Petrified Forest is a giant 85,000 square foot haunt attraction. There are four attractions named The Path (two trails), Backstage Tour, and Laser Tag. It features live bands, food and games. The fun runs from 7:30 pm to 11 pm. Tickets are $15 for either haunted trail or $25 for both. The Backstage Tour is $10. There are combo packages available. They are open Thursday, Friday, and Saturday nights.
Asylum by Ocoee Lions Club - Ocoee, FL
Tickets are just $5 for Asylum Haunted House which runs the Friday and Saturday the last two weekends in October 2019 plus a Thursday and Wednesday night before Halloween.
Chamber of Terror - Tampa, FL
Chamber of Terror aboard the SS Victory Battleship is open on Friday and Saturday nights in October 2019 plus the 31st and November 1st and 2nd.  Prices vary by date buy range from $10 to $15.  After years of heinous crimes and vicious murders, Captain Berwick and his Henchman return with evil intentions. Although the ship and its many inhabitants are in a state of anarchy, they don't dare disobey the Captain.  As you tread through the dank depths of the ships cargo hold, sinister creatures and hostile soldiers lurk ready to strike. Enter the living quarters and make your way through the corridors where lost souls wander aimlessly.  Attempt to survive hordes of undead crew members while crossing the weather deck, as you venture through the ship you will witness the mayhem that Berwick and his crew inflict on their victims as you try to keep from becoming one of them. Evil is everywhere aboard this rotting vessel.
Demented Haunt - Margate, FL
The Scape Room attraction is new with 3 rooms and 3 themes to conquer in 50 minutes.  Filled with surprises and twists throughout.  It features a haunted house atmosphere with an escape room challenge.  Demented Haunt is an escape room. This will not be your typical escape room. Be ready for the unexpected. Not only will you have to try to escape but will have to work together as a team to find clues and solve problems, but be careful because one wrong turn will put everyone's life in danger.  Tickets after 5 PM are $25.
Distorted Dreams Haunt - West Palm Beach, FL

Enigma Haunt - Boca Raton, FL
Enigma returns September 27th, 2019.  Open every Friday and Saturday nights plus some Sunday and additional dates.  Check web page for added details.  Explore the Florida legends of fog and hidden monsters at Enigma. The theme is "death is always an option". Tickets start at $25 online with a portion going to support the Wounded Warrior Project for our armed forces. Single attraction tickets and combo tickets available. Doors open at 7:30 pm.  Haunt has 19000 square feet plus two floors of terror.
Face the Fear House - Longwood, FL
Back again at the Longwood Village Inn.  Admission tickets are available.  Open
October  25, 26 & 27 (Friday-Sunday) 8-11pm
http://facethefearhouse.com/
Fright Nights - West Palm Beach, FL
The fun returns October 2019 with a full scare beginning around October 10th.  Open weekends in October.  Now open for over 18 years they are located at the South Florida Fairgrounds.  4 Haunted Houses feature terrifying live actors, cool special effects, and scary monsters!  Fright Nights is the premier haunted house attraction in South Florida and 2019 is going to be chock full of scares!  With 4 full haunts, carnival rides, live music, food, and entertainment, Fright Nights is the place to go on a Friday, Saturday, or Sunday night in October.
Halloween Horror Nights - Orlando, FL
HHN starts their season on September 6th, 2019.  This is Universal Orlando and their big Halloween event. This is one of the best and biggest haunt events in the country. Ticket prices are around $62.99 with a day time ticket purchase or around $114.99 for a single night purchase. We recommend you explore and buy your tickets online. Many types of park discounts are available in the area. Don't miss any of the 9 haunted houses including The Cabin in the Woods, Evil Dead, or Resident Evil.  Halloween Horror Nights has over 646000 Face book likes.
Haunt Nights - Jacksonville Beach, FL
Their 2019 haunt season begins the first weekend in October 2019.  Haunt Nights at Adventure Landing features four attractions.  Payn Manor, Pinehurst Asylum, Dark Fables, and Descent all will terrorize you.  Tickets available for the combo pass.  Enjoy on Friday and Saturday until 11:30 pm with some Thursday, Sunday and other nights until 10:00 pm. The haunt opens at dusk. They also have mini golf and go-kart rides.
Haunted Gross House - Naples, FL
Haunted Gross House is located as a fundraiser at Collier Fair grounds.  They have a Hay Ride for $5 and a Haunted Walk for $15.  They will operate in 2019 on Friday and Saturday nights the last three weekends in October.
Haunting on the Harbor - Punta Gorda, FL
Event opens for 4 nights October 25-26-27-31, 2019.  Punta Gorda hosts a downtown haunted festival and haunted house. Admission to festival is free Hours on Friday are 5pm to 11 pm each night admission to haunted house $15 adults, $10 kids, Fast pass $20
House of Horror - Doral, FL
Open nightly starting late September 2019.  House of Horror Haunted Carnival is an amusement park featuring a haunted carnival on 2 acres of attractions with 30 bone chilling scenes and 30 scary characters including 10 new demons. It has live music, carnival rides, and carnival acts. You can wear your costume with mask at House of Horror. Check out their two new haunted houses: Blossom Ln and Area 13. Tickets for the complete park available with discount coupons online available. The times are 5 pm to 12 am on Friday and Saturday and 6 pm to 11 pm on all other nights. Free parking is available at Miami International Mall.  Attraction is open every night of the month.  House of Horror has over 28000 Facebook likes.
Howl-O-Scream - Tampa, FL
Night fun returns late September 2019 and runs through October.  Another Florida theme park favorite is Busch Gardens Tampa. They have run this Halloween event for over 16 years. HowlOScream runs the last two Friday and Saturday nights in September and every Thursday through Sunday nights in October.  The times are 7:30 pm until 1 am. Event is always a fan favorite for both locals and tourists. Check their website for the full range of prices, discounts, and online options – this is a separately ticketed event. Busch Gardens has a full range of scream attractions including The Basement, Death Water Bayou, Circus of Superstition, Blood Asylum, Dead Fall, Zombie Mortuary, The Experiment, and Ultimate Gamble.  Howl-O-Scream has over 127,000 Facebook likes.
Mickey's Not So Scary Halloween Party - Orlando, FL
The party returns starting on August 16th, 2019.  Disney World operates a night time special event Halloween experience called Mickey's Not So Scary Halloween Party. It is a separate hard ticket priced starting at $79-89 dollars. It features the Happy HallowWishes Firesworks and two Mickey's Boo-to-You Halloween Parades each night. This is one of the best non-scary events in the world. You can find all the popular Disney characters in the park on these nights. Trick or Treat your way around the park. Lots of rides, fun, entertainment, and of course the Haunted Mansion. The entire park is decorated for Halloween.
Monster Splash - Miami, FL
Miami Seaquarium returns with Monster Splash on October 26th, 27th, and 28th this Halloween season.  They will be taken over by ghosts and goblins when the popular Monster Splash Halloween Bash returns Friday – Sunday. This year we're having Halloween themed shows, trick-or-treating, rides and inflatables, Flipper's dance party, 'create a scarecrow' activities, pumpkin patch and much more!
Murder House - Tampa, FL

Ybor City has a rich cultural history and the community appreciates art and expression. Murder House has found an area of Tampa that has accepted the controversial nature of the Haunt. With Murder House's dark adult themes, Ybor Cities culture supports the brand and is excited about the annual Haunted Attraction.
Newberry Cornfield Maze - Newberry, FL
The maze has both family friendly daytime and scary night time activities including a hayride.  It runs at night every Friday, Saturday, and Sunday nights in October 2019.  Maze- Take nice stroll through the maze during the day by trying to choose the correct path to find your way out. Beware when darkness falls there is nocturnal life awaiting your entrance at every twist and turn as you try to make your way out.  Hayride- Take a daytime ride on the tractor pulled wagon and help Farmer Hodge feed the cows.When darkness falls you'll embark on a hayride adventure through the haunted Sullivan trail encountering the living dead.  Haunted House- As you turn each corner in the haunted house be ready to jump out of your skin because you never know what haunted encounter awaits you.
Ominous Descent at Fear Park - Plant City, FL
Fear Park hosts Ominous Descent on most Friday, Saturday, and Sunday nights in October 2019.  You will enjoy visiting the backwoods farmhouse, haunted walk, and funeral home.  Attraction is also known by locals as Sir Henry's Haunted Trail.
Paranoia Horror Maze - Miami, FL
Tickets are $24.99.  I would consider Paranoia an extreme haunted house given that 3000 people have chickened out.  A black out horror maze experience that tests your limits of fear at an all new level, much more intense than anything you have ever seen or experienced.
Scream -A- Geddon - Dade City, FL
Six attractions open on Friday the 13th in September 2019.  It runs weekends in September and every night in October.  They have Zombie paintball, a monster midway, Blackpool Prison, Deadwoods, Infected and so much more.  New for this year is Bonzo's Beer Garden.  Tickets online range from $21.95 to $35.95 depending on the night.  Save money and buy online tickets.  Note this should be considered an extreme haunted house as two attraction allow the actors to touch you.  They not only touch you but physically push, grab, and shove you.  A very scary experience.
Sorosis Club's Annual Haunted House - Orange City, FL
The theme this year is H.H. Holmes 1893 World's Fair:  A Trip To Nowhere.  Tickets are $10.  It runs the last two Thursday, Friday, and Saturday nights in October 2019.  This is the 41st year for this annual haunted house.  The crimes of H.H. Holmes are the stuff of horror movies. A good looking businessman lures many out of town guests into his brand new, grand hotel. He took great pleasure personally showing them to their rooms which they soon discovered only opened from the outside. The hotel is not at all what it seems: stairs to nowhere, rooms made into gas chambers, peepholes, trap doors and chutes that lead into the most sinister room of all…the basement! Be prepared to come face to face with murder, madness and magic!
Terror of Tallahassee - Tallahassee, FL
Attraction for 2019 is usually open every Friday and Saturday nights beginning October 4th. Check their website below for further information. Adult tickets are sold at the door or discounted tickets sold online.  Considered to be a very scary haunted house.  Children can attended with an adult but it is not necessarily recommended.  Males can be touched so I would considered this to be an extreme haunted house.
Terror on 20th - Cape Coral, FL
Terror on 20th is a local attraction supporting a number of charities. Stop by from dusk until 10 pm with some canned goods for a great Halloween fun time. Entry is free with a food donation.  A home haunt…complete with pneumatic props, actors, monsters, chainsaws, smoke machines, music……….scares around every corner! Open Halloween night from dusk until 10pm! Camera's welcome. The tour is free however they do ask for a canned food donation for  local charities.
Terror on Main Street - Sebastian, FL
Terror on Main Street is presented annually by the GFWC Sebastian River Junior Women's Club.  Tickets are $10.  Terror is open the last three Friday and Saturday weekend nights in October 2019 plus added dates Halloween week.  This is their 38th year putting on this haunted house.
Terror on the Lake - Clermont, FL
Sadly, Terror on the Lake is now permanently closed.
The Neverending Nightmare Haunted House - Ocoee, FL
Open every Friday, Saturday and Sunday two weeks before Halloween in October 2019.  Enter the time when your nightmares now have control. An old asylum, an industrial disaster, a backwoods swamp and many more scenes of terror await as you travel from one to the next. The waking realm seems so far away, will you be able to make it back?
Torment Factory - Trenton, FL
Torment Factory has an all new location for 2019.  Four attraction for one price. Today, strange happenings are starting to surface again as the area's local attraction, Torment Factory, takes place on the land previously inhabited by the Hackman family. It appears the Hackman's may have found a new source for victims.  Attractions are Carnevil, Carnivorous, The Hunted, and Soul Harvest.  They run every Friday and Saturday beginning October 4th, 2019.
Trail of Doom - Ponte Vedra, FL
Attraction runs the last Friday and Saturday nights in October 2019.  Tickets are $10. Come walk our scary trails IF YOU DARE!! Each corner you turn will have something new to scare you!! The TRAIL OF DOOM is open on October 25th and 26th from 8pm-10:30pm.  Fee for entry is $10. We will also host a smaller kid friendly trail that runs from 5pm-7pm, both nights with a fee of $5. The address is 171 Canal Blvd. Ponte Vedra Beach Blvd. 32082. Open to the public
X Scream Halloween - Palm Springs, FL
X Scream returns October 11th, 2019 and every Friday and Saturday through Halloween.  All new attractions for 2019 include X-scream Crash Landing and The Island. Find out if undead Aliens and zombies can really share this planet.  Open Friday and Saturday nights.  Tickets are $13.
If you live in Northern Florida, there's a chance that you should actually run across the border rather than visit the closest Florida haunted house – check out our listings in 
 Alabama, 
Georgia, 
Michigan
Conner's A-Maize-Ing Acres – Hilliard, FL
They operate their corn maze on Saturdays beginning late September through Halloween. Choose pumpkins from the Navajo Indian Reservation. Activities include pedal carts, corn cannon, horseback riding, putt putt, a cow train, and more live animals. Also at night they have a haunted maze attraction.  Their address is 19856 County Road 121, Hilliard, Fl 32046. It is located about 31 miles northwest of Jacksonville.
Check out Black Friday ads, Cyber Monday ads, and holiday sale prices from Walmart, Target, and over 100 top retailers this Christmas season.
Find other fall fun things to do in Florida in October: Oktoberfest in Florida Florida Festivals Florida Corn Mazes Florida Ghost Tours Pumpkin Patches in Florida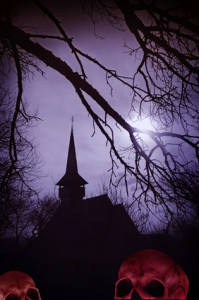 Check out the TOP 100 HAUNTED HOUSES FOR HALLOWEEN 2018 and our list of the Top 100 Haunted Houses 2017 in America.  Is your favorite haunted attraction on the top 10 and top 100 state list?
You may also be interested in our article on Haunted Houses and Horror Movies | History of Fear.
Add Your Feedback!
Have you been to one of these haunts? Future readers would be interested in hearing what you thought. Did you have fun? Was it worth the price? Would you suggest it to visitors here? Any tips to maximize your experience? I'll gladly publish what you send me and give you an over the Internet hug.
If you are the owner or employee of a house in this directory, or one we missed and need to add, we would love to have more information about your place, including the url, photos, dates/times/hours etc. Use the contact form on our advertising page to get in touch and we'll follow up if we still need your response to any of these questions.