Haunted Houses in South Carolina for Halloween 2022
Find creepy Halloween haunted houses in South Carolina this October 2022. Funtober has a complete list of local haunted houses, haunted hayrides, haunted trails, haunted scream parks and more Halloween entertainment. Expect to find lots of zombies, witches, vampires, and creatures roaming around the South Carolina woods at a haunted house near me. Most of these haunted attractions feature Hollywood type set designs, air blasters, live actors, and spectacular costumes and makeup. You will be frightened, so plan a night out with your friends for some scary entertainment.
Columbia Haunted HousesGreenville Haunted Houses
Last Major Update:
Boardwalk Fright Nights - Myrtle Beach, SC

The scary-good times run every Friday & Saturday Night in October 2019 at dusk as the neighborhood transforms into the freaky-fun place to be for the Halloween season!  See Live Zombies outside Nightmare Haunted House, great off-season discounts at most area shops & restaurants…Guaranteed Big Tricks & Treats!!!   Month-long event located in the Boardwalk area of downtown Myrtle Beach featuring roaming live zombies.
Dark Castle Haunted Attractions - Elgin, SC
Dark Castle has combined The Dark Trail and Dungeon of Darkness with a zombie paintball experience.  It  opens this season in late September.  Both a 10,000 square foot indoor haunt and outdoor attraction featuring a terrifying zombie survival scenario. Now celebrating their 13th year. Doors open at 7 pm.  Open Thursday, Friday and Saturday nights through early November plus Halloween night.
Deceased Farm - Lexington, SC
Lots of fear beginning on Friday and Saturday nights beginning in late September.  Open Friday and Saturday nights in September and Thursday through Sunday nights in October.  The farm has two complete haunted attractions. It includes a haunted corn maze and 3-D haunted experience. The combo price for both attractions is $20 on Friday and Saturday or $16 on other nights. Attraction opens at dark and runs until everyone has gone through the attraction.  Deceased Farm begins with a unique, mind-warping trip through a 3D nightmare. While wearing your glasses, you will be surrounded with astonishingly detailed artwork, ghastly monsters with their toys, and 3D effects sure to have you questioning your sanity.  You will then be transported to a dark and desolate farm, inhabited by unspeakable creatures hoping to make you this year's harvest! Just when you think you have made it out alive, you will be plunged into 2 acres of dark cornfields. For more entertainment while at Deceased Farm, be sure to check out our highly raved about zombie paintball shooting gallery. You can gather around our coffin fire pit to enjoy s'mores with your friends. Enjoy a cold one at "Deceased Brews" (No I.D., no beverage. No exceptions.).
Denver Downs Farm Harvest of Horror - Anderson, SC
Denver Downs is open every Friday, Saturday and Sunday nights beginning October 4th, 2019.  Enjoy the hayride, corn maze, bonfires, live music and 4 haunted events.  The combo ticket is $35. Test your appetite for horror and fear at the Upstate's leading haunted attraction. One admission price includes 4 Haunted events, PLUS the 10-acre corn maze, and the barnyard activities!  So much fun.  So much fright.    Can you handle it all?    We invite you to try.   Not recommended for weak hearts.     If children, or those adults scared easily, would like to do the haunt, we have a "soft scare" option.
Fear Farm Haunted House - Blacksburg, SC
Fear Farm is open every Friday and Saturday night begining September 28th, 2019.  An 8000 square foot haunted attraction featuring 40 live actors. Help defend Bloody Springs from the Zombie Apocalypse. Buried in our graveyard are zombies. Experience Dark Maze, Killbilly Swamp, rat infested sewer, psycho, and insane asylum. Tickets are $20 to go through all 4 main attractions.  Parking is free. Fear Farm is open every Friday and Saturday night plus Halloween. Doors open at 7 pm until after 11:30 pm.
Gilbert House of Terror - Gilbert, SC
Event opens Friday night beginning around the middle of October.  Doors open at 7:30 pm and the ticket office closes at 11 pm. Tickets are $15 on Friday and Saturday nights through Halloween night. Are you ready to experience 13 rooms and 9 nights of Fright? All proceeds benefit a variety of local non-profit organizations, including The First Calvary Food Pantry of Gilbert, Gilbert's Boy Scout Troop 60, Lexington County Juvenile Arbitration Program, and The Palmetto Equestrian Therapeutic Riding Program.
Hall of Horrors - Cayce, SC
Sorry folks Hall of Horrors appears to be closed.   A haunted house featuring 3000 square feet of pure mechanical mayhem. Tickets are $10 for Human Stockyards and $25 for the Excape Room experience. What are the top secret details of Xperiment13? The patients have been evacuated and the place is quarantined. The haunt also has special blackout nights. See webside for details.  Generally open every Friday and Saturday nights from 8 pm to midnight plus Thursday and Sunday before Halloween.
Kreepy Hallow - Bishopville, SC
Enjoy opening night around the middle of September.  It takes about one hour to go through Kreepy Hollow's three main attractions Zombie Breakout, Kreepy's Haunted House, and Keepers Bus Ride. Tickets are $20 to experience clown tunnel, disfigured hillbillies, the two mile scary hayride, and haunted house. The ticket booth opens at 7 pm. Parking is free and there are two concession stands onsite. Open Friday and Saturday nights in September and Thursday through Sunday nights in October plus some other dates.  See website for details.
Madworld - Piedmont, SC
Madworld open on Friday the 13th.  It runs every Friday and Saturday nights in September and most Thursday through Sunday nights in October 2019.  Madworld has the industries best monsters, costumes, animatronics, pyrotechnics, and special FX.  Madworld delivers the scare factor and entertainment like no one else. Come experience what lurks beneath the best haunted house in Greenville, SC this Halloween season.  If you are afraid of the dark you can get a medallion that will keep the monsters away.  A huge attraction with over 175 actors.
Nightmare Dungeon - Greenville, SC
The season begins on September 13th, 2019.  Open every night until November 2nd.  An all new experience this year in an all new abandoned house.  Imagine being inside a live horror film. Attraction is filled with special effects, scary sets, actors, and frights. Local patients were once infected with a sadistic virus and tortured. Experience the horrors that occurred in Greenville. Attraction is open every night through November 5th. Tickets are $30. Open from 7 pm until 2 am. THAT'S RIGHT The Abandoned Cabin® has ANOTHER YEAR planned for you Starting Sept 13th thru Nov 2nd Every Single Night…EVEN IF ITS RAINING !!! We've got ya covered, It's gonna be one "HELL" of a night that you don't want to miss AND YOU GET TO GO THRU BACKWARDS THIS TIME that's right BACKWARDS, if you've been to the Abandoned Cabin before then you'll see a total difference in a backwards tour thru the cabin NOTHING WILL BE THE SAME AS LAST YEAR ! You'll be trapped inside with 40 Plus Actors and their all feeling some kind of way this year.  you will meet them all face to face and their going to get as close as they want to in your face and who knows what else they have in mind !! Alot changed in the cabin this year and we don't go by the rules and you'll see what we mean, Some of you might not even be able to find your way out on this 2 Story Cabin In The Woods on these Twisted Nights. HORROR, TERROR, HAIR RAISING FEAR IS GOING TO WRECK YOUR NIGHT ON THESE NIGHTS HERE AT Nightmare Dungeon®,
Nightmare Haunted House - Myrtle Beach, SC
Nightmare is open daily starting at noon.  Myrtle Beach's darkest haunted attraction since 1989. Nightmare Haunted House is usually open 7 days a week all year. Call 843-626-0022 for details on the monthly dates and attractions. This year's theme is Zombie Zone. Tickets are $11.33.
Nightmare Hollow - Spartanburg, SC
Nightmare Hollow returns for their 19th season in 2019. Walk through the haunted trail into a bone chilling haunt. Tortured souls are waiting for their revenge. The walk takes about 35 minutes. Doors open at dusk. Call 864-809-8115 for more 2019 information or check their web page. Attractions runs Friday and Saturday nights from September 27th through October.  Also some added nights Halloween week.
Scream Acres - Bishopville, SC
The season kicks off in late September.  Scream Acres has been open for more than 10 years. Tickets are $15. The haunted house is open dark to 1 am every Friday and Saturday or Sunday until 10 pm. Leave your chainsaw at home as they have plenty in use. Expect to scream. It runs every Friday and Saturday from late September and every Friday through Sunday nights in October.
Terror Falls Haunted Farm - Gaston, SC
Open every Friday and Saturday nights starting in early October.  Many past visitors have become close-knit residents of the Town of Terror Falls. Stop by Meemaw's Bed and Breakfast and hang out on our patio, but watch where you step as things may not be as they seem. Walk the Terror Trail through the haunted swamp and stop for a snack at Uncle Rick's Smokehouse. Rumor has it, Uncle Rick helps Meemaw supply her legendary breakfast specials! You can also stop by the Field of Distortion and help the search party find our dear friend, Lydia. She is believed to have been last seen taken by two of the Terror Falls residents. Grab a treat at the Terror Falls General Store and enjoy it around the firepit. Don't worry too much if the residents are in rare form, we have a full on-call staff at the Terror Falls Hospital.
The 901 Nightmare - Edgemoor, SC
Nightmare is back for the 2019 season with lots of new scares. Tickets are $15 most nights. Attraction runs every Friday, Saturday, and Sunday nights plus Halloween in October.  Doors open at 7:30 pm. This is an outdoor attractions featuring blood and lots of it. Fear and fright are not an option.
The Boneyard Trail of Terror - Campobello, SC
Sorry folks The Boneyard is permanently closed.  The owner has health issues and is trying to sell the attraction to someone who can reopen it.  Sadly it will be missed..
Treedine's Haunted Farm - Piedmont, SC
Treedine's Haunted Farm is open every Friday and Saturday nights starting the last weekend in September 2019.  Doors open at 7 pm and close at 11 pm on Friday and Saturday or 10 pm on other nights. Concessions are available and parking is $1. There are two haunts named Midnite Hill and The Forest. Some of the scenes are PSyko Sylum, Camp Crystal Lake, Santimazium, The Butcher, The Home and Underground. Treedines have been operating for over 25 years. Expect it to be scary and fun.
Wompus Woods Haunted Trail - Cowpens, SC
This attraction opens on September 28th, 2019.  "Wompus" is a big 12 foot beast roaming the South Carolina woods. Tickets prices vary so save money and get both the walking trail and hayride for $30.  Each haunt takes about 30 minutes to experience. Doors open at dusk and close at 2 am on Friday and Saturday nights.  Attractions run every Friday and Saturday nights in October.
If you are close to the state line, you may want to find a haunt in a neighboring state: Georgia, North Carolina, and Tennessee.
Find other fun things to do in South Carolina in October:
Oktoberfest in South Carolina
South Carolina Fall Festivals
South Carolina Corn Mazes
South Carolina Ghost Tours
South Carolina Pumpkin Patches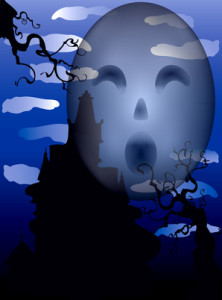 You may also be interested in our article on Haunted Houses and Horror Movies | History of Fear.
Add Your Feedback!
Have you been to one of these haunts? Future readers would be interested in hearing what you thought. Did you have fun? Was it worth the price? Would you suggest it to visitors here? Any tips to maximize your experience? I'll gladly publish what you send me and give you an over-the-Internet hug.
If you are the owner or employee of a house in this directory, or one we missed and need to add, we would love to have more information about your place, including the url, photos, dates/times/hours etc. Use the contact form on our advertising page to get in touch and we'll follow up if we still need your response to any of these questions.
Check out Black Friday ads, Cyber Monday ads, and holiday sale prices from top retailers this Christmas season.