Haunted Houses in Michigan for Halloween 2019
Locate local 2019 Halloween haunted houses in Michigan, including haunted houses, haunted hayrides, haunted trails, haunted corn mazes and more this Halloween season.  Expect to find all the state's wolverines, zombies, devils, vampires, witches, and aliens maybe some Spartans or a buckeye or two.
Check out our TOP 100 HAUNTED HOUSES FOR HALLOWEEN 2018 and the Top 100 Haunted Houses 2017 in America.  Is your favorite haunted attraction on the top 10 and top 100 state list?
Ann Arbor HauntsDetroit Haunted HousesFlint Haunts
Grand Rapids HauntsJackson Haunted Houses
Last Major Update:
AZRA Chamber of Horrors Haunted House - Madison Heights, MI
Can you handle the Chamber of Horrors? Opens for the 2018 season on 9/28 and continues through 11/3 – the closer we get to Halloween, the more days they are open each week, so check their website for days and hours! Tickets start at $20 but they have options to help you skip the line.
Bates Saw Mill of Torture - Millington, MI
Opens this season on September 28th.  The Bates Saw Mill is a 20,000 square foot attraction with 30 scenes based around a man with an appetite for human flesh. Yes bloody and gory is the norm. It runs Friday and Saturday nights through the end of October. The times are from 7:30 pm to 11 pm. Tickets are $20 for their combo ticket.
Blake's Halloween - Armada, MI
Blake's has operated the farm, greenhouses, and cider mill for over 20 years. This is one of the largest cider mills and activity centers in Michigan. I used to live near Detroit and this became one of our family's favorites in the fall. Blake's Halloween runs every Friday, Saturday, and Sunday night.  They have a live DJ, food tent, and free cider and donuts. Also enjoy outdoor movies and bonfires under the stars every night. The haunted attractions are Spookyland 3D Maze, Zombie Paintball Safari, 3-Story Haunted Barn, and the Nighttime Spooky Hayride. Tickets have several pricing combinations based on how many attractions you want to go through. Add attractions for more or children and Sunday for less. I highly recommend Blake's for lots of fun.
Darksyde Acres Haunted House - Jonesville, MI
Darksyde Acres opens up on September 15th.  Darksyde Acres with 38 acres and 70,000 square feet is one of the biggest haunted houses in Michigan. It features 7 attractions full of mazes, monsters, and mayhem.  Open Friday and Saturday nights. They have a nightly bonfire, refreshment stands, and a gift shop. Tickets are $22 for the combined Catacombs, Rusthole, Dark Abyss, and more attractions. Tickets are just $22 for 2018. All 5 attractions included. Box office opens at 7:30 pm and closes at 12:00 am.
Erebus - Pontiac, MI
Erebus is named after "the darkness beneath the earth which the dead must pass through to get to hades." Sounds a little scary and it is. Open since 2000, Erebus Haunted House is nationally recognized as one of the largest and scariest haunted houses in Michigan and the country. It is 4 stories of state of the art special effects terror. Lots of zombies, ghouls, and creatures of the underworld. At Erebus you can expect to travel the terrifying journey through Dr. Colber's time machine. View experimental surgery, the dead stalking the living, and extremely long outside wait lines to enter. The fall season for Erebus opens late September. Sunday times are from 6 pm to 11pm, Friday's and Saturday's until 1 pm and the rest of the week from 7 pm to 11 pm.  Erebus has over 23000 Facebook likes.
Exit 13 Haunted House - Mt Morris, MI
Doors open at 7 pm on Friday and Saturday and 8 pm on other nights. They are open every Friday and Saturday beginning September 14th plus Thursday and Sundays in October. Completely renovated this year with all new horrors around every turn.
Forest of Fear - Caledonia, MI
It appears the Forest of Fear has permanently closed.  They will be missed.
Ghost Farm of Kingsley - Kingsley, MI
Season begins on September 28th.  Haunt is open every Friday and Saturday nights in October from 7:00 pm to 11:00 pm. The family has been putting on their fantastic haunt since 2010. Their haunted trail featured attraction is the Ravencrow's Revenge Haunted Walk with their unfriendly witch and infestation of crows. See for 2018 The Cursed Barn and Gravely Greenhouse. Also they have special kids versions of their famed attractions. Check their website for details. All three haunts for one $15 ticket.
Haunted Adventure at Turkeyville - Marshall, MI
Haunt Adventure starts October 5th.  Cornwell's turkeyville is open Saturday and Sunday in October. Tickets are $10. They feature a corn maze, Ghoulish Hay Ride, House of Illusions, and a Spooky Train Ride. Also check out the pumpkin patch. They are open 11-5 pm on Sunday and 12-6 pm on Saturday.
Haunted Farm of Terror - Lenox Twp, MI
Attraction season opens September 14th.  The Haunted Farm of Terror has operated for over 15 years on this 20 acre farmland. There is both a haunted hayride and haunted house. There is also a Road Kill Café and Gift Shop onsite. Some say " the haunted hayride is to die for". The attractions run every Friday and Saturday in September then Friday through Sunday plus additional dates in October.  Doors open at 7 pm and close at 1 am on Friday and Saturday and 11 pm on other nights. Tickets are $25 for the combo 2 attraction ticket or $17 for individual attractions. They also have a zombie paintball shoot.
Jackson's Underworld - Jackson, MI
Scary season starts on September 14th.  Stop by Jackson's Underworld for an exciting and modern scary haunt. This is a 30,000 square foot haunt filled with fantastic scenes and scary animatronics that takes about 40 minutes to complete. Tickets online are priced at $25 for Extreme Haunt or $20 for PsychoVisiion 3D or combo for $40.  Open every Friday and Saturday night in September and every Thursday through Sunday nights in October.  It opens at 7 pm and closes on Friday and Saturday at 1 am and all other nights at 11 pm. Check their website as opening times may vary.  Open lots of additional nights in October including every night the last two weeks.
Night Terrors at Wiard's Orchard - Ypsilanti, MI
Featuring 6 attractions – some available individually, in a four-event package, or all together: the Haunted Barn.  Courageous souls who have dared to set foot on the haunted grounds of this old orchard say they can still hear the howling sounds of the night. So said the few brave souls who have survived, and the fear will always live in them. There comes a time in each of our lives when we must face our fears and face the terror of these haunted lands. What's your Fear? Is it the dark? Is it death? Is it the old haunted house next door? Or is it just the unknown? Prepare yourself to confront those fears at one or all 6 of the Wiard chilling haunted attractions: the Ultimate Haunted Barn, the Asylum, The Mineshaft, Hayrides of the Lost, SplatterTown – Live Action Haunted Paintball and Alien Caged Clowns. Opens 9/22/18 and is open on Fridays, Saturdays, and most Sundays plus Halloween.
Niles Scream Park - Niles, MI
The fun starts beginning September 14th.  Niles Haunted House has 44 acres and 150 to 200 scary actors to scare the yell out of you. The waiting area has photo opportunities, a paintball shooting gallery, and a basketball shoot. Niles is open Friday and Saturday nights in September and Friday through Sunday nights in October. Special celebrity movie guest weekend of October 6th. The doors open at 8 pm in September and 7 pm in October. Tickets have several individual attraction prices or choose one of several cost saving combo options. Combo prices range from $25-35. One of the top haunts in the country.  Niles Haunted House has over 34000 Facebook likes.
Panic at Pine Stump Hollow - St Clair, MI
Sorry folks it appears that Panic at Pine Stump Hollow has permanently closed.
Past Tense After Dark - Lapeer, MI
Opens this season on September 21st.  What happened at the hotel? Learn more at the 3 haunts that make up Past Tense After Dark. This attraction features the Hayride of Despair, the Corn Maze of Fear, and the House of Horror. The combo ticket is available. It runs every Friday and Saturday from late September. The doors open at 8 pm. Past Tense also runs family events including a fall festival, Halloween events, a country store, a corn maze, cider mill, flowers, and Christmas activities. Worthwhile fall excursion for the family during any fall weekend. Especially nice drive when the leaves are changing.
Saint Lucifer's Screampark - Flint, MI
Sorry folks this haunt is in the process of relocating to a new location.  They will not be open in 2018 but they do expect to return next year.
Scream in the Dark - Traverse City, MI
Scream in the Dark opens October 5th.  Open every Friday, Saturday, and Sunday nights in October. Only $5 for Haunted Trail and Wagon Ride. Only $15 for combo package including above plus Swamp of Suffering, Pandemonium, and Delirium.
Shawhaven Haunted Farm - Mason, MI
Shawhaven Haunted Farm opens September 28th.  It is open on Friday and Saturday nights from 7 pm to 11 pm. Tickets available for Samara's Boarding House, Wagons of Fear, and Dead Maze Corn Maze.  They have individual and combo ticket prices for all three. They also have a non-scary corn maze ticket for $6 or a Last Ride scare for $4. This attraction has been running for over 13 years. Shawhaven Farm has a great daytime corn maze and pumpkin patch.
Slaugherhouse Adventure & Corn Maze - Fowlerville, MI
Slaughterhouse Adventure is described as a blood bath and beyond for their 30 minute ride. It is located at 5781 Grand River, Fowlerville, Michigan, 48836. It is open every Friday and Saturday in October between 7:30 pm until the last body falls. It opens late September. Expect to experience a tree falling, killer chase scene, flying saucers, a dragon, car wreck, machine gun, and a 40 foot firewall. Tickets available for the Slaughterhouse attraction, the Haunted Maze and the Haunted Hayride ticket.  Parking is free. Slaughterhouse Adventure has all new scenes and scares for 2018. New this year is their separate attraction Jigsaws Escape Room.
Slaughtered at Sundown - Romeo, MI
Haunt starts scary fun on September 28th.  There is both a Haunted House and Haunted Hayride at Slaughtered at Sundown. Doors open at 7 pm.  You can wear costumes but no masks at Slaughtered. Slaughtered at Sundown is open Friday and Saturday nights. Lots of events and activities including a live radio broadcast most weekends.
Terror at Tee Lake - Lewiston, MI
Tee Lake Resort operates a Drive Thru musical haunt attraction, a haunted house, and a themed Witch's cottage rental during Halloween season. The drive thru is free. The haunted house is a $5 donation. Have fun with their two night cottage rental. The drive thru and cottage attraction is open October 1-31. The haunted house is open from 7 pm to 10 pm during select nights in October.
Terror on 27 - Ashley, MI
Do not take a wrong turn onto Terror on 27. There are three attractions. Insanity is the original house of terror now featuring a tunnel of delirium which takes you to the gates of hell. Entanglement is a mineshaft featuring a waterfall of blood. Animosity is a haunted maze attraction. Terror on 27 runs Friday and Saturday nights plus the last couple of Sundays in October. The times are Sunday from 7 pm to 10 pm and Friday and Saturday until midnight.
Terrorfied Forest - Pinckney, MI
Lots of terror starting on September 21st.  The Terrorfied Forest is almost a one mile 40 minute walk. Tickets are $10 for the Manor at Hillcrest Sanitarium and $20 for the Forest. A combo ticket is $25. The dates are Friday and Saturday starting September 21st plus some added Sunday and weekday dates near Halloween in October. The times are 8 pm to midnight on Friday and Saturday and until 10 pm on all other nights.
The Crypt Haunted House - Burton, MI
Experience the black hole of The Crypt Haunted House. An in your face haunted place with actors, state of the art sound and special effects. Genesee County's scariest haunt. Tickets are $20. Attraction runs dusk to midnight on Friday and Saturday in October or until 11 pm on other nights.
The Haunt Grand Rapids - Wyoming, MI
Their all new location in Wyoming, Michigan opens this year on September 14th.  For over 18 years The Haunt was rated as one of Michigan's best attractions.  It just got bigger and better with far more insane scares.  The Haunt is open Friday, Saturday, and Sunday nights in September.  They are open Thursday through Sunday nights in October plus a few additional nights Halloween week. Doors open at 7 pm. The Haunt is a terror filled compound of fear. There are several ticket options at varying prices online or at the gate. Check their web page for details and save $5 online. The four feature attractions are Exhumed, Immortous, Deranged, and Lcugaru Bayou.  The Haunt has over 41000 Facebook likes.
The Haunted Masonic Temple - Bay City, MI
Caution their website appears to have a problem so we are listing their facebook page instead.  Located in the Old Masonic Temple building this attraction is sponsored by the Bay Arts Council of Bay City. It is created by over 100 local youths who volunteer their time and energy in creating this wonderful haunt. It is open starting on Friday and Saturday nights in October.
Trail of Terror - Williamston, MI
Opens their haunted trail on September 28th.  Attraction is open Friday and Saturday nights plus the last two Sunday nights in October. Featured attractions are the trail and cornmaze. They have a black hole and vortex scene. More new scares for 2018 with new animatronics and scenes with over an hour of laughs and screams.  They also run a very popular daytime non haunted corn maze.
Tunnel of Terror - Rochester, MI
Opens the night of October 12th.  Presented by the Rochester Area Jaycees, Tunnel of Terror is a haunted house maze of mayhem, darkness, and horror. It is open Friday and Saturday nights. The address is at Rochester Municipal Park.  Tickets are only $2-13. Check the web page for discount offer.
Village of the Living Dead - Saint Charles, MI
Now open for 30 years. The haunt is open Friday, Saturday, and Sunday nights beginning September 28th. Doors close at midnight on Friday and Saturday or 10 pm on Sunday. Also they have a new Panic Room attraction open by appointment. A non-profit organization dedicated to the youth of St. Charles and surrounding areas.
Witches of New Salem - Door, MI
Witches runs each Friday and Saturday from September 28th. The times are dark until done. Tickets available for Haunted Woods and  Haunted Cornmaze.  Several combo packages available. Lots of corn maze and daytime festival activity during daytime hours for the whole family before the night fright begins. Family Fun activities run different days or times from haunt attraction. Daytime 11:00 am to 6:00 pm on Saturdays and Sundays.
Wyandotte Jaycees Haunted House - Wyandotte, MI
New name and location this October.  This annual haunted house is put on by the Wyandotte Jaycees.  It is one of the largest and longest running attractions in the area. Fun starts at 7:00 pm and lasts on Friday and Saturday until 12:00 am or 10:00 pm on other nights. The whole community really gets behind this haunt. Lots of scary fun.  Location is at 3131 Biddle Ave., Wyandotte.  This year the theme is Kindred Haunted House.
There may be a closer haunted attraction to your south if you live near the border. You might want to also check out these states in addition to the Michigan haunted houses:  Ohio, Indiana, Illinois, Wisconsin
Find other fall fun things to do in Michigan in October:
Oktoberfest in Michigan
Michigan Festivals
Michigan Corn Mazes
Michigan Ghost Tours
Pumpkin Patches in Michigan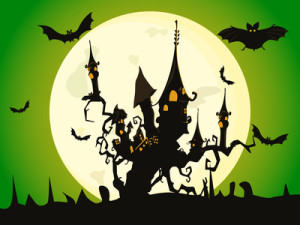 Check out the TOP 100 HAUNTED HOUSES FOR HALLOWEEN 2018 and our list of the Top 100 Haunted Houses 2017 in America.  Is your favorite haunted attraction on the top 10 and top 100 state list?
You may also be interested in our article on Haunted Houses and Horror Movies | History of Fear.
Add Your Feedback!
Have you been to one of these haunts? Future readers would be interested in hearing what you thought. Did you have fun? Was it worth the price? Would you suggest it to visitors here? Any tips to maximize your experience? I'll gladly publish what you send me and give you an over the Internet hug.
If you are the owner or employee of a house in this directory, or one we missed and need to add, we would love to have more information about your place, including the url, photos, dates/times/hours etc. Use the contact form on our advertising page to get in touch and we'll follow up if we still need your response to any of these questions.