Haunted Houses in Maryland for Halloween 2022
Find 2022 Halloween haunted houses in Maryland at the Funtober directory of haunted attractions. We have the most complete list of haunted houses with dates, locations, and ticket prices at haunted houses, haunted trails, haunted corn mazes, scream parks and more. Maryland has more than its fair share of ghosts, with many older than our country. They've seen history happen and they've learned more than you think from their time haunting – make sure you can run fast!
Baltimore Haunted HousesCumberland MD Haunted HousesFrederick MD Haunted Houses
Last Major Update:
301 Devil's Playground - Galena, MD
Open every Friday and Saturday nights beginning around the middle of October.  301 Devil's Playground is the scariest place wIth 3 terrifying attractions: The Barn Of Torture, 3-D Phobia and The House Of Hell. Plus, music, food, merchandise, lots of exciting entertainment and much more.  The 3 attraction combo ticket is $25.
Anne Arundel County Fair - Crownsville, MD
Sorry folks but given the current virus situation in the local area all events at Anne Arundel appear to be closed. Come back next year and join them for the county fair and their haunted Halloween event. Celebrate Halloween at Anne Arundel with the Haunted Maze, Haunted House, and Haunted Hayride attractions.  Join in the fun and celebrate their 32nd year anniversary.  Open Friday, Saturday and Sunday nights from early October.  Tickets are $15.
Bedlam in the Boro - Lineboro, MD
Another year for this great hayride starts every Friday and Saturday nights in early October.  Bedlam in the Boro gives a full entertainment experience with food, games, live entertainment and two haunted attractions. The Old Fashioned Haunted Hayride is 3 miles long as the Grim Reaper is on the prowl. The House of Horror is a 3200 square foot house of bone chilling terror. The haunt has operated for over 20 years. The doors to Bedlam are open from 7:00 pm until 10:30 pm. The dates are every Friday and Saturday nights. Tickets options available at $16-14.  Discount coupons are available online. They also feature a non scary hayride for $8 called the Bedlam Bypass.
Bennett's Curse - Baltimore, MD
Back again is Baltimore's well known haunt Bennett's Curse.  Now known as the "Krampus In The City". This might be "the" haunted house attraction to see in Maryland. There are three attractions named Inferno 3D, Sanction of Insanity, and Midieval Underworld. Also see Legends of Halloween. These are brand new and must see attractions at their new location. Doors open at 7 pm. The theme is about what lies beneath in the underworld or hell. Lots of torture, dungeon cells, and diabolical instruments in rooms with incredible monsters. The attractions play well with this theme. Tickets are individual and combo priced for entry into all 4 attractions. Doors close at 11 pm on Friday and Saturday or 10 pm on other nights.  They give the impression that you will experience the fright of your life.  So if true I will put them in the extreme haunted house category.
Chesapeake Woods Massacre - Chesapeake City, MD
Sorry folks but Chesapeake Woods Massacre did not open in 2019 and appears to be closed again this year.  They will be missed.
Cornstalkers Trail of Terror - Waldorf, MD
Open on Friday and Saturday from early October plus added dates near Halloween. They are having 2 attractions this season!  Their main attraction, the "Trail of Terror" consists of over 9,000 sq ft of non-stop twists and turns through cornstalk trails, narrow dark hall ways and terrifying rooms!  This season, the trails of terror go longer and deeper with Hillbilly's Homestead as the pure horror that once covered these stadium grounds.  Their 2nd attraction, "THE ASYLUM" comes to life as promised, with over 2,400 sq ft of heart pounding terror!  Enter the domains of the loss souls, that once roamed these very grounds.  The remaining patients here at THE ASYLUM, are eager to greet an play as they look for new patients to join them in the after-life.
Creekside Manor Haunted House - Williamsport, MD
Open every Friday and Saturday nights starting late September.  Creekside Manor is open every Friday and Saturday nights through Halloween. There are 16 rooms of terror. Come see what Mabel has in store for you. The zombies are the security to keep the wolves at bay. A most unusual place indeed. Doors open at 7:30 pm.
Field of Screams - Olney, MD
Field of Screams has four individually priced haunt attractions. Open every Friday and Saturday nights starting late September and most Sunday and Thursday nights.  The Trail of Terror is 35 minutes roaming the haunted forest where the farmer was once skinned alive by a werewolf. Lusion Manor is the haunted house. Hades Hayride goes through the evil grounds claimed by the underworld.  Field of Screams doors open at 6:30 pm. Tickets range from $15 to $20 per attraction. There is a combo package available at discounted prices.
HallowFest at Six Flags America - Mitchelleville, MD
Opening night is in early October.  Open every Saturday and Sunday plus some other dates in October. HallowFest is the weekend Halloween event at Six Flags America. Ticket prices vary but generally are around $42 – 55 for admission. As you might expect in a park this size there are multiple entertainment options. Entertainment includes Blood Moon stunt terror, theater or Magic, and Dead Man's Party. There are many haunt attractions such as Voodoo Curse, Necroville, Spider Outbreak, Haunting of Hall Manor, Twisted Fair Tales, and many more. Most of the fantastic rides have been re-themed for this event.  They have take extraordinary measures to insure guest safety during the current virus situation.  Social distancing, hand stations, no indoor mazes, and a limited number of actors are but a few of the changes for this year.
Kim's Krypt Haunted Mill - , MD
Kim's is open weekends beginning around the middle of September.  Kim's has been operating for over 20 years. Now at their Spring Grove location in PA.  Yes there really is a Kim. There are six scary attraction individually prices.  Buy an individual ticket for around $14 or save on a combo ticket package for $40 and up.  VIP options also available. Opening night has a big party. Attraction is open from 7 pm until 10:30 pm. Lots of history, great scares, guest celebrities and also hearse rides are available. Kim's Krypt Haunted Mill  is home to six terrifying and unique action packed attractions. The HAUNTED MILL, KIM'S KRAZY MAZE, HORROR OF MENGES MILL, TERROR TRAIL, HOUSE OF EYES and DARK DESPAIR.  Each year Kim and her team focus on bringing new ideas and scares to keep you wanting more!  Don't miss their "Anything Goes" night!
Laurel's House of Horrors - Laurel, MD

Laurel's House of Horror & Escape Room is run inside of an
abandoned movie theater
. This
House of Horror
haunted house is open from late September through early November during the Fall, while the escape rooms are available year-round.  Creating frightening, haunted memories for visitors since 2014, Laurel's House of Horror has grown its footprint and creepy factor within the abandoned Laurel
Twin Cinema
. The attractions offer sensory overload, a chilling sense of anticipation, and fear with unexpected exhibits each season. New and unique
escape rooms
are open all year during the weekends, and for private parties and special dates. The elaborate
House of Horror
haunted house
feature starts up again each September with new themed areas and special guests.  Come celebrate their 6th Halloween season, and the 50th year of the haunted theater with creepy crawlers, clowns, and other surprises that may jump at you in the dark.
Legends of the Fog - Aberdeen, MD
Legends opens starting late September.  When the fog came in the land changed. The attractions are Haunted Hayride, Sinister Circus, and Carsins Manor. Legends of the Fog runs on Friday, Saturday and some Sunday nights. Tickets combo available to go through the 4 haunted attractions. Doors open at 6:30 pm. Concessions stand is available on premises.
Markoff's Haunted Forest - Dickerson, MD
Markoff's Biohazard opens in early October.  It runs Friday and Saturday nights plus some Sunday and Thursday nights near Halloween. Tickets are available online and in person. Doors open at 7 pm. They also have a zip line and carnival rides available. They feature two trails of terror through their woods plus a number of games, concessions, and rides.
Ocean City Screams Haunted House - Ocean City, MD
Sorry folks but Ocean City Screams is now permanently closed.
Ravenseye Manor - Fairplay, MD
Enjoy the Cursed Hayride, Manor, Carnival of Souls, and Dark Corn Maze this fall.  When you want the best in old-school fear, Ravenseye Manor is your Halloween haunted attraction of choice. Combining scenes reminiscent of George A. Romero's, "Night Of The Living Dead", with elements from your darkest nightmares, Ravenseye Manor has created one of the eeriest events in the area.  Opens on Friday and Saturday nights beginning in late September and running through Halloween.  Buy individual tickets or save with the $30 combo ticket.
Screamland Farms - Frederick, MD
Screamland Farms is the haunt attraction for Cumberland Farms.  The haunt opens up in late September.  Cumberland Farms runs three attractions every Friday and Saturday night beginning. Doors open at 7 pm. Tickets are $15 for one attraction, $28 for two. Corrupted Corn features inbred misfits, psychic clowns, snake handlers, and lots of bugs and rats. Hayride of Horrors is about zombie carnage. The Barn of Bedlam was an insane asylum that held Hannibal the Cannibal and Chainsaw Charlie. Since their escape it is just a bloodbath. Cumberland also runs many daytime activities in the fall including their corn maze, giant slides, playground, cart track, and Zombie Paintball.
The Cox's Point Haunted Mansion - Essex, MD
Sorry folks but this popular haunt has now permanently closed.
The Haunted Dungeon - Edgemere, MD
Sorry folks but given the current virus situation this haunt will not be open this fall.  They expect to reopen in 2021. This has been a local haunt for over 30 years that just keeps getting better and more scary. It takes well over one hour to tour the haunt that includes a walk through a terrifying woods, a step into the world of dungeons, and across a historical battlefield that dates back to 1812. Expect to meet the likes of Michael Myers, Freddy Krueger, and Hannibal Lector. Maybe even a clown or possessed doll awaits you. Definitely a fun adult experience. They also have food, drinks, hot chocolate, and kids things to do including trick or treat and not so scary fun times for kids on certain nights.  Tickets only $17.  Back for 2019 is a haunted hayride.
The Nevermore Haunt - Baltimore, MD
The Nevermore Haunt is a haunted attraction unlike any other you've ever experienced. Open 15 nights in October, The Nevermore Haunt offers bizarre and over-the-top sideshow performances nightly, on-site bar serving local craft beers, on site concessions and a haunted house filled with monsters, demons, and ghouls straight from your deepest, darkest fears. Expertly crafted and built from scratch, The Nevermore Haunt is an ever changing and developing Halloween attraction that transports you directly into sordid, macabre visions of Baltimore's past. Come experience the most realistic and unique haunted house in Baltimore.  Enjoy every Friday and Saturday night beginning in early October plus some Sunday nights.
Trimper's Haunted House - Ocean City, MD
Open now and all year [maybe].  The last remaining Bill Tracy attraction left in the world. Built in 1964 it continues to scare thousands of visitors each fall. Now celebrating over 50 years it is only open weekends in the fall. Check their website and call to confirm they are open the day (not night) you want to go. The attraction has some hours available all year.  Interesting business model.  They seem to open when they want with no advance notice.  Best to call or if visiting the boardwalk then check their door.
Vampire Manor - Bel Alton, MD
In 1998 they opened the new Manor at its current location in Bel Alton. Vampire Manor is owned and operated by Charles County Dive Rescue, Inc.  All proceeds go to benefit non-profit organizations including; Charles County Dive Rescue Inc. (Company 13), the Bel Alton Volunteer Fire Department (Company 10), and drama programs at some of the local county high schools, who provided many of the volunteer actors. Tickets are $15.
There's great haunted attractions all around Maryland. So if you live near the border of another state, consider also searching through these states for more haunted houses: Delaware, Pennsylvania, Virginia andWest Virginia.
Find other fall fun things to do in Maryland in October: Oktoberfest in Maryland Maryland Festivals Maryland Corn Mazes Maryland Ghost Tours Pumpkin Patches in Maryland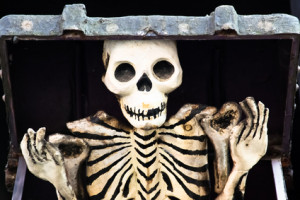 You may also be interested in our article on Haunted Houses and Horror Movies | History of Fear.
Add Your Feedback!
Have you been to one of these haunts? Future readers would be interested in hearing what you thought. Did you have fun? Was it worth the price? Would you suggest it to visitors here? Any tips to maximize your experience? I'll gladly publish what you send me and give you an over-the-Internet hug.
If you are the owner or employee of a house in this directory, or one we missed and need to add, we would love to have more information about your place, including the url, photos, dates/times/hours etc. Use the contact form on our advertising page to get in touch and we'll follow up if we still need your response to any of these questions.
Check out Black Friday ads, Cyber Monday ads, and holiday sale prices from top retailers this Christmas season.