North Carolina Haunted Houses for Halloween 2019
Funtober lists all the scary Halloween haunted houses in North Carolina for 2019.  Spend a night out with your friends visiting with Freddy and Jason plus the vampires, ghosts, creatures, zombies, and clowns in your local area.  We have separate attraction links and listings for haunted houses USA,  haunted corn mazes, haunted trails, haunted zombie paintball, haunted forests, haunted hayrides, and ghost tours.
Charlotte HauntsGreensboro HauntsRaleigh Haunts
Last Major Update:
Boogerwoods - Rockwell, NC
Open Friday and Saturday nights beginning October 19th through November 3rd.  A Halloween event this haunted trail takes about 35 minutes to complete. It has been raising money for over 40 years with proceeds benefiting cystic fibrosis research this year. Attractions for 2018 includes the return of the popular Twister Saw attraction, Mine Shaft, Club Booger, Booger Meat Packing, and more. Enjoy free parking, concessions, movies and souvenirs. Tickets are $15. Here is their explanation why they use tour guides: "Yes we have Guides and have had them for 40 years! Other haunts have told us we need to drop the guides so we can put way more people through. Well we just can't do it. Our guides are part of the show and want to make sure you have a great time at Boogerwoods from the front of the group to the back. They get you involved in every scene. Yes we could put 3 times more through without guides, but we would rather give you a complete show."
Camp Fear - Hiddenite, NC
Spend 45 minutes on the wooded trail at Camp Fear. The scenes are Rock Maze, Spinning Vortex, Clown Chaos, Insane Asylum, Living Dead Dollhouse, and Freakshow.  Camp Fear opens every Friday and Saturday in October. It runs from dark until 11 pm. It takes about 45 minutes to walk the trail. Remember "Alice in Wonderland" and "Through the Looking Glass"?  Lovely tales for children, featuring a girl who had very strange dreams. Dreams populated with impossible talking animals, a time obsessed rabbit, and disturbing, unusual people.  Or should we say, for the sake of accuracy, unusually disturbed people?
Clayton Fear Farm - Clayton, NC
Opening night is October 5th.  It takes over 2 hours to go through the attractions at Fear Farm Haunted Scream Park. The attractions are Fear Farm Academy, The Black Hole, Haunted Hayride, Slaughterhouse, The Farm House, Walk in the Dark, and the Haunted Corn Maze. Tickets are $13 for each attraction or an all inclusive ticket combo priced at $27. Parking is free. Fear Farm starts at Clayton Farms. Closing time is 12 am on Friday and Saturday or 10 pm on other nights. Open every Friday, Saturday, and Sunday nights.
Collinwood841 - Linwood, NC
Open again for 2018. This is a popular long running home haunt attraction.  Open Halloween night only.
Darkside Haunted Estates - Middlesex, NC
Attraction season opens September 22nd.  Tickets are $20 for Darkside Haunted Estates. It runs every Friday and Saturday night. The times are 7 pm to 10 pm. It has free parking and a concession stand. Some of the attractions are Toxic Chaos, Darkside Mortuary, Clown Town, Mayhem Hayride, or Camp Blood.
Dr. Evil's Haunted House - Charlotte, NC
So scary every scene is like a Hollywood move set. They have 8 haunted attractions all for one low price. They have put over one million dollars into this haunt. They promise to have a nurse, ambulance, and hearse on call. See their website for a discount coupon.
Forbidden Forest Horror Trail - Rockwell, NC
Open only 5 nights in October!  OCTOBER 19, 20, 26, 27, AND 31!   Forbidden Forest is located at  14210 Old Beatty Ford Road, Rockwell, NC. Attraction has 23 years of caring and scaring.  Tickets are $15 with the option of buying Fast Pass tickets for $30.  Proceeds benefit St. Jude Children's Hospital.
Hacker House - Pilot Mountain, NC
Opening night is September 28th.  Hacker House is both an indoor haunted house attraction and an outside walking trail. Lots of monster running around these properties. What is the Legend? Tickets are $20. Discounts available special nights. Doors open at 8 pm and close at 11 pm. Hacker House runs Friday and Saturday nights from September 28th through November 3rd.
Harvested Farm Nightmares - Garner, NC
Explore the haunted house, trail, and corn field. It runs from dark until 11 pm. Open October 19th, 20th, 26th, 27th, 30th, and 31st.  As you enter the haunt, you'll be chased by the undead brain-eating zombies within the graveyards and crypts, surrounded by escaped convicts from the prison, and possibly even captured by a mayhem of mongrels lurking in the darks rows of the haunted cornfields.  Hopefully, the stench of rotten flesh serrated by over-heated chainsaws will awaken you from your tremor-drenched nightmare, only to relive this horror experience over and over again. One that we promise, you'll never forget!
Haunted Forest at Panic Point - Youngsville, NC
Attractions open up on September 28th.  Tickets are $18-20 for the Haunted Forest attraction with other attractions having a separate price or combo prices at $30 for 4 attractions or all 6 for just $35. Doors open at 7 pm.  Open Friday and Saturday nights plus 5 more dates. Discounts are available online. Attraction has 50 acres of fright covering 6 attractions. Attraction features a Haunted Forest, Dark Walk, Howling Hayride, Carny Crypt, Menacing Maze, Ghost Bus, and Zombie Shootout.
Haunted Mill - Belmont, NC
Open in a 100 year old mill, the Haunted Mill has been open for 20 years. The attraction opens at 7:30 pm. Attraction closes at 11 pm on weeknights or midnight on weekends. Open starting September 28th.  It runs Friday and Saturday nights plus some Thursdays and Sunday nights.  See Facebook page for details. Haunted Mill is a 20,000 square foot scary place. Also available is 3D Blacklight Mini Golf.  Besides their Halloween season they also run Escape Room events.
Hawfield's Haunted Forest - Mebane, NC
Celebrating 47 years. Doors are open from 7:30 pm until 11 pm on Halloween night plus some Friday and Saturday nights in October.  The dates are October 19th, 20th, 26th, 27th, 30th and 31st. This is a charity haunt put on by the Hawfield Civitans Club.
Hickory Grove Haunted Trail - Gastonia, NC
The trail opens on September 28th.  Now in its 24th year, tickets are just $15. It opens at dark and closes weeknights at 10 pm. It is open from dark until the last victim is served on Friday and Saturday. Opens Friday and Saturday nights in October plus a few additional dates near Halloween. See web page for additional open dates.  There are some pretty scary people along that trail.
Hillside Horror - Wilkesboro, NC
The haunted corn maze opens on September 21st.  Hillside Horror was an abandoned farm built over top a cemetery. The trail is a scary in your face attraction with scenes in an old haunted barn and old chicken house. Tickets are $15-20. Doors open at 8 pm. Attractions include the Evil Harvest Corn Maze, Hillside Funeral parlor, the Abandoned Orphanage, Jester's Evil Farm House, the House of Shock, and the Last Ride. Food and drinks are available. Parking is free. Open Friday and Saturday nights from September 21st through November 3rd.
Horror Fields - Sawmills, NC
Get frightened this season beginning September 28th.  The theme for Horror Fields is based on the end of the world as we know it. The Pumpkin King Samhein has invaded this land. The creatures of the Nightmares are ready to do battle. Tickets are $20 for Speckles Spectacular 3D plus Hellbill's. Lots of discounts available at their website.  Doors open at dark. Doors close at 11 pm. Visit every Friday and Saturday nights through November 3rd plus October 30th and 31st..
Lake Hickory Haunts - Hickory, NC
Attraction begins September 22nd and every Friday and Saturday night through November 3rd. Doors are open from 7 pm until 11 pm. Visit this all new 4000 square foot haunted house. It uses great actors, animatronics, pneumatics, pryrotechnics, and loud or visual effects. Tickets are $25.  Lots of themes including a shipwreck and circus carnival.  Plenty of live entertainment and dance. Lake Hickory Haunts is a one of a kind haunted house attraction; featuring a large body of water, surrounded by 9 unique haunted attractions. Within these attractions, you will discover awe-inspiring immersive environments, multi-dimensional special FX, and breathtaking scares.
Midway Wicked Woods - Statesville, NC
Opens this season on October 5th.  Now open for 24 years, Midway Wicked Woods runs every Friday and Saturday night through Halloween plus some Sunday nights and other nights around Halloween. Doors open at 8 pm. Features a wagon ride, 600 foot dark maze, 3D Clown Room, a spinning room, and the Haunted Graveyard. You will be transported on a wagon to the entrance, where you will be dropped off to walk the "Midway Wicked Woods" unguided and on your own! In the darkness of night you will walk the trail through many scary buildings, a 600ft totally dark maze and hold on tight as you venture into the spinning "Tunnel of Terror".  Be sure to wear the 3D glasses in our 3D Clown Room
Nightmare Factory - Havelock, NC
The fun begins on opening night September 28th.  Nightmare Factory opens every Thursday, Friday, and Saturday nights through November 17th. Doors are open from 7 pm to 12 am on Friday and Saturday. On other nights the doors close at 11 pm. The major haunted attractions are the 3D Fun House, Psycho Ward Tour, Mausoleum, The Void, and the Haunted Factory Tour. Yes they have a crawl through attraction. Ticket prices vary based on the number of attractions and fun you want to have with the basic two main attractions costing $15. Do not miss the free festival called HallowFest 2018 on October 26-27th.
Phobia Haunted Trail - Wilmington, NC
Due to recent hurricane Phobia will not open in 2018.
Pinhead's Graveyard - Canton, NC
Pinhead and his friends will find you as you walk through the outdoor haunted house and trail in the dense woods of North Carolina. The stroll takes about 25 minutes. The owners have 20 years experience haunting folks in this area.  Doors open at 8 pm. Opening weekend starts September 28th. Pinhead is open nearly every night in October.  Check web page for celebrity appearances.
Scarowinds Halloween Haunt - Charlotte, NC
The Halloween scare begin on September 21st.  Scarowinds is the scare attraction at the popular theme park Carowinds. A Cedar Fair attraction so you can expect lots of exciting rides, midway entertainment, a clean park and did I mention lots of family type scares. In runs on Friday and Saturday nights in September and all weekend in October. The park is open from 7 pm to midnight. Ticket prices vary greatly from as low as $22-37 for basic tickets online. Save money online. Check their website for discounts. This is a full entertainment park so come early and stay late.
Scarrigan Farms - Morresville, NC
Open Friday, Saturday, and Sunday nights in October. This walking haunted trail takes about 30-45 minutes to complete. Scarrigan Farms has a number of special theme attractions such as The Funhouse, 3D Maze, Tragic Bus, and the Corn Maze on their 130 acre farm. Tickets go on sale at 6:30. See what they have done to transform their farm into the scariest place in the region.
Spooky Woods Haunted Attraction - Archdale, NC
This attraction opens on September 28th.  Spooky Woods is recognized as one of America's Scariest Scream Parks. The haunt attractions are the Geister Haus, Dreaded Inn, Terror Trams, Laser Tag, Fright Lights, and the Cathedral of the Dead. The midway includes entertainment, food, refreshments, fudge, treats, and more. Clean rest rooms are onsite. Basic tickets price is $30 depending on the night with lower prices if purchased online.  Lots of VIP and combo package offers with lots of discounts and special nights. See their web page for details. Spooky Woods runs every Friday and Saturday plus several Thursdays and Sundays in October.  Doors open at 7 pm and close at 12 am on Friday and Saturday or 10 pm on other nights.  This is the Halloween attraction for Kersey Valley.  Spooky Woods has over 45000 Facebook likes.
The 13th Acre - Monroe, NC
Their season begins on September 28th. Expect to be terrified. The 13th Acre is a walking haunted trail through the woods. It is open every Friday and Saturday night in October. The attraction is open from dark until 11:30 pm. They also have a combo ticket with Aw Shucks Farms for $18 which runs a non-haunted corn maze.
The Haunted Pyramids - Lawndale, NC
Enjoy the season beginning September 28th.  Haunted Pyramids is one of the largest indoor haunts with four haunted houses. The attractions are ClownTown 3D, The Asylum, Monster Manor 3D, and the Haunted Pyramids. Tickets are $25 but they do have discount nights. They have run this for attraction for 20 years. The haunt is open Friday and Saturday nights in October. It opens at dark and closes when all have left.
The Old Haunted School - Albemarle, NC
Sorry folks but they are closed for the 2018 season.  The Old Haunted School is a charity haunt run by the Firemen of the Bethany Volunteer Fire Department. They have operated this haunt for 25 years.
Woods of Terror - Greensboro, NC
This popular haunt begins their season on September 21st.  The seven attractions at Woods of Terror are Infection, Chaos 3D, Slaughterhouse, Industrial Nightmare, Gold Mine, Blackbeards Revenge, and Nightstalkers. Basic tickets prices are as low as $20 depending on the date.  Open Friday and Saturday nights in September and Thursday through Sunday nights in October.  Show starts at 7 pm. The ticket booth closes at 11:30 pm on Friday and Saturday night or 9:30 pm on all other nights.  They put on a terrific fright and continues to be one of the most popular annual Halloween haunts in the state.  Woods of Terror has over 54000 Facebook likes.
There are a lot of haunted houses in North Carolina. So you probably don't have to go far in 2018 to get to one. But if you do, perhaps you should add the haunted attractions in these neighboring states to your search: Tennessee, South Carolina, and Virginia.
Find other fun things to do in North Carolina in October:
Oktoberfest in North Carolina
North Carolina Festivals
North Carolina Corn Mazes
North Carolina Ghost Tours
North Carolina Pumpkin Patches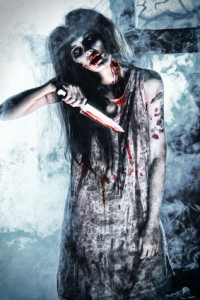 Check out the TOP 100 HAUNTED HOUSES FOR HALLOWEEN 2018 and our list of the Top 100 Haunted Houses 2017 in America.  Is your favorite haunted attraction on the top 10 and top 100 state list?
You may also be interested in our article on Haunted Houses and Horror Movies | History of Fear.
Add Your Feedback!
Have you been to one of these haunts? Future readers would be interested in hearing what you thought. Did you have fun? Was it worth the price? Would you suggest it to visitors here? Any tips to maximize your experience? I'll gladly publish what you send me and give you an over the Internet hug.
If you are the owner or employee of a house in this directory, or one we missed and need to add, we would love to have more information about your place, including the url, photos, dates/times/hours etc. Use the contact form on our advertising page to get in touch and we'll follow up if we still need your response to any of these questions.