Louisiana Haunted Houses for Halloween 2018
Find the 2018 Halloween haunted houses in Louisiana.  Funtober has the most complete list of haunted attractions including haunted corn mazes, haunted trails, haunted houses, scream parks, and more.  Louisiana attractions have the best vampires, ghosts, ghouls, and zombies running around at Halloween.
Also check out our list of the Top 100 Haunted Houses 2017 in America.  Is your favorite haunted attraction on the top 10 and top 100 state list?
New Orleans Haunted HousesBaton Rouge Haunted Houses
Last Major Update:
Haunted House Owner? Advertise Here.
Do you run a haunted house in the United States?  Please see our advertising page or contact us for more information.
Plan a night out with your friends at one of these fun haunted houses shown below.  We update our list with the most complete dates, times, locations, and prices shown on the internet.  October is a great time for Halloween scary fun.  We have separate attraction links and listings for haunted houses USA,  haunted corn mazes, haunted trails, haunted zombie paintball, haunted forests, haunted hayrides, and ghost tours.
Carnival of Screams USS Orleck - Lake Charles, LA
The USS Orleck was built in 1944. It is now a naval museum that turns into one of the most scary haunted attractions in Louisiana. They have funding issues and may not be running this haunted event in 2017.  They still have their museum tours and blacklight laser tag events.
Evil Visions Haunted House - Monroe, LA
Ever been in a coffin? The Coffin Ride at Evil Visions Haunted House gives you the opportunity to go from the funeral parlor to the grave. The Haunted House attraction provides a portal into the evil darkness. Friday and Saturday night hours are 7 pm to 12 a.m.
Necropolis 13 - Baton Rouge, LA
The season opens on September 22nd.  It is like walking through an old style New Orleans cemetery. There are 400 Zombie infested crypts in a 40,000 square foot haunt. There is lots of blood on the ground and references to Voodoo, death, and sacrifices. Your grave here is ready and waiting for you. A ticket to Necropolis is $20. They do a combo ticket for $35 with The 13th Gate.  Attraction is next door to the popular The 13th Gate and they use the same ticket booth.
Rise Haunted House - Hammond, LA
The Rise Haunted House story features a hidden laboratory where wild experimentation was performed to create the walking dead. There are two haunted attractions totaling 10,000 square feet of fear. The Dark Souls Haunted House unleashed the dark souls that invite you inside. Next is the Operation Deadly Assault Zombie Paintball which features a paintball hayride as you hunt the undead. Doors open at 7 pm.
The 13th Gate - Baton Rouge, LA
Doors open for the season on September 22nd.  Do you like snakes? The 13th Gate has live snakes, a crematory oven, a 40,000 square foot haunted house, 13 indoor and outdoor scenes, and about 100 scary actors. This is one of the best haunted houses in Louisiana and for years one of the best in the country. Tickets are $30. Doors open at 6:30 pm. The 13th Gate has opening night specials online. The people who run 13th Gate also run Necropolis 13 across the street. See both attractions for $35 on the same night.  It is a separate attraction using the same ticket booth in the area. This made the Funtober Favorite 100 list of the top 100 most popular haunt attractions in the country.
The House of Shock - Jefferson, LA
The House opens on September 30th.  This fan favorite is back for another year in 2017. Open weekends Friday and Saturday nights beginning September 30th plus some other dates in October. The House of Shock hosts a full Halloween Festival with pyrotechnics, a bar, music entertainment, and food. They have operated this haunted house attraction for the past 24 years. Tickets are $30. Doors open at 8 pm. Ticket sales start at 7 pm. You can visit House of Shock for one of the best frights in the country. Note they have special bands playing for added entertainment. Their nightly Halloween Festival and music fest is absolutely free and does not require a House of Shock ticket.
The Mortuary - New Orleans, LA
The Mortuary City of the Dead opens September 16th from 6:15 pm until 11 pm most nights. They prey on the various fears and phobias that scare people.  Expect to become terrified.  Tickets are $30 for general admission. They have a special for $5 off for people who bring a Fanta product to the ticket booth. There are other ticket options and specials on their web page.
Tree Farm Massacre - Leesville, LA
The haunt opens September 29th this season.  This is a Louisiana horror trail that takes about 45 minutes to walk through. Tree Farm Massacre is open from 6 pm to midnight most nights so check their website. They have a Trail and also feature a seperate Zombie Hunt. The dates start with September 29th. Tickets are $20 per person for each attraction or $35 for a combo ticket. Gates are open from 7 pm until Midnight most open nights.
State By State List of Halloween Haunted Houses
Nearby Haunted Houses
If you are too far from New Orleans to make it there for Halloween, perhaps it would be quicker to visit a haunted house in another state. Consider these states in addition to the Louisiana haunted houses.
Haunted Houses in Arkansas
Haunted Houses in Mississippi
Haunted Houses in Texas
Find other fun things to do in Louisiana in October:
Oktoberfest in Louisiana
Louisiana Festivals
Louisiana Corn Mazes
Louisiana Ghost Tours
Pumpkin Patches in Louisiana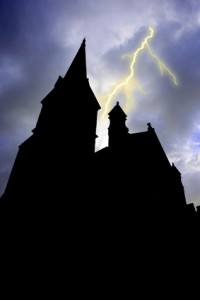 Help Me Out
Have you been to one of these haunted attractions? Future readers would be interested in hearing what you thought. Did you have a great experience? Was it worth the price? Would you suggest it to our readers? Any tips to maximize your experience? I'll gladly publish what you send me and give you a virtual hug.
If you are the owner or employee of a haunted house in this directory, or one I missed and need to add, I would love to have more information about the haunted house, photos, dates/times/hours for 2018, etc. Use the contact form to get in touch and I'll tell you where to email your answers to these questions.