Haunted Houses in Louisiana for Halloween 2022
Find the 2022 Halloween haunted houses in Louisiana. Funtober has the most complete list of haunted houses including haunted corn mazes, haunted trails, haunted houses, scream parks, and more. Louisiana attractions have the best vampires, ghosts, ghouls, and zombies running around at Halloween.
New Orleans Haunted HousesBaton Rouge Haunted Houses
Last Major Update:
Boo At The Zoo - New Orleans, LA
The Audubon Nature Institute runs an annual Halloween event called Boo at the Zoo.  It is 3 days of spooky fun at the Audubon zoo.  It runs Friday, Saturday, and Sunday in late October.  A safe, fun-filled Halloween event for children up to age 12, featuring Trick-or-Treat Lane, a Ghost Train, a haunted house, activities, entertainment, and more. Bring your little ghosts and goblins to Boo at the Zoo! Featuring Trick-or-Treat Lane with candy, a Ghost Train (which can be scary for children and adults), a haunted house (scary and non-scary), games, entertainment, and more. All games and treats, except concessions, are free with admission. Tickets are $20.
Dark Woods - Natchitoches, LA
Dark Woods is open Friday and Saturday nights starting in late September.  It runs through early November.  Also open additional nights Halloween week. Dead Fall Trail, a nightmare of carnage, winding over 1/3 mile, where havoc is unleashed as guests navigate a portion of the derelict woods, falling victim to cruel creatures and deplorable killers. Noodle, Piggy, Stumpy and Karver woke up an evil entity deep in Louisiana's pine-hill forests. Now they water the ground with blood to feed the evil spirit from another time and place. After wrecking the boneyard and awakening spirits from generations past, the brothers' menagerie of trapped and tormented souls leer from the shadows, waiting to ensnare the unwary traveler. Dark Woods Haunted Attractions present an immersive themed experience with character actors, detailed costuming, realistic sets and Hollywood-style special effects.
Evil Visions Haunted House - Monroe, LA
Evil Visions opens weekends in early October.  Ever been in a coffin? The Coffin Ride at Evil Visions Haunted House gives you the opportunity to go from the funeral parlor to the grave. The Haunted House attraction provides a portal into the evil darkness. Friday and Saturday night hours are 7 pm to 12 a.m.  It runs every Friday through Sunday nights.
New Orleans Nightmare - New Orleans, LA
13th Floor present the all new New Orleans Nightmare.  They are located at the former House of Shock location.  They are open every Friday and Saturday starting around the middle of September.  They also are open most nights the two weeks before Halloween.  Tickets range from $19.99 to $29.99.  Lots of combo's and VIP's available.  Attractions are Slaughterhouse 3D, Mini Escape, Museum Macabre and Cursed VooDoo.
Rise Haunted House - Hammond, LA
The Rise Haunted House returns again this fall.  Their story features a hidden laboratory where wild experimentation was performed to create the walking dead. There are three haunted attractions totaling 10,000 square feet of fear. The Rise Haunted House unleashed the dark souls that invite you inside. Next is the Rise Asylum and then the Rise Hayride.  Operation Deadly Assault Zombie Paintball has moved 300 feet and is run by Southern Extreme Adventures which features a paintball hayride as you hunt the undead. Doors open at 7 pm.
The 13th Gate - Baton Rouge, LA
Doors open for the season in early October.  They are open most Thursday through Sunday nights.  Do you like snakes? The 13th Gate has live snakes, a crematory oven, a 40,000 square foot haunted house, 13 indoor and outdoor scenes, and about 100 scary actors. This is one of the best haunted houses in Louisiana and for years one of the best in the country. Tickets are $30. Doors open at 6:30 pm. The 13th Gate has opening night specials online. This is one very scary haunt.  Consider it on the extreme side.  The people who run 13th Gate also run Necropolis 13 across the street. See both attractions for $35 on the same night.  It is a separate attraction using the same ticket booth in the area. This made the Funtober Favorite 100 list of the top 100 most popular haunt attractions in the country.  13th Gate has over 104000 Facebook likes.
The Devil's Knot Haunted Trail - Haughton, LA
We are a haunted walking trail.  We have a carnival themed arena area with thrills and fun things to do also  delicious foods and nonalcoholic beverages to enjoy.  We will do camp out scares and other fright nights thru out the year.  They are open Friday and Saturday nights from the middle of October through early November plus added dates near Halloween.  Tickets are $15.
The Haunted Ship USS Orleck - Lake Charles, LA
The Haunted Ship is closed to visitors. The USS Orleck was built in 1944. It is now a naval museum that turns into one of the most scary haunted attractions in Louisiana. They are in the process of relocating to ship to Jacksonville so expect lots of changes in the future.
The Mortuary - New Orleans, LA
The Mortuary City of the Dead opens in late September from 6:15 pm until 11 pm most nights. They prey on the various fears and phobias that scare people.  Expect to become terrified.  Tickets are $30 for general admission. There are other ticket options and specials on their web page.  Open every Friday and Saturday nights in October plus lots of dates near Halloween.  Check their web page. Since The Mortuary first opened its doors as a haunted attraction in 2007, it has been featured on the top ghost hunting shows including Discovery Channel's Ghost Lab, Syfi Channel's Ghost Hunters & Ghost Hunter's International, The Travel Channel's Ghost Adventures and featured as one of America's Scariest Attractions! It's the perfect setting for a one-of-kind adrenaline pumping, nail-biting haunted house experience! The property is surrounded by actual graveyards known in New Orleans as "The Cities Of The Dead." Now add to what is undoubtedly a very scary environment to begin with, state of the art animatronics, theatrical sets, movie quality makeup, over-the-top special effects, unusual themes and details adds up to experiencing one of the most terrifying Halloween haunts ever.
Tree Farm Massacre - Leesville, LA
The haunt opens in late September.  This is a Louisiana horror trail that takes about 45 minutes to walk through. They also feature a separate Zombie Hunt and Clown House. Tickets are $10-20 per person for each attraction or $40 for a combo ticket. Gates are open from 7 pm until Midnight most open nights.  They are open every Friday and Saturday plus additional nights before Halloween.
Anderson Farms – Leesville, LA
Enjoy their hayrides, pumpkin patch, and more this fall. Open daily in October. They also feature Zombie Paintball and their popular night time haunted attraction Terror In The Corn.  Their address is 400 Slagle Rd., Leesville, LA.
DixieMaze Farms – Shreveport, LA – 8 Acres
There are three mazes cut within this 8 acre design. A small, easy maze awaits children. A large, difficult maze is there to challenge adults. And for those who want a scare, at night, the third section of the corn maze becomes a Field of Screams. Quite spooky. Two other haunted attractions, Zombie Paintball and the Trail of Terrors, also await thrill seekers. Other attractions include the live on the vine pumpkin patch, hay rides, pony rides, and more farm fun.
If you are too far from New Orleans to make it there for Halloween, perhaps it would be quicker to visit a haunted house in another state. Consider these states in addition to the Louisiana haunted houses: Arkansas, Mississippi and Texas
Find other fun things to do in Louisiana in October: Oktoberfest in Louisiana Louisiana Festivals Louisiana Corn Mazes Louisiana Ghost Tours Pumpkin Patches in Louisiana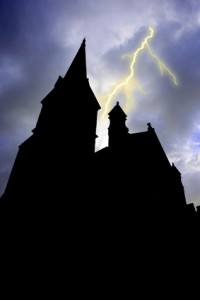 You may also be interested in our article on Haunted Houses and Horror Movies | History of Fear.
Add Your Feedback!
Have you been to one of these haunts? Future readers would be interested in hearing what you thought. Did you have fun? Was it worth the price? Would you suggest it to visitors here? Any tips to maximize your experience? I'll gladly publish what you send me and give you an over-the-Internet hug.
If you are the owner or employee of a house in this directory, or one we missed and need to add, we would love to have more information about your place, including the url, photos, dates/times/hours etc. Use the contact form on our advertising page to get in touch and we'll follow up if we still need your response to any of these questions.
Check out Black Friday ads, Cyber Monday ads, and holiday sale prices from top retailers this Christmas season.