Haunted Houses in Oregon for Halloween 2019
Find all the local commercial or charity Halloween haunted houses in Oregon for 2019 here at Funtober. We have all the haunted hayrides, haunted houses, haunted trails, and more Halloween fun in Oregon. Funtober finds all the zombies, devils, witches, vampires, and zombies walking around your state. Enjoy a night out with your friends this Halloween at one of these local haunted attractions. Find entertainment with Hollywood type set designs, air blasters, live actors, and spectacular costumes ready to bring in your face fright.
Portland Haunted Houses
Salem Haunted Houses
Last Major Update:
13th Door Haunted Attraction - Beaverton, OR
Sorry folks but after 18 fantastic years 13th Door has closed their Portland location.  They will be missed but they are moving to Missouri.  You might see them there in the near future.
Circus of Screams - Eagle Point, OR
This charity haunt has been in operation since 2007. It runs Friday, Saturday, and Sunday nights beginning the middle of October 2019 plus added dates Halloween week.  Admission tickets are $8.  As you might guess it is based on a circus and carnival theme of fright.
Davis Graveyard - Milwaukie, OR
Open nightly every Friday, Saturday, and Sunday in October.  This yard haunt has scared visitors for well over 10 years.  See creepy creatures and dazzling displays from the street.  No cost but donations welcome.
Fear Asylum The Witching Hour - Milwaukie, OR
The fear begins on October 4th, 2019.  Your ticket for terror is just $15 to Fear Asylum. Doors open at 7 pm and close at 11 pm on Friday and Saturday or 10 pm on Sunday. They also feature a 6:30 pm children's haunted house. Don't forget their onsite photo booth or monster midway games.  It runs every Friday, Saturday, and Sunday nights in October.
Fright Town - Portland, OR
Sorry folks but Fright Town will not be open in 2019.
Haunted in Hillsboro - Hillsboro, OR
This free open to the community haunt is open nightly in October from dusk until 10 PM.
House of Shadows - Gresham, OR
A full contact horror experience.  The season begins September 27th, 2019. Doors open at 7 pm. The attractions are Carnival and House of Shadows. The attraction is open every Friday and Saturday nights in October.  Also open added dates near Halloween.  Check web page for details.  Yes, assume this is an extreme haunt.
Milburn's Haunted Manor - Hubbard, OR
Opens for the season on October 4th, 2019.  Milburn Haunted Manor has two haunted attractions plus additional entertainment for the family. The haunts are Manor and The Dark. Also visit their pumpkin patch, Graveside Grill, and scare shots photos. The haunt is open every Friday, Saturday, and Sunday nights. Attraction opens at 7 pm. Closing time is 11 pm on Friday and Saturday nights or 10 pm on all other nights.
Mize Cemetery & Haunt - Salem, OR
Sorry folks but this attraction has permanently closed for the 2019 season.  It will be missed.
Nightmare Factory - Salem, OR
Opening night this season is on October 4th, 2019.  Terrifying folks for over 30 years. Tickets are $15. Lots of scary clowns and creatures. Attraction opens at 7:00 pm. Attraction closes at 11:00 pm on Friday and Saturday or at 10 pm on other nights.  Runs every Friday and Saturday night in October plus the 25th through 31st.
Polier Graveyard - Portland, OR

Spooky Lane Haunted Farm - Nyssa, OR
Open every Thursday, Friday, and Saturday nights in October 2019. TOUR THE GRAVEYARD, FIELD OF FEAR, HAUNTED HOUSE, LIVESTOCK PEN, CAVE AND STROLL DOWN THE SPOOKY LANE.
Sometimes you need to make a run for the border to find the nearest haunted house. If you didn't find the one you want to attend among the Oregon haunted houses, try these neighboring states:
California,
Idaho,
Nevada,
and
Washington.
Find other fun things to do in Oregon in October:
Oktoberfest in Oregon
Oregon Festivals
Oregon Corn Mazes
Oregon Ghost Tours
Pumpkin Patches in Oregon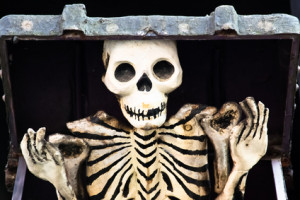 Check out the TOP 100 HAUNTED HOUSES FOR HALLOWEEN 2018 and our list of the Top 100 Haunted Houses 2017 in America.  Is your favorite haunted attraction on the top 10 and top 100 state list?
You may also be interested in our article on Haunted Houses and Horror Movies | History of Fear.
Add Your Feedback!
Have you been to one of these haunts? Future readers would be interested in hearing what you thought. Did you have fun? Was it worth the price? Would you suggest it to visitors here? Any tips to maximize your experience? I'll gladly publish what you send me and give you an over the Internet hug.
If you are the owner or employee of a house in this directory, or one we missed and need to add, we would love to have more information about your place, including the url, photos, dates/times/hours etc. Use the contact form on our advertising page to get in touch and we'll follow up if we still need your response to any of these questions.