Haunted Houses in Indiana for Halloween 2022
Locate all the 2022 Halloween haunted houses in Indiana at Funtober. We list all the haunted attractions including haunted trails, haunted houses, haunted corn mazes, and more in our Funtober directory of haunted houses. The Midwest has lots are scary entertainment featuring animatronics, air blasters, Hollywood type design sets, live actors, and scent dispensers. Find your new favorite haunted houses near me, with ghosts, zombies, creatures, with Jason's and Freddy's making for Halloween scary fun.
Indianapolis Haunted HousesBloomington Haunted HousesFort Wayne Haunted Houses
Last Major Update:
Columbia City Haunted Jail - Columbia City, IN
The Haunted Jail is open most nights beginning in late September.  All new redesigned attraction for scary fun.  Deimos Nosferato has been the keeper of souls for centuries and has awakened his tribe of creatures and vamps from the underworld…because it's time to feed. Many have tried to end Deimos and his blood thirsty family and all have failed.They have a number of ticket options including a coffin ride, VIP pass, and Double Trouble.
Culbertson Mansion - New Albany, IN
Attraction first opened in 1985. Celebrate this anniversary with some deranged dentists, paranormal entities, undead monsters, evil cults, and a dark carnival. Tickets available for Culbertson Mansion Haunted House. The attractions runs on Friday and Saturday nights starting in early October. Doors open at 7 pm. A real historic site once home to Indiana's richest man.
Dark Armies Necropolis - Indianapolis, IN
Dark Armies starts their Halloween season in early October.  There are two separate haunted attractions at Dark Armies with separate entrances and ticket prices. Necropolis is the City of Perpetual Darkness. It is a 30,000 square feet haunt featuring Necropolis Haunted House, Zombie Inn Hotel, and Dark Terrors about power draining accidents. This haunt has been open for 20 years.  Dark Armies is an entertainment facility built around paintball and laser tag. Hunt the zombies for an hour. Facility is open every day and night 24 hours in October. It is not effected by Necropolis. This attraction is for the both the experienced paintball player and for those who want to try it out. It is lots of fun. Price include the use of all the equipment you will need to play. Suggested you call in advance so they can give you a best time to play with other players.  The Necropolis Haunted house is open every Friday and Saturday night in October plus another 6 nights during the month.
Edge of Insanity - Kokomo, IN
Edge of Insanity at Weitle's Asylum is open Saturday and Sunday.  Weitle's Asylum haunted house is about tortured souls of the deranged doctor. What horrors were committed in the name of science? Tickets are $12. Edge of Insanity runs from 8 pm to 11 pm. Open every Saturday and Sunday nights in October.  Come celebrate their 12th year of fright.
Evil on Erie - Lafayette, IN
Evil on Erie has over 15,000 square feet of terror located in Lafayette. One giant haunted house with nightly frights for your fun. Open Friday and Saturday nights in October.
Fear Factory - Batesville, IN
The fear begins in early October and runs every Friday and Saturday plus some added dates.  Check web page for details.  They run a lights out tour but also have a one day lights on event and of course an escape room.  Tickets for the Haunted Tour are $10 and Escape Room is $5.  Psychologist say that one of the most effective ways to banish your fear is to repeatedly force yourself to face what you're afraid of.  Every Friday and Saturday in October, lifeless corpses will seep through the bowels of over 30,000 square feet of neglected factory space to manufacture fears that will cause you to sink to your lowest depth of desperation. The factory is brimming with unearthly exhibits depicting decrepit scenes that will make your worst nightmare pale in comparison.  All proceeds go to support a worthwhile charity.  We have not seen updated 2020 information but they are still listed on the RomWeber Marketplace listing of businesses.
Fear Fair - Seymour, IN
Fear Fair begins in early October this year.  Fear Fair Haunted House is more than just scary. It has been rated one of the best haunted houses in Indiana. They find what scares you and takes that fear or phobia to the extreme. You will be scared. Tickets are just $25. Doors are open from 8 pm to 1 am on every Friday and Saturday or 10 pm on some Sunday nights. Check web page for full calendar details.  The haunt features Myctophobia (Fear of Darkness), Hanger 17, and Cinema of Fear.  Fear Fair is more than just fun. Make sure to view the Fear Cam.  Note because of the virus concerns there will be no touching this year.
Fear Itself at Legend Park - Mishawaka, IN
The attractions are Lost in the Woods, Rock Monkey Caves, Sinister Circus, Cucko's Nest, and 13th Hour. They are open Friday, Saturday and Sunday nights starting in early October. Fear Itself at Legend Park features several of the Scariest and Best Haunted Houses in America… all in one location. With 5 huge haunted attractions, an amazing Monster Midway, Exceptional Food, Beer & Wine Garden, Bonfires, Live Entertainment, Tent Parties, Celebrity Appearances, Live Bands, Fireworks and a complete line up of FUN THINGS TO DO,
Fright Manor - Indianapolis, IN
Fright Manor opens for the season in late September.  A ticket to the Fright Manor Haunted House is around $20. This allows you to enter Camp Deadwood, Psychomanthium, and 7 Deadly Sins. Don't forget your electronic shotgun so you can zombie hunt. The attraction is open Friday and Saturday nights plus lots of other October dates..  Open 7:30 PM each night.  Proceeds go to support the Southport Little League.
Frightmares - Linton, IN
10th year for this local haunted house attraction. Open Friday and Saturday nights the last two weekends in October. Doors open at 8:00 pm and runs until 11:00 pm. They have made a number of safety changes given the current virus concerns.  All tickets must be purchased online in advance.
Hall's Haunted House - Hall, IN
A haunted school put on by the Hall Civic Association.  Open every Friday and Saturday nights in October.  Season starts in early October.  Tickets are $15.  Are you looking for a Scary Good Time?  If so, you and your friends are cordially invited to the Historic Hall School House for the Haunted Time Of Your Life!  The Evil that's Lurking within this Spooky Old School House, will have your Heart Pounding and your eyes Frantically searching for a way out!!!
Hanna Haunted Acres - Indianapolis, IN
The combo pass is a one time entry into all five attractions. The hayride, maze, and 4 haunted houses at Hanna's Haunted Acres. Attraction is open starting in late September on every Friday and Saturday night plus almost every date in October. Save money and buy it for less online. Opens for ticket sales 30-60 minutes before dark. New this year is the renovated Hanna Haunted Hayride. Also an upgrade to the classic saw. They have added two new attractions called Carn Evil and Outbreak. Expect to find creatures, Dracula, zombies, snakes, chainsaws, a scary maze, clowns, and demented dentists and doctors. There are a number of ticket options for one or two attractions or other combinations. Prices are low for Scarecrow's Revenge but check their website for dates and prices.
Happy Halloween Weekends - Santa Claus, IN
Sorry folks but given the current virus concerns Holiday World Happy Halloween will not run this fall season.  They hope to see everyone in 2021.  The Theme Park Holiday World is decorated for Halloween with hayrides, a 3D Theater presentation, Halloween candy, pumpkins, a Mummy's Treasure Maze, and stage shows including Graveyard Smash. During Saturday and Sunday afternoons they feature a costume dance party hosted by Kitty Claws. On Saturday nights they close at 8 pm with a Halloween themed laser light show. Since they are open Saturday's past sundown, they also feature coaster rides in the dark. Halloween ticket prices online (in advance) are discounted. This may be one of the best Halloween party values around.
Haunted Angelus House - Indianapolis, IN
A charity haunt that raises funds for Cerebral Palsy Group. Started in 2012 this is now an annual event that runs rain or shine. They are open weekends beginning in late September through October plus some other dates. Check their web page for their full schedule.  Tickets are $22.
Haunted Castle / Black Forest - Fort Wayne, IN
Sorry folks but given the current virus concerns they will not open this fall.  Everyone please stay safe.   Also know as Black Forest Haunted Castle. Ticket price is $10 for Haunted Castle, $10 for Black Forest, or $16 for a combo package. Door are open at 7 pm. They are sponsored by the Saint Vincent Boy Scouts. Check their web page for complete schedule of open dates.  They have been putting on this event for 39 years.  This is an outdoor haunt winding through the woods along Beckett's Run Creek.
Haunted Hills Hospital - Lake Station, IN
Haunted Hills Hospital opens in late September.  It runs Friday through Sunday nights in October.  Haunted Hills Hospital holds the most psychotic patients that were too evil for a regular mental facility. The Medical staff used the patients to perform crazy experiments that were supposedly meant to cure them. However, no one was ever helped and the patients were driven further into madness before being left to rot and die. But now the patients are in control! Travel through the hell and terror that has taken over the grounds of Hills Hospital. Will you make it out or will you become the newest patient?
Haunted Hotel 13th Floor - Huntington, IN
The Haunted Hotel has not yet (8/31) announced plans to open or not open during this virus crisis.  We started out as a Huntington Jaycees project, but are now run by JamBam LLC and a great local group of haunt enthusiasts from Huntington and the surrounding area.  We are the OLDEST haunted house in the WORLD.  The hotel has a history of death from a fire.  Damian set the fire on the 13th floor.  Did he leave alive?  What roams the hotel?
Headless Horseman Hay Ride - Fishers, IN
Headless Horseman Hay Ride is part of the Conner Prairie history park.  The haunted attraction runs Thursday through Sunday nights in October.   Lots of fun loving ghouls on this ride. Save some money and order tickets online for less. Guests are invited to wear their costumes this year. Their daytime hay ride is for the entire family and runs from 10 am to 5 pm.  The Headless Horseman leaves Sleepy Hallow behind to turn Conner Prairie into "Conner Scairie." Families can brave a haunted hayride and the eerie soothsaying in the mystic tent. With food that is so delicious, even Ichabod Crane would stop for a gooey caramel apple, this annual event is a great family tradition in central Indiana. Guests will enjoy nightly thrills that include a haunted hayride, pumpkin bowling, a Legend of Sleepy Hollow marionette show, catapulting pumpkins and scary-o-ke singing. Several new events will be offered this year, including visits from Sammy Terry, an enthralling magician, nightly showings of Disney's "Legend of Sleepy Hollow" film and a carnival games midway. S'mores can be made over a fire (additional cost) and there will even be the opportunity to taste sautéed insects!
House of Trepidation - Indianapolis, IN
House of Trepidation attraction opens in late September.  Kind of an overlooked haunt with lots of evil energy.  A full 20,000 square foot professional commercial haunt with all the actors, animatronics, etc.  They are open Thursday, Friday, Saturday, and Sunday nights in October.  The scare begins at 6:45 PM.  Three attractions priced have a combo price.  See web page for details.
Hysterium - Fort Wayne, IN
An escape room adventure open every Friday and Saturday nights in late September.  A really scary attraction open weekends.
Indiana Fear Farm - Jamestown, IN
Sorry folks but Indiana Fear Farm will not open this fall given virus concerns.  They hope to see everyone next fall.  Fear Farm is a great haunted attraction. Tickets start for the Haunted Hayride featuring 50 actors and a mysterious scary headless horseman. Tickets for the Slaughter Barn  feature 40 actors as you crawl and climb to escape with your life. Wear clothes you do not mind getting dirty. You can get a combo ticket for both haunts.
Indy Horror Story - Indianapolis, IN
Sorry folks but this attraction will not open in 2020 due to virus concerns.  They hope everyone will stay safe and visit next fall.  The Hell House on Prospect Street is the theme.  Indy Horror Story uses elements of live theatre, escape rooms and haunted houses to create physically, emotionally and psychologically challenging experiences. This interactive show incorporates the audience into the story as characters. There is nothing quite like Indy Horror Story in the area. Using a blend of terrifying storytelling, a musical score, detailed scenes, scents, Hollywood style makeup FX, climate control, special FX and professional actors, Indy Horror Story creates a truly immersive and interactive experience. You will converse with actors, perform tasks, look for objects and solve mysteries as you crawl, climb and claw your way through the story. Come take the plunge into terror in our 109 year old home.
Indy Scream Park - Anderson, IN
The screams begin the middle of September.  There are six haunted houses at the Indy Scream Park. It has a great monster midway with food, games, live entertainment, beer, drinks, and a fire pit. Returning this year is the attraction Kilgores Circus. It is open weekends in late September and every night in October plus a few November dates.  Backwoods is a half mile wooded horror trail. Bedlam 3D has 3D crazed clowns. Infected is an infected corn maze. Kuraymi is about demons in the dark. Nachtmahr has 6000 square feet of animatronics and 30 actors. Indy Scream Park is a lot of fun starting at $19.95 depending on the night you attend. Doors open at 7 pm.  Indy Scream Park has over 68000 Facebook likes.  Note you can choose their extreme haunted attraction by choosing to experience a full contact option where you can be grabbed, touch, and hooded as you wander through the park.  New this fall is zombie paintball.
Newburgh Civitan Zombie Farm - Newburgh, IN
Zombie Farm returns late September.  Now helping charities for more than 46 years the Zombie Farm has a new outdoor maze and town. This is one of the most intense, creative, and visually appealing attractions in the state. Over 50 live action actors bring the scares to you.Tickets are $12. Doors open at 7 pm. They also have a non scare tour starting at 6:00 pm. Attraction runs Thursday, Friday, Saturday, and Sunday nights in October.
Nightmare on Edgewood - Indianapolis, IN
Back again, this 42nd annual event returns for Halloween fun, now at a new permanent location. It's on the same block as House of Trepidation, its a totally separate attraction, so you now have a one-stop shop for Halloween fun and can spend an evening of thrills at both events, without moving your car!  Enjoy the only haunt in Indy, where guests can face their own mortality in four features spanning nearly 30,000 square feet, including a few with outdoor scenes, and your ticket gets you into all of them! $25/Fast Pass is $35 (guarantees half the wait at the head of the line) – and this year, covered, indoor waiting lines! The newest attraction, a 3D audio experience called Shadows Escape, is $5 per person. Nightmare on Edgewood supports local community organizations including Haunters Against Hate.  Opens starting in late September.
Nightmare on Main Street - Kendallville, IN
Nightmare begins in late September.  It runs every Friday, Saturday, and Sunday nights in late September and October. Tickets on Sunday are $7 and $13 on Friday and Saturday.  The all-new "Nightmare On Main Street" in downtown Kendallville promises to leave you terrified and lying in a fetal position for days. The team has been working and building for months. It's all for your horrible pleasure and carnal fear!  We've created an environment of pure terror and suspense that will surely haunt you in your dreams.
Old Courthouse Catacombs and The House of Lecter - Evansville, IN
These two haunts return for their 29th year starting in late September.  Olde Courthouse Catacombs and The House of Lecter have joined forces again this year to put on Curse of the VooDoo Queen. Two locations for one low price. These are two separate nearby haunted houses. They are one block from each other. Advertised as Let's Play you can buy a combo ticket to get into both.  They are open Friday and Saturday nights from 7:00 pm to midnight or 10:00 pm on other nights.
Piney Acres Screamfarm - Fortville, IN
Open weekends beginning in late September.  Open Friday and Saturday nights in October.  They have tickets as single , double or combo packages.  Indiana's premier haunted attractions destination! Featuring 3 horrifying attractions, and up to 72 acres of terror! Experience Dr. Rex E. Zenors latest experiment in the infamous haunted loft! Get lost with us in the 6 acre haunted trail complete with hillbilly horror hysteria! Or strap yourself in, and experience the end of the world in a real live zombie apocalypse on the haunted hayride!  You will like the corn maze, hayride and zombie apocalypse.
Reaper's Realm - Hammond, IN
Reaper's Realm has 3 haunts including Reaper's Mansion (haunted house) and Reaper's Woods. Get the combo price plus a carnival ride. Doors open at 7 pm. Attraction runs Friday, Saturday, and Sunday nights starting in early October. Prices can vary depending on the night.  This haunt has been operating for over 28 years.
Scarevania - Muncie, IN
Scarevania will not open in 2020 due to the current virus issue.  They hope to see everyone next fall.  An intense scare awaits adults who enter.  Scarevania has been running for over 14 years.  Besides an evil haunted house. The blood will fly as live acts perform and entertain on their Carnivale cabaret stage.
Shattered Nightmare - Terre Haute, IN
This is their 11th year. Attraction opens in late September and runs every Friday and Saturday nights in October. Check web page for additional dates. This is an award winning zombie type attraction.
SoulTakers Acres - Warsaw, IN
Tickets are just $15.  Be here every Friday and Saturday night in October when Indiana's favorite haunted house returns for its' tenth big season! Enjoy ten big nights of terror as the Soultaker once more returns to wreak his revenge on the Lake City. This years' haunt features more twists, more turns, and more darkness than ever. Be there if you dare, when the soultaker makes his return in late September.
Streaper's Haunted Adventure - Peru, IN
Streaper's Entertainment is a great place for laser tag, escape rooms and during Halloween for Haunted Adventure.
Terror Mansion - Brazil, IN
Terror Mansion opens in early October and runs every Friday and Saturday nights in October. Terror Mansion is Clay County`s ONLY 2 story haunted attraction. The Mansion has many twists & turns, spirits and ghouls, and you never know where they will lead you next! Try to keep from being locked into the mansion, because you just may become a permanent resident. Be on the lookout for Mary, and trust no one!  Terror Mansion is a volunteer ran fundraiser that benefits Christmas in the Park. All tickets sales are used to fund the annual Christmas Light Parade, and the lighting of Forest Park in Brazil, Indiana. By purchasing tickets to this event, you are aiding in keeping a Christmas tradition alive every year.
The Asylum House - Indianapolis, IN
Asylum House has a full evening of scary entertainment for you. Opens for the season in early October.  Open every Friday and Saturday nights plus lots of Thursdays and Sunday nights.  Check web page for details. The times are Friday and Saturday from 7 pm to midnight. During the week it is open 7 pm to 10 pm. Asylum House has lots of entertainment haunts named Morningwood Cemetery, Crypt of Elysium, The Shadow Realm, ScreamNhaller, AliveNpsycholand, Alien Mansion, and Lost Highway. Tour the cages and caverns with monsters, death, despair and creatures galore.
The Barn of Terror - Bloomington, IN
This popular charity haunt return this fall in early October.  Barn of Terror is open every Friday and Saturday nights in October.  The attraction is open from 8 pm to 12 am.  They feature a haunted barn and zombie paintball.
The Children's Museum Guild's Haunted House - Indianapolis, IN
Children's Museum has been putting on an annual haunted house since the early 60's. Now celebrating over 56 years of haunting.  Lace up your sneakers for a visit to a truly terrifying gymnasium. The Children's Museum Guild's 56th Annual Haunted House will give you a courtside seat to witness all the action in this monster-filled gym. Cheer on your favorite phantom, but keep your eyes open—scary surprises lurk in the bleachers! The Haunted House offers IPL's Lights-On Hours (for children who scare easily) and AAA's Frightening Hours (with the lights off, for children who dare to be scared).  Because of the virus please check their web page for restrictions and tickets.
If you live near Chicago, or near the border of another state, it is worth taking a quick peek at the haunted houses of the other state in addition to the Indiana haunted houses. Check out our listings in: 
Illinois, 
Kentucky, 
Michigan and 
Ohio.
Find other fall fun things to do in Indiana in October:
Oktoberfest in Indiana
Indiana Festivals
Indiana Corn Mazes
Indiana Ghost Tours
Pumpkin Patches in Indiana
Check out Black Friday ads, Cyber Monday ads, and holiday sale prices from top retailers this Christmas season.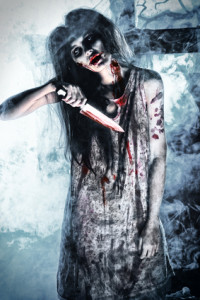 You may also be interested in our article on Haunted Houses and Horror Movies | History of Fear.
Add Your Feedback!
Have you been to one of these haunts? Future readers would be interested in hearing what you thought. Did you have fun? Was it worth the price? Would you suggest it to visitors here? Any tips to maximize your experience? I'll gladly publish what you send me and give you an over-the-Internet hug.
If you are the owner or employee of a house in this directory, or one we missed and need to add, we would love to have more information about your place, including the url, photos, dates/times/hours etc. Use the contact form on our advertising page to get in touch and we'll follow up if we still need your response to any of these questions.