Haunted Houses in Kentucky for Halloween 2018
Funtober has the best information list of Halloween haunted houses in Kentucky.  We list the top haunted attractions including haunted houses, haunted trails, scream parks, and haunted corn mazes.  Plan an evening out with your friends around Halloween 2018 at one of these scary venues.
Also check out our list of the Top 100 Haunted Houses 2017 in America.  Is your favorite haunted attraction on the top 10 and top 100 state list?
Bowling Green KY Haunted HousesNorthern KY Haunted Houses
Last Major Update:
Haunted House Owner? Advertise Here.
Do you run a haunted house in the United States? More than 500,000 people came to Funtober last year looking for a haunted attraction to attend in September or October.  Please see our advertising page or contact us for more information.
We have separate attraction links and listings for haunted houses USA,  haunted corn mazes, haunted trails, haunted zombie paintball, haunted forests, haunted hayrides, and ghost tours.
Lexington Haunted HousesLouisville Haunted Houses
Haunted Attractions in Kentucky
Asylum 99 Haunted Hospital - Scottsville, KY
Back again for 2017 is the scary Haunted Hospital attraction.  It runs Friday and Saturday nights starting in late September.  Gates are open from 7 pm until midnight. Tickets available and your bed is waiting. Not only a seasonal Halloween haunt but some say it has real spirits and ghosts.
Asylum Haunted Scream Park - Louisville, KY
I love full entertainment parks and Asylum Haunted Scream Park fits right in as a 40 acre haunt with 4 attractions and great entertainment. The Carnival of Lost Souls midway has a fire eater, fortune teller, games, food, and live entertainment. The other haunt attractions are Darkness Falls on Asylum, Zombie City Doomsday, and Xterminite Zombie Attack. Darkness Falls features a tunnel and slide ride. Zombie City has what else but zombies. Xterminite is a 9000 square foot doom for hunting zombies. Tickets available for an all access pass. All tickets get you into the Carnivale of Lost Souls for games, and sideshow performances. Buy online in advance as they often sell out.  Asylum is open every Friday and Saturday. The times are 8 pm to 2 am.
Danger Run - Louisville, KY
Opening night is September 15th.  This is an unusual haunt adventure. It is similar to a road rally as you search in your car for clues to the answer. You start at three points and even go through two haunted houses as you look for clues. Adventure begins Friday and Saturday nights. Tickets are $25 online which gets you free food, free gas, vampire fangs, and the two attraction tickets. Starting points are Lowe's at 501 S. Hurstbourne Pkwy, Louisville, KY; Lowe's at 6651 Dixie Hwy, Louisville, KY; and Lowe's at 1350 Veterans Pkwy, Clarksville, IN.
Fallsburg Haunted House - Louisa, KY
Fallsburg Fearplex opens their haunted house on September 15th this year.  Carnivals, killings, and clowns are all on the menu.  Tickets are just $22.  They run every Friday and Saturday night.  Check their webpage for more details.  Lots of updates and improvements made to attraction for 2017.  With 55,000 Facebook likes this is a very popular attraction.
Fight Nights at The Farm - Lexington, KY
The Farm has 2 terrifying hayrides and one carny filled corn maze. A combo ticket is available. The attraction is open Thursday, Friday, Saturday, and Sunday nights beginning in October. Doors open at 7:30 pm.  The action takes place on Walker Farm beginning late September.
Fright Nights at Jacobson Park - Lexington, KY
Fright Nights has 3 haunted attractions named Dark Forest, Zombie Mayhem, and 13 Doors. Zombie Mayhem is 15 minutes of hell in the forest. Dark Forest has scenes at Butchers Oven, The Morgue, Torture Chamber, and many sadistic freaks. Doors open at 8 pm. Fright Nights runs every Thursday, Friday, Saturday, and Sunday nights beginning late September. Doors close at 11:30 pm on Friday and Saturday or 10 pm on other nights.
Hetzer Haunted House - Louisville, KY
An annual haunted house for charity and to support the local food bank.  Enjoy!
Hill of Terror - Bonnieville, KY
Opening night is September 15th.  There is no mercy at the Hill of Terror haunted attraction. It is open Friday and Saturday nights through Halloween. Tickets are $20.  They start at dark and run until midnight. Now in the 7th year they have added food concessions. They are approximately 70 miles south of Louisville. Turn Right on N Dixie Highway (US 31W) then Left on Priceville Rd (KY 728).
Hollow of Unrest - Bonnieville, KY
Returning late September for 2017.  Attraction usually runs on Friday, Saturday, and Sunday nights. Doors are open from 8 pm until 12:30 am. All new attractions with complete rebuild for 2017.  New scares, new scenes, and new frights as you do the self guided tour of a 100 year old barn, woods, and fields.
Hustonville Haunted Castle - Hustonville, KY
Opening night is September 29th.  Open every night in October.  Opens at 7:30 PM. Award winning 20,000 square foot corn maze and 8,000 glow area with frights.  Check out their evil clown. Tickets are $20. Attraction has been open for over 24 years.
Nightmare Forest - Louisville, KY
Nightmare Forest has been terrifying folks around Louisville for 19 years. Both Nightmare Forest and Dead End Hotel are run by the same people. They feature four attractions for one low price at Nightmare. They have a separate attraction in Shepherdsville. Here you will find Freddy Kruger, Jason Vorhees, Leatherface, Evil Dead, and Dead Silence characters. Nightmare Forest is open every Friday and Saturday. Doors open at dusk and stay open until 2:00 am. The haunt attractions are Nightmare Forest, Nightmare Harvest, Trail of Terror, and Drive-In.
Sandyland Acres Haunted Hayride - Petersburg, KY
Season opens on September 15th.  Shandyland Acres has two haunt attractions plus Spooky's Gift Shop, and Auntie Susie's concession stand. Tickets are $14 for the Haunted Hayride and $10 for Farmers Revenge. A combo ticket for both is $23. Doors open at 8 pm and close at midnight. Parking is free. Open Friday and Saturday nights until Halloween.
Sinister Tombs - Eastview, KY
Attraction opens September 15th for the 2017 season. Doors are open 7:30 pm until midnight. Is there a werewolf or big foot in the area? The town was founded in 1870 and strange deaths have been happening for over 100 years. Once the town hunted all the wolves. Afterwards the evil or wolf hunted the town. Get the story and search for your own evil. Tickets for adults are $15.
Skeleton's Lair - Settle, KY
Opens for season on September 22nd.  Ravencraft Haunted Sawmill hosts Skeleton's Lair. Gates open at dark and close at midnight. Skeleton's Lair features a Haunted Hayride, Haunted Woods, and 3D Zone for the ticket price of around $22. Doors open at dark. A combo ticket includes above plus the all new Doomsday Doll Factory for around $30.
Talon Falls Screampark - Melber, KY
Talon Falls Screampark can be described as a carnival freakshow. The park opens at 6:30 pm. Tickets are individual for Talon Falls, Dead End Haunted House, Blood Creek Haunted Hayride, and Sinister Circus 3D. Get all 4 for the low price of a  combo pass. Talon Falls Screampark opens late September. Doors open at 6:30 and close at 11 pm on Friday and Saturdays or 9 pm other nights. During daylight hours this 50 acre farm turns into Adventure Park with a corn maze, hayride, jumping pillow, pedal carts, lots of pumpkins and so much more.
The Baxter Avenue Morgue - Louisville, KY

The Devils Attic - Louisville, KY
The season starts on September 15th.  Devils Attic tickets are $20. On Friday and Saturday Devils Attic is open from 8 pm to 12:30 am. All other nights they close at 11:00 pm. They are open every Friday and Saturday plus some Sundays until Halloween.  Meet classic monsters of pure evil as your childhood fears come to life.
The Field of Screams - Brandenburg, KY
Visit Field of Screams any Friday and Saturday night starting  from early. Tickets are $20 to go through the Haunted Barn and Haunted Forest from 7 pm to 1 am. There are lots of freaks and ghouls in this 6 acre haunted cornfield. Separately you can take the Hayride to Hell for another $15 or buy the combo ticket to all the attractions for $35. It takes about 1 hour to complete.
The Haunted Back 9 Hay Ride - Flatwoods, KY
Open every Friday and Saturday night in October.  Located at the Oaks Golf Course.
The Mayhem Mansion - Morning View, KY
Mayhem Mansion opens at 8 pm each Friday and at 7pm each Saturday night from mid-Sept. You will find lots of zombies but we suggest you do not drink the Bootleggers special brew. The two haunts are Hayrides. It takes about 30 minutes to go through each attraction.
Trail of Whispering Woods - Georgetown, KY
Opens up on October 20th for two Friday and Saturday weekends.  First hayride goes out at dusk around 8 pm. Tickets are $10. Attraction closes at 10:30 pm. Do not be left behind, ever.  Take a wagon deep into the Kentucky back woods.  Located at Whispering Woods Riding Stables.
USS Nightmare - Newport, KY
Halloween season starts September 15th.  Board a real 288 foot long ship, the William S Mitchell, often known as the Death Dredge. This steamboat was built in 1933 Is it haunted? During its long history 112 crew members died aboard the ship. Now the USS Nightmare serves as a haunted house each fall. The 30 minute haunt tour takes about 30 minutes to traverse. Tickets cost $17 on Wednesday or $20 on Thursday through Sunday. You will witness lots of chainsaws, evil illusions, and dozens of scary actors who may or may not ever let you leave the ship alive. Enjoy your visit aboard the Death Dredge. It is open from 7 pm to 1 am every Friday and Saturday night from mid-Sept.. It is open 7 pm until 11 pm every Wednesday, Thursday, and Sunday.
Waverly Hills Sanitarium - Louisville, KY
More a real haunted house guided tour and paranormal investigation with a wonderful commercial type haunted house during Halloween season. The haunt attraction is open every Friday and Saturday night Doors open at 7:30 pm and close at 11 am. Check out their website for complete details. Parking is $5 per car good towards souvenir purchase. If you are an amateur ghost hunter then this place is for you.
Wicked World Scaregrounds - Lexington, KY
Opens for season on September 29th.  The two haunted attractions are Nightmare Haunted House, Quarantine and Terror on Tates Creek. Tickets available for each attraction or a combo ticket for all. Doors open at 7:30 pm and stay open until 12:00 am on Friday and Saturday or 10:00 pm other nights.  Located at Whitaker Bank Ballpark.
Wingfield Haunted House - Bowling Green, KY
This is the biggest fundraiser of the year for the Wingfield Volunteer Fire Department. Started back in 2005 it has been getting stronger every year. Featured attraction is their two mile ride then the tour of the haunted house and then back to the community center. Open every Friday and Saturday nights in October.
Home Haunts (New List of Home Haunted Houses for Halloween 2014).
State By State List of Halloween Haunted Houses
Nearby Attractions
If you live in Northern Kentucky, you will also want to visit the Cincinnati haunted houses. Or, if you find yourself close to another state, you should give them a quick perusal to make sure you aren't missing an awesome haunted attraction.
Haunted Houses in Illinois
Haunted Houses in Indiana
Haunted Houses in Ohio
Haunted Houses in Virginia
Haunted Houses in West Virginia
Also consider attending one of the many Halloween conventions such as the National Haunters Convention held in May.
Also you may find interesting the connection between the growth in Haunted Houses and the history of the horror movies made by Hollywood.
Find other fall fun things to do in Kentucky in October:
Oktoberfest in Kentucky
Kentucky Festivals
Kentucky Corn Mazes
Kentucky Ghost Tours
Pumpkin Patches in Kentucky
Did We Miss Something?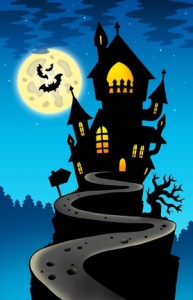 Have you been to one of these haunted houses? Future readers would be interested in hearing what you thought. Did you have fun? Was it worth the money? Would you recommend it to others? Any suggestions to maximize the experience? I'll gladly publish what you send me and give you a great big hug.
If you are the owner or employee of a haunted house on this list, or one I missed and need to add, I would love to have more information about the haunted house, photos, dates/times/hours for 2018, etc. Use the contact form to get in touch and I'll tell you where to email your answers to these questions.