Atlanta Haunted Houses for Halloween 2019
Atlanta haunted houses are some of the largest and best in the United States including a popular Funtober 100 favorite.  Enjoy a great scary night out with your spouse, date, or friends.  Expect to be terrified at these haunted attractions.  For the price of a movie you can be part of the action as you come face to face with terror.  Most use animatronics, great props, Hollywood sets, and actors with makeup beyond belief.  You will be frightened.  Find all the haunted houses, trails, corn mazes, hayrides, and Halloween fun attractions in the Atlanta area including the cities of Norcross, Rome, and Smyrna.
Last Major Update:
Featured Listing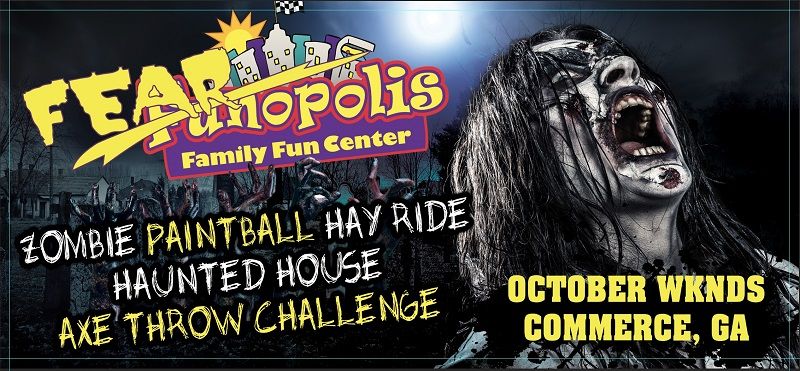 See our new updated TOP 100 HAUNTED HOUSES FOR HALLOWEEN 2018 .    Also check out our list of the Top 100 Haunted Houses 2017 in America.  Is your favorite haunted attraction on the top 10 and top 100 state list?
One of the world's busiest airports, Atlanta also has some of the world's best haunted houses.  Grab your friends and plan an evening of scary fun.
13 Stories Haunted House - Newman, GA
Your deepest fears await starting on September 21st this year.  The basic haunt here is 13 Stories but there are so many attractions and things to do and see.  Ward B is another extremely scary haunted house with 13 Stories. There are four attractions including the zombie paintball hunt. 13 Stories have a combined ticket price or buy an individual haunt. Here you can wear your costume but no face mask. They have fog, strobe lights, gory creatures, loud sounds, and loud music. Expect to find rats, spiders, snakes, roaches, and maybe a 3D clown. The attractions are 13 Stories, Vertigo, Ward B, Zombie Alley, and Clown Town. Ask about a separate attraction called Sacrifice Extreme Haunt.  Check their schedule so you see the specific haunt on the day you want.  Generally open Wednesday through Sunday nights in October.  13 Stores has over 43000 Facebook likes. Also check out our list of the Top 100 Haunted Houses 2017 in America.  Is your favorite haunted attraction on the top 10 and top 100 state list?
Bloodwood Trail - Rome, GA
Bloodwood Trail present "The Purge" for 2018 beginning on October 12th and running every Friday and Saturday night in October.
Camp Blood - Carrollton, GA
Camp Blood has been scary for more than 28 years. There are more than a few chainsaw carrying psychos running around Carrollton, Georgia. Your ticket gets you into Mental-brook Estates and Camp Blood. Additional combo attractions available. Doors open at 9 pm every Thursday, Friday, and Saturday nights in October beginning October 13th plus a couple special events.
Davisboro Haunted House - Davisboro, GA
The season starts on October 6th.  Attraction is open every Friday and Saturday in October. Doors open 7 pm. A two story Victorian home transformed into Georgia's scariest haunt.  It's a wall crawling experience with Tunnel of Fear, and Beyond the Grave.  Tickets are $15.
Fear the Woods - Stockbridge, GA
Haunt opens September 28th.  Fear in the Woods has a Haunted Hayride, Haunted Barn, Haunted Trail, Zombie Paintball Hayride, Reptile Exhibit, and Pumpkin cannon. Tickets priced from $19 for one attraction or $33 for combo.  Open every Friday, Saturday, and Sunday night after 7 pm in October plus Halloween night.
Fearopolis - Commerce, GA
Attraction is located at the Funopolis Family Fun Center, but on Friday and Saturday night fun in October, it becomes Fearopolis! Non-haunt runs 11 am to 7 pm on Friday and Saturday. The scary haunt time is 7 pm to 11 pm on Fridays and Saturdays from September 28th, 2018 through Halloween. New for 2018 are a Zombie Paintball Hayride, Haunted House, and an Axe Throw Challenge.
Folklore Haunted House - Acworth, GA
Open weekend nights starting September 22nd.  Attraction runs most Wednesday through Sunday nights in October plus some other dates.  See web page for details.  The theme of Folklore is that evil has many forms. Demons, tortured souls, vampires come from legends and fables. Tickets are $28-33 depending on the night.
Gates of Misery - Rome, GA
The legend is that no one has ever escaped the misery, pain, and screams at the Gates of Misery. This is a 12,000 square foot haunt filled with tortures and nightmares in a two story building.  Updated this year is The Labyrinth and Schoolhouse of Horror as new added attractions. Open every Friday and Saturday beginning September 28th. Gates open at 7:30 pm.  Tickets are $20.
Haunted Hollow - Valley, AL
It features three haunts named The Village of the Dead, Finn's, and Spinal Tap. Attraction opens for the season on September 28th and runs every Friday and Saturday nights through October.  Tickets are $12 for haunt or a combo price of $25.
Netherworld Haunted House - Stone Mountain, GA
All new location for 2018 in Stone Mountain.  Opening weekend is October 5th.  Netherworld in Atlanta just might be the best haunted house in Georgia if not the country. Each year it seems to just get better with new scenes, sets, and screams. This years theme is The Season Of The Witch in the main haunt attraction followed by the basement show. It takes about one hour to go through Netherworld not counting for the long wait lines. Netherworld Haunted House is open from 7 pm to 11 pm. It runs Monday through Thursdays are from 7:30 pm to 10:30 pm. Friday and Saturday nights the attraction runs 7 pm to midnight. Tickets are vary based on the attraction, combos, and night of the week.  So basically this attraction is open every night in October plus some September and November dates.  Be aware of the horrific plot to punish all of mankind that went awry. Try to survive the giant bugs, wasps, spiders, and maggots. These places are beyond scary.  This clearly is one of the best and most popular haunt attractions in the country.  Nethweworld has over 149000 Facebook likes. Also check out our list of the Top 100 Haunted Houses 2017 in America.  Is your favorite haunted attraction on the top 10 and top 100 state list?
Nightmares Gate - Douglasville, GA
Experience Georgia's own zombie prison riot.  The patients have excaped.  Tickets available for Nightmares Gate. Doors open at 8 pm.  Open Friday through Sunday nights in October beginning September 28th..
Paranoia Haunted House - Canton, GA
Paranoia begins September 28th.  The two attractions are Experiment and Slaughter Shack. Gates open at 7:30 pm and close 12 am.  Open on Fridays, Saturday, and Sunday nights.  Admission is $25. Get the combo ticket for $35 to get into both attractions.  Open a variety of additional nights in October.
Six Flags Fright Fest - Austell, GA
Opens for Halloween season beginning on September 22nd.  Fright Fest is one of the largest haunted attractions in the country. They convert Six Flags into a full Halloween haunt with lots of scare attractions and entertainment. Entertainment includes Southern Cemetery Conjuring, Salem Witch Trials, Bayou Bloodlush, Gotham City, Cemetery of the Undead, Asylum, The Last Ride and many more new attractions. Also many of Six Flags great rides have been re-themed and operating during Fright Fest. Save money and buy your tickets online.  Open every Friday, Saturday, and Sunday night in October.
State By State List of Halloween Haunted Houses
Haunted Houses in Georgia
Macon Haunted Houses
Birmingham Haunted Houses
New Orleans Haunted Houses
Hattiesburg Haunted Houses
Columbia Haunted Houses
Haunted Houses Videos
More Fall Activities near Atlanta:
Apple Orchards
Ghost Tours
Halloween Events
Thanksgiving Events