Haunted Houses in Colorado for Halloween 2022
The haunted houses in Colorado can be a frightening experience at Halloween time.  Funtober lists the best haunted houses, haunted trails, haunted corn mazes, and haunted hayrides.  Each October, Halloween brings scary entertainment to Colorado.  Our list below has lots of demons, zombies, creatures, and monsters named Freddy and Jason to terrify you.  Enjoy an October night out with your friends at a local scream park. So if you must go to a Colorado haunted house near me, park your vehicle close, and prepare to flee quickly! Zombies are everywhere.
Denver Haunted HousesColorado Springs
Last Major Update:
13th Floor Haunted House - Denver, CO
Back again is this exciting Denver haunted attraction.  Depending on the night, doors open between 7:00 pm – 7:30 pm and close between 10:30 pm and Midnight. Please double check their website for official dates and times. General Admission ticket prices vary depending on the date. Mark your calendars because they also run blackout nights. Expect to be terrified as your worst fears come to life in the 13th Floor. Three main attractions this year are Gremlin's Pool Party, Serial Killer Whales, and Undead Unicorns.  Sister site The Asylum and 13th Floor are within a 3.5 mile area. You can purchase combo tickets that will get you into all attractions for a full evening of terror. This is one amazing haunted attraction.  13th Floor has over 94000 Facebook likes.  Opens weekends from around the middle of September and nearly every night in October.  Open until around the middle of November.
Aftermath Haunted House - Canon City, CO
For those who live west of Pueblo or south of Colorado Springs, there a great haunt in Canon City. Aftermath Haunted House runs on Saturday nights in October. Classic Halloween characters come to life at the Canon City Recreation and Park District's "Aftermath."  Come and witness the horror and darkness of Halloween like never before as you tour the property to the east of the Recreation District.  Keep an eye out for terror at every turn; after all, they have already been watching you.  It will run from 8 pm to midnight each evening.   All proceeds will benefit Recreation District programs.  Any child under 12 must be accompanied by an adult and have parent permission.
City of the Dead & Asylum - Henderson, CO
Now one haunt with double the thrills.  Asylum and City of the Dead will reopen for 2022.  City of the Dead & Asylum Haunted House is located at the Mile High Flea Market. Explore where the dead and lost souls roam. Enjoy your travels through City of the Dead, known for being a forgotten area filled with decay and filth. Few still inhabit this town, and those that do are hardly alive. Then, explore the grounds of The Asylum and its many recreational amenities to put your mind at ease during your stay. However, we must warn you that guests are advised to stay in-bounds of the facility, or risk being lost in the abyss of The Asylum's most delusional patients.  They also have food, Pepsi products and serve Coors light products.
Creepy Walk in the Woods - Loveland, CO
Hard to beat a scary walk through the local Savage Woods for fright fun.  This is not your average haunted house and it's not another corn maze. In fact it's not in a house or corn field at all. Just west of Loveland, at the base of Devil's Backbone, you will find Savage Woods, home of the most vile, hideous creatures our world has ever seen. This once sacred land, now cursed with creatures so haunting they could never be contained indoors. These Woods are so horrid that our own minions (staff) won't enter.  It's a terrifying, unguided exploration deep in to the Woods to experience the immoral degenerates, native only to the Savage Woods.  Some will live to tell the tale, some will never be seen again, some will be forever changed… Open Friday and Saturday beginning October 14th, 2022.
Curse of Slaughterhouse Gultch - Aurora, CO
Sorry folks but it appears this haunt has permanently closed.  They will be missed.
Darkrose Manor - Aurora, CO
They are very proud of their highly detail haunt set designs.  Check their Facebook page for more details and videos.  I believe they are open several days Halloween week in late October.
Elitch Gardens Fright Fest - Denver, CO
Fright Fest return every Friday, Saturday, and Sunday nights beginning October 1st, 2022.  Elitch Fright Fest consists of four haunted houses located on the grounds of the Elitch Gardens theme park. Elitch is family by day and fright by night. It is open every Friday, Saturday, and Sunday nights in October. The park has a science lab that works with radioactive materials. Test creatures have escaped and are roaming the grounds. Save money on Elitch Gardens tickets and buy online for savings. The attractions include Ghouls motel, Scream it out, Trick or Treat trail, Vulture, Hay Maze, Hurl, The Awakening, and Freak Show. They also have three very scary attractions called Flesh Factory, Terror Chamber, and Séance for a separate Fright pass.
Empty Grave Haunted House - Longmont, CO
Open every Friday, Saturday, and Sunday nights beginning in early October.  The Empty Grave is a fully themed immersive Haunted Attraction located in Longmont, CO. Now celebrating their 15th year. The Empty Grave invites you to work a night on the Graveyard Shift. New location is at 218 Kimball Street, next to Wibby Brewing.
Fear Of The Dark - Fort Collins, CO
Chipper Lanes is open this year for bowling, laser tag, and entertainment but not for Fear of the Dark.
Haunted Field of Screams - Thornton, CO
The Haunted Field of Screams returns in early October.  It features 3 haunt attraction named Dead Man's Night Maze, Zombie Paintball Massacre, Haunted Field of Screams and 35 acres of haunted cornfield. It is one of the largest haunted attractions in Colorado. It runs Fridays and Saturdays until midnight. On Thursday and Sunday they close at 10 pm. Tickets are low priced for the find your way out Dead Man's Night Maze. Tickets available to shoot in the Zombie Paintball Massacre. Try the corn field haunt tickets. There is a combo ticket with all three attractions. Parking is free. This is the same as the daytime fall attraction Maize in the City which features a pumpkin patch and corn maze plus other farm events.
Haunted House at American Legion Post 119 - Estes Park, CO
It does not appear they are running this event in 2022.
Haunted Mines Colorado Fear Fest - Colorado Springs, CO
Haunted Mines is now part of The Fear Complex and has a new location. Bigger, darker, and more terrifying than ever. This Halloween season, experience the Haunted Mines like you've never seen it before, with a mix of old and new in store! Explore your deepest fears, and descend into the darkness at the new location at Palmer Park and Academy.  Open most Thursday through Sunday nights in October.  Check web page for schedule details.  Tickets are available.
Hell's Trail - Avondale, CO
The fear begins this year in early October.  Hell's Trail is almost one mile of sheer terror. Beware of the scary clown. It operates Friday and Saturday night from 7 pm to 12 am or other nights until 10:00 pm.
Hellscream Haunted House - Colorado Springs, CO
Season begins in late September.  Now open for 12 years, Hellscream Haunted House features 3 attractions in 15,000 square feet of space. Last year they moved into their new multi story building. As the former home of a mental health facility it was certified haunted by the Rocky Mountain Research, Investigation of the Paranormal and Photography group. Owners took their talents in the movie and television industry to create a cutting edge in your face haunt. View never seen before animatronics, special light and sound effects and extremely talented live actors. Even bigger and better scenes than last year. Also Zombie laser tag.  Come visit the most insane haunted experience of your life, if you dare! Hours: Friday and Saturday 7:00pm – 11:00pm. Open all other nights 7:00 pm – 11:00pm.   Attraction runs Thursday through Sunday most nights in October.
Reapers Hollow Fright Acres - Parker, CO
The fun begins in early October.  Located at Flat Acres Farms this attraction is an amazing haunted field walk through. What lurks out in that field? Expect to be scared. Doors are open from 7 pm until 10 pm.  This year they also feature the Dead End Motel and their new attraction Goblins Grove.  Get all haunts for one low.  Located near Target and Walmart in Parker.  Open Friday and Saturday nights in October plus a few added dates. Repers Hollow Cemetery is now part of Fright Acres.
Reinke Brothers Haunted Mansion - Littleton, CO
Reinke Brothers Haunted Mansion is back again this fall.  This year the 52 year old family tradition continues! Come back and enjoy what families and haunted house enthusiasts have loved and talked about for years. The Haunted Mansion has even more chills and thrills then ever before. Don't miss the opening of Reinke Brothers Haunted Mansion in late September and running most nights thru October 31st. It will include the Haunted Mansion, Big Wonderful, free concert, food trucks and vendors!
Scream Acres Haunted Corn Maze - LaSalle, CO
Fritzler Farms is back with Scream Acres. They operate daytime non scary corn mazes with haunting activities starting after 6 pm nightly. Friday's it runs from 5 pm until 10 pm. Saturdays from 11 am until 10 pm. Wednesday and Thursday hours are 5 pm until 9 pm. Sunday hours are noon until 6 pm for a non scary attraction. A combo ticket exists for the haunted corn maze, pillow jump, slide, pumpkin cannon, corn cannon, and regular corn maze. They also have zombie paintball.  It opens late September and runs most Wednesday through Saturday nights in October.
Terror in the Corn - Erie, CO
Terror in the Corn returns in late September.  Terror might be my favorite fright entertainment haunt in Colorado. It is located on the Anderson Farm that during the day operates a fall festival featuring a mine car ride, spider web, tire mountain, corn maze, farm animals, pumpkin launcher, a general store and a concession stand. Anderson Farms at night runs Terror in the Corn witch has a Haunted Hayride, Ghost Town, Haunted Trail and Zombie Paintball Haunt. Expect to find ghoulish creatures, chainsaws, and snakes.  The haunts are open on Friday, Saturday and Sunday nights in October plus some added dates..
The Frightmare Compound - Westminster, CO
Looking for a fun, scary, and extreme haunted house.  Frightmare consists of two haunted houses at the same location at 108th and Wadsworth Blvd. in Westminster: Frightmare and The House of Darkness. Doors open at 7 pm and close on Friday and Saturday at 12 am or all other nights at 10 pm. The compound has an abandoned fun house that was moved here following a carnival massacre. Spirits of the undead have returned with flesh eating clowns trolling for demented fun. Opens Friday and Saturday nights from September 16th, 2022.  Runs every night but 4 from early October through October 31st.  This amazing haunt has over 99000 Facebook likes.
Undead Haunted House - Denver, CO
Another horror event for folks in Denver.  (Separate but co-located with 13th Floor attraction.) The Undead: Abomination replicates an actual farm house under siege by the walking dead. Experience Zombie's like never before. Doors open between 7 to 7:30 pm nightly. Doors close at various times from 10:30 pm until midnight so check the schedule for the night. The Asylum, 13th Floor, and Undead are all with a 3.5 mile area. A combo ticket gets you into all the attractions for a full evening of terror.
Anderson Farms – Erie, CO
Open daily and weekends starting in late September.  Fall festival features a 30 acre patch with 26 varieties of pumpkins, squash and gourds. Antique tractor pulled wagon hayride, 30 acre corn maze in their cornfield, pumpkin launching, pedal karts, farm animals, barrel train, zombie paintball and Terror in the Corn. Anderson Farms is very popular with over 20,000 Facebook likes. Their address is 6728 County Road 3-1/4, Erie, CO 80516. It is about 29 miles north of Denver.
Fritzler's Corn MAIZE and Giant Pumpkin Patch – LaSalle, CO
Their kickoff event occurs in late September.  They are open weekends in September and Wednesday through Sunday in October.  They feature over seven acres of u-pick pumpkins with corn maze and other fall farm activities. There is also zombie paintball and the maze becomes Scream Acres haunt at night.  This is a full entertainment complex that has had more than 450,000 visitors to their corn maze. There are 20 maze attractions, 1.6 miles of trails, and lots of food choices. As you can guess, Fritzler's Corn Maze is very popular with over 21,186 Facebook likes. Their address is 20861 County Road 33, LaSalle, Colorado. It is about 37 miles southeast of downtown Fort Collins.
Jack Lantern's Northern Colorado Corn Maze – Fort Collins, CO
Their fall seasonal events start in October.  They operate their pumpkin patch and 15 acre corn maze on Thursday through Sunday in October. Also well known for their Haunted Maze on Friday and Saturday nights. During daytime hours they also have live animals, a scavenger hunt, bounce house, picnic area, and more family fun. Their address is 2318 S. County Road 5, Fort Collins, CO. It is located about 8 miles east of Fort Collins.
Some times, the nearest haunted house to you may be across the state line of Colorado. If you reside by the boundary with another state, or that is where the closest big city is, there should be a haunted house that is worth considering there: Nebraska, Kansas, Oklahoma, Texas, New Mexico, Arizona, Utah, or Wyoming.
Find other fall fun things to do in Colorado in October: Oktoberfest in Colorado Colorado Festivals Colorado Corn Mazes Colorado Ghost Tours Colorado Pumpkin Patches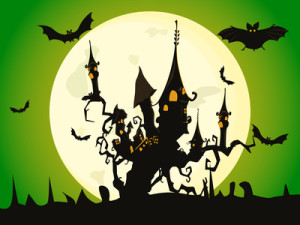 You may also be interested in our article on Haunted Houses and Horror Movies | History of Fear.
Add Your Feedback!
Have you been to one of these haunts? Future readers would be interested in hearing what you thought. Did you have fun? Was it worth the price? Would you suggest it to visitors here? Any tips to maximize your experience? I'll gladly publish what you send me and give you an over-the-Internet hug.
If you are the owner or employee of a house in this directory, or one we missed and need to add, we would love to have more information about your place, including the url, photos, dates/times/hours etc. Use the contact form on our advertising page to get in touch and we'll follow up if we still need your response to any of these questions.
Check out Black Friday ads, Cyber Monday ads, and holiday sale prices from top retailers this Christmas season.