Haunted Houses in Colorado for Halloween 2017
The haunted houses in Colorado can be a frightening experience at Halloween time.  Funtober lists the best haunts featuring haunted houses, haunted trails, haunted corn mazes, and haunted hayrides.  Each October Halloween brings scary entertainment to Colorado.  Our list below has lots of demons, zombies, creatures, and monsters named Freddy and Jason to terrify you.  Enjoy an October night out with your friends at a local scream park.
Denver Haunted HousesColorado Springs Haunted Houses
Last Update:
[fsb-social-bar facebook="true" twitter="true"]
Haunted House Owner? Advertise Here.
Do you run a haunted house in the United States? More than 150,000 people came to Funtober last year looking for a haunted attraction to attend in September or October. We can help increase attendance at your business or event through a sponsored listing, coupon giveaway, cross-promotion or other creative marketing initiative. Special deals for nonprofits. Please see our advertising page or contact us for more information.
So if you must go to a Colorado haunted house in 2015, park your vehicle close, leave the doors unlocked, and prepare to flee quickly!  Zombies are everywhere.  We have separate attraction links and listings for haunted houses USA,  haunted corn mazes, haunted trails, haunted zombie paintball, haunted forests, haunted hayrides, and ghost tours.
13th Floor Haunted House - Denver, CO
Depending on the night, doors open between 7:00 pm – 7:30 pm and close between 10:30 pm and Midnight. Please double check their website for official dates and times. General Admission tickets start at $26.99 and go up to $32.99 depending on the date. Mark your calendars because they also run blackout nights. Expect to be terrified as your worst fears come to life in the 13th Floor. The Asylum and 13th Floor are within a 3.5 mile area. You can purchase combo tickets that will get you into all attractions for a full evening of terror. This is one amazing haunted attraction.
Aftermath Haunted House - Canon City, CO
For those who live west of Pueblo or south of Colorado Springs, there a great haunt in Canon City. Aftermath Haunted House runs on Saturdays.
Asylum Haunted House - Denver, CO
The Asylum is one of the scariest and most popular haunt attractions in the country. Damp, musty and infected with the screams of tortured souls make it an exhilarating attraction. Make sure you don't lost your head, or your mind, when entering the Asylum Haunted House. It features a 15,000 square foot haunt whose theme is a mental hospital for the insane; when purchasing an Asylum ticket, you will also get access to Primitive Fear. General Admission tickets are $26.99 to $32.99 depending on the night. Doors open after 7:00 pm. Please double check the website for official dates and times.
City of the Dead Haunted House - Henderson, CO
Frightening residents of the Henderson area, City of the Dead Haunted House is located at the Mile High Flea Market. Legend has the City of Dead existing beneath the mile high city featuring relentless and hungry zombies. The attractions are Carnival of Carnage, City of the Dead and Curse of Darkness. Carnival is advertised at Denver's largest haunt. Expect to find 30 themed scenes. It is open from 7 pm to 12 am on Friday and Saturday but closes at 11 pm all other nights. Tickets are $24.99 – $29.99 online for this 3 house feature haunt attraction. They also have food, pepsi products and serve Coors light products.
Creepy Walk in the Woods - Loveland, CO
Hard to beat a scary walk in the woods for fright fun. Now in it's 8th year, Creepy Walk will be open from 7 pm until 11 pm. They have a children's walk in early October from noon until 4 pm for $5. They have fall events at this location so give them a call. Tickets are approximately $17.
Curse of Slaughterhouse Gultch - Aurora, CO
Expect to find Jason, Leatherface, and Freddy as fear is lurking here and they live here for all eternity. Curse is open starting in late September and then every night from early October. Tickets are $25 which gets you a BOGO deal to also access THE 13TH DOOR HAUNTED HOUSE next door. This haunt is open Friday and Saturday from 7 pm to midnight. All other nights it closes at 10 pm.
Darkrose Manor - Aurora, CO

Elitch Gardens Fright Fest - Denver, CO
Elitch Fright Fest consists of four haunted houses located on the grounds of the Elitch Gardens theme park. Elitch is family by day and fright by night. It is open every Friday, Saturday, and Sunday nights in October. The park has a science lab that works with radioactive materials. Test creatures have escaped and are roaming the grounds. Save money on Elitch Gardens tickets and buy online for around $34. The attractions include Ghouls motel, Scream it out, Trick or Treat trail, Vulture, Hay Maze, Hurl, The Awakening, and Freak Show. They also have three very scary attractions called Flesh Factory, Terror Chamber, and Séance for a separate Fright pass.
Field of Corpses - Arvada, CO
This is a great haunt attraction based on what happened during the fall harvest of 1801? Unfortunately this attraction was forced to close early in 2015 and will also be closed for the 2016 season. They hope to return next year.
Ghouls Gulch - Colorado Springs, CO
Ghosts Gulch and Sanitarium are the two haunt attractions. Tickets are $15 for one attraction or a combo ticket price of $26. Doors open at 6:30 or 7 pm most nights and close at 10 pm or 11 pm. Check website for hours. Expect to see lots of real snakes and live spiders. The also feature some additional dates and afternoon for Wendy's kids specials.
Haunted Field of Screams - Thornton, CO
The Haunted Field of Screams features 3 haunt attraction named Dead Man's Night Maze, Zombie Paintball Massacre, Haunted Field of Screams and 35 acres of haunted cornfield. It is one of the largest haunted attractions in Colorado. It runs Fridays and Saturdays until midnight. On Thursday and Sunday they close at 10 pm. Tickets as low as $22 for the find your way out Dead Man's Night Maze. Tickets available to shoot in the Zombie Paintball Massacre. Try the corn field haunt tickets. There is a combo ticket with all three attractions. Parking is free.
Haunted Mines - Colorado Springs, CO
The Western Museum of Mining and Industry opens up this haunt attraction to visitors every year. In 2011, the attraction raised over $100,000 for charity. Expect to crawl through the caves on your hands and knees as you try to escape. Yes the bats in the cave are real so be very careful. Haunted Mines runs in September and October for a low ticket price. Doors open at 7:30 pm.
Hell's Trail - Avondale, CO
Hell's Trail is almost one mile of sheer terror. Beware of the scary clown. It operates Friday and Saturday night from 7 pm to 12 am or other nights until 10:00 pm. Tickets are $10.
Hellscream Haunted House - Colorado Springs, CO
Now open for 8 years, Hellscream Haunted House features 3 attractions in 15,000 square feet of space. Last year they moved into their new multi story building. As the former home of a mental health facility it was certified haunted by the Rocky Mountain Research, Investigation of the Paranormal and Photography group. Owners took their talents in the movie and television industry to create a cutting edge in your face haunt. View never seen before animatronics, special light and sound effects and extremely talented live actors. Even bigger and better scenes than last year. The 3 attractions are The Dungeon of Despair, VonHellton's House of Horrors, and the Screamatorium. Come visit the most insane haunted experience of your life, if you dare! Hours: Friday and Saturday 7:00pm – 11:00pm. Open all other nights 7:00 pm – 11:00pm.
Morbid Nights - Greeley, CO
Morbid Nights is located to the east of Fort Collins at the Greely Mall. The theme is Sum of All Fears. It is advertised as "Northern Colorado's Scariest Haunted Attraction." It runs every Thursday, Friday, and Saturday night. Doors are open at 7 pm and close at 11:30 pm.
Mournful Manor - Arvada, CO

Reapers Hollow - Parker, CO
Located at Flat Acres Farms this attraction is an amazing haunted field walk through. What lurks out in that field? Expect to be scared. Doors are open from 7 pm until 10 pm.
Reinke Brothers Haunted Mansion - Littleton, CO
Now in it's 42nd year the Haunted Mansion features 30 rooms of cutting edge special effects and animatronics. Attraction is open most nights from late September. Friday open at 6 pm and close at midnight. Saturday doors are open 3 pm until midnight. Sunday hours are 3 pm until midnight. All other nights are 6 pm until 10 pm. Check their website for changing dates and admission times.
Scream Acres Haunted Corn Maze - LaSalle, CO
Fritzler Farms operates Scream Acres]. They operate daytime non scary corn mazes with haunting activities starting after 6 pm nightly. Friday's it runs from 5 pm until 10 pm. Saturdays from 11 am until 10 pm. Wednesday and Thursday hours are 5 pm until 9 pm. Sunday hours are noon until 6 pm for a non scary attraction. A combo ticket exists for the haunted corn maze, pillow jump, slide, pumpkin cannon, corn cannon, and regular corn maze. They also have zombie paintball.
Terror in the Corn - Erie, CO
Terror might be my favorite fright entertainment haunt in Colorado. It is located on the Anderson Farm that during the day operates a fall festival featuring a mine car ride, spider web, tire mountain, corn maze, farm animals, pumpkin launcher, a general store and a concession stand. Anderson Farms at night runs Terror in the Corn witch has a Haunted Hayride, Ghost Town, Haunted Trail and Zombie Paintball Haunt. Expect to find ghoulish creatures, chainsaws, and snakes.
The 13th Door - Aurora, CO
The attraction is also located at the same address as Curse of Slaughterhouse Gulch but as a separate haunted house. It is housed in the Old Barrington hotel which once burned down. Only one guest survived the fire. He got out through the 13th door. Can you find your way out? The 13th Door takes about 20 minutes to go through. Doors open at 7 pm. Tickets are $25. There is a combo package with Curse of Slaughterhouse Gulch, The 13th Door, and The Black Hole ride.
The Frightmare Compound - Westminster, CO
Frightmare consists of two haunted houses at the same location at 108th and Wadsworth Blvd. in Westminster: Frightmare and The House of Darkness. Doors open at 7 pm and close on Friday and Saturday at 12 am or all other nights at 10 pm. The compound has an abandoned fun house that was moved here following a carnival massacre. Spirits of the undead have returned with flesh eating clowns trolling for demented fun. Also come prepared to play their fantastic Zombie Paintball. General admission tickets are $25-27 which includes the House of Darkness attraction.
Undead Haunted House - Denver, CO
(Separate but co-located with 13th Floor attraction.) The Undead: Possession replicates an actual farm house under siege by the walking dead. Experience Zombie's like never before. Doors open between 7 to 7:30 pm nightly. Doors close at various times from 10:30 pm until midnight so check the schedule for the night. The Asylum, 13th Floor, and Undead are all with a 3.5 mile area. A combo ticket gets you into all the attractions for a full evening of terror.
State By State List of Halloween Haunted Houses
More Haunted Houses
Some times, the nearest haunted house to you may be across the state line of Colorado. If you reside by the boundary with another state, or that is where the closest big city is, there should be a haunted house that is worth considering there. So in addition to the Colorado haunted houses, I've identified these border states with haunted attractions for you to also consider.
Haunted Houses in Kansas
Haunted Houses in Nebraska
Haunted Houses in New Mexico
Haunted Houses in Texas
Haunted Houses in Utah
Haunted Houses in Wyoming
Find other fall fun things to do in Colorado in October:
Oktoberfest in Colorado
Colorado Festivals
Colorado Corn Mazes
Colorado Ghost Tours
Colorado Pumpkin Patches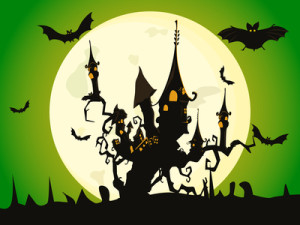 Did We Miss Something?
Have you been to one of these haunted houses? Future readers would love to hear what you thought. Did you have a good time? Was it worth the price? Would you recommend it to others? Any suggestions to maximize your experience? I'll gladly publish what you send me and give you a great big hug.
If you are the owner or employee of a haunted house on this list, or one I missed and need to add, I would love to have more information about the haunted house, photos, dates/times/hours for 2017, etc. Use the contact form to get in touch and I'll tell you where to email your answers to these questions.