Haunted Houses in Rhode Island for Halloween 2017
Find all the local Halloween haunted houses in Rhode Island here at Funtober for 2017.  We list all the haunted hayrides, haunted houses, haunted trails and more Halloween entertainment here in your state.  Expect to find zombies, vampires, walking dead, witches and lots of Freddy's and Jason's roaming your local haunt.  In Rhode Island you are never far from a great haunted attraction featuring live actors, animatronics, Hollywood set designs, creepy costumes, and air blasters.
Funtober also lists Facebooks most liked haunted attractions in the county in our popular article:  America's Best Top 100 Haunted Houses in 2013 (with videos).
Last Update:
[fsb-social-bar facebook="true" twitter="true"]
Haunted House Owner? Advertise Here.
Do you run a haunted house in the United States? More than 150,000 people came to Funtober last year looking for a haunted attraction to attend in September or October. We can help increase attendance at your business or event through a sponsored listing, coupon giveaway, cross-promotion or other creative marketing initiative. Special deals for nonprofits. Please see our advertising page or contact us for more information.
We have separate attraction links and listings for haunted houses USA,  haunted corn mazes, haunted trails, haunted zombie paintball, haunted forests, haunted hayrides, and ghost tours.
Factory of Terror West Warwick - West Warwick, RI
Open Friday and Saturday nights starting on September 30th plus a couple more nights in October. Featured attractions include Psycho Alley, Asylum, Dracula's Hideway, 4D Blackout, and Ghost Cemetery. Basic tickets are $19.99 but there are some other options and discounts available. See their web page for full pricing and schedule details.
Field of Screams - West Greenwich, RI
Spend sixty minutes at Field of Screams with the ghouls, zombies, and disembodied spirits. Now back for over 20 season. Doors open at 6:30 pm and close at 10:00 pm on Friday and Saturday nights and at 9:00 pm on Thursday and Sunday nights. Field of Screams gives you the only 4D haunted maze in Rhode Island called Cirque Du Souls. Also visit Haunted Insane Asylum and Dead River Haunted Hayride. They have for 2016 Zombie Paintball attraction.
Fortress of Nightmares - Fort Adams, RI
It is open from 6 pm until 10 pm. Note this is a real haunted house and during October they also conduct paranormal investigations. Ask about being part of their 10:30 pm ghost hunting investigations. Note we have not seen updated information for 2016 on this attraction.
Haunted Hill - Cumberland, RI
Haunted Hill has been terrifying people in southern New England for over a decade. Tickets are $15. Attraction runs Friday and Saturday nights starting Friday, October 1st plus a few other dates. Doors are open from 7 pm to 10 pm most nights. New attractions are Heaven's Angel, Demon's Child, And Devils Den.
Haunted Labyrinth - Cranston, RI
Haunting Cranston for 30 years Haunted Labyrinth advertises itself at the "Scariest Haunted House in New England. It features themed room and scary mazes. Tickets are $12. It is open Friday, Saturday, and Sunday nights from 7 pm to 10 pm. It is located at the Hope Youth Center.
MWR Haunted Trail - Newport, RI
Note this is a private haunt. We have not seen any updated 2016 information. On two nights MWR puts on their annual haunted trail near Burma Rd., and Defense Hwy. Attraction features the haunted trail, concessions, entertainment, arts and crafts. Haunt is an event open to active duty personnel, retirees, reservists, eligible family members, contractors, DoD employees, and those with base access. There is no entrance fee.
Scary Acres - Hope, RI
You will find "terror at every turn" at Scary Acres owned by Confreda Greenhouses and Farms. Allow about one hour to go through this haunted attraction. Scary Acres is open every Friday, Saturday, and Sunday nights from September 23rd. It runs from 6:30 pm to 10 pm nightly. Ticket price is $20 and includes both the Haunted Hay Ride and Haunted Corn Maze.
Slater Park Haunted Tunnel - Pawtucket, RI
Located at Slater Park's Daggett Farm. Dates open are Friday and Saturday nights in October. Tickets are just $8.
Trails To Terror Highland Farm's - Wakefield, RI
Haunting for 20 years the people at Trails to Terror combine their haunted attraction with Highland Farms for a wonderful and scary night of entertainment. Dine at Monsta Café or their Bakery. The outdoor attractions start when the ticket booth opens at 6:30 pm. You can buy a combo pass or individual attraction ticket. Delamort'e Haunted Hayride is $13. Forest of Fear tickets are $13 or the Combo pass is $20. Parking is Free. Trails to Terror opens September 30, 2016. The scares and scenes are built all new from the ground up. You will love this hayride and separate walk through attraction.
State By State List of Halloween Haunted Houses
More Haunted Attractions
If you tire of the Rhode Island haunted houses, jump across the border to the haunted attractions in Connecticut or Massachusetts.
Haunted Houses in Connecticut
Haunted Houses in Massachusetts
Find other fun things to do in Rhode Island in October:
Oktoberfest in Rhode Island
Rhode Island Festivals
Rhode Island Corn Mazes
Rhode Island Ghost Tours
Pumpkin Patches in Rhode Island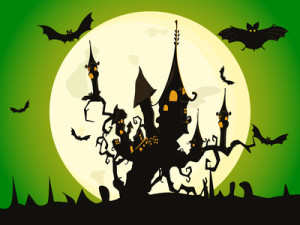 Improve This Page
Have you visited one of these haunted houses? Future readers would be interested in hearing what you thought. Did you have fun? Was it worth the price? Would you recommend it to visitors here? Any suggestions to maximize the experience? I'll gladly publish what you send me and give you a virtual hug.
If you are the owner or employee of a haunted house on this list, or one I missed and need to add, I would love to have more information about the haunted house, photos, dates/times/hours for 2017, etc. Use the contact form to get in touch and I'll tell you where to email your answers to these questions.