Pumpkin Patches in Rhode Island
Go pumpkin picking near Providence and Newport at one of the farms on our list of Rhode Island pumpkin patches.  Most "pumpkin patches near me" have fall activities during September and October.  Lots of pumpkins and some corn mazes on this list.  Spend a day on a farm this fall.  Enjoy great fresh air, colorful leaves, and family activities. Last Major Update:
Farm Owner? Advertise Here
More than 600,000 people came to Funtober last year looking to visit a farm.If you run a pumpkin patch, corn maze or apple orchard, we can help increase attendance through a sponsored listing,coupon giveaway, cross-promotion or other creative marketing initiative. Special deals for nonprofits. Please see our advertising page or contact us for more information.
Pumpkin Patches
Clark Farms - Wakefield, RI
Clark Farms started in 1989 in South Kingstown. In 2009, they opened up the Matunuck farm. Enjoy their fall festival with corn maze, tractor-pulled hay rides, and petting zoo. The address is 711 Kingstown Rd., Wakefield, RI 02879. They are 30 miles south of Providence.
Confreda - Hope, RI
This commercial vegetable farm is one of the oldest (started by the Confreda family in 1922) and largest (at 400 acres) in Rhode Island. In the fall, it offers a pumpkin patch, corn maze, giant slide, hayrides and haunted hayride. Fall festival runs weekends starting around the middle of September.
Cucumber Hill Farm - Foster, RI
Pick your own pumpkins and enjoy the corn maze, tractor hay rides and pony rides. Location: 39 Cucumber Hill Road, Foster RI. This is 25 miles west of Providence.
Dame Farm - Johnstown, RI
Donald Dame purchased the farm from the Steere family in 1890. This family farm has pick your own pumpkins and apples in the fall as well as horse-drawn rides. Their address is 91B Brown Avenue, Johnston, RI 02919. It is 10 miles west of Providence.
Escobar's Highland Farm - Portsmouth, RI
Pick your own pumpkins from the patch and get lost in the eight acre corn maze. Tour the farm owned by Jane and Louis Escobar on a hayride as well. Enjoy Lou's pumpkin patch and try the pumpkin pie. It is located at 255 Middle Road, Portsmouth RI 02871. This is 29 miles south of Providence. The corn maze opens in late August. Past maze themes included Portsmouth's 375th (2013), Providence Bruins (2012), and Scarecrow (2011).
Hill Orchards - Johnston, RI
John Barden and Hazel Dean founded the apple orchard in 1931. In the 1980s, Gilbert Barden planted pumpkins. They harvest apples, peaches, sweet corn, tomatoes, raspberries and more. Pick your own pumpkin from the vines. The address is 56 Elmdale Road, North Scituate, RI 02857. It is located 13 miles west of Providence.
Jaswell's Farm - Smithfield, RI
They offer pick your own pumpkins from mid-September to late October. Chris and Allison run the 5th generation family farm started by their great grandfather more than 100 years ago.  It is the oldest operating orchard in Smithfield.  Apple picking starts in early September and lasts through October.  Pumpkins are available for picking from mid-September through Halloween.  Farmstand and bakery offers seasonal fruits & vegetables, fresh baked goods and other food products. They have been improving their candy apples for more than 25 years. They were featured on a segment on the Food Network, so be sure to try one!  Also try their apple cider, which they manufacture year round.
Pezza Farm - Johnston, RI
Stop at the pumpkin patch, enjoy a hayride around the farm, create a scarecrow and see the farm animals this fall. It is located at 2279 Plainfield Pike, Johnston RI. This is 10 miles west of Providence.
Quonset View Farm - Portsmouth, RI

Salisbury Farm - Johnston, RI
Enjoy pick your own pumpkins at this farm established in the 1800s. Also enjoy the weekend hayrides and corn maze. Stay up to date with what is happening on their Facebook page. In the fall they usually operate weekends in September and October. The address is 11 Peck Hill Road, Johnston, Rhode Island 02919. This is 11 miles west of Providence.
Sugar Hill Sugar House - Exeter, RI

Sweet Berry Farm - Middletown, RI
A farm market on 100 acres that has pick your own apples and pumpkins in the fall. Learn more about what's happening on the farm on Facebook. They feature a pick your own orchard and pumpkin patch plus a Farm Café with delicious sweets and breakfast, lunch, and dinner meals. The location is at 915 Mitchell's Lane, Middletown, Rhode Island 02842. This is 34 miles southeast of Providence.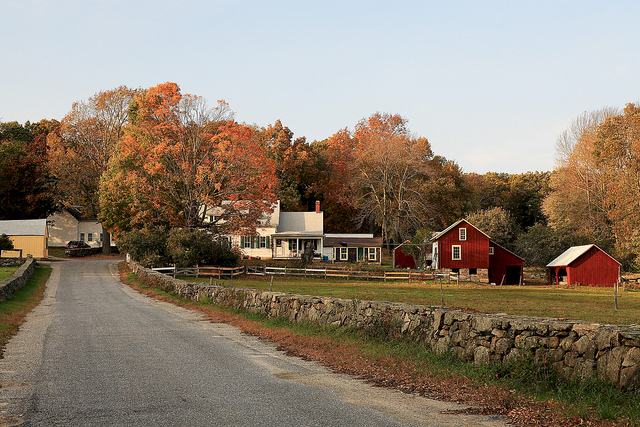 Check out Black Friday ads, Cyber Monday ads, and holiday sale prices from 100 top retailers this Christmas season.
Shop for Pumpkin Products
Shop Funtober for Halloween Costumes