Find pumpkin picking near Atlanta, Augusta, Macon and Savannah on our list of Georgia pumpkin patches.  Local farm with corn mazes, pumpkins, live animals, kids activities, and more happening in September and October.
Georgia Farms 2015
[fsb-social-bar facebook="true" twitter="true"]
Farm Owner? Advertise Here
More than 100,000 people came to Funtober last year looking to visit a farm.If you run a pumpkin patch, corn maze or apple orchard, we can help increase attendance through a sponsored listing,coupon giveaway, cross-promotion or other creative marketing initiative. Special deals for nonprofits. Please see our advertising page or contact us for more information.
Atlanta Pumpkin Patches
Southern Belle Farm – McDonough, GA.  A 200 acre dairy farm that has been converted to a beef cattle and educational farm with pumpkin patch, hayrides, pig races, seven acre cornfield maze, corn cannon, cow train, pedal carts, pig and duck races, and more. It has been worked by five generations of the Carter family since J.A. Carter bought the farm in 1938.  Their address is 1658 Turner Church Rd, McDonough, GA 30252.  It is located about 34 miles southeast of Atlanta, Georgia.  Southern Belle has more than 19,021 Facebook likes.
Berry Patch Farms – Woodstock, GA.  Take a hayride to where you can pick your pumpkin before coming back and enjoying apple cider and delicious baked goods. Other activities for kids include the playground and baby farm animals.  Their fall activities and pumpkin patch are open weekends in October.  They are located at 786 Arnold Mill Road, Woodstock, GA.  It is about 36 miles north of Atlanta, Georgia.
Uncle Shuck's – Dawsonville, GA.  Enjoy finding your pumpkin, take a daytime hay ride along the Etowah river, get lost in the 12 acre corn maze, and play with other fall fun such as the corn cannon.  Their address is 4520 Highway 53 E, Dawsonville, GA 30534.  It is about 53 miles north of Atlanta.
Bradley's Pumpkin Patch – Dawsonville, GA.  Started by a 5 year old on his parent's family farm. Bradley's sells seeds, grow flowers, operates a Christmas tree farm, and grows vegetables in season.  They run the pumpkin patch in the fall.  Their address is 24 Lawrence Drive, Dawsonville, GA 30534.  It is about 64 miles north of Atlanta.
Randy's Pumpkin Patch – Lawrenceville, GA.  Enjoy pumpkins and fall festival, train ride, bounce houses, kiddie jumps, haunted house and mini maze.  Their address is 1460 Lawrenceville Highway, Lawrenceville, GA. It is about 29 miles northeast of Atlanta.
Burt's Farm – Dawsonville, GA.  Open daily in season. Hayrides on Friday through Sunday in September and daily in October. Adults are $5. Kids ages 1 to 12 are $4. You do not have access to the patch here, they are pre-picked pumpkins in a row.  If you are looking for something fun to do then this is the place.  The farm is beautiful.  They feature a country store and two mile hay ride.  Their address is 5 Burt's Farm Rd., Dawsonville, GA 30534.  It is about 70 miles north of Atlanta.  Burt's Farm is one of the most popular farms in the USA with over 48,663 Facebook likes.
Columbus
The Georgia Pumpkin Patch at Best Nursery – Fortson, GA.  I think these are all pre-picked, but they claim to bring in 100,000 pounds of pumpkins and do a pumpkin maze and pumpkin graveyard, so I thought it worth including.  They operate a nursery, lawn and garden shop, garden center and Georgia Pumpkin Patch 7 days a week in the fall.  Their address is 9616 Fortson Rd., Fortson, Ga. 31808.  They are about 11 north of Columbus, Georgia.
Athens
Washington Farms – Watkinsville, GA.  Pick your own pumpkins from the patch, play in the 8.5 acre corn maze, enjoy the hayride, petting zoo, cow train, corn cannon, jumping pillow and other fall fun. Learn more about what's happening on the farm at their website or Facebook.  They are open Fridays and Saturdays starting the last weekend in September.  They are open daily the last 10 days of October.  At night go through using a flashlight.  Also at night are jumping pillows, hayrides, campfires, concessions, and more.  Their address is 5691 Hog Mountain Road, Watkinsville, GA 30677  It is about 14 miles west of Athens, GA.  Washington Farms is very popular with over 14,751 Facebook likes.
Yule Forest – Stockbridge, GA  Pick your own pumpkin right off the vine. Available activities include the petting zoo, hayride, pony rides, train rides, various educational exhibits and fun zone with slide, obstacle course, hop-a-long horse race and inflatable jungle. On Friday, Saturday and Sunday evenings, you'll find a haunted house and hay ride called Fear the Woods. There is also a weekend evening zombie paintball hayride. Open to the public on weekday afternoons starting on October 1st. Also open Saturday and Sunday. Admission is $8 per person with an upgrade for $1.50 to include a small pumpkin and fun zone. Special event: Hero's Weekend and Teacher's Appreciation Weekend. Located southeast of Atlanta.  They are located about 21 miles southeast of Atlanta.  (Note:  as of 3/9/2015 they are having some website problems.)
Savannah
Old Freeman Family Farm – Sylvania, GA.  A 150 acre, 5th generation family farm established in 1893. 5 acre maze with a short path and a more difficult longer path.  Pumpkins from the patch priced from $1 to $15. Located north of Statesboro and northwest of Savannah.  The fun starts the last weekend in September.  Their address is 644 Scarboro Highway, Sylvania, GA 30467.  They have over 4,485 Facebook likes.  It is about 65 miles northwest of Savannah, Georgia.
Madrac Farms – Rincon, GA.  Open every Thursday through Saturday in October.  It features an 8 acre pumpkin patch growing a special Orange Bulldog Pumpkin designed for the South Georgia climate. Pick them right off the vine.   Also a 5 acre corn maze, hayrides, farm animals. Admission is $7 for ages 3 and up, plus the cost of your pumpkin. Face painting, bouncy house and pony rides are extra.  A Pumpkin' Chunkin' contest runs at the end of October.  Their address is 580 Ralph Rahn Rd., Rincon, GA 31326.  It is about 23 miles northwest of Savannah.
Poppell Farms – Odum, GA.  A corn maze, pumpkin picking patch and haunted forest started by Genell and Tanya Poppell in 1988. They have been inviting visitors for agritainment for over 10 years.  Also enjoy pony rides, petting zoo and play area with cow train, spyder slyder and steer roping. Freddy's Fright in the Forest on Friday and Saturday nights. Located southwest of Savannah and west of Jessup.  Their address is located at 1765 Hyma Poppell Loop, Odum, GA 31555.  It is about 72 miles southwest of Savannah.  Poppell Farms has popular entertainment with over 9,513 Facebook likes.
This list unfortunately isn't complete. We are still looking for more in Georgia to add.
Pumpkins were first grown in the New World.  They were originally grown by Native American farmers in combination with other crops along river banks. The squash and pumpkins were first grown along with sunflowers and beans. Then they were grown with maize (corn) and beans. The "Three Sisters," as they are known, aid each other in growth. The squash prevents weeds and preserves moisture in the ground. The corn serves as a trellis for the beans to grow, and their growth helps to stabilize the corn in the wind. The pumpkins looked different than the ones which are turned into jack-o-lanterns today.  How about some Jack-o-Lantern History.
The word pumpkin, despite the American origin of the plant, has greek origins. In Greek, Pepon means large melon. As the word and squash gained use in France, England and America, the word pumpkin emerge.
Did you know that October 26th each year is National Pumpkin Day?
What Cities Claim To Be The Pumpkin Capital?
Check out our information on Fall Pumpkin Festivals.
Funtober Guide to Pumpkin Carving Tips and Tricks.
Tips and Ideas for Pumpkin Painting.
Funtober Guide To Pumpkin Carving Patterns
Better Homes and Gardens "Quick and Easy Painted Pumpkins".
Tatortots & Jello "Dollar Store Crackled Pumpkin Tutorial".
Martha Stewart "How To Carve A Pumpkin".
"The Monster List of 125+ Pumpkin Recipes".
Funtober Halloween Party Games Using Pumpkins
Fun Facts About Halloween Pumpkins 
Before Columbus, pumpkins were not a native fruit in Europe.  Jack O'Lanterns were carved from turnips or gourds.  Pumpkins were native to Central America for over 5000 years before being brought back to Europe by the French explorer Jacques Cartier.  Pumpkins are a fruit and really a member of the squash family which includes melons, cucumbers, gourds and more.  The Irish are credited with bringing pumpkin carving to America.  Pumpkin flowers and seeds are edible.  It generally takes 80-120 days for a pumpkin to go from seed to grown fruit.  Most pumpkins in the United States are ripened and used in October.  Funtober has more information on pumpkins here.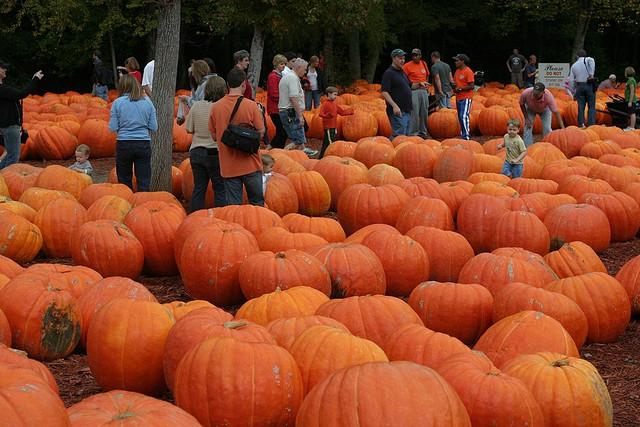 Shop for Pumpkin Products
Shop Funtober for Halloween Costumes