Find farms with "pumpkin patches near me" in Cleveland, Columbus, and Cincinnati on our list of Ohio pumpkin patches.  Many of these farms feature family entertainment such as corn mazes, farm animals, hayrides, bonfires, and kids activities.  Most will open the middle of September and run through the month of October. Last Major Update:
Apple Hill Orchards - Mansfield, OH
Pick your own apples and pumpkins at their location in Mansfield. Enjoy wagon tours, fresh apple cider from their press, pony rides, petting zoo and moonlight hayrides. They operate two apple and fruit locations starting early August. Their pumpkin patch is at 1175 Lexington-Ontario Road, Mansfield, OH 44903. It is located 7 miles west of Mansfield.
Beriswill Farms - Valley City, OH
They feature a corn maze, pumpkins, fresh fruit, farm market and more. They are open everyday starting around the middle of September this fall.
Blooms and Berries - Loveland, OH
They feature fresh fruits, flowers, and farm fun. They have a pumpkin patch, a seven acre corn maze, garden center and farm activities including hayrides, fresh apple cider, farm animals, straw maze, food and more.
Bonnybrook Farms - Clarksville, OH
A 350 acre working farm in southeastern Warren County located 20 minutes east of Kings Island that moved here in 2006 from its original location in Centerville. Pick your own pumpkins, corn maze, hayride and other family friendly fun
Burnham Orchards - Berlin Heights, OH
So much more than just fall farm fun. Amazing orchard complete with apples, fall festivals, corn maze, pumpkin picking, cider, hay and pony rides, shoot a pumpkin cannon and so much more. Taste their wonderful onsite bakery. They seem to have farm events all summer and fall seasons.
Circle S Farms - Grove City, OH
Open daily in October with fall activities, pumpkins, hayrides and more. The address is 9015 London Groveport Rd., Grove City, OH 43123. It is located 19 miles southwest of Columbus.
Conine's Country Market - Fostoria, OH
Tractor pulled wagon hayrides and pumpkin patch available at this 20 acre apple and peach orchard. Enjoy the farm animals, fresh apples, apple cider and country market here in the fall.  Open Saturday and Sunday starting in late September.
Country Lane Tree Farms - Genoa, OH
A 15 acre u-pick pumpkin field located southeast of Toledo. Also has hayrides (weekends), farm animals, corn cannon and playground. Haunted events are on Friday and Saturday night in October only. The haunted hayride and haunted trail called "Panic in the Pines" takes you through the Christmas tree farm. Country Lane Tree Farm is owned and operated by the Bowlander family. They are 5th generation farmers whose family has been farming the land for more than 120 years.
Derthrick's Corn Maze - Mantua, OH
There are three mazes through their 17 acres of corn. There is also a pumpkin patch, wagon rides, petting animals, bucking cow train and farm play areas.
Detwiler Farm - Columbiana, OH
Located south of Youngstown, admission gets you a 15 minute hayride to the 10 acre pumpkin patch, 4 acre cornfield maze, petting zoo and indoor straw maze. Pumpkin purchases are not included and priced by the pound. About the farm: Started in 1838 by Jacob and Catherine Ziegler Nold, it has remained in the family since. Now run by Sam, Monica and their kids, they grow corn, soybeans and pumpkins on 150+ acres.
Devine Farms - Hebron, OH
Fall fun runs on daily from late September during their fall pumpkin patch season. There's a cornfield maze, make your own scarecrow, pumpkin painting, wagon rides and more farm fun. The location is 672 National Rd., Hebron, Ohio 43025. It is 28 miles from downtown Columbus.
Fleitz Pumpkin Farm - Oregon, OH
Sorry folks it appears they may be temporarily closed.  Pumpkins available for sale (no access to their field). One and five acre corn mazes. Mini maze and straw bale maze for kids to enjoy. Fun at the hayrides, goat/chicken feeding and snack shack with homemade donuts, apple cider and more. Meet the Owners: The Fleitz family started farming here in 1906. They first planted a 1/2 acre of pumpkins in 1991 and expanded the mazes to their present size in 1999.
Freeman's Farm - Galena, OH
Enjoy weekend fun starting around the middle of September. They feature pumpkins, animal petting, apple butter, country market, hayrides and more. They are located at 6142 Lewis Center Road, Galena, OH 43021. It is just 19 miles north of downtown Columbus.
Harvest Adventures - Bremen, OH
A corn maze and pumpkin farm located about 50 miles southeast of Columbus. They also feature hayrides and wedding reception facilities. The address is 1135 Locust Grove Rd. NE, Bremen, OH 43107.
Heritage Farms - Peninsula, OH
Featured activities include pumpkins, corn maze, scavenger hunt, hayride, and activities. Every Saturday night in October they also have a haunted hayride. The address is 6050 Riverview Road, Peninsula, Ohio. It is 16 miles north of Akron.
Hershberger Farm & Bakery - Millersburg, OH
It is about 52 miles east of Mansfield.
Hidden Creek Farms - Sunbury, OH
A farm featuring activities and a fall festival. The farm opens May 1st with their festival starting weekends around late September. It features pick your own pumpkins, a kid's play barn, fun maze, slide, and farm animals. Also they have pony rides and lots of BBQ, cider, and great foods. The address is 581 South Galena Road, Sunbury, OH. It is located 25 miles north of Columbus.
Hiram House Pumpkin Festival - Chagrin Falls, OH
One day in October for more than 40 years, Hiram House has held a pumpkin festival inviting families to enjoy fall at their 172 acres in Chagrin Valley. Pumpkins are available for sale. Enjoy hay wagon rides, petting farm, face painting, archery range and pony rides. There is also an inflatable bounce house, kid's crafts and carnival games.
Honey Haven Farm - Ashland, OH
Located northeast of Mansfield, Honey Haven Farm has a pumpkin patch, corn maze and fall festival for visitors. Also enjoy the petting zoo, straw maze and farm market. The 8 acre maze is open Friday through Sunday from late September to late October. Flashlight maze is open on Saturday night. About the Farm: John and Deb Hoyer have been farming here since 1973. A former dairy farm, they now farm more than 500 acres of other crops. U-pick pumpkins were started in 1999 and people have been lost in their corn maze since 2000. Their address is 1327 County Road 1475, Ashland, OH 44805. It is 11 miles northeast from Mansfield.
Jaquemin Farms - Plain City, OH
They feature a Spring Fling, Summer Harvest, an Fall Field Days events. They have both pick your own berries and pumpkins. The farm is open daily in the fall. The address is 7437 Hyland Croy Rd., Plain City, OH 43064. It is located about 20 miles northwest of Columbus.
Jason's Pumpkin Patch - Oak Harbor, OH
Have fun at their corn maze and pick your own pumpkin patch. Kids can play in their kid zone with a corn pit, straw maze, tike track, tower slide and more. They are open seven days a week from the middle of September through Halloween.
Kingsway Pumpkin Farm - Hartville, OH
They feature pumpkins plus several corn mazes, wagon rides, petting farm, and events. The address is 1555 Andrews Street Northeast, Hartville, OH 44632. It is about 16 miles southeast of Akron.
Laurel Springs Farm - Laurelville, OH
A 50 acre family farm featuring pick your own raspberries and pumpkins. The address is 17100 Sam Carr Road, Laurelville, OH. It is about 45 miles south of Columbus.
Lawrence Orchards Farm - Marion, OH
They feature apples of all types with pick your own apples, pumpkins, with market, apple cider, apple pies, and apple festival events. They have pumpkins and farm fun activities. The address is 2634 Smeltzer Rd., Marion, OH. It is 43 miles west of Mansfield.
Leeds Farm - Ostrander, OH
They sell pre-picked pumpkins here. There is a variety of farm fun including hayrides, farm animals, slides, zip lines, pumpkin jump, pedal karts, corn box and other activities. They grow pumpkin on 20 acres of land. It is located at 8738 Marysville Rd., Ostrander, OH 43061. It is 38 miles northwest of Columbus.
Lehner's Pumpkin Farm - Radnor, OH
A family owned pumpkin farm with fall activities including an 8 acre corn maze, hayrides, play barn, petting zoo, and more. Their address is 2920 State Route 203, Radnor, OH 43066. It is about 39 miles north of Columbus.
Maize Valley Farm - Hartville, OH
Visit their patch of pumpkins, watch the pig races, get lost in the 8 acre corn field and have more fall fun at the winery this autumn. The location is 6193 Edison St. NE (St. Rt. 619) Hartville, Ohio 44632. It is 21 miles southeast of Akron.
Mapleside Farms - Brunswick, OH
Pick your own from 82 varieties in their 25 acre patch starting the first weekend in September at Pumpkin Village at Mapleside Farms. John Deere tractor pulled hayrides. 7 acre maze of corn for adults who want to get lost and a small maze for kids. Flashlight maze on Friday and Saturday nights for those that want to test their navigation skills after dark. 300 foot mega slide, 70 foot jumping pillow and cow train. Special Events in Fall include the Johnny Appleseed Festival, Great Wolf Weekend, Medieval Festival, Family Fall Foliage weekend and the Pumpkin Smash Bonus Weekend.
Mulberry Corners Pumpkin Patch - Chesterland, OH
Besides pumpkins they feature a corn maze, hay stack, friendly goats, mums and fall decorations.
Niederman Family Farm - Liberty Township, OH
A 210 acre family farm with pick your own pumpkin patch, 14 acre corn maze, hayrides and more. They also feature paintball on weekends.
Old West Pumpkin Fest - Columbia Station, OH
The pumpkin festival is open on Saturdays and Sundays in October. Pick and paint your own pumpkins after a hayride. Live, interactive on stage Country Kids' Show with music and costume characters that will get your kids dancing. Pony rides, petting farm, Funny Fun House, farm market, souvenir shop and concession stand. Spooky Ranch is five haunted attractions available on Thursday through Sunday nights. The festival is held on the Rockin'-R-Ranch.
Patterson Fruit Farm - Chesterland, OH
The fun starts around the middle of September with pick your own apples and pumpkins.  It is part of their fall festival on the farm.  Their farm market is open all year.  It is 24 miles east of Cleveland.
Pickering Hill Farms - Avon, OH
This farm was started by Jack Pickering in the mid-1800s. Join them for their farm fall festival on weekends in October for a wagon ride to the 2 acre patch of pumpkins. Romp through the one acre maze, sip some apple cider and enjoy fall on the farm.
Pigeon Roost Farm - Hebron, OH
More than thirty years of fall farm fun! Go pumpkin picking, enjoy the three acre corn maze and find the perfect fall decoration in the country store. Their Pumpkinfest will open the middle of September and run through Halloween. They are located at 4413 National Rd SW, Hebron OH 43025. It is 25 miles east from downtown Columbus.
Pumpkin Peddler - Bowling Green, OH
Rick and Carl's Christmas Trees also has u-pick pumpkins in the month of October. Enjoy hayrides, face painting and other family fun on the farm
Ramseyer Farms - Wayne County, OH
Several acres of u-pick pumpkins at this Northeast Ohio farm. Fall festival on weekends with live music, hayrides, craft demonstrations, scarecrow building and other fall fun. Every year, they do an Ohio themed corn maze and a mystery maze as well as a low difficulty mini maze. About the farm: A 5th generation family farm in Wayne County started in 1884 by Daniel Ramseyer. A 720 acre farm with a history of growing potatoes, they have since diversified into other crops and agritainment.
Red Wagon Farm - Columbia Station, OH
They run a pumpkin festival every weekend in October. It features a corn maze, pumpkins, food tent, kids play area, and more.
Regal Vineyards - Madison, OH
They feature a 7 acre corn maze, pumpkins, haunted maze, corn cannons, hay rides, campfires, and so much more fall fun.
Ridgeview Farm - Middlefield, OH
They are open the last two weekends in September and every weekend in October. Pick your own pumpkins, watch pig races, enjoy the corn maze, or petting barn.
Rittman Orchards - Doylestown, OH
They are best known for their apples but also feature pick your own strawberries, raspberries, blueberries, sweet corn, and pumpkins. The farm is located at 13548 Mt. Eaton Rd., Doylestown, OH 44230. They are 20 miles southwest of Akron.
Scenic Ridge Fruit Farm - Jeromesville, OH
They have 84 acres including 4000 apple trees, peaches, 3 acres of pumpkins, strawberries, and more.  This is a seasonal operation that is open to the public from July through October, Monday through Saturday.
Suter's Produce - Pandora, OH
The Suter family has been growing sweet corn, strawberries and more for three generations. They also have hayrides, pick your own pumpkins, corn cannon, corn box, apples and apple cider press in addition to their corn maze.
Sycamore Run Farms - Sycamore, OH
They feature pick your own pumpkins, nature trail, petting zoo, slide, playground, and fall events.
The Maize at Little Darby Creek - Milford Center, OH
A 125 acre farm with a corn maze, u-pick berries and pumpkins, educational field trips, haunted maze called Field of Fright, and group parties. The address is 8657 Axe Handle Rd., Milford Center, OH 43045. It is located about 35 miles northwest of Columbus.
Walker Farms - Logan, OH
The address is 28800 Chieftain Dr., Logan, OH. It is about 44 miles southeast of Columbus. They usually open their corn maze and pick your own pumpkin patch from the middle of September through October. It is about 44 miles southeast of Columbus.
Walsh Farms - Doylestown, OH
A pick your own pumpkin farm with a petting zoo, hayride, pony rides, fall crafts, and world's highest rock wall. The address is 18723 Grill Rd., Doylestown, OH 44230. It is about 20 miles from downtown Akron.
Wenger's Produce - West Liberty, OH
Visit the farm starting late September for pick your own pumpkins.
Young's Jersey Diary - Yellow Springs, OH
The pick your own pumpkins starts in September.  The corn maze opens in early August, the pumpkin patch in late September and the Pumpkin Festival in early October.  Enjoy all through October.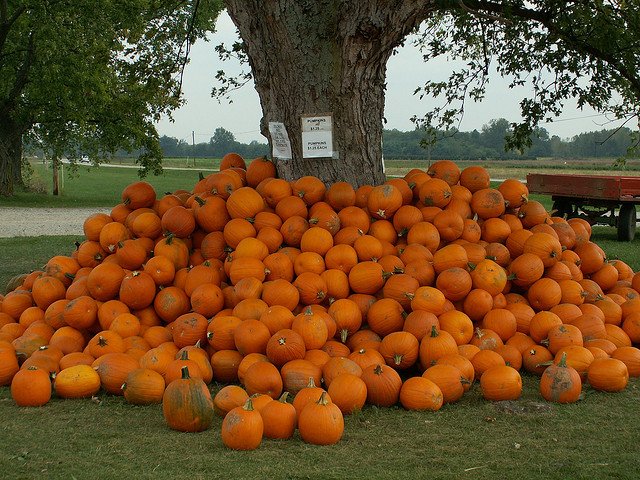 Dussel Farm – Brimfield, OH – 6 Acres
A six acre corn maze, tent maze and haunted bus. Face painting and pumpkins on the weekends.
Location: 1109 Old Forge Rd, Brimfield OH 44240
Rufener's Hilltop Farm – Mogadore, OH – 8 Acres
Alan and Lana Rufener have been running their farm market for more than twenty years.
Location: 1022 State Rt 43, Suffield, OH 44260
Columbiana Corn Maze – Columbiana, OH – 20 Acres 4 Mazes
Get lost in four mazes with 7.5 miles of trail in the 20 acres of corn located south of Youngstown. The mazes are a variety of lengths to appeal to young children (just .4 miles in length) to adults (3.9 miles of trails). It takes 1.5 to 3 hours to complete all four mazes. It isn't a haunted corn maze, but you can bring your flashlight to go through the maze after dark. Other activities include gemstone mining, corn box, corn hole, swingset and jumping balls. There are also hayrides and barrel train rides on weekends. Location: 14070 Woodworth RD(RTE 165), New Springfield, OH 44443
Leaders Farms – Napoleon, OH Haunted Corn Maze
There are also pumpkins, hayrides, and barnyard with bouncer, putt putt golf, zip line, cow train and super slides.
Location: State Route 24 & Township Road 16. One mile west of Napoleon, OH
Today's Harvest – New Paris, OH
Other activities include the kids train play area, corn hole, mini golf, corn cannon, duck races and rope maze.
Location: U.S. 40 & St. Rt. 320, New Paris OH 45347
Check out Black Friday ads, Cyber Monday ads, and holiday sale prices from 100 top retailers this Christmas season.
Shop for Pumpkin Products
Shop Funtober for Halloween Costumes