Find pick your own pumpkin farms near Salt Lake City, Ogden, and Provo on our list of Utah pumpkin patches.  Many have corn mazes, bonfires, hayrides, and family fun as part of their entertainment package. Last Major Update:
[DISPLAY_ULTIMATE_SOCIAL_ICONS]
Farm Owner? Advertise Here
More than 300,000 people came to Funtober last year looking to visit a farm.If you run a pumpkin patch, corn maze or apple orchard, we can help increase attendance through a sponsored listing,coupon giveaway, cross-promotion or other creative marketing initiative. Special deals for nonprofits. Please see our advertising page or contact us for more information.
Pumpkin Patches
Black Island Farms - Syracuse, UT
A working 300 acre vegetable farm in Davis County run by the same family for more than 50 years. Open mid-September through October 31st for Fall. Take a trip to the pumpkin field with a hayride. Visit Nightmare Acres and the Haunted Barn for a scary evening. Also enjoy the Cornfield Maze, animal alley, pig races, cow train, bonfires, corn box, bounce house. Located at 2075 South 4000 West in Syracuse UT, 84075.
Day Farms - Layton, UT
A twenty year old family farm operated by Bill Day and sons that offers hayrides and pumpkin picking. They are generally open Monday through Saturdays. The address is 2500 W Gentile, Layton UT 84041. It is just 15 miles south of Ogden.
Glen Ray's Corn Maze - Spanish Fork, UT
A new pumpkin patch and corn maze in Utah, from a Leland family who has been farming for over 100 years and wants to share the experience with you! Open for 2018 season from September 28 – November 3rd. Small attractions ($4 pass) include kids activities like the petting zoo, corn pit, small hay and large straw maze, slides, pumpkin patch, and more. Corn Maze pass is $4 more, with access to all the small attractions plus the 7.5 acre corn maze. On weekends and fall break, the haunted corn maze will be open for you to enjoy too! Children 2 and under are free to all attractions. The farm is located at 1750 W 8000 S, Spanish Fork, UT 84660, just 12 miles south of Provo.
Hee Haw Farms - Pleasant Grove, UT
A popular farm attraction featuring Spring, Summer, and Fall activities including their pumpkin patch and Giant Pumpkin Drop event every October. Activities include pick your own pumpkins, birthday parties, paintball, a corn maze, haunted hayride, farmer's market, corn cannon, and giant slide. The address is 95 South 2000 West, Pleasant Grove, UT 84062. This is just 12 miles north of Provo.
Judd Pumpkin Patch - Paragonah, UT
They feature a petting zoo, pumpkin patch, and wagon rides starting the last weekend in September. They are located at 314 E. 270 N., Paragonah, Utah.
Little Bear Bottoms - Wellsville, UT
They feature a pumpkin patch, corn maze, haunted river trail, and spooky barn ride. The address is 5000 U.S. 91, Wellsville, UT. They are located 39 miles northeast of Ogden.
Mabey Farms - South Jordan, UT
A popular local attraction for pumpkins. They open in late September through October for pick your own pumpkins. Their location is 10090 South 1000 West, South Jordan, UT 84085. This is just 16 miles south of Salt Lake City.
McCoard's Mystery Corn Maze - Provo, UT
The address is 384 S 3110 W, Provo, Utah. They have a pumpkin patch but their two big attractions are their Mystery Corn Maze and Zombie Paintball Patrol.
Pack Farms - Farmington, UT
Darryl Pack started farming with his family in Davis County about 1950. They've been selling pumpkins to local grocery stores for years, but demand caused them to open their farm ten years ago so you can pick your pumpkin from the field. Also enjoy the hay maze and scarecrow picture gallery. They are located at 1700 West Glovers Lane, Farmington, Utah. They are 19 miles north of Salt Lake City.
Paradise Valley Orchard - Paradise, UT
Popular local orchard with lots of apple types. Also in season they feature their pick your own pumpkin patch. The location is 9971 S Highway 165, Paradise, UT. The are about 50 miles north of Ogden.
Petersen Family Farm - Riverton, UT
Local attraction featuring pick your own pumpkins starting in late September. They also have a harvest festival in October with free admission, a live band, free hot dogs, petting zoo, corn maze, and fee paid concessions, tractor rides, apple sling shot, and lots of fresh apples, pears, and pumpkins. The address is 11887 South 4000 West, Riverton, UT 84096. They are 21 miles south of Salt Lake City.
Pumpkin Point Farms - Riverton, UT
Local pumpkin patch and children's corn maze with antique tractors and hayrides. They are open Monday, Friday, and Saturday. The address is 11900 South 3600 West, Riverton, UT. Also located about 21 miles south of Salt Lake City.
Schmidt's Farms - West Jordan, UT
They grow a ridiculous amount of pumpkins here – around 500 tons some years. Visiting their farm has become a fall tradition for many families.
Wheeler Historic Farm - Salt Lake City, UT
An agricultural living history museum and outdoor recreation are operated by Salt Lake County Parks and Recreation that was founded in 1887 by Henry Wheeler Sr. Enjoy a pumpkin patch, corn maze, hay maze and wagon ride. They also hold a Scarecrow festival and contest in October. Their pumpkin patch is generally open from late September through October 31st.
Salt Lake City
Ogden
Provo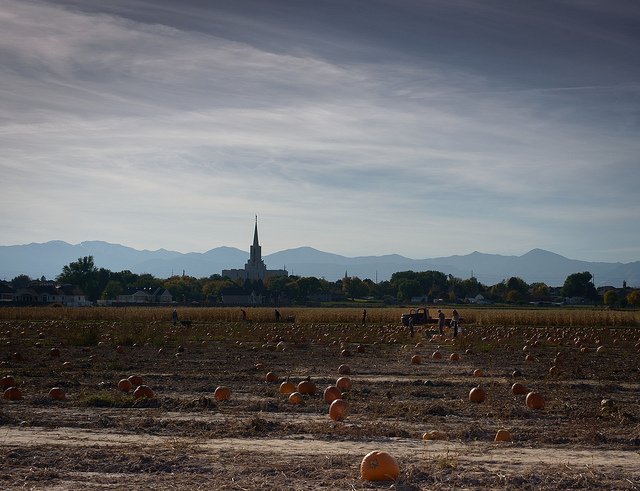 This list unfortunately isn't complete. We are still looking for more in Utah to add.
Shop for Pumpkin Products
Shop Funtober for Halloween Costumes