Pumpkin Patches in Washington State
Find pumpkins near Seattle, Tacoma, Bellingham, Snohomish, Redmond, Olympia and more on our list of Washington State "pumpkin patches near me".  They feature pick your own pumpkins, hayrides, kid's rides, corn mazes, and several have scary haunted events.  In the Snohomish area they feature a "Festival of Pumpkins" during weekends in September and October.  Always fun fall things to do in this state.
Last Major Update:
Pick Your Own Pumpkin Farms
Farm Owner? Advertise Here
More than 600,000 people came to Funtober last year looking to visit a farm.If you run a pumpkin patch, corn maze or apple orchard, we can help increase attendance through a sponsored listing,coupon giveaway, cross-promotion or other creative marketing initiative. Special deals for nonprofits. Please see our advertising page or contact us for more information.
Bellewood Acres - Grandview, WA
A pick your own pumpkin patch in Whatcom County in Northwest Washington. Train rides and u-pick apples at their 25,000 tree orchard. They also feature a popular restaurant farm bistro and bakery. The address is 6140 Guide Meridian, Lynden, WA 98264. It is 8 miles north of Bellingham.
Bill's Berry Farm - Grandview, WA
Bill and Julie Michener have run their multigenerational 70 acre farm in Yakima Valley since purchasing it from another family in 1994. You can find your pumpkin at this berry farm in October. There are six challenging paths through this corn maze with four miles of trails. There is also a kiddie maze for younger children. In addition, you can fling fruit and squeeze your own apple cider. During festival days, they also have farm animals, pony rides and hayrides. Past maze themes have included Barnyard (2013), Giant Pumpkin (2012) and An Apple a Day (2011). The address is 3674 N. County Line Road, Grandview, WA 98930.
Biringer's Black Crow Pumpkin Patch - Arlington, WA
Acres of pumpkins and a corn maze open daily starting in early October. Display your carved jack o' lantern or enter your dog in the Halloween costume contest. Pick up a giant pumpkin (hahahah!). Hot cider and local Oso honey available. Stop in town for a cup of Biringer's Farm Girl Coffee. Attraction is located at 2431 Hwy 530, Arlington, WA 98223. It is 43 miles north of Seattle.
Bob's Corn - Snohomish, WA
Bob planted the first pumpkin patch and cornfield maze on his family farm in 2001. There are now over 50 varieties of pumpkins planted on 20 acres in Cathcart Valley. In addition to the large 10 acre corn maze, there are also two smaller mazes for kids. You can also enjoy the maze at night. Other activities include the pony rides, corn cannon, face painting, bonfire, playground, trike track and other attractions. Bob's corn is run by Bob and Sarah Ricci. It usually opens the last weekend in September and everyday in October. Find Bob's at 10917 Elliott Road, Snohomish, WA 98296. The pumpkin patch is 28 miles northeast of Seattle.
Carleton Farm - Lake Stevens, WA
Pick your own pumpkin from the vine.  Open daily from late September through Halloween. A 4 acre maze lets visitors play Farm Scene Investigation during the day. On Friday and Saturday nights, as well as during the Haunted Swamp and Zombie Farm, you can try to survive the maze in the dark with a flashlight. Past themes have included Farm Scene Investigation (2013), Go Hog Wild (2012) And Cinderella (2011). Other activities: farm animals, farm market and a variety of weekend activities including hayrides, zombie paintball, zipline, pony express train, kids barn and pumpkin cannon. About the farm: It is a 60-acre farm located along the Ebey Slough in the north end of the Snohomish Valley. The address is 630 Sunnyside Blvd SE, Lake Stevens, WA 98258. It is about 31 miles north of Seattle.
Carpinito Brothers, Inc. - Kent, WA
This corn field maze, apple orchard, and pumpkin patch is open daily from late September through Halloween. Tractor pulled hayrides, u pick pumpkins, farm animals, hay maze and produce stand. They do two maze designs every year with a total of more than three miles of paths. The mazes vary in length and difficulty so that you can find one to enjoy. The Carpinito Brothers started selling fresh produce from their family farm over 50 years ago. The pumpkin patch is located at 6868 S. 277 St., Kent, WA 98032. It is approximately 22 miles south of Seattle.
Carver Farms - Newman Lake, WA
Features are u-pick and pre-picked pumpkins in October. They are located at 9105 North Idaho Road, Newman Lake, WA. It is about 21 miles east of Spokane.
Colville Corn Maze and Pumpkin Patch - Colville, WA
Featured is their magical pumpkin patch and 12 acre corn maze in Northeast Washington State. The address is 73 Oakshott Road, Colville, WA 99114. It is about 71 miles north of Spokane.
Craven Farm - Snohomish, WA
They grow 20 varieties of pumpkins and also offer a 3-D pumpkin adventure through their barn. Owned by Mark and Judy Craven, the farm was started by his grandparents in 1949 as a dairy and berry farm. Get lost in the 15 acre maze, have your face painted, enjoy a hay ride, visit the farm animals or sling a pumpkin. Special events: The Great Pumpkin Glow. It is also a great place for a wedding. The address is 13817 Short School Road, Snohomish, WA 98290. It is about 36 miles northeast of Seattle.
Creek House Farm - Port Orchard, WA
U-pick pumpkins with 20 varieties of organic, heirloom pumpkins located in the Manchester area of Port Orchard. It is a 12 acre farm purchased in 2000 but started when the farmhouse was erected in 1908. While you are at the farm, enjoy a hayride, farm animals, autumn crafts and lots of photo opportunities. Personalized pumpkins are available for decorating your home or as a gift but you must order it by August 31st. Specify the size desired (medium, large or giant) and the message. Personalized pumpkins are sold by weight with a $5 fee for personalization. Their pumpkins are organic and they practice sustainable agriculture but they are not certified organic by the government. The address is 6060 E. Collins Rd., Port Orchard, WA 98366.
Double R Farms - East Puyallup, WA
Third generation family farm with pumpkin patch and 5 acre corn maze. Pumpkins sell for 29 cents a pound. They have free tractor pulled hayrides, pumpkin sling shot, storytelling and painted pumpkins available. Double R Farms is located at 5820 44th Street, East Puyallup, WA 98371. It is about 10 miles southeast of Tacoma.
Foster's - Arlington, WA
Featured are 10 acres of U-pick pumpkins, 10 acre corn maze and wagon rides. There are also farm animals, hay maze, pumpkin slinger and harvest market. Bring your flashlight to try the night maze before enjoying the bonfire. The night maze is open for two Saturdays in October along with the Giant Pumpkin Hunt (pumpkin picking after dark). Foster's is approximately 45 miles north of Seattle at 5818 SR 530 NE, Arlington, WA 98223.
Gau-Sco Farm - Malaga, WA
Pick your own pumpkins, horse drawn wagon rides and cornfield maze. They are open from the last weekend in September through October 31st. The address is 2575 Gault Rd., Malaga, WA.
Gordon Skagit Farms - Mt. Vernon, WA
U-pick pumpkins from the field and apple picking in October offers Jonagold apples with a sweet tart taste that is great for cooking or eating. In total, more than 50 varieties of pumpkins available with select varieties of carving, cooking, squashes and heirloom pumpkins. Seven acre crop circle maze, haunted barn, cider shack, pumpkin carving contest and giant pumpkin weigh-in (first Saturday in October). Pumpkin carving contest for those age 18 and older. The Autumn Market is open daily in October. Red Fox Cider Shack offers hot cider and tasty treats to benefit the Culinary Arts Program at La Conner High School. The farm is located at 15598 McLean Rd., Mt. Vernon, WA 98273. It is about 64 miles north of Seattle.
Hunter Family Farm - Union, WA
A pumpkin patch and Christmas tree farm located in Olympia, Washington.
Jubilee Farm - Carnation, WA
Every Saturday and Sunday in October, you can visit their pumpkin patch, take a hayride and enjoy some hot spiced apple cider. Thirty acres of farmland are open to the public. Visit the farm animals, play in the kid's hay maze or watch a cooking demonstration. Watch them sling pumpkins with the homemade trebuchet. Food is available in the concession area. Farm market open to the public in the fall on this biodynamic farm with Community Supported Agriculture shares. Operating in Snoqualmie Valley for more than 20 years. Jubilee is located at 229 W. Snoqualmie River Rd. NE, Carnation, WA. It is located 25 miles east of Seattle.
Lattin's Country Cider Mill - Olympia, WA
September and October features their "Fall Apple Festival", tractor drawn hay rides, pick your own pumpkins, pony rides, petting farm and face painting. They are open everyday of the year except for a few Sundays from January through May. The location is 9402 Rich Road Southeast Olympia, WA 98501.
Picha Farms - Puyallup, WA
A Puyallup Valley berry farm with pick your own pumpkin field and weekend hayrides from late September through Halloween. Make your way through the 7 acre corn maze. If you find the answers to all eight trivia questions, you win a prize. Try your hand at the sling shot and you may just win 15 pounds of free pumpkins if you are a good shot. Hot apple cider, kettle corn and caramel apples await. About the farm: Dan and Russ Picha run the family business started by their grandfather in 1904. The address is 6502 52nd Street E, Puyallup, WA 98371.
Schilter Family Farm - Olympia, WA
A 180 acre Nisqually Valley farm with u-pick pumpkins and a 5 acre corn maze in the fall. There are also farm animals, cow train, pumpkin blaster, pony rides, hay rides, and corn cannon. They are open with activities every day in October. In addition their farm market is open daily from June through September. The address is 141 Nisqually Cutoff Road SE, Olympia, WA 98513.
Serres Farm - Redmond, WA
This 24 acre working family farm in Happy Valley east of Redmond has pumpkin picking patch. So put on your boots and grab a wheelbarrow because it is time to start the hunt for the perfect jack o' lantern to be. A variety of pumpkins from miniatures to giant Great Atlantics grow in the field. Patch opens the last weekend in September and runs through Halloween. The cornfield maze takes 15-20 minutes to navigate the hand designed maze. Animal train takes kids around the farm while hay rides are offered to kids of all ages. Pick the lucky duck to engage in a water propelled duck race. The farm is located at 20306 NE 50th St., Redmond, WA 98053. It is about 17 miles from Seattle.
Skagit Valley Fruit - Malaga, WA
Jones Creek Farm has pick your own apples and pumpkins. It started from an abandoned dairy farm in 1991. The address is 32260 Burrese Rd., Sedro Woolley, WA 98284. It is about 36 miles southeast of Bellingham.
Stocker Farms - Snohomish, WA
Free admission to the pumpkin patch, which is open daily with the Farm Market. The weekend family pumpkin park has $ admission for ages 3 and up, including ten acre patch and ten acre corn field for getting lost. There are also hayrides, farm animals, corn crib, face painting, pumpkin cannon, barrel train and giant jumping pillow. On select evenings in October, there is zombie paintball, a night maze, a haunted field of screams and another haunted attraction as part of Stalker Farms. It is located at 8705 Marsh Rd., Snohomish, WA 98296. It is about 28 miles north of Seattle.
Stoney Ridge Farm - Vancouver, WA
A three generation family farm that started as an apple orchard but now also includes pumpkins, corn field maze, hay and train rides, and farm animals. They are advertised as the largest pumpkin farm in the county. During Christmas they also feature Christmas tree cutting, bonfire, and events. It is located at 2092 VanDyk Rd., Everson, WA 98247. They are about 14 miles north of Bellingham.
The Farm at Swan's Trail - Snohomish, WA
In 1997, they opened their now famous Washington State Corn Maze. The cornfield is open from the last weekend in September to the end of October. There are over 4.5 miles of paths through the 12 acres of corn. It is open as a flashlight maze in the evenings. They also have a pick your own apple orchard, a petting farm, wagon rides, corn box, cow train, play area and more. The farm is 34 miles north of Seattle. The address is 7301 Rivershore Rd., Snohomish, WA.
The Patch - Woodland, WA
Enjoy 11 acres of pumpkins with more than 40 varieties of pumpkins, squash and gourds. Hayrides and pumpkin sling shot activity on weekends. The patch is owned by David and Julie Donald, who also run a dairy farm. The address is 612 Whalen Rd., Woodland, WA 98674. They are about 20 miles north of Vancouver.
Thomas Family Farm - Snohomish, WA
Pumpkin picking available daily in season. Over 30 varieties of pumpkins available to choose from – you pay by the size. No admission fee. Free hayrides to the pumpkin patch on Saturdays and Sundays in October. Cornfield maze with Farm Scene Investigation game is available on Saturday and Sunday. The average visitors spends two hours lost in the large maze. There is also a smaller maze available for kids. At night, find out if you have want it takes to survive the zombie apocalypse with the zombie safari paintball hayride. Shoot mounted paintball guns with glow in the dark paintballs to prevent the undead from taking over Washington. Brave the flashlight maze at night (Thursday through Sunday), see if you survive the Nightmare on Nine haunted house. Knock back a cold one at the beer garden. The farm is located at 9010 Marsh Road, Snohomish, WA 98296. It is approximately 28 miles north of Seattle.
Thomasson Family Farm - Enumclaw, WA
Pumpkin patch, corn field maze, hay wagon, corn box and petting zoo. Pumpkins are sold by size chart and prices start at $1 and go up. Select activities cost extra, such as face painting, sling shots, hop along horse race and tractor train rides. The address s 38223 236th Avenue SE, Enumclaw, WA 98022. Thomasson is located about 26 miles east of Tacoma.
Vancouver Pumpkin Patch - Vancouver, WA
It features U-pick pumpkins with pre-picked pumpkins available for sale as well with hay rides, hay maze and petting zoo. Run by Velvet Acres Gardens, a third generation family run farm that was originally a dairy farm before converting to a vegetable farm. The pumpkin patch is open daily in October. The location is 18905 NE 83rd St, Vancouver, WA 98682.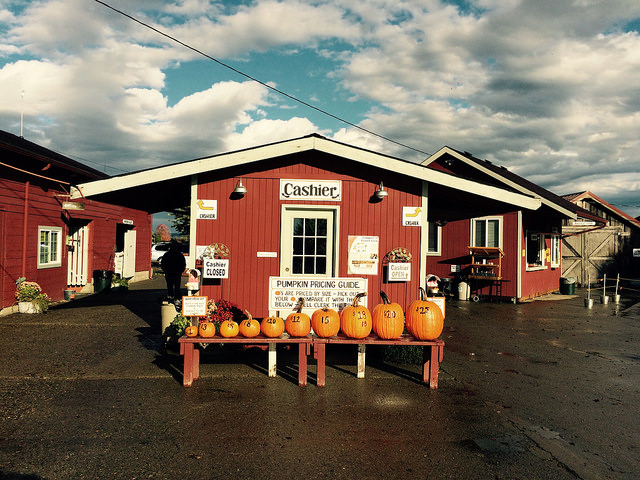 Maris Farm – Buckley, WA
The eight acre maze takes approximately 45 minutes to complete. Two large bridges provide a panoramic view of the farm. Flashlight nights are available on Friday and Saturday nights, so bring your own flashlight or prepare to purchase one. If you are looking for a haunted attraction, try their Harvest of Terror events like the Monster Safari and the Haunted Woods.
Spooner Farms – Puyallup, WA
A 5 acre cornfield with 2 miles of trails through the maze.  About the Farmers: 5th Generation farmers in Puyallup Valley since 1882.
Shaffner Farms – Montesano, WA
Corn maze available. Other fun: hay ride, pumpkin patch and hay maze.
Remlinger Farms – Carnation, WA
Other activities available include u-pick pumpkin field, wagon rides, theme park and farm market. Located 20 minutes east of Redmond.
Bi-Zi Farms – Vancouver, WA
Their pumpkin patch and harvest festival is open to the public on Friday through Sunday. They have a seven acre cornfield open to visitors to make their way through. The nighttime maze offers in the dark corn fun on Friday and Saturday nights. Bring your flashlight. Live music, farm animals, pony rides, face painting and children's play activities like pedal tractors, corn crib, bale pyramid and pumpkin launchers.
Check out Black Friday ads, Cyber Monday ads, and holiday sale prices from 100 top retailers this Christmas season.
Shop for Pumpkin Products
Shop Funtober for Halloween Costumes