Pumpkin Patches in Missouri
Locate places for pumpkin picking near St. Louis, Kansas City, Springfield and Columbia on our list of Missouri pumpkin patches. Many farms also have hayrides, corn mazes, petting zoos, apple cider and more.
Farm Owner? Advertise Here
More than 100,000 people came to Funtober last year looking to visit a farm.If you run a pumpkin patch, corn maze or apple orchard, we can help increase attendance through a sponsored listing,coupon giveaway, cross-promotion or other creative marketing initiative. Special deals for nonprofits. Please see our advertising page or contact us for more information.
2015 Missouri Farms
[fsb-social-bar facebook="true" twitter="true"]
Springfield
Campbell's Maze Daze and Pumpkin Patch – Clever, MO. General admission includes kids 4 acre cornfield maze, pick your own patch, pumpkin painting (with purchase of a pumpkin), hayrides, scavenger hunt and kids play area with fort, swings, bounce house and tractor choo choo train. Nighttime 8 acre haunted maze and karaoke on Friday and Saturday nights in October. Additional charges for face painting, pony rides and bonfires. Open on Fridays, Saturdays and Sundays from late September through early November. The address is 177 Carob Rd., Clever, MO. The location is about 22 miles south of Springfield.
Pickin' Patch Farm – Marionville, MO. A small farm in the Ozarks owned and operated by Richard Witt and his family for more than 20 years. Corn maze and pumpkin picking open daily from late September through early November. Hayrides run every 15 to 30 minutes throughout the day. The address is 22813 Hwy ZZ, Marionville, MO 65075. It is about 26 miles southwest of Springfield.
Exeter Corn Maze – Exeter, MO – Enjoy 7 acres of twist and turns at one of the area best corn mazes with much more fun. Exeter Corn Maze has a huge pumpkin patch, a giant orange pillow for their pumpkin jump, a zip line, pumpkin cannon, hayride, cow train, campfires, Zombie Paintball, Haunted Barn, concessions and more. Located less than 30 minutes from NW Arkansas. Address is State Highway MM, Exeter, MO 65647. Opens around September 19th through Halloween. They have nearly 8000 Facebook likes.
Jefferson City and Columbia
Fischer Farms Pumpkin Patch – Jefferson City, MO. A family farm with over a 40 acre pumpkin field, 10 acre corn maze, apple orchard, hayrides and a variety of farm animals, straw maze and corn box. Opens Friday, Saturday, and Sunday starting in late September. Admission with maze is $6. Without maze, $3. The location is at 1905 Mokane Rd., Jefferson City, MO 65101. It is about 2 miles from downtown Jefferson City.
Nowlin's Corn Maze and Pumpkin Patch – Blackwater, MO. Admission is $6 per person. Children six and under are free. Bring your flashlight to enjoy the maze at night. Enjoy the hayride and fresh air. They open around September 12th. They are located on Bryant Bottom Road, Blackwater, MO. It is about 39 miles west of Columbia.
Huffstutter Orchards – New Franklin, MO. A small orchard 25 miles from Columbia. They started allowing u-pick pumpkins and apples starting in 2000. Richard and Pamela Huffstutters own and manage the family farm started by his parents, Betty and Ralph, in 1958. The address is 2621 State Route P, New Franklin, MO 65274.
Pa Pa's Pumpkin Patch – Sedalia, MO. Fun in September and October includes hayrides, straw tunnel, bounce house, puppet shows, and a concession stand. Extra charge for barrel train rides, zip lines and sling shot. Opens in late September. Pumpkin fun started here in the fall of 1997. It is open most Friday, Saturday, and Sundays. The address is 4610 Forest Park Road, Sedalia, MO 65301. It is about 63 miles west of Jefferson City.
Pete's Pumpkin Patch – Rolla, MO. Open on Saturday and Sunday starting in late September. It features a hay wagon ride, hay tower, barrel cars, super slide, bounce house, farm animals, swings and choo choo train. Many new attractions this year, including 100 ft gunny sack slide, Totally Tubular Tire Patch, and 24′ goat tower. Admission is $6 per person, including all activities. Pumpkins are available by the pound. The address is 18385 S. US Hwy 63, Rolla, MO. It is about 60 miles south of Jefferson City.
Deep Woods Farm – Hancock, MO. A small, fourth generation farm in Pulaski County with a pumpkin patch. Other attractions include hay rides, farm animal petting, hay jump, corn crib and kiddie train. It is open to the public on Saturday and Sunday in October. The address is 19059 N Hwy 133, Crocker, MO 65452. It is about 59 miles south of Jefferson City.
Prairies End Pumpkin Patch and Corn Maze – Cole Camp, MO. They open weekends starting around September 19th. The address is 10757 Highway 65, Cole Camp, Missouri. It is about 60 miles west of Jefferson City.
Jackson County Connections – La Plata, MO. This is an outdoor agricultural entertainment complex open every fall. They feature a giant corn maze and a pick your perfect pumpkin patch. They also have a hay mountain, wagon rides, bounce house, and field trips. The address is 28496 Nature Lane, La Plata, MO 63549. It is about 78 miles north of Columbia, MO.
Totten's Pumpkin Farm – Lentner, MO. The address is 30094 Route A, Lentner, Missouri. It is about 60 miles north of Columbia.
St. Joseph, MO
Amazing Acres – Barnard, MO. Open Saturday and Sunday in late September and October. Pick your own pumpkins or buy pre-picked pumpkins at the concession stand. Don't forget to leave time to get lost in their corn maze! Be afraid in their haunted maze the last two weekends in October. Flashlight maze on Halloween night. Playground attractions include horse swings, spider web climbing rope, corn box, slides and bounce house. The address is 34079 Impala Trail, Barnard, MO. It is about 34 miles north of St. Joseph.
Hunt Orchard – Amazonia, MO. They feature apple cider, apples, peaches, pumpkins, hayrides and fresh baked pies. The address is 14615 State Route K, Amazonia, MO 64421. It is about 11 miles north of St. Joseph.
Schweizer Orchards – St. Joseph, MO. It feature u-pick vegetables including pumpkins. They also sell Christmas Trees and feature farm tours. The address is 5455 SE State Route FF, St. Joseph, MO 64507. It is about 7 miles south of St. Joseph.
Good Time Charlie's – Chillicothe, MO. Their fall activity is Papa Charlie's Pumpkin Patch which include pumpkins, a corn maze, train rides, 20 foot bouncing, hay mountain, zip line and lots more fun. They are open every day in October. The address is 8554 Liv 511, Chillicothe, MO 64601. It is about 70 miles east of St. Joseph.
Dot Family Farms – Maryville, MO. A family farm that opens weekends starting the last weekend in September. The address is 25371 State Highway 46, Maryville, Missouri.
Cape Girardeau, MO
Beggs Family Farm – Sikeston, MO. A working farm operating since 1895, it is open Wednesday through Sunday in October. Admission to their harvest festival is $11 per person. The farm has had a corn maze for more than ten years. Have fun at their pick your own pumpkins, wagon rides, pig races, rope maze, monster slide, pumpkin tetherball, haunted barn and paintball shooting gallery (extra charge). The address is 2319 State Highway U, Sikeston, MO 63801. It is about 24 miles south of Cape Girardeau.
Perryville Pumpkin Farm – Perryville, MO. A small, working family farm that lets you pick your pumpkin right off the vine. Enjoy wagon rides, a corn maze, farm animals, pre-picked pumpkins, corn pit and other activities. Perryville Pumpkin Farm was started in 2001 but sits on a farm dating back to 1892. It is open seven days a week from September 1st through October 31st. The address is 1410 Allen Landings Road, Perryville, MO 63775. It is located 40 miles north of Cape Girardeau.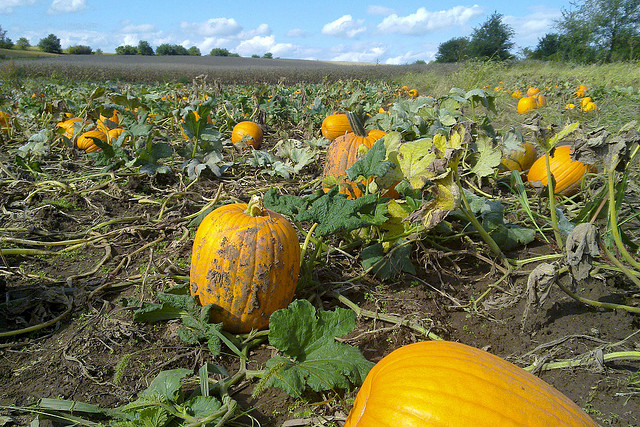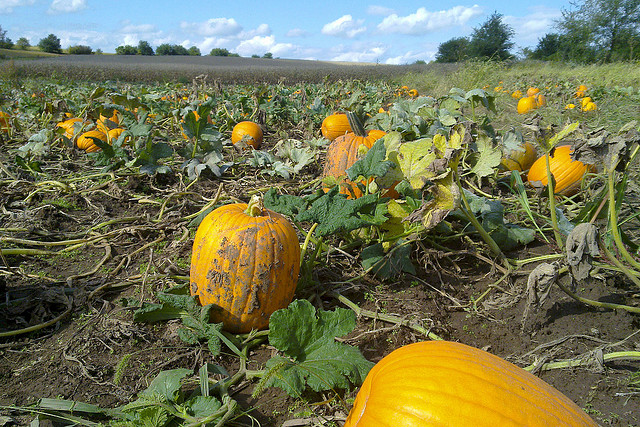 Shop for Pumpkin Products
No block ID is set