Pumpkin Patches in Missouri
Locate "pumpkin patches near me" in St. Louis, Kansas City, Springfield and Columbia on our list of Missouri pumpkin patches.  Many farms also have hayrides, corn mazes, petting zoos, apple cider and more. Last Major Update:
Farm Owner? Advertise Here
More than 600,000 people came to Funtober last year looking to visit a farm.If you run a pumpkin patch, corn maze or apple orchard.  Please see our advertising page or contact us for more information.
Missouri Farms
Amazing Acres - Barnard, MO
Open Saturday and Sunday in late September and October. Pick your own pumpkins or buy pre-picked pumpkins at the concession stand. Don't forget to leave time to get lost in their corn maze!  Playground attractions include horse swings, spider web climbing rope, corn box, slides and bounce house. The address is 34079 Impala Trail, Barnard, MO. It is about 34 miles north of St. Joseph.
Beggs Family Farm - Sikeston, MO
A working farm operating since 1895, it is open Wednesday through Sunday in October. Admission to their harvest festival is $11 per person. The farm has had a corn maze for more than ten years. Have fun at their pick your own pumpkins, wagon rides, pig races, rope maze, monster slide, pumpkin tetherball, and haunted Hellavator (extra charge). The address is 2319 State Highway U, Sikeston, MO 63801. It is about 24 miles south of Cape Girardeau.
Buckeye Acres - Warrensburg, MO
They feature u-pick strawberries, blackberries, and in the fall pumpkins. The address is 91 NE 600 Rd., Warrensburg, MO 64093. It is about 58 miles east of Kansas City.
Campbell's Maze Daze and Pumpkin Patch - Clever, MO
General admission includes kids 4 acre cornfield maze, pick your own patch, pumpkin painting (with purchase of a pumpkin), hayrides, scavenger hunt and kids play area with fort, swings, bounce house and tractor choo choo train. Nighttime 8 acre haunted maze and karaoke on Friday and Saturday nights in October. Additional charges for face painting, pony rides and bonfires. Open on Fridays, Saturdays and Sundays from late September through early November. The address is 177 Carob Rd., Clever, MO. The location is about 22 miles south of Springfield.
Carolyn's Country Cousins - Liberty, MO
Owned and operated by Carolyn and Buddy Raasch. More than 50 acres of pumpkins on the vine. Haywagon rides, pig races, mining camp, giant slides, tractor trikes, playground, petting farm and pre-picked pumpkins. Different fun family activities every weekend. Country food and snacks available in the Red Barn Cafe. They also have a Country Store & Gift Shop. Located next door to the Liberty Corn Maze. The address is 17607 N.E. 52nd Street, Liberty, MO 64068. It is located about 17 miles east of Kansas City.
Crazy Craig's A-Hwy U-Pick Pumpkins - Liberty, MO
The farm is open for pick your own everyday from the middle of September through October 31st. They also sell mums and fireworks. The address is 14521 A Highway, Liberty, MO 64068. It is about 24 miles north of downtown Kansas City.
Dot Family Farms - Maryville, MO
A family farm that opens weekends starting the last weekend in September. The address is 25371 State Highway 46, Maryville, Missouri.
Exeter Corn Maze - Exeter, MO
Enjoy 7 acres of twist and turns at one of the area best corn mazes with much more fun Exeter Corn Maze has a huge pumpkin patch, a giant orange pillow for their pumpkin jump, a zip line, pumpkin cannon, hayride, cow train, campfires, Haunted Barn, concessions and more. Locate less than 30 minutes from NW Arkansas.  Address is State Highway MM, Exeter, MO 65647. Opens around the middle September through Halloween.
Faulkner's Pumpkin Farm - Kansas City, MO
Top pumpkins and lots of fun events on this pick your own farm which is open every day in October. Also no left turn corn maze and activities. The address is 10600 Raytown Rd., Kansas City, MO 64134. It is about 19 miles south of downtown Kansas City.
Fischer Farms Pumpkin Patch - Jefferson City, MO
A family farm with over a 40 acre pumpkin field, 10 acre corn maze, apple orchard, hayrides and a variety of farm animals, straw maze and corn box. Opens Friday, Saturday, and Sunday starting in late September. Admission with maze is $6. Without maze, $3. The location is at 1905 Mokane Rd., Jefferson City, MO 65101. It is about 2 miles from downtown Jefferson City.
Golden Valley Farms - Washington, MO
Sorry folks this pumpkin patch and farm are permanently closed.
Herman's Farm - St Charles, MO
Herman's Farm Orchard has been in business since 1985. They offer hay rides and pumpkins that you cut right off the vine. They also have u-pick apples and kid's play area. They are open daily in season. The location address is 3663 N Highway 94, St Charles, MO. It is about 26 miles northwest of St Louis.
Huffstutter Orchards - New Franklin, MO
A small orchard 25 miles from Columbia. They started allowing u-pick pumpkins and apples starting in 2000. Richard and Pamela Huffstutters own and manage the family farm started by his parents, Betty and Ralph, in 1958. The address is 2621 State Route P, New Franklin, MO 65274.
Hunt Orchard - Amazonia, MO
It appears they may be closed this year.  Check back in September for updates on their status.  They feature apple cider, apples, peaches, pumpkins, hayrides and fresh baked pies. The address is 14615 State Route K, Amazonia, MO 64421. It is about 11 miles north of St. Joseph.
Johnson Farms - Belton, MO
A 140 acre farm with 60 acre pick your own pumpkins as well as 20 acre corn maze. Weekend pony rides, pig races, straw maze bale, jumping pillow, pumpkin cannon and train rides. They also sell pre-harvested pumpkins. They have been providing outdoor fall family fun for more than ten years. Open daily during the pumpkin season from late September through Halloween. Admission is $8-12 with children 2 and under free. The address is 17701 Holmes Road, Belton, MO 64012. It is about 24 miles south of Kansas City.
PaPa Charlie's Pumpkin Patch - Chillicothe, MO
Sorry folks but Papa Charlie's will not be open in 2020.  Their fall activity is Papa Charlie's Pumpkin Patch which include pumpkins patch, a corn maze, train rides, 20 foot bouncing, hay mountain, zip line and lots more fun. They are open every day in starting September 29th. The address is 8554 Liv 511, Chillicothe, MO 64601. It is about 70 miles east of St. Joseph.
Perryville Pumpkin Farm - Perryville, MO
A small, working family farm that lets you pick your pumpkin right off the vine. Enjoy pumpkin patch, wagon rides, a corn maze, farm animals, pre-picked pumpkins, corn pit and other activities. Perryville Pumpkin Farm was started in 2001 but sits on a farm dating back to 1892. It is open seven days a week from early September through October 31st. The address is 1410 Allen Landings Road, Perryville, MO 63775. It is located 40 miles north of Cape Girardeau.
Pete's Pumpkin Patch - Rolla, MO
Open on Saturday and Sunday starting in late September. It features large pumpkin patch, hay wagon ride, hay tower, barrel cars, super slide, bounce house, farm animals, swings and choo choo train. Many new attractions this year, including 100 ft gunny sack slide, Totally Tubular Tire Patch, and 24′ goat tower. Admission is $8 per person, including all activities. Pumpkins are available by the pound. The address is 18385 S. US Hwy 63, Rolla, MO. It is about 60 miles south of Jefferson City.
Pickin' Patch Farm - Marionville, MO
A small farm in the Ozarks owned and operated by Richard Witt and his family for more than 20 years. Corn maze and pumpkin picking open daily from late September through early November. Hayrides run every 15 to 30 minutes throughout the day. The address is 22813 Hwy ZZ, Marionville, MO 65075. It is about 26 miles southwest of Springfield.
Pin Oak Farms - New Haven, MO
Pick your pumpkins in the pumpkin patch. They are located between Washington and Hermann about an hour west of Saint Louis and an hour southeast of Columbia. Other activities include the 5 acre maze of corn, farm animals and kiddie corral. Open on Saturdays and Sunday in October. The address is 2431 Highway E, New Haven, MO 63068.
Prairies End Pumpkin Patch and Corn Maze - Cole Camp, MO
They open weekends starting around the middle of September. The address is 10757 Highway 65, Cole Camp, Missouri. It is about 60 miles west of Jefferson City.
Pumpkins Etc. - Platte City, MO
Enjoy this u-pick pumpkin patch farm run by Bill and Kathy Wright located ten minutes from the Kansas City International Airport. Free admission. Features a haystack, picnic area, tall grass maze, fall decorations, painted pumpkins, decorative gourds and 42 varieties of mums for sale. Open daily from mid-September through Halloween. The address is 10700 Farmer Lane, Platte City, MO 64079. It is about 24 miles north of downtown Kansas City.
Pumpkins Galore - Wright City, MO
Opened in 1988 by the Mikus family. They now grow over 100 acres of pumpkins on this 180 acre farm. Weekday fun includes straw maze, bounce house, pedal tractors, swing set and petting zoo. Weekend fun includes pony rides, horse-drawn wagon rides, face painting and live music. Free admission and many of their activities are free. They are open from the last weekend in September through Halloween. The address is 26415 South Stringtown Rd., Wright City, MO 63390. It is located about 51 miles west of St Louis.
Schweizer Orchards - St. Joseph, MO
It feature u-pick apples and vegetables including pumpkins. They also sell Christmas Trees and feature farm tours. The address is 5455 SE State Route FF, St. Joseph, MO 64507. It is about 7 miles south of St. Joseph.
Stuckmeyer's Farm - Fenton, MO
A fourth generation family owned vegetable farm. U-pick and pre-picked pumpkins for sale. Activities include farm animals, hay rides, pony rides, corn maze and inflatables. They also have an inflatable haunted house. Located south of St. Louis between Fenton and Arnold. About the farm: Walter Stuckmeyer and his wife, Marie Keller, started the original farm at another location in 1935. They bought 12 acres at the current location in 1964. It is now a fourth generation farm consisting of more than 200 acres. The address is 249 Schneider Dr., Fenton, Mo 63026. It is about 21 miles south of downtown St Louis.
Sullivan Farms - Florissant, MO
Over 20 years of autumn harvest fun with pumpkins and hay rides. A variety of pumpkins available from the last weekend of September through the end of October. Also have fun with their straw castle maze and bounce house. Gourmet foods available in the pole barn. Free admission. The address is 16704 New Halls Ferry Road, Florissant, MO 63034. It is about 21 miles south of St Louis.
Totten's Pumpkin Farm - Lentner, MO
The address is 30094 Route A, Lentner, Missouri. It is about 60 miles north of Columbia.
Valley Farms - Foristell, MO
Located in the northwest corner of St. Charles County five miles from Wentzville. Open every weekend in October from 10 AM to 5 PM. Free admission. On weekends enjoy the hay ride ($2), mini barn hay maze, barrel train ($2) and gold panning ($6). The address is 1125 Dietrich Rd., Foristell, MO 63348. It is about 49 miles east of St Louis.
Weston Red Barn Farm - Weston, MO
A real working farmstead that will make you wonder if you have stepped back onto a turn of the century farm. You pick apples begin at the end of August. You pick pumpkin field open weekends starting around Labor Day. Their fall festival includes farm animals, tractor and horse drawn hayrides, a 4 acre corn maze and pony rides. Fall farm closes the first weekend in November. Farm market offers fresh produce daily. No admission or parking fee – there is a per activity charge. About: The land for the farm was purchased by Steve Frey in 1989. Steve and his wife Cindy own and operate the farm to provide an educational experience for children and an authentic farm for families to enjoy. The address is 16300 Wilkerson Road, Weston, Missouri 64098. It is located about 30 miles northwest of Kansas City.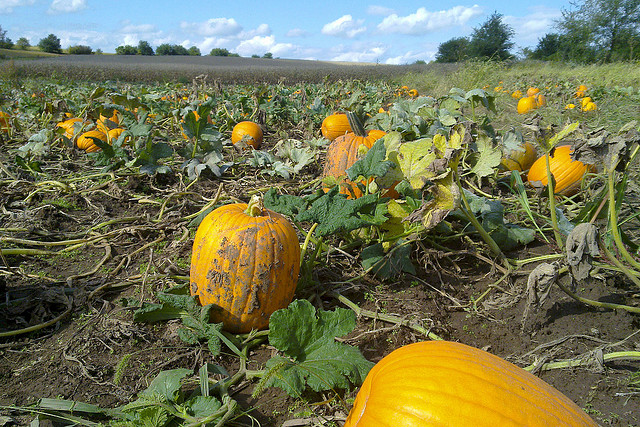 Brookdale Farms – Eureka, MO – 12 Acres
Brookdale Farms has the largest St. Louis corn maze. The maze will be open Thursday through Sunday except for a few closings for private events. At night on select days in September and October, there are two haunted attractions: Red's Corn Maze Massacre and Farmer Bob's Haunted Hayride.
Adventure Farm Aurora Maze – Verona, MO – 7 Acres
Check out Aurora Maze at the new location.  Formerly the Amazing Maize now relocated and renamed.  It is open Wednesday and Friday evening as well as Saturday from late September into early November. Haunted trail and haunted maze. Hayrides, corn cannon, cow train, and pumpkin launcher.  Adventure Farm, 20701 Lawrence 2200 in Aurora.
Fun Time Farms, LLC – Lowry, MO – 4 Acres
Open Friday through Sunday from late September through October. The maze takes approximately one hour to complete. Haunted maze after dark on Friday and Saturday nights. Hayride, corn cannon, cow train, hay jump and tube slide.
Check out Black Friday ads, Cyber Monday ads, and holiday sale prices from Walmart, Target, and over 100 top retailers this Christmas season.
Shop for Pumpkin Products
No block ID is set