Pumpkin Patches in Virginia
Go pumpkin picking near Washington DC, Charlottesville, Richmond, Norfolk and Roanoke on our list of Virginia pumpkin patches.  Most places offer fall activities beyond just pick your own pumpkins.  Many have corn mazes, hayrides, bonfires, petting zoos, and pumpkin cannons.  These are some great farms with general stores, and many having beautiful wedding and reception facilities.  It's where fall agriculture and entertainment meet for fall fun.
Last Major Update:
[DISPLAY_ULTIMATE_SOCIAL_ICONS]
Pick Your Own Pumpkin Farms
Back Home on the Farm - Harrisonburg, VA
A 240 acre farm in Rockingham County run by Gary and Lynne Hess. Pick your own pumpkins from their 5 acre patch. Also enjoy their 5 acre corn field maze, carousel, pig races and barnyard play area. They host the Virginia Pumpkin Festival starting September 29th.  The address is 2915 Willow Run Rd., Harrisonburg, VA 22802.
Belmont Pumpkin Farm - North, VA
Featured fun includes pumpkin picking, corn maze and hayrides, farm animals, pumpkin painting, scarecrow making and face painting. They also have hot apple cider, pumpkin desserts, pumpkin butter, pumpkin fudge and old fashioned bbq. Admission is per person with seniors free and military 50% off. The address is 155 Belmont Lane, North, VA 23128. It is approximately 59 miles north of Norfolk.
Belvedere Plantation - Fredericksburg, VA
It offers a harvest festival in the fall with pumpkin picking, evening hayrides and corn maze on their 645 acre farm on the Rappahannock River since the 1760s. They are open fall weekends with zip lines, pumpkin cannon, mountain slide, bonfires, and lots of activities. The farm is located at 1410 Belvedere Drive, Fredericksburg, VA 22408. It is about 7 miles from downtown.
Blue Ridge Pumpkins - Fancy Gap, VA
A family owned and operated pumpkin farm with hay ride and corn field maze nestled in the Blue Ridge Mountains. They have pumpkins of all shapes, sizes and colors. If you are going to make a pumpkin pie, they recommend you try the Kershaw Gourd. On select weekends, they have visiting bluegrass bands play live music. There is also a corn maze, barrel train rides, pony rides and a picnic shelter for picnics. They also held their first Howl-O-Ween pet parade and children's costume parade. Open on weekends (Saturday/Sunday) in September and October. The address is 813 Chantilly Drive, Fancy Gap, VA 24328. They are 95 miles southwest of Roanoke.
Boulevard Flower Gardens Farm - South Chesterfield, VA
The farm is located at 2100 Ruffin Mill Road, South Chesterfield, VA 23834. It is 18 miles south of Richmond.
Buckland Farm Market - New Baltimore, VA
It operates on a 150 acre cattle farm after moving in 2009. Their fall festival has pumpkins, corn field maze, hayrides and farm animals. The address is 4484 Lee Highway, New Baltimore, VA 20187. It is about 36 miles west of Arlington.
Burke Nursey and Garden Center - Burke, VA
Fall festival and pumpkin playground happens daily in October. They have pumpkins, hayrides, farm animals, pirate ship, slides, swings, merry go round and more. Weekend activities include pony rides, moon bounce, balloon house and face painting. Farm admission is $9-12 and includes small carvable pumpkin from the patch and hayride. Some activities cost extra. Open daily during the month of October. They are located at 9401 Burke Rd., Burke, VA. It is just 16 miles west from Arlington.
Chesterfield Berry Farm - Moseley, VA
Pumpkin picking offers pumpkins for 39 cents per pound. 8 acre corn maze, hayride, wagon train ride, corn cannon, barrel train ride, moon bounce, pig races, animal corral and gem mining. Also they feature a live Zombie Paintball Shoot. Free admission with activities priced separately. Purchase of activities fun packs available for those that don't want to pay per activity. Concession stand offers pumpkin milkshakes and a variety of other food. It is a family owned working farm along the Appomattox River. Special Events: Pumpkin Festival weekend, Military & Public Servants weekend.
Clark's Farm - Stafford, VA
This pumpkin patch is open daily in the fall. Also a Christmas Tree Farm in November and December. They are located at 721 Courthouse Rd (Rte 630), Stafford, VA. They are 12 miles north of Fredericksburg.
Cox Farms - Centreville, VA
A fall festivals with pumpkins for sale, hayrides, slides, cornundrum, farm animals and pumpkin madness (weekend after Halloween). Other activities include farm chores, gem mining, swings, and games. Fields of Fear offers 20 acres of haunted attractions, including a hayride through the zombie zoo and a 3/4 mile walk through a dark and haunted cornfield.
Evergreen Acres - Nokesville, VA
The pumpkin patch and hayrides are open weekends in October. They are also known for their christmas trees and organic tomatoes. The address is 12801 Hazelwood Drive, Nokesville, VA 20181. They are about 45 miles southwest of Arlington.
Gallmeyer Farms - Richmond, VA
A pick your own pumpkin field with options ranging in weight from 3 pounds to more than 100. Free activities include hayrides, straw bale maze, spooky house tours and kids play area. President Bush visited the farm in 2006 for his pumpkins! It is located at 4506 Millers Lane, Richmond, Virginia.
Golden Kernel - Grottoes, VA
They offer hayrides and pumpkin picking from their field on Saturday. They offer pre-picked pumpkins at their store during the week. The address is 1752 Weyers Cave Rd., Grottoes, VA. It is 17 miles south of Harrisonburg.
Great Country Farms - Bluemont, VA
U-pick pumpkins and apples during the fall, plus other produce all season long. There are also several festivals available throughout the season, with extra fun, demos, seasonal treats, and more. The 2.5 acre cornfield maze takes around 30 minutes to complete. Fresh pressed apple cider and cider donuts are available, plus wagon rides, pig races, pumpkin munching dinosaur, gem mining, barnyard animals, five acre farm play area with slides, jumping pillow, pedal carts, rope swings and miniature golf; and catch and release fishing at two stocked ponds. It is a 200 acre working farm in Loudoun County started in 1994 by the Zurschmeide family. Special events: Apple Gala & Cider Fest on weekends in September, Fall Harvest Pumpkin Festival on weekends in October, and Pumpkin Chunkin' the first weekend in November. Open daily from late September through early November. The address is 18780 Foggy Bottom Road, Bluemont, VA 20135, which is about 60 miles northwest of DC and about 40 miles southwest of Frederick, MD.
Green Hand Farm Park - Gloucester, VA
Pick your own pumpkins, 8 acre corn maze, zombie paintball, inflatables, hayrides, corn cannon and other farm fun activities. Owned and operated by David and Patricia Hand, who started their garden center in 1995 and expanded it to include the farm park with maze and pumpkins in 2010. The location is 5000 Nursery Lane, Gloucester, VA. It is about 40 miles north of Norfolk.
Greenbrier Farms - Chesapeake, VA
A working tree farm and nursery on 800 acres that was originally established in 1916. In the fall, it has a pumpkin patch, corn maze and Trail of Fears. Pumpkins available for $4-5. They also have a small petting zoo available at no charge. They host several festival throughout the year and also have wedding facilities. The location is 225 Sign Pine Road, Chesapeake, VA 23322. It is only 17 miles south of Norfolk.
Greenfield Farm - Ruckersville, VA
Farm admission is per person. Kids under 2 are free with adult admission. Pumpkins, five acre corn maze, hay ride, hay maze and kiddie corral. The address is 2455 Dairy Road, Ruckersville, VA 22968. It is 18 miles north of Charlottesville.
Hartland Orchard - Markham, VA
This family-owned farm and orchard offers a variety of produce throughout the year, including apples and pumpkins in the fall and Christmas trees in November. Varieties of apples will be continuously available throughout September and October, with pumpkins available later in this season. They take cash and checks only at the orchard, but the farm also takes credit cards and has activities such as corn maze, live entertainment, hayrides, giant slide, pumpkin bowling and more on the weekends, with apple cider slushies in the fall. All four (Hank's Christmas Trees, Hartman Orchard, Hartman Farm, and Green Truck Farm) are located on the Green family farm. The farm is at 3205 Hartland Lane, and the Christmas trees are at 12230 Belle Meade Road. The address for the apple orchard is 3064 Hartland Lane, Markham VA 22643, which is north of I-66 about 60 miles west of DC and 13 miles east of Front Royal, VA.
Heather Hill Gardens - Fairfax Station, VA
Their fall festival includes pumpkins, mini-zip line, slides, play house, climbing rope, pumpkin fort, petting zoo and moon bounce. Admission is per person with kids under free.
Hedgebrook Farm Market - Winchester, VA
A working family dairy farm that started as an apple orchard in 1907. Their pumpkin area is part of farm tours. The address is 690 Shady Elm Rd., Winchester VA 22602. It is about 86 miles west of Arlington.
Hollin Farms - Delaplane, VA
A fourth generation family farm 45 minutes west of the Beltway. The farm is located next to Sky Meadows State Park in Fauquier County. The pick your own fruits and vegetables farm has apple and pumpkin picking in September and October. The address is 1524 Snowden Rd., Delaplane, VA 20114. This is about 57 miles west of Arlington and 18 miles northeast of Front Royal, VA.
Holly Fork Farm - Barhamsville, VA
A pumpkin patch located in New Kent County near Williamsburg and Providence Forge. Opens for the season near the end of September. The annual harvest hoedown is mid-October. Festival includes hayrides, mechanical bull, vintage tractor show, bluegrass music, moon bounce and more. It is located at 4901 Holly Fork Road, Barhamsville, VA. Also located about 42 miles east of Richmond.
Krop's Crops - Great Falls, VA
A Northern Virginia pumpkin patch. Enjoy apple cider while your children play in the corn bin. Walk-in hayrides are available on weekends with children three and younger free. Farm animals include goats, sheep and chickens. It is a 20 acre farm owned and operated by Larry Krop that started as a roadside stand in 1986. The address is 11110 Georgetown Pike, Great Falls, VA 22066. It is about 16 miles northwest of Arlington.
Layman Family Farms - Blue Ridge, VA
The 80 acre Blue Ridge Mountains farm of Eric and Sarah Layman. 40 acres of pumpkins with all shapes, sizes and colors. They boast the largest hay wagons in the State of Virginia, pulled by John Deere tractors. The 10 acre cornfield maze is divided into two sections, offering families with small children the option to exit at the halfway mark. There are 10 numbered scarecrows throughout the maze to help you make your way through it successfully if you answer the questions correctly. There is also a corn crib, cow train, corn cannon, tunnel slide, animal alley, jumping pillow and pumpkin blaster. Haunted Harvest on Friday and Saturday evenings in October is a spooky adventure through the cornfield and woods. The address is 1815 Mountain View Church Road, Blue Ridge, VA 24064. It is 81 miles north of Danville.
Layz S Ranch - Palmyra, VA
A farm, garden and greenhouse in Fluvanna County. In the fall, they have pumpkin picking with corn maze, hay rides and pony rides. Open on Saturdays only to the public beginning September 29th.  It is located at 2253 Thomas Jefferson Parkway, Palmyra, VA. It is 18 miles southeast of Charlottesville.
Liberty Mills Farm - Somerset, VA
A family owned and operated farm with 110 acres and panoramic view of the Blue Ridge Mountains. Located in Central Virginia thirty minutes from Charlottesville. The farm has a pick your own patch and hayrides. Their fifth annual corn maze will be cut in a 25 acre cornfield. There are generally four sections to the maze, with each phase taking between 30 minutes and several hours. As far as food, the pumpkin cupcakes come highly recommended. The location is 9166 Liberty Mills Road, Somerset, VA 22972.
Marker-Miller Orchards - Winchester, VA
Twelve varieties of apples are available for picking in September and October.There is also pumpkin picking, scenic wagon rides, children's playground and cow train.Enjoy apple cider donuts, pumpkin donuts, pumpkin rolls and 10″ pies from the bakery.Special events throughout the season, which include the Apple Harvest Festival (October 12-13) and Pumpkin Festival (October 26). About the farm: The fourth and fifth generations of the family are farming the land. The stone house on the farm dates back to 1811 and the apple orchards were first planted in the 1930s. They are located at 3035 Cedar Creek Grade, Winchester, VA. 22602, about 86 miles west of Arlington.
Middle River Farms - Grottoes, VA
A pick your own pumpkin farm in the heart of Shenandoah Valley. The address is 1744 Weyers Cave Road, Grottoes, VA. It is 17 miles south of Harrisonburg.
Mt Olympus Farm - Ruther Glen, VA
A family owned pick your own farm located between Richmond and Fredericksburg that offers pumpkins in the fall. It features Saturday hayrides. The address is 23298 Jefferson Davis Hwy, Ruther Glen, VA 22546. It is about 31 miles north of Richmond.
Mulberry Hills Farm - Mount Crawford, VA
A pumpkin patch since 2000, offering more than 25 varieties of pumpkins and gourds, both prepicked and you-pick. They just started growing sunflowers as well! They are located at 6442 Cross Keys Road, Mount Crawford, VA. They are 11 miles south of Harrisonburg.
Owen Farms - Danville, VA
An 1800 acre working farm in Pittsylvania County that hosts an annual Pumpkin Hunt. The farm has pick your own pumpkins, pumpkin painting, hayrides, castle, corn mazes and farm animals. Open on Saturdays and Sundays from late September through Halloween. Admission is $8, which provides $2 toward an activity or the purchase of a pumpkin. Cash and checks only. Operated by the Nuckols family who has their seventh generation living in the 1828 farm house. The address is 6001 Riceville Rd., Gretna, VA. It is 33 miles north of Danville.
Pumpkinville - Toano, VA
A small family farm near Barhamsville offering pick your own pumpkins and a large selection of pre-picked pumpkins. They offer a number of free activities including a corn maze and hayrides. Games like bean bag toss, ring toss and more available for kids and adults. Open seven days a week in season. The address is 7691 Richmond Rd., Toano, VA 23168. It is about 41 miles east of Richmond.
Pumpkinville at Leesburg Animal Park - Leesburg, VA
Pumpkinville at Leesburg Animal Park has pumpkins, kids' corn maze, hay wagon rides, and moon bounce. Other activities include giant hill slides, spider web crawl, pumpkin bounce, pirate play ship, pony rides (additional fee). Weekend and holiday activities include pedal carts, face painting, live entertainment (musicians, jugglers and magicians) and camel rides (additional fee). Open daily from late September through early November. Entrance to the animal park is free with purchase of a Pumpkinville ticket. It is located at 19270 James Monroe Hwy., Leesburg, VA 20175. It is 36 miles northwest of Arlington.
Sarah's Pumpkin Patch - Orange, VA
A working family farm with 3 acre pick your own pumpkins started in 2010. All pumpkins are 50 centers per pound with gourds priced at 25 cents per pound. Other activities include hayrides, hay maze, corn hole, ladder golf and corn box. Open every weekend in October. Free parking and admission. Located in Southeastern Madison County. The address is 146 Cave'S Ford Ln, Orange, VA. It's just about 26 miles northeast of Charlottesville.
Shockley Farms - Cape Charles, VA
A fourth generation family farm on the Eastern Shore of Virginia. They have a you pick pumpkin field in October. They also operate a small vegetable stand which is open seven days a week from May to December. The address is 23184 Seaside Road, Cape Charles, VA 23310 which is 42 miles northeast of Norfolk.
Sinkland Farms - Christiansburg, VA
Their fall pumpkin festival has pumpkin picking patch, corn maze, hay rides, pony rides,face painting, barnyard animals, corn cannon, moonwalk, mechanical bull and live music. The maze is also open after dark on weekends. The fall fun starts in late September and is open every weekend in October. Admission is free. Activities are priced individually. There is a $5 per car parking fee. Opening weekend features special events like rockets, remote controlled plane and helicopter demos. There is also a bouncy house and pumpkin chopping team on opening weekend. Blue Ridge Country magazine readers voted this farm the Best in the Mountains in 2013. They are 38 miles southwest of Roanoke. The address is 3020 Riner Road, Christiansburg, VA 24073.
Smith's Pumpkin Patch - Lynchburg, VA
This pumpkin farm has operated for nearly 20 years.  Farm admission includes pumpkin painting, obstacle course, corn hole, cornbox, titanic slide and bounce houses. They are open from September 21st through Halloween.
Temple Hall Farm - Leesburg, VA
U-pick pumpkins, cornfield maze, fall festival and farm fun on this 286 acre working farm in Loudoun County. Shoot the corn cannon or pumpkin blasters. Bounce on the jumping pillow, ride the cow train or watch the pig races. Take a farm tour at this educational facility or a nature walk through the property. Theme weekends and special events include costume party, farm heritage weekend, pumpkin carving and fire prevention month. The farm is run by the Northern Virginia Regional Park Authority.
Ticonderoga Farms - Chantilly, VA
Enjoy their pick your own pumpkin field and hayrides. Other fall fun includes farm animals, hay forts, tetherballs, swings, willow maze, animal petting farm, goat tower, swinging bridge, antique tractors and children's playground. On weekends, there is a cow train and bounce pillow. Although you can pay with your credit card for admission and at the market, the concession stand is cash only. They are usually open from the middle of September until around November 10th. The address is 26469 Ticonderoga Rd., Chantilly, VA 20152. It is about 33 miles west of Arlington.
Valley Star Farm - Luray, VA
Pumpkin patch and corn maze opens Saturday and Sunday starting September 29th.  It is about 36 miles northeast of Harrisonburg at 1104 Springfield Rd., Luray, VA
Wayside Farm - Berryville, VA
Have fun at their 8 acre u-pick pumpkin field, ten acre cornfield maze, and hayrides. Farm activities include pig races, goat walk, cute farm animals and playyard with slide, playhouse, corn crib and pedal tractors. Located 20 miles from Leesburg and 32 miles from Reston. The address is 5273 Harry Byrd Hwy, Berryville, VA.
Wegmeyer Farms - Hamilton, VA
A pick your own family farm with pumpkin picking of more than 50 varieties of pumpkins. No admission fee. Hayrides through Creepy Hollow run every 30 minutes for $5 per person. Also featured is a huge corn maze. They started the farm in 2002 on a 19th century farmstead. The location is 38299 Hughesville Road, Hamilton, VA 20158. It is 42 miles northwest of Arlington.
White Fall Farm - Gretna, VA
U-pick pumpkins available for picking from the field at this full service operating farm. Old fashioned hayrides provide a scenic tour of the farm. Farm animals available to visit or see the wildlife with a nature walk. They also feature a cornfield maze. The Owen family has been farming their land in Pittsylvania County for more than 30 years and opened their farm to the public to enjoy in 2003. They have spring, summer, fall, and winter activities on the farm. The address is 1668 Silver Creek Road, Danville, VA 24540.
Williams Orchard - Wytheville, VA
A family owned and operated farm for more than 80 years. October fall festival is available every weekend in October. Includes pick your own pumpkins, apples, tractor drawn hayrides, corn maze, apple launcher, pumpkin chunker and other children's activities. The cost for a hayride for ages 6 and up is $6 with a trip through the cornfield costing an additional $3. Pumpkins and gourds in the patch are available for 45 cents a pound. The address is 5175 West Lee Highway, Wytheville, VA 24382. It is 84 miles southwest of Roanoke.
Wood's Orchards - Hampton, VA
The farm and farmer's market has been family owned and operated since 1943. Famous for their peaches, they now have u-pick pumpkins available for between $3 and $40 starting on October 1. Hayrides are available for $1 on Saturdays and Sundays. You can also walk out to the field on weekdays during store hours. The address is 16 miles north of Norfolk at 183 E. Mercury Blvd., Hampton, VA 23669.
Yankey Farms - Nokesville, VA
Pick your own pumpkin from their two acre field starting in late September. Also enjoy their Cornfield maze, cow train and other farmyard activities. They are located at 13007 Vint Hill Rd., Nokesville, VA 20181 which is about 45 miles southeast of Arlington.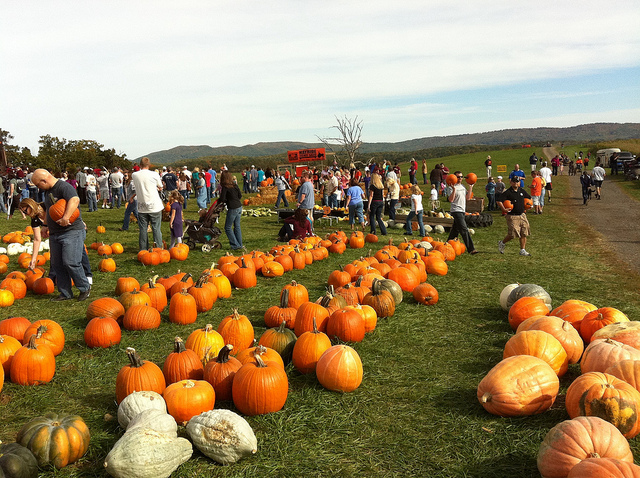 Shop for Pumpkin Products
Shop Funtober for Halloween Costumes