Pumpkin Patches in Alabama
Find pumpkin picking near Decatur, Birmingham, Montgomery and Mobile on our list of "pumpkin patches near me" in Alabama.  Many also feature hayrides, corn mazes, haunts, and kids activities in September and October.
Last Major Update:
4D Farm - Cullman, AL
Take a hayride to the patch, visit the farm animals, navigate the corn maze and enjoy other fall activities. Eighty foot slide, pig races, cow train, sand pit, duck races, two story play barn and jumping pillow. The farm was purchased in December 2004 and started as a poultry farm before branching into agritourism.  Pumpkins, pony rides, corn cannon, and pumpkin slingshots are not included in the price of admission. Open to the public for fall fun starting in late September on Friday, Saturday and Sunday.
Alpin Farms - Dothan, AL
Usually open every day in October each fall for family fun.  A fourth generation vegetable farm since 1952. U-pick pumpkins, corn maze, wagon ride and petting zoo are just some of the activities available at Aplin Farms. Open daily in October. Located in Geneva County between Slocomb and Dothan.  The address is 2729 Geneva Co. Rd. 49N Dothan, AL.  It is about 10 miles west of Dothan. Last Major Update:
Backyard Orchards - Eufaula, AL
Fun begins each fall in late September and throughout October. Pick your own pumpkin from the real pumpkin patch, enjoy a wagon ride, or pick cotton from the field. A fun place to enjoy a farm, party, bonfire, and more.  Play on their tractor tires and in a corn trough. They also have a 2 acre corn maze. Located north of Eufaula, southwest of Fort Benning South and Columbus.   Their address is 6585 Hwy 431, Eufaula, AL.  It is about 45 miles southeast of Auburn.  Open daily until around 5 PM and Saturday night until 10 PM.  A real good pumpkin patch. Last Major Update:
Barber Berry Farm - Millbrook, AL
Pumpkin patch opens in October and is open on Saturdays and Sundays. Admission for ages 3 and older is only $3, which includes hayride. Field pumpkins available in the pumpkin patch. Pre-picked pumpkins are also available. Located northwest of Montgomery near Wetumpka and Prattville. The address is 2362 Alabama River Pkwy., Millbrook, AL.  It is about 8 miles north of Montgomery.  In September they have lots of grapes to pick.
Bennet Farms - Heflin, AL
Pumpkin patch is open Friday, Saturday, and Sunday in October.  Fresh off the vine pumpkins, hayrides, working syrup mill and animal petting farm at this fourth generation farm. Corn crib, hay bale maze, tire crawl, pipe swing and pipe slide for kids. Located off I-20 between Birmingham and Atlanta. Try their country cooking and shop the arts and crafts from local vendors in the country store. Pumpkins are not included in the admission price.   The address is 1073 County Road 13, Heflin, AL 36264.   It is about 76 miles east of Birmingham. Last Major Update:
Dream Field Farms - Fitzpatrick, AL
Central Alabama pumpkin picking and fall festival on weekends in October that opens every day October 1-31.  Enjoy the covered wagon ride, 5 acre corn maze, fishing, boating, inflatable village, human goat tower, minestone sluice, and petting zoo with farm animals. Located southeast of Montgomery and west of Union Springs.  Their address is 6376 Highway 82, Fitzpatrick, AL 36029.  It is about 35 miles southeast of Montgomery.
Faye Wittemore Farms - Jasper, AL
The pumpkin patch is open every Saturday and Sunday in October.  A family farm with pumpkin patch, petting zoo, build your own scarecrow, pirate ship playground, face painting, hay maze and other activities for kids.  Also horse rides with horse rental, 35 miles of trails and special events like the Labor Day and Halloween rides. Located about 42 miles northwest of Birmingham.  The address is1335 Forrester Road, Jasper, AL 35504.
Great Pumpkin Patch - Hayden, AL
Open daily and weekends the entire month of October.  Enjoy a hay filled covered wagon ride to the pumpkin picking. Petting zoo, pony rides, hay pyramid and inflatable park also available. Stop in the Big Red Barn or shop in the Country Store.  For the adventurous, there is also a Bungy Jump! Admission is free but there is a charge for activities.  Their address is at 350 County Hwy. 45, Hayden, AL 35079.  It is about 36 miles north of Birmingham.
Gullion Farms - Somerville, AL
Open to the public every Saturday in October.  A working farm southeast of Decatur with pumpkin patch, hay maze and petting zoo. Enjoy a horse drawn wagon ride, cow milking, hay slide, hay jump, and pony rides. Owned by Steve and Tammy Gullion. It is open to the public from 10 AM until 4 PM. Their address is 701 Peck Hollow Road, Somerville, Al 35670. It is about 30 miles south of Huntsville.  Note they host large group (schools, churches, etc.) during the week so plan your group outing and make a reservation.
Magnolia Corn Maze - Summerdale, AL
Open late September through early November.  Birthday parties and some group event are available all year. It has a corn maze for the past ten years with a pumpkin patch, hayride, pig races, play area, hay jump, cow train, corn cannons, Hop-along Rodeo, duck races, and petting zoo. Field of Terror and Zombie Paintball open near Halloween.  It is located near Fairhope across Mobile Bay from Mobile.  The address is 15275 County Road 49, Summerdale, AL 36580 It is about 33 miles southeast of Mobile.  Monday through Friday for group tours only by appointment.  Last Major Update:
Mcgee Farm - Florence, AL
Pick your own pumpkin off the vine from their Florence pumpkin patch. Take a tractor drawn wagon ride to the patch, visit with the farm animals and enjoy delicious home baked goods from McGee's kitchen. Admission is free.  Fall mums and other fall decorations also available.  They are located at 8221 County Rd. 7, Florence, AL 35633.  It is about 12 miles north of Florence.
Norris Farm - Hokes Bluff, AL
A u-pick pumpkin, strawberry and fruit farm with attached grocery store.
Old Baker Farm - Harpersville, AL
Fall season runs from late September through October 31st.  Cost is $10 per person. Kids under 2 are free. Admission includes pumpkin patch and all events except food, horseback rides, arts and crafts.  They also have a number of events including a fall festival and cowboy days.  Farm has been operating for well over 100 years.  The Old Baker Farm was established in 1899 and is managed by a fourth generation family member Jerry Baker and wife, Pam.  Their address is 184 Furrow Lane, Harpersville, AL 35078.  It is about 29 miles southeast of Birmingham.
Paradise Pumpkin Patch - Eufaula, AL
Fall season begins on in late September.  Enjoy the pumpkin patch, corn maze, hayrides, farm playground, petting zoo, cow train, corn cannon, pig races, corn box and cotton picking. Open to the public on Saturday and Sunday. Located south of Columbus and southeast of Union Springs.
Pumpkin Patch Express – Heart of Dixie - Calera, AL
Open every Saturday and Sunday in October.  Ride the Pumpkin Patch Express railroad this autumn to pick your pumpkin from the patch.  Also take a hayride and other kid-friendly activities. Snacks and drinks available for purchase. Event lasts approximately 90 minutes. Pumpkins are extra. Located at the Heart of Dixie Railroad Museum.  It is south of Birmingham along I-65.  The address is 1919 9th Street, Calera, AL 35040.   It is about 34 miles south of downtown Birmingham.
Tate Farms - Meridianville, AL
This popular farm is open Monday through Saturday from late September through October 31st.  This North Alabama pumpkin farm located northeast of Huntsville is run by Homer Tate and his family. A variety of crops are grown on the 5,000 acres of land. The pumpkin patch has grown to 60 acres of pumpkins and gourds since its start in 1996. You can pick your pumpkin right off the vine if you wish! There's also a playground, petting animals, jumping pillow, hay maze and more. $12 general admission. Additional charge for pumpkins, face painting and gourd gun. Open weekdays from 2-6 PM and Saturday from 9 AM to 6 PM.  Their location is a 8414a Moores Mill Rd., Meridianville, AL.  It is about 12 miles north of Huntsville. Last Major Update:
The Belue Place - Lexington, AL
Pumpkin patch and corn maze are open Saturday and Sunday starting in late September.  A pumpkin patch, hayride, petting zoo and more farm fun on the site of an early 1800s farm. Circle the property with the hayride to the patch. Paint your pumpkin after you pick it, if you wish. Pre-picked pumpkins also available. Kids can do a cannonball in Hubert's Hayloft, go synchronized swimming in Corbette's corncrib, pet the animals in Zander's Zoo, climb Ted's Tire Mountain or play in the sand. Open on weekends in October. Located 30 minutes northeast of Florence.  The address is 700 CR 513, Lexington, Alabama 35648.  It is about 29 miles east of Florence.
The Oaks LLC - LaFayette, AL
The fun begins in late September.  Known as Jack-O-Lantern Lane you take a hayride wagon and pick your pumpkin from the patch Friday to Sunday in October. Inflatable park, train rides and country store also available. Note: Cash or check only! The address is 18151 Veterans Memorial Parkway, LaFayette, AL.  It is about 21 miles north of Auburn. Last Major Update:
Tuscaloosa Barnyard - Tuscaloosa, AL
Open Friday, Saturday, and Sunday in the fall.  Enjoy their fall hay rides, pumpkin patch, farm animals, playground, fishing pond, boat rides, and pony rides.  This is an agritourism farm with plenty of school trips, birthday parties, and fun events.  It is located at 1453 Turner Bridge Rd., Tuscaloosa, AL 35046.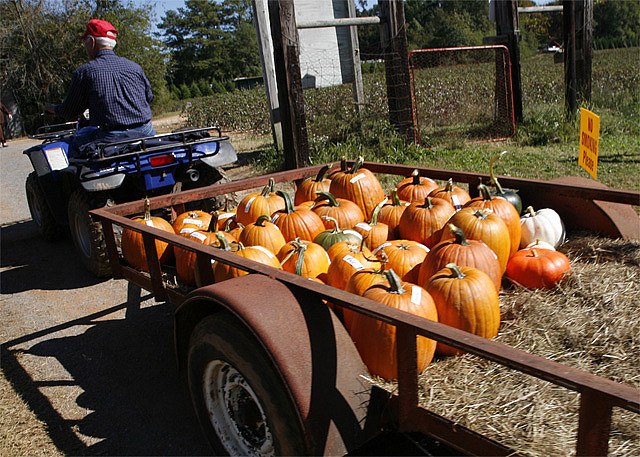 Shop for Pumpkin Products
Shop Funtober for Halloween Costumes