Find "pumpkin patches near me" in Chicago, Peoria, and Springfield on our list of Illinois pumpkin patches.  Most are open from late September through Halloween.  Many have corn mazes, hayrides, live animals, kids activities, and lots of fun things to do.
Last Major Update:
Illinois Farms
200 Acres Great Pumpkin Patch - Arthur, IL
Open every day from September 12th through October 31st.  The McDonald-Condill family has been farming for five generations and celebrating the harvest with guests for 25 years. Homestead U-pick pumpkins, various non-corn mazes and wagon rides. Open seven days a week to Halloween. Bakery has a variety of pumpkin goods when pumpkins are in season. Try the apple cider slushies or pumpkin ice cream. A variety of bands provide entertainment on the weekends. There are also farm animals, giant corn shock tower and haunted crib. Admission is $2-7 depending on age and day. This is one of the most popular farms in Illinois with over 31,000 Facebook likes. Their address is 1749A CR 1900 N, Arthur, Illinois. It is about 45 miles south of Champaign, Illinois.
All Seasons Apple Orchard - Woodstock, IL
The McHenry County farm is run by James and Sue Hong, who purchased it in 1989 and planted the apple orchard. They have more than ten varities of apples and pears for picking in September and October. A 10 acre corn maze with 3 miles of paths and a lookout bridge features both a challenging path through the corn and a shorter path for kids. Pumpkin picking and many barnyard activities like the petting zoo, jumping pillow, mini zip line and pig races (weekends only). Their farm market features farm made apple cider, cider donuts, fudge and kettle corn, pies and other baked goods, as well as local honey and other products. Located about 90 minutes from Chicago.
Bandy's Pumpkin Patch - Johnston City, IL
Brandy's is closed for all of 2020.  T. and Johna Bandy welcome visitors to their pumpkin patch and 10 acre cornfield for getting lost. There are also wagon rides and kids play barn. They are open daily from September 15th through October 30th. Their address is 15020 Pumpkin Patch Road, Johnston City, IL 62951.
Bengtson's Pumpkin Farm - Homer Glen, IL
Opens September 12th this fall.  This farm is a fall tradition for many in the Chicago area. Many visiting it describe it as more like a combination mini-amusement park and farm. They are open everyday through October 31st. The cost for admission is in the $10-13 range per person. Parking is free and there is unlimited rides with admission. There is a slight discount to the regular price if you purchase tickets online, and buying online also allows you to avoid any line to get in. They accept cash and credit at the farm. Food and pumpkins are extra. Wheelbarrows are available to cart away large pumpkins. You can also take a picture next to their gigantic pumpkin. The 3 acre corn maze with stone path is on the smaller side but perfect for kids. The pig races and pumpkin launcher are definitely a favorite of attendees. Tractor drawn hayrack rides, though at least one person has mentioned that there wasn't any hay on their ride. Petting zoo and pony rides for kids. There is also a mega slide, silly barn, haunted barn and corn box. This is one of the most popular farm attractions in the country with over 126,402 Facebook likes. Their address is 13341 W 151st St., Homer Glen, Illinois. It is about 30 miles southwest of downtown Chicago.
Black Bart's Pumpkin Patch - Warrensburg, IL
Visit beginning September 15th this fall.  They started growing pumpkins to sell in 1997. They have pick your own pumpkins, pre-picked pumpkins, wood maze, corn maze, and a small kid's haunted house. Free admission and free parking. Open daily from late September to Halloween. Their address is 9381 West Wise Road, Warrensburg, IL 62573. It is about 13 miles northwest of Decatur.
Country Corner - Alpha, IL
More than 35,000 visit this farm every year. Pick your own pumpkins, 8 acre cornfield maze (with maze trivia and checkpoints), tractor drawn hayrack ride, inflatable jump house, gem mining, corn cannon, cow train, barnyard zoo, pony rides (fall festival weekends), picnic and playground. Don't miss the Giant Pumpkin Festival! It is an 80 acre farm owned by Bruce Curry. Free admission and free parking. Pumpkins are usually available starting in late August. Country Corner has more than 11,493 Facebook likes. Their address is 5333 U.S. Highway 150, Alpha, IL. It is about 22 miles south of Moline.
Curtis Orchard - Champaign, IL
Open every day starting middle of September.  Pick your own pumpkins and apples this fall. It features a petting zoo, giant slide, and mini golf. On weekends, they have wagon rides, pony rides, corn maze, face painting and live entertainment. Pricing is per activity with season passes available. Cafe and bakery open daily in September and October. Very positive reviews online from past customers. Their address is 3902 S Duncan Road, Champaign, IL 61822. It is about 6 miles southwest of Champaign, IL.
Eckert's - Grafton, IL
The Grafton farm began allowing pick your own apples in 1963. In addition to the Grafton location, both the Belleville and Millstadt locations also allow apple picking. Each location has its own activities, with some activities only on weekends.Grafton has pony rides, camel rides, miniature golf, farm animals and other entertainment. Millstadt has pig races, corn maze, haunted hayride, pumpkin patch and other activities. Belleville is the original site of their 1910 roadside stand and has a country restaurant, Country Store, garden center and kids activities. The orchard also offers apple cider, cider donuts, pies, and other goodies.
Edwards Orchard West - Winnebago, IL
A Northwest Winnebago County orchard with apple and pumpkin picking. They offer 18 varieties of apples. Enjoy homemade apple cider, apple cider donuts, cider slushies and homemade caramel apples. Kids can also enjoy the petting farm, wagon slide, corn crib and play area, and they offer tractor rides into the orchard on the weekend. Located northwest of Rockford.
Gail's Pumpkin Patch - Beason, IL
A family owned Logan County pumpkin farm that grows more than 50 varieties of pumpkins, gourds and squash. Pink pumpkins available. Available food includes apple cider and donuts. Fall farm day provides face painting, pumpkin painting, honey extraction demonstration, machinery display and farm tour. They are open from September 1 to October 31 for fall activities with free admission. Their address is 1709 2000th Avenue, Beason, IL. It is about 30 miles south of Bloomington, IL.
Goebbert's Pumpkin Farms - Hampshire, IL
Their fall festival and pumpkin patch is open daily and weekends starting September 1st.  Located on a 200 acre farm in Hampshire purchased in 1985. Pick your pumpkins right off the vine. Wagon hay rides, corn stalk maze, pig races, munchkin maze, jumping pillow, pumpkin blaster, pumpkin eating dinosaur and more. Admission includes 19 activities. 2 and under free. Some activities (pony rides, camel rides, paintball) cost extra. Apple cider donuts and other food available for purchase. They also have a South Barrington location where they have been farming for sixty five years. Their address is 42W813 Reinking Road, Hampshire, IL 60140. It is located about 50 miles west of downtown Chicago.
Heap's Giant Pumpkin Farm - Minooka, IL
Open every day with admission starting September 12th.  A working farm with 30 acres of pumpkins that offers pumpkin picking off the vine and pre-picked pumpkins. They grow 90 different varieties of pumpkins, gourds and squash. It features their corn field maze, (soy)bean maze, hay rides and Heaps o' Fun Barn as well. Daytime "Barnyard Pass" is $6-8. At night, they do a haunted corn maze, flashlight maze and moonlight hayrides. Moonlight special includes all three activities. Their address is 4853 US Highway 52, Minooka, IL 60447. It is about 50 miles southwest of downtown Chicago.
Honey Hill Orchard - Waterman, IL
A family owned and operated pick your own orchard that started as a hobby in 1965. They have 25 different varieties of apples ripen every year, and open for the season in late August. The pumpkin patch opens in late September. Enjoy cider donuts, pumpkin donuts (last two weekends in October), oven pies and hand-dipped caramel apples. They have free wagon rides on weekends, and their entertainment area includes a straw maze and a petting zoo. The Country Store offers apple cider, locally grown honey, gourmet foods, candles, crafts, fall ornamentals and gifts. Special events: The Pumpkin Harvest Weekend is in mid-October, and features specials on pumpkins as well as pumpkin donuts and pie.
Jonamac Orchard - Malta, IL
Apple picking starts Labor Day weekend on their 20 acre orchard. In total, they grow more than 40 varieties of apples available for picking or purchase in their store. Pumpkin patch opens in late September. The store and bakery offers local products as well as farm made fudge, apple cider, caramel apples, cider donuts, pies, and other baked goods. Their cider house has hard ciders and apple wines. Activities include an apple cannon, pony rides, children's area, petting zoo, jumping pillow and corn maze. They also have a haunted house attraction. Located about one hour and 45 minutes away from Chicago.
Kulpers Family Farm - Maple Park, IL
Open every day until October 31st.  There's lots to do on this 230 acre Midwest farm. Find your way through the cornfield maze's three different levels of increasing difficulty. Pick a pumpkin from the field, a bushel of apples from the orchard or enjoy one of the other farm activities. There's even a haunted forest for young goblins. Petting zoo, pig races, corn box, slide. Fall farm food like apple cider and cinnamon sugar donuts. Apple picking on weekend and pumpkin picking starts September 15th.  Pony rides, jumping pillow and weekend rides are extra. Kuipers is very popular with over 24,676 Facebook likes. Their address is 1N318 Watson Road, Maple Park, Illinois. It is about 56 miles west of downtown Chicago.
Mill Creek Farm - Quincy, IL
Open weekends in October from noon to 5 PM. Hay rides, pumpkin picking in their patch and a cornfield maze. This Western Illinois farm is located west of Springfield near the Mississippi River. The farm started operating in 1995 and is run by the Roegge family. Their address is 2833 S. 48th Street, Quincy, IL 62305. It is about 6 miles east of downtown Quincy.
Mills Apple Farm - Marine, IL
Family owned and operated on land settled nearly 200 years ago – the farm was purchased by the Mills family in 1971. The first commercial apple orchard was planted here in 1973 and now has 16 varieties of apples available for pick your own, as are pumpkins. There are children's activities, and tractor and wagon rides are free and available on weekends. Bakery goods, including pies and cookies, are made on site. They are still replacing their cider operation (they lost everything in their market in a 2014 fire, and are still coming back from it). They also offer Christmas trees, both farm grown and pre-cut, beginning after Thanksgiving.
Odyssey Fun Farm - Tinley Park, IL
A 110 acre farm with 13 acres of pumpkins, 15 acre cornfield maze, hay ride, zip line and five acres of family friendly activities including inflatable kids zone, bouncy horses, petting zoo, pony rides, cow train, corn cannon and pig races.  Odyssey Fun Farm has over 22,176 Facebook likes. They are open starting late September. Their address is 19111 S Oak Park Avenue, Tinley Park, Illinois. It is about 30 miles south of downtown Chicago.
Rader Family Farms - Normal, Il
Enjoy a u-pick patch with 30 acres of pumpkins, gourds and squash. For those who like to get lost, there is a 10 acre corn maze and a 1 acre kid's maze. Train rides (weekends) and a large variety of fall farm fun available for kids of all ages. Located outside of Bloomington. About the Farm: Started as a dairy farm in 1945 by Glenn and Margaret Rader before transitioning to a grain farm in the 1970s. Now run by Lynn & Linda Rader (and family), they started growing pumpkins 20 years ago. Their address is 1238 Ropp Rd., Normal, IL. It is located about 4 miles northwest of Bloomington.
Relleke Pumpkin Patch - Granite City, IL
A 10 acre pick your own pumpkins grown on a family farm started in the late 1800s. Enjoy the 5 acre jungle maze, hay ride, petting zoo, pony rides, face painting, pumpkin painting, mini golf and haunted barn. It is open every weekend in October. The address is 473 Sand Prairie Road, Granite City, IL 62040. It is located about 7 miles northeast of East St. Louis, Illinois.
Rhodes Family Farm - Worden, IL
Now called Boonies Farm the pumpkin field is open Saturday and Sunday from September 12th through Halloween. Enjoy the hayride, corn maze, farm animal petting zoo, fort maze, zip line, tricycle track, hay fort, slide, barrel train and corn crib. Located in Madison County northeast of St. Louis and south of Springfield. The address is 8863 Dustman Rd., Worden, IL 62097. It is about 41 miles northeast of East St. Louis, IL.
Richardson Farm Experience - Spring Grove, IL
World's largest corn maze is open every day starting early September until early November.  Three generations of the Richardson family own and work the 450 acres across 2 farmsteads that make up the Richardson Farm. Enjoy the 50 foot observation tower before heading into the 28 acre corn maze with eleven miles of trails. After the maze, try out the orb ball, zip line, pedal carts, slides, goat walk, pig races, pumpkin patch, pre-picked pumpkings, wagon rides (weekends) or other farm fun. Snack shop with apple cider donuts. Admission is $10-13 (kids 3 and under are free). Pumpkins, food, zip line, wagon rides, ORBiting and some other activities are extra. Richardson's is a popular farm with over 16,052 Facebook likes. Their address is 909 English Prairie Rd., Spring Grove, Illinois. It is about 64 miles north of Chicago.
Royal Oak Farm - Harvard, IL
Pick your own orchard with 17,000 apple trees and 30 different varieties located in Northern Illinois near the Wisconsin state line. U-pick apples and pumpkins at the east side of the orchard. They also have an apple tree maze, with 1.5 miles of trails. Bakery has fresh apple cider donuts and apple cider slushies. The entertainment area includes a petting zoo, replica train, concert gazebo, and play area. Take a train, carousel, or orchard tour ride. They are located 15 minutes south of Lake Geneva, Wisconsin.
Schartz Orchard - Centralia, IL
They have two locations, but only Centralia has u-pick apples and a pumpkin patch. Enjoy their award winning apple cider, fresh produce and baked goods (including year round apple cider donuts!) from their complete kitchen. They also distribute their Schweet Juice, their 100% all natural fruit juices, to wineries and microbreweries. They offer an Apple Festival each year at the Centralia location.
Shreves Pumpkin Patch - Barnhill, IL
Over 25 acres of u-pick pumpkins, gourds and squash. They also have a 15 acre corn maze. Reservations are needed to do the maze at night (don't forget to bring your flashlight!). Started in 1990, they are now celebrating their 25th year of operation. Open daily all of September and October. Located east of Mt. Vernon. Their address is 2142 County Road 150 N., Barnhill, IL 62809.
Siegel's Pumpkin Farm - Crest Hill, IL
Opens starting late September. Enjoy Siegel's Cottonwood Farm corn maze on weekends and Columbus Day. The theme changes every year. Take a hayrack ride out to the pumpkins or enjoy the farm animals at Zach's Petting Zoo. Play area, farm games, giant slide, straw maze, trains and obstacle course. Admission is $11.95-14.95. Some activities are closed during weekdays.  They are also the parent company for the wildly popular Statesville Haunted Prison at the same address. Their address is 17250 South Weber Rd., Crest Hill, Illinois. It is about 37 miles southwest of downtown Chicago.
The Pumpkin Patch - Caledonia, IL
Opens for fall fun in the middle of September.  A Boone County pumpkin farm operating for more than 32 years. Pick your own pumpkin off the vine and venture through their 7 acre corn maze. There are a ton of things to do here, including wagon rides, petting zoo, camel rides, bounce house. pumpkin chunkin, corn cannon and playground. They have a low admission price but charge additional for activities using a ticketing system. The address is 3178 IL Route 173, Caledonia, IL 61011. It is about 15 miles east of Rockford.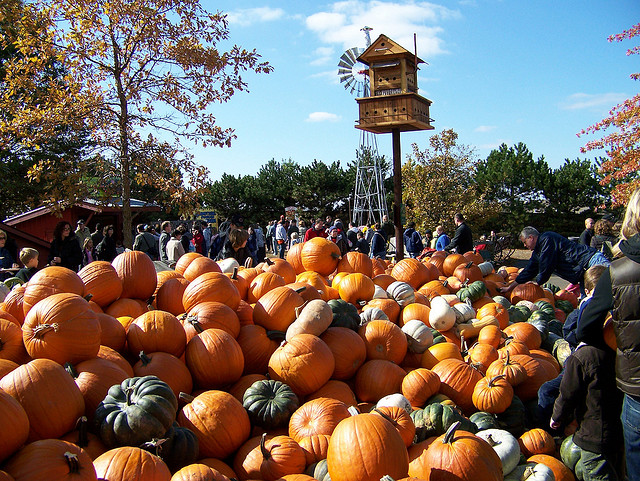 Dollinger Farms – Channahon , IL
A four acre maze, pumpkins, petting zoo, horse and tractor drawn hayrides, farm playground, Abyss haunted house and family spooky trail.
Konow Corn Maze – Homer Glen, IL
Large maze with 3.4 miles of trails and a short kids maze with .4 miles of path. They also have a jumping pillow, cow train, mechanical bull and indoor playland.
Check out Black Friday ads, Cyber Monday ads, and holiday sale prices from Walmart, Target, and over 100 top retailers this Christmas season.
Shop for Pumpkin Products
Shop Funtober for Halloween Costumes