Pumpkin Patches in Pennsylvania
Find farms for pumpkin picking near Philadelphia, Pittsburgh, Erie, Scranton and Harrisburg on our list of Pennsylvania pumpkin patches.  This state has lots of corn mazes and "pumpkin patches near me" including some of the best agriculture entertainment combinations in the country.  These make for some great fall family outings during September and October. Last Major Update:
Active Acres Farm - Newtown, PA
Home of the famous Sleepy Hollow Hayride and additional nighttime haunt beginning every Saturday and Sunday starting in early October.  Pick your own pumpkins, hayrides and a corn field maze at this 230 acre working farm in Bucks County. They operate their pumpkin patch and hayrides on Saturdays and Sundays in the fall. They feature pumpkins, BBQ, pizza, and refreshments in addition to pony rides, farm animals, mood bounce, duck races, and more. The haunted house is at night.
AGA Farms - Perkasie, PA
Thousands of pumpkins in over a dozen varieties available to pick in all different shapes, sizes, weights and colors. There are also two small corn mazes (two acres and .75 acres) and a thirty minute tractor drawn wagon hayride through their 100 acre Bucks county farm. The address is 1333 Elephant Road, Perkasie, PA 18944. This is 23 miles southeast of Allentown.
Barefoot Farm - Dover, PA
A small family farm with pick your own pumpkins starting the last weekend in September and running throughout October. Scheduled hayrides, corn box and free children's straw fort. Food offerings include apple dumplings, apple cider and pumpkin ice cream. The address is 6621 Bluebird Lane, Dover, PA. It is located 19 miles south of Harrisburg.
Cheeseman Farm - Portersville, PA
Weekends in fall brings the Cheeseman Pumpkin Festival to Cheeseman Farm. Pick your pumpkin from their field. Hayrides to the patch are available. Also enjoy the hay maze, hay jump and petting zoo. After sunset, they also hold the Cheeseman Fright Farm with haunted attractions. They are open from the last weekend in September through early November. Their address is 147 Kennedy Rd., Portersville, PA 16051. They are 40 miles north of Pittsburgh.
Country Barn Market - Lancaster, PA
A third generation working farm in Lancaster County. Take a wagon ride to enjoy the u-pick pumpkins from their 10 acre field. Pumpkin picking is available at their Barnyard Kingdom on weekends (Saturday and Sunday) from mid-September through the end of October. They sell 11 varieties of pumpkins and gourds as well as giant pumpkins. They also have 8 acres dedicated to providing fun for visitors. You can also get lost in the 5 acre cornfield. Flashlight maze available on Friday and Saturday nights. Cheer on your favorite pig to victory in the pig races. Visit the farm animals in the petting zoo. Race around the pedal cart track or take your kids on a mini-wagon ride of the barnyard. Also available for you and your family to enjoy are Billy Goat Mountain, pony rides, straw tunnel, hedge maze and rubber duck races. The farm market has fresh local produce, home decorations and gifts. Special events: Country Line Dancing on the first Tuesday and Friday of the month for an admission price of $6 per person. The address is 211 S. Donnerville Road, Lancaster, PA 17603. The location is 37 miles southeast of Harrisburg.
Fields of Adventure - Aspers, PA
Free hayrides to the patch for pumpkin picking in the fall. Seven acre corn mazes and a smaller one acre maze for young children. Enter the maze on Friday and Saturday nights in October for flashlight nights. Hayrides, stocked catch and release fishing pond, corn box, sorghum maze, obstacle course and zipline. General admission is $6-8 per person with pumpkins, fishing rod rentals, zip line and concession items extra. Open weekends starting in early September and ending in early November. Also open holidays and Fridays in October. The address is 64 Tree Lane, Aspers, PA. It is 30 miles southwest of Harrisburg.
Frecon Farms - Boyertown, PA
Pick your own pumpkins, apples and a variety of fruit in Berks County. They are also host to the annual Pickfest, a harvest and bluegrass festival happening on one day in October every year. Frecon Farms started as an apple and peach orchard in 1944. They started offering pick your own pumpkins and apples in 2005. On weekends in September and October they have live music also. Their address is 501 South Reading Ave., Boyertown, PA 19512. They are 16 miles east of Reading.
Froehlich's Farm - Furlong, PA
Their fall festival runs Saturday and Sunday beginning late September.  Enjoy a 3 acre corn maze, hayride, 4 acre pumpkin patch and fall festival throughout October.
Grim's Orchard - Breinigsville, PA
A pick your own apple orchard that also offers pumpkin picking, maze, petting zoo and hayrides (weekends). They are open every day starting September 15th beginning with apple picking. They are located at 9875 Schantz Road, Breinigsville, PA 18031. This is 12 miles southwest of Allentown. Their PYO orchard grows more than 20 varieties of apples on more than 25 acres. Six acre corn maze with trivia clues. Bring your own flashlight or purchase one on Friday and Saturday nights to enjoy the flashlight maze. Thousands of pre-picked and PYO pumpkins available. Hayrides are only available on weekends. Barnyard animals in the petting zoo as well as play corral with hay slide, tube slide, sand pit and more. Admission prices for the corn maze, hayride and play corral combo. Enjoy pumpkin ice cream, apple pie, apple cider donuts and other baked goods.  The farm was started by Floyd and Bertha Reicher in 1939.
Hellerick's Family Farm - Doylestown, PA
Their fall festival starts in September.  A Bucks County family farm with 18 acres of fun has a fall harvest festival with hayrides, pumpkin field, pumpkin rolling, 5 acre maze, farm animals, children's farm activities and jr. farmer fun area for those under 5 years old. It runs from the middle of September through early November. They also have a nighttime Harvest Moon Hayride for the whole family and an aerial adventure park.  The address is 5500 North Easton Road, Doylestown, PA 18902. It is 43 miles north of downtown Philadelphia.
Highland Orchards - West Chester, PA
A 200 acre West Chester farm with a fall festival featuring apple and pumpkin picking daily plus weekend activities. They are located at 1000 Marshalton Thorndale Rd., West Chester, PA 19380. They are 43 miles west of Philadelphia. More than 20 varieties of apples available for picking during autumn.Pre-pay bags available for 1/2 peck and 1/2 bushel with volume discounts for purchasing more than one.Ten percent discount on the price during weekdays.They also have weekend hayrides, kid's hay maze and scarecrow building.Apple cider donuts and fresh baked piesavailable daily from the farm market and bakery.
Hozak Farms - Clinton, PA
Hozak farms offers pumpkin picking, pumpkin painting, maze, farm animals and straw pile. Free hayrides to the pumpkin patch on weekday afternoons in October. Their fall festival is open weekends beginning in late September and throughout  October.  It has been running for more than 30 years. Festival has no admission fee and also includes musical entertainment, face painting and scenic hayrides through the woods. The address is 488 Anderson Hozak Rd., Clinton, PA 15026. This is 26 miles west of Pittsburgh.
Hurricane Hill Farm - Coatesville, PA
A fourth generation Chester County farm with corn field maze and pick your own pumpkins. They also have hay rides, corn slide and farm animals. The address is 704 E. Reeceville Road, Coatesville, PA. It is located 46 miles west of Philadelphia.
JB Tree Farm - Alexandria, PA
Open on weekends and weekday afternoons from late September through October. Pumpkins from the field and five acre cornfield maze takes between 45 minutes and two hours to navigate. Maze Game offers a prize for those who find all the hole punch stations in the cornfield. Moonlight maze is open late on Friday and Saturday nights. Harvest play area offers hay pyramid, tunnels, wooden train, swings, playhouse and beanbag toss. Also meet their Miniature Donkeys and Nigerian Dwarf Goats. Unlimited access to the maze, hayrides and play area. Shoot the pumpkin slingshot for an additional fee. They are located at 7880 Barker Road, Alexandria, PA 16611 which is 20 miles east of Altoona.
Kohler Farms - Prospectville, PA
Enjoy the fall pumpkin patch and hayrides starting in late September.  Kohler Farms is run by Pat Kohler and her son Nathan, whose family has been farming in Bucks and Montgomery County for seven generations. The current Horsham township location has been a working farm for more than 70 years. In the fall, they offer a 20 minute weekend hayride and u-pick pumpkins. They are located at 1262 Limekiln Pike, Prospectville, PA. This is 31 miles north of Philadelphia.
Linvilla Orchards - Media, PA
Pumpkinland is their annual fall event and it begins this year in early September.  They have both pick your own and farm store fruits and vegetables. They have pumpkins of all shapes and sizes but you can not pick them from the field. Concession stands, a garden center store, ice cream shop, bakery, and plenty of farm fun. Little kids enjoy the The Barnyard and Playland Playground areas. Take a train ride, enjoy mini golf, take a pony ride, explore The Planet museum. Their big event is Pumpkinland which runs from the second weekend in September through early November. It is full of pumpkins, apple picking, decorations, toys, corn mazes, and hayrides. This is a popular fall activity for Philly residents due to its proximity to Center City.
Maize Quest Fun Park - New Park, PA
Pick your own pumpkin off the vine. They grow more than 10,000 pumpkins. So every pumpkin on the farm is priced at $10 or less. Guests get a free wagon ride to the pumpkins on Saturdays and Sundays during daylight hours. The theme for the corn maze is Secret Agent. Flashlight nights will tempt guests into the maze on Friday and Saturday. Fall Farm Admission is per person and includes 25+ Fun Park activities, corn maze and hayride (in pumpkin season). Fun Park activities include mazes, punchin' pumpkins, pedal karts, cow train and gem mining. The farm also offers a u-pick apple orchard, with a total of 28 acres of apple trees.
Masonic Village - Elizabethtown, PA
Pick your own pumpkins and apples in September and October. The Farm Market also sells fresh produce and a variety of other food products. The address is 310 Eden View Road, Elizabethtown, PA 17022. This is 22 miles southeast of Harrisburg.
Mast Farms - Morgantown, PA
The main feature is the three mazes cut within 12 acres of corn. However, they also have a pumpkin patch with the all you can carry pumpkin challenge. They also have a hay ride, straw mountain, zip lines, pumpkin painting and petting zoo. They are open Friday and Saturdays starting around the middle of September. The address is 2715 Main Street, Morgantown, PA 19543. This is 16 miles south of Reading.
Maylath Farm and Orchard - Sugarloaf, PA
Fall season opens in late September.  Ride the hayride to the pumpkin patch and corn maze. See the corn cannon and apple slingshot. Let your kids play on the haybales, play ground, take a pony ride, or pet the farm animals. They also feature a large corn maze. They also have pick your own apples and feature their own cider mill.  Check their web page for their apple picking times.  The farm is at Rock Glen Road, Sugarloaf, PA which is 27 miles southwest of Wilkes-Barre.
Mazezilla - Saylorsburg, PA
An eleven acre corn maze at Klingel's Farm with pumpkin picking, hayride, mountain slides and farm animals. The location is at 415 Old State Route 115, Saylorsburg, PA. This is 28 miles northeast of Allentown.
Milky Way Farm - Chester Springs, PA
Milky Way Farm is a 103 acre family farm run by the Matthews family for four generations. In the fall, they host Pumpkin Harvest Season at their u-pick pumpkins and corn maze. They offer both both pumpkins off the vine in the 10 acre field and pre-cut pumpkins for sale. Free hayrides are offered on weekends to the pumpkin picking. There's also farm animals and fam fresh ice cream. They are located at 520 East Uwchlan Ave., Chester Springs, PA 19425. It is 34 miles west of Philadelphia.
Old Homestead Tree Farm - Lehighton, PA
This tree farm offers a pumpkin picking patch on weekends in October with hay rides, pony rides, boat rides and corn maze. It has been a farm since the late 1700s. The address is 1165 Stroh's Valley Rd., Lehighton, PA 18235. They are 31 miles north of Allentown.
Paulus Farm Market - Mechanicsburg, PA
A u pick pumpkin patch on Saturdays and Sundays beginning around the middle of September. Tractor-pulled hayrides, corn maze (approximately ten minutes to navigate), hay play area, slide and climb area, mini straw maze, farm animals and fun fort greenhouse included in the per person farm admission. Additional charge for pumpkins and the pumpkin chunker. The location is at 1216 S. York St., Mechanicsburg, PA 17055. This is 10 miles southeast of Harrisburg.
Risser-Marvel Farm Market - Annville, PA
A family owned business in Lebanon Country growing 40 acres of fruits and vegetables. Pumpkin picking from their patch is available in season. Games, clues and secret decoders help visitors make their way through the cornfield maze. Other family events include hayrides, rubber duck races, corn box and trike track. Their location is at 2425 Horseshoe Pike, Annville, PA 17003. It is 19 miles east of Harrisburg.
Rohrbach's Farm Market - Catawissa, PA
This farm features events all summer and fall. They are known for their bakery and gift shop onsite. They have party facilities and host many local school farm tours. In the fall they feature their pumpkin patch and corn maze. Some of their festivals includes a Pumpkin Fall Festival, their Peach Fest in August, Summer Festival and Strawberry Social both in June, and Relay For Life event in May. Their address is 240 Southern Drive, Catawissa, PA. They are about 60 miles west of Scranton.
Savidge Farms - Mertztown, PA
Enjoy a hayride to the pumpkin field this fall at Savidge Farms. There is also a corn field maze, miniature golf course and farm animals. It is a 250 acre agricultural farm convenient to locations in Berks and Lehigh Counties. The address is 1710 State Street, Mertztown, PA 19539. This farm is 16 miles southwest of Allentown.
Schramm's Farms and Orchards - Jeannette, PA
This Jeannette farm's fall festival has a pick your own pumpkin field, apple picking, play hay and corn stalk maze. It is open October 1st through October 31st. There are also pony rides and hay rides. The market offers apple cider made from their own apples. A family owned and operated farm that has been growing fresh fruits and vegetables in the Pittsburgh area since 1864. The address is 1002 Blank Road, Jeannette, PA. It is 24 miles east of Pittsburgh.
Seiple Farms - Bath, PA
Pick your own pumpkins starting the last weekend in September at this family owned and operated farm since 1889. Open most Friday, Saturday and Sunday's this fall.  Other activities include an 18 acre cornfield maze, hayrides, pony rides, a haunted barn and farm animals. The address is 5761 Nor Bath Boulevard, Bath, PA. The farm is 10 miles northeast of Allentown.
Shady Brook Farm - Yardley, PA
U-pick pumpkins and enjoy a wagon ride at PumpkinFest held at Shady Brook Farm. Corn maze, apple picking, giant jumping pillows, straw maze, pig races (weekends) and more! At night on the weekends, the farm becomes haunted with HorrorFest, offering four attractions including a haunted hayride and haunted barn. This is one of our favorite attractions because they have so many fall things to do. Lots of daytime activities both for kids and adults. Attraction opens weekends the middle of September and daily from early October through Halloween. The address is 931 Stony Hill Road, Yardley, PA 19067. It is 29 miles northeast of downtown Philadelphia.
Shenot Farm - Marshall Township, PA
A sustainable farm located 16 miles north of Pittsburgh. On weekends in the fall, they offer free hayrides to their patch and corn maze. They grow 25 varieties of apples, including several that ripen during pumpkin season. Try their apple cider, which was awarded first place at the apple cider contest at the Mid-Atlantic Fruit and Vegetable Convention. They also make fifty varieties of homemade fudge. This Wexford farm has been operated by the Shenot family since 1854. Open the last weekend in September and every weekend in October, plus Columbus Day. They are physically located at 3754 Wexford Run Road, Marshall Township, PA.
Sisson's Pumpkin Patch - Girard, PA
Enjoy their corn maze, hay ride, pedal karts, corn box, slides, straw fort, obstacle course and logic maze. Open Saturday and Sunday, plus Columbus Day, from the middle of September through Halloween. Pumpkin slingshots are available at an additional cost. The Patch has been providing fall fun for families since 2010. Their family has owned the property since 1966. Their address is 11244 Springfield Road, Girard, PA 16417. It is 24 miles west of Erie.
Soergel Orchards - Wexford, PA
Pick your own pumpkins and hayrides. Hot apple cider and amish-made donuts. Full scale bakery offers fresh baked pies seven days a week. They also sell Amish furniture and a line of natural, wheat-free, gluten-free and allergen-free products. The first Wednesday of each month is Customer Appreciation Day, with 10% off. About the farm: It was started in the mid-1850s when their family settled on the land and began planting apple trees. The address is 2573 Brandt School Rd., Wexford, PA. It is 15 miles north of Pittsburgh.
Solly Farm - Ivyland, PA
The fall event starts in late September with apple picking and pumpkin picking.  A pick your own farm with a bakery, greenhouse, hayrides and fall events. The address is 707 Almshouse Road, Ivyland, PA. It is 28 miles north of downtown Philadelphia.
Sugartown Strawberries - Malvern, PA
The farm is open everyday starting in late September.  Sugartown Strawberries is located on Willisbrook Farm, a 230 acre Chester County working farm. Select your pumpkins from the patch after a tractor-drawn hayride wagon ride on weekends from late September through Halloween. The address is 650 Sugartown Road, Malvern, PA which is 29 miles west of downtown Philadelphia.
Triple B Farms - Monongahela, PA
Just 21 miles south of downtown Pittsburgh, there's a pick-your-own farm offering the ability to pick fruit from May through October. Starting the year with strawberries and raspberries, they offer annual corn maze with apple and pumpkin picking on weekends in September and October. They have the standard farm fare of course, with hayrides, farm animals and a playground for kids. But they offer so much more such as Spookley, the Square Pumpkin Weekend (first weekend in October)! Take a walk through Storybook Pumpkinland, with 250 pumpkin-headed characters from nursery rhymes and children's, too. We're sure they have more fun planned for the rest of October where it will be action-packed!
Walker's Tree Farm - Lehighton, PA
A 200 acre, fourth generation family farm that opens starting the first weekend in October for pumpkin picking. Belgium Horse Drawn Hayrides the first two weekends in October.  It is located at 308 Spruce Street, Lehighton, PA 18235. This is about 23 miles northwest of Allentown.
Way Fruit Farm - Port Matilda, PA
They host a fall festival every 2nd and 3rd Saturday in October. Free wagon rides out to the patch for pumpkin picking or apple orchard. Petting zoo, craft vendors and apple slingshot. Baked goods including apple dumplings available. Additional food provided by the Lions Club. 10 percent of earnings go to a Dominican Republic orphanage. The first Saturday of October is Apple Cider Demonstration Day. Their address is 2355 Halfmoon Valley Rd., Port Matilda, PA. It is 35 miles northeast of Altoona.
Weakland Farms - Portage, PA
Five acre pumpkin patch offers a variety of pumpkins for you to cut off the vine. Pre-picked pumpkins also available near the barn. Six acre cornfield maze with trivia questions has been losing guests for more than ten years. 15 minute tractor pulled wagon ride covers three miles of the scenic countryside. Feed the barnyard animals while you learn about them. Crafts and fall decorations available for sale. Free parking. General admission is $7 per person, with children three and under free. Open Thursday through Sunday from mid-September through late October. They are located at 582 Munster Road Portage, PA 15946. It is 26 miles west of Altoona.
Winding Brook Farm - Warrington, PA
A fourth generation dairy farm in Bucks County in operation for more than 110 years. They have invited guests to their 200 acres for fall agritainment for more than ten years. They have u-pick pumpkins with daytime hayrides and a five acre corn maze. At night, the maze and hayride turn haunted! The pumpkin patch is open throughout October on weekends and select days. The corn maze and other activities start in August. This is another great place to visit. The address is 3014 Bristol Road, Warrington, PA. It is located 35 miles north of downtown Philadelphia.
Raub Farm – Easton, PA – 14 Acres, Multiple Mazes Haunted
The Raub Family has been farming in the Palmer Township area since 1928. There are three paths with 6 miles of trail through their 14 acres of cornfusion. Enjoy a hayride around the cornfield or a trip to the pumpkin patch.
Location: 1459 Tatamy Road, Palmer Township, Easton, PA 18045
Bear Rock Junction – New Tripoli, PA – 2+ acres
Hayrides, scavenger hunt games, super trike races and launching apples. Bear Rock Junction also offers mini golf and go karts. Location: 8181 Route 309, New Tripoli, PA
Wilcox Farms – Boyertown, PA – 25 Acres, Multiple Mazes
There are over 8 miles of trails through the 25 acres of corn here. For small children, there is a mini maze as well as a hay bale maze. Enjoy a hay ride too! Location: 1134 Reading Avenue, Boyertown, PA 19512
Cherry Crest Farm – Ronks, PA – 5 Acres
Average time to complete the maze with 2.5 miles of trails, scenic bridges and clues is one hour. Flashlight maze offered on Friday and Saturday evenings in the fall. 50+ farm fun activities in the barnyard and courtyard. Fall harvest festival offers additional activities like pumpkin picking, pony rides, corn cannon, face painting for an additional cost.
Location: 150 Cherry Hill Road, Ronks, PA 17572
Flinchbaugh's Orchard and Farm Market – Ducktown, PA – 5 Acres
Location: 110 Ducktown Road, Hellam, PA 17406 Corn maze with scavenger hunt.  Pick your own pumpkin patch and apple orchard, pumpkin painting, wagon rides, corn boxes, face painting, trike course, children's games and activities.
Oregon Dairy – Lititz, PA
On Friday and Saturday evenings, it is a bring your own flashlight maze. Tractor and wagon ride to the pumpkin patch, pumpkin painting, tractor barrel rides and pedal tractor rides. Oregon Dairy is a working Lancaster County farm started by Mr. and Mrs. Earl D. Hurst. Location: 2900 Oregon Pike, Lititz, PA 17543
Stoner's Dairy Farm – Mercersburg, PA – 5 Acres
A Franklin County dairy farm founded in 1942 that runs a 5 acre corn maze. Last year's theme was a castle. On Friday nights, they do flashlight nights or haunted maze nights (near Halloween). Hayrides, petting zoo, play area and corn cannon. Special events: They hold a Miss Harvest Farm Festival Pageant and a cornhole tournament.
Location: 7678 Oellig Road • Mercersburg, PA 17236
The Market at Delaware Valley College – Doylestown, PA
Corn maze, pumpkin picking and wagon rides to the pumpkin patch. Moonlit wagon rides, flashlight maze and bonfires in the evenings. Select weekends feature special events like giant pumpkins and scarecrow making.
Location: 2100 Lower State Rd., Doylestown, PA 1890
Roba Family Farm – Dalton, PA – 5 Acres
Their annual harvest festival has a corn maze, pumpkin patch and other activities. In addition to the main maze, they also do a moonlight flashlight maze, mini-maze for kids and a hay maze. Other fall attractions include pig races, barnyard animals, hayrides, singing chickens, jumpin' pillow, hay fort, tetherball and ballcade court. They run a number of special events including Ronald McDonald Mascot Day, Military Appreciation Day, Scouts Day, Pink Ribbon Pumpkin Day and the Trick or Treat Parade. Pumpkin cannon, gem mining, pony rides and face painting are available on weekends for an additional fee.
Yatsonsky Farm Market and Ice Cream – Honesdale, PA
Given the current virus they appear to be closed until further notice.  A third generation family farm that has a fall corn maze, u-pick pumpkin patch and hay rides in Wayne County. Formerly a dairy farm, they now raise beef cattle, make homemade ice cream and grow vegetables.
Location: 1009 Owego Turnpike, Honesdale, Pennsylvania 18431
Zembrzycki Dairy Farm – Herrick Center, PA – 7 Acres
A Northeast Pennsylvania dairy farm run by Bernie and Linda Zembrzycki and their children/family. They have a 7 acre challenge maze with 12 stations to locate in the maze. The corn maze has been running since 2009.  They also have a vegetable stand, 2 acre pick your own pumpkin patch, hay bale tower and paintball range. Located six miles from the Elk Mountain Ski Resort. Location: 16229 State Route 374, Herrick Center, PA 18430
Reading
Allentown
Scranton – Wilkes-Barre – Williamsport – Bloomsburg
Harrisburg – Lancaster – York – Gettysburg
State College – Altoona – Johnstown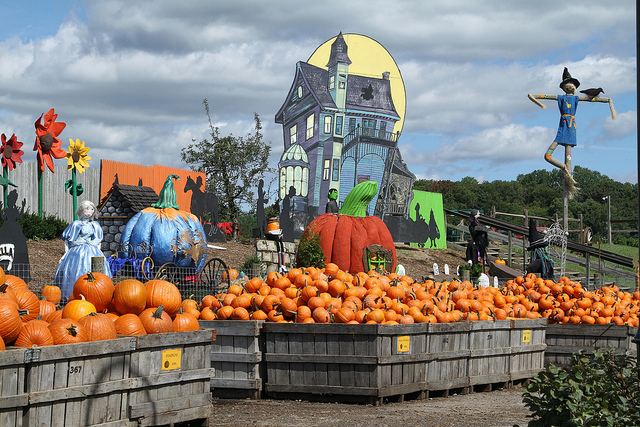 Check out Black Friday ads, Cyber Monday ads, and holiday sale prices from 100 top retailers this Christmas season.
Shop for Pumpkin Products
Shop Funtober for Halloween Costumes