Find pumpkin patches near Houston, Austin, San Antonio and Dallas-Fort Worth on our list of Texas "pumpkin patches near me". Enjoy a day on the farm with your friends and family, take a hayride out to the pumpkin patch, and pick out the perfect pumpkin to carve up. Indulge in the rest of the fall fun offered by your local farmer and end the day with a photograph to remember it forever.
Support your local farm this October and pick your own pumpkins at one of these pumpkin patches. Last Major Update:
Pumpkin Patches
Barton Hill Farms - Bastrop, TX
A farm with fall activities including a huge corn maze, pick your own pumpkins, and fall festival fun. They have Kayaking the Colorado, pony rides, super slides, farm animals, roping, a pirate ship, and an old Texas fort on site. The address is 1115 Farm to Market 969, Bastrop, Texas 78602. They are located 29 miles east of Austin.
Black Creek Farms - Decatur, TX
The Badger Family Farm owns and operates the Black Creek Pumpkin Patch. They have a big selection of pumpkins as well as hay ride, petting zoo, fish ponds, pedal car track, maze, barrel train rides, maze, and duck races. The address is 2324 Old Decatur Road, Decatur, Texas. This is 47 miles north of Fort Worth.
Blase Family Farm - Rockwall, TX
A 13 acre lush pine farm where you can pick your pumpkin in the fall. Other activities to enjoy include the hayrides, petting zoo and kiddie train rides. The address is 1232 East Fork Dr., Rockwall, TX 75087. They are 25 miles east of Dallas.
Blessington Farms - Simonton, TX
Lynne and Dave Johnson started this farm located 20 minutes west of Katy in 2011. They run a fall festival and pumpkin patch from late September to October 31st. Find your favorite pumpkin in the patch and enjoy a hay ride, hay maze, giant slides, barrel train rides, pedal cars and Sand Mountain. They rest of the year they have berry picking, fishing, animal encounters, farm education, and activities. They are located at 510 Chisolm Trail, Simonton, Texas 77476. This is about 39 miles west of downtown Houston.
Braune Farms - Seguin, TX
They feature all types of fresh farm produce. They open their pumpkin patch for pick your own a few days in October. Check their facebook page for the dates. They are located at 1300 Link Rd., Sequin, Texas. They are 42 miles east of San Antonio.
Dewberry Farms - Brookshire, TX
This corn maze near Houston offers 30 plus fall fun attractions for families. An 8 acre maze and an 8 acre pick your own patch for pumpkins. Fun includes wagon rides, horse carousel, gem mining, pig races, barnyard animals and children's playground. See more than 500 lighted pumpkins in their Pumpkin Hollar. Open on weekends from late September to November. They also sell Christmas trees in season. Located west of Katy at FM 362 & Morrison Rd., Brookshire, TX 77423. This is about 44 miles west of downtown Houston.
Elves Farm - Denison, TX
A christmas tree farm and pumpkin patch located one hour north of Dallas. Each year they have over 80,000 pounds of pumpkins. Other activities include the farm zoo, maze, hay jump, hay ride and sack races. The address is 601 Harvey Ln., Denison, Texas. 75020.
Evergreen Farms Christmas Trees - Elgin, TX
A huge Christmas tree farm open weekends in October with a Pumpkin Hunt, wagon ride, decorating, and games. The address is 242 Monkey Road, Elgin, Texas 78621. They are 26 miles east of Austin.
Flower Mound Pumpkin Patch - Flower Mound, TX
The Double Oak Ranch hosts this pumpkin patch with hundreds of pumpkins, hayrides, hay bale mazes, bounce houses and face painting. They are open daily from October 1st through 31st.
Good News Pumpkin Patch - San Antonio, TX
A huge annual event pumpkin patch located at 11020 Old Corpus Christi, San Antonio, Texas. There are several events in October including movies in the patch, hayrides, moon bounce, costume contest, and candy. They are part of the Good News Lutheran Church.  Given the current virus they are likely to have a low key non-ride event in 2020.
Love Creek Orchards - Medina, TX
This pick your own fruit farm sells pre-picked pumpkins in the fall. The Great Hill Country Pumpkin Patch offers hayrides, petting zoo, hay bale maze, apple orchard tour, pumpkin painting and cider mill. Additional fee for pumpkins, face painting (weekends), pony rides, barrel trains and animal feed. About the Farm: Run by Baxtor and Carol Adams, who converted the cattle ranch they purchased in 1980 to a popular apple orchard when they discovered the land was overgrazed. The address is 13558 State Highway 16N, Medina, TX 78055. This is about 66 miles west of San Antonio.
Oil Ranch - Hockley, TX
Pumpkin and Scarecrow Festival open daily in October selling pre-picked already gathered pumpkins in a huge field plus fall activities for parties and corporate events. The address is 23501 Macedonia Road, Hockley, TX 77447. It is about 43 miles northwest of Houston.
Pike Creek Pumpkin Patch - Pipe Creek, TX
Located between San Antonio and Bandera, this tree farm also sells pumpkins in on weekends in October. There are hayrides, farm animals, hay jump, dress a scarecrow and pumpkin painting. Admission is $6 with additional cost for some activities. The address is 805 Phils Road, Pipe Creek, TX. It is about 45 miles northwest of San Antonio.
Sweet Berry Farm - Marble Falls, TX
A pick your own strawberry farm in the Spring and pumpkin patch in Fall with a four acre hayfield maze.
The Jersey Barnyard - LaGrange, TX
The farm is open year around for farm tours and their fabulous farm store. The Pumpkin Patch is open the last week of September through October. It features pumpkin picking, decorating, and fall décor. The address is 3117 State Hwy 159, LaGrange, Texas 78945. It is about 64 miles east of Austin.
Yesterland Farm - Canton, TX
A locally owned farm by Chuck and Kama Bozeman with a fun fall festival happening on weekends beginning in late September through the middle of November. Their website says it is famous for its pumpkin patch. It boasts a huge list of farm activities including a three acre corn maze, rock wall, gem mine, pumpkin launcher, corn cannon, wagon train rides, face painting, pony rides, petting zoo, and pig & duck races. The location is 61 miles east of Dallas. The address is 15410 Interstate 20, Canton, TX 75103.
P-6 Farms – Montgomery, TX
Two mazes cut into eight acres of corn. The smaller maze is 2 acres.
Maxwell's Pumpkin Farm – Amarillo, TX
Darrell Maxwell and Larry Borger started this farm in 1997 and started planting pumpkins in 2007. In addition to the maze and pumpkin patch, there are hayrides, hay pyramid, zip lines, pumpkin jumper, farm animals and other farm fun.
At'l Do Farms – Lubbock, TX
It takes a little over an hour to navigate (or 45 minutes with a map).  Hayride, pumpkin picking, corn cannon, cow train, horse rides, haybale maze and barnyard. Special illuminated pumpkin design show on Friday through Sunday nights.
Fiddlesticks Farms – Midland, TX – 15 Acres
Matt and Jessica Norton run Fiddlesticks Farm. In addition to the 3 phase maze, they have a pumpkin patch, pig races, hay rides, and a cow train.
South Texas Maize – Hondo, TX – 7 Acres
The Graff Family Farm near San Antonio has, in addition to its corn maze, hayrides, pumpkins and more fall fun.
Hall's Pumpkin Farm – Grapevine, TX – 2 Acres
A working farm started in 1929. There is a small corn maze that takes 15-20 minutes to complete on this Tarrant County pumpkin farm.
Farm Owner? Advertise Here
More than 600,000 people came to Funtober last year looking to visit a farm.If you run a pumpkin patch, corn maze or apple orchard, we can help increase attendance through a sponsored listing,coupon giveaway, cross-promotion or other creative marketing initiative. Special deals for nonprofits. Please see our advertising page or contact us for more information.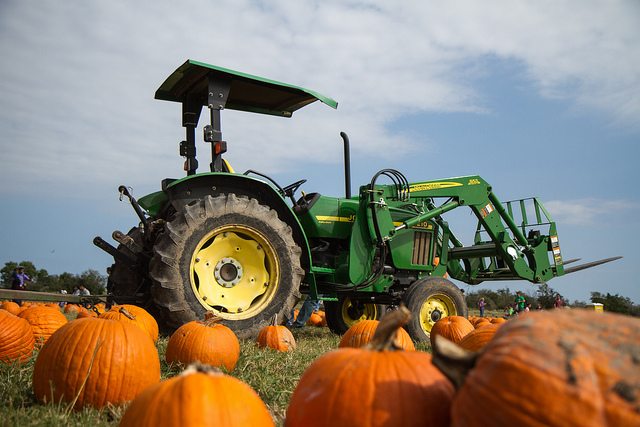 This list unfortunately isn't complete. We are still looking for more pumpkin patches in Texas to add.
We have provided a link to the website for these pumpkin patches. Please use it to confirm the hours open, location, cost and attractions available at your local Texas pumpkin patch. Some pumpkin patches are open limited hours. We don't want anyone showing up to find that the farm is closed!
We try to only include those farms which have u-pick pumpkin sections. There's no need for us to include every Walmart or Home Depot selling pumpkins, is there? In Texas, there are many churches which have pumpkin events and sell pre-picked pumpkins.
Check out Black Friday ads, Cyber Monday ads, and holiday sale prices from 100 top retailers this Christmas season.
If your pumpkin patch has been left off this list, leave the information through the comment form below or send it to me via the contact page.
Find nearby Arkansas pumpkin patches, Louisiana pumpkin patches, New Mexico pumpkin patches and Oklahoma pumpkin patches.
If you have fun at one of these pumpkin patches and don't want the fun to end, see our list of pumpkin festivals. And after you have found your pumpkin, be sure to check out our pumpkin carving guide and pumpkin recipes.
Shop for Pumpkin Products
Shop Funtober for Halloween Costumes