Haunted Houses in Washington State for Halloween 2017
Find our complete list of Halloween haunted houses in Washington state for 2017 here at Funtober.  We list all the popular haunted attractions including haunted trails, haunted houses, haunted hayrides, haunted corn mazes, and other popular Halloween events.  Expect to find Hollywood type set designs, air blasters, live actors, animatronics, and creepy costumes.  There are more than a few vampires, zombies, clowns, monsters, and creatures running around these haunt venues.  The vampires at haunted houses in Washington state 2017 are always ready to scare visitors to their humble abode.  In fact, you might say that they are evergreen, like the state's nickname, in that they relive the excitement of scaring their first person with every subsequent individual.  Care to donate a little blood?
We have separate attraction links and listings for haunted houses USA,  haunted corn mazes, haunted trails, haunted zombie paintball, haunted forests, haunted hayrides, and ghost tours.
Last Update:
[fsb-social-bar facebook="true" twitter="true"]
Haunted House Owner? Advertise Here.
Do you run a haunted house in the United States? More than 150,000 people came to Funtober last year looking for a haunted attraction to attend in September or October. We can help increase attendance at your business or event through a sponsored listing, coupon giveaway, cross-promotion or other creative marketing initiative. Special deals for nonprofits. Please see our advertising page or contact us for more information.
Best Haunted Attractions in Seattle, Spokane, Vancouver, Yakima
Brads Boo Barn Haunted House - Spanaway, WA
The barn is open every Friday and Saturday night starting October 7th from 7 pm until 10 or 10:30pm. Attraction is again new for 2016. It uses an old schoolhouse and 6 acres to bring terror to your family. Tickets are $10.
Carletons Fright Farm - Lake Stevens, WA
Gee what could be more creepy than a haunted swamp? There are three attractions featured here. Tickets are $16 online for the Haunted Swamp, $13 for the Zombie Farm, and $12 for the no haunt dark maze. A triple combo ticket costs $27. Box office open at 7 pm and closes at 10 pm. Attraction is open every Friday and Saturday nights from October 1st plus a few other nights. They also have a great zombie paintball feature.
Fright Factory - Buckley, WA
Realistic and horrifying show put on as a charity benefit. Tickets are $12. Attraction is open October 1st. They are open Friday, Saturday, and Sunday nights in October plus a couple other nights during October. This is an all updated haunt at their same location facility. This year's theme is Malice in Wonderland.
Frightville Haunt - Oak Harbor, WA
Frightville is located at the Roller Barn and put on by the Boys and Girls Club of Oak Harbor. The haunt is open on Friday and Saturday nights.
Halloween Hellmouth - Lakewood, WA
Paranormal activity takes place in the house once occupied by Charlotte Bacon who is rumored to have dabbled in black magic. Charlotte was murdered by Otto during a two week battle with the underworld in October. Now each year the Hellmouth reopens as Otto, the undead, and Charlotte are freed to wreak havoc on the small town of Lakewood. Stop by if you dare. Doors are open from 6:00 pm until 10:00 pm.
Haunted Forest of Maple Valley - Maple Valley, WA
The Haunted Forest is a scary mile long "haunted trail" that supports local community groups in the area. It is held at Royal Arch Park on Friday and Saturday nights starting on October 1st. It opens at 7 pm and closes at 11 pm on weekends and 9 pm on Halloween. A less scary hour is held 5-6 pm on Saturdays. Admission is $15.
Haunted Nightmare at the Nile - Terrace, WA
Haunted Nightmare is at the Nile Shrine Golf Center. It is really a haunted house, haunted trail, haunted corn maze event all at Craven. The Haunted Nightmare 3D haunt has a ticket for $18 on Friday and Saturday. Hours are from 7 pm to 11 pm on Friday and Saturday nights for a full scare plus a few other nights. Starts running October 7th.
Haunted Trails at Bastyr University - Kenmore, WA
Featured haunts include Haunted Woods, Hades Labyrinth, Circus of Horrors, Cemetery Hall, and Mummy Tomb. This is the 17th year for this local popular event.
Hell's Gateway Haunted House - Tacoma, WA
Scare is timed and controlled by movement, sound, and a central computer. Lots of actors and props with fantastic technology to put the scare into you. Doors are open from 7 pm until 12 am. Attraction is open on Friday and Saturday nights.
Kitsap Haunted Fairgrounds - Bremerton, WA
The Kitsap Haunted Fairgrounds has been open for 14 years. The fairgrounds are open Friday and Saturday nights from October 7th. The open times are 6 pm to 11 pm. Tickets are $15, early bird $12, or lights on at 5 pm for $5. All proceeds benefit North Kitsap Rotary projects.
Kube 93FM Haunted House - Seattle, WA
Located at the old Georgetown Morgue, the attraction opens late September. Doors generally open at 7 pm. Check schedule on website for both opening and closing times which vary greatly by day.
Madd Hatter's Haunt - Union Gap, WA
They are working hard to get their haunt built for 2016 but at this point there are no open dates. Check their web page or facebook for updates.
Mill Creek Haunted Hollow - Mill Creek, WA

My Morbid Mind Haunted House - Lacey, WA
This is the 13th year for the haunted house My Morbid Mind. My Morbid Mind is opens at 7 pm and closes at 11 pm on the weekends and 10 pm on other nights. Tickets are $12 to $13 depending on the date.
Nightmare at Beaver Lake - Sammamish, WA
Nightmare is a 100% all charity and all volunteer haunted attraction. The full scare attraction runs from 7 pm until 10 pm or 11 pm nightly. They are advertised as the most terrifying haunted house on the eastside. Full Scare tickets are $18. Runs Friday, Saturday, and Sunday nights starting October 14th.
Nightmare on 9th - Snohomish, WA
The Snohomish Slaughter House is the big attraction here following the gruesome death of one of the brothers. Tickets are $18. They are open Friday and Saturday nights from 7pm – 12am or 10pm on other nights. The fun starts October 1st plus some daytime hours. Please check their web page.
Pasco Jaycees Haunted Forest - Pasco, WA
The Jaycees operate the Haunted Forest every Friday and Saturday night from October 7th. The attraction is open from 7 pm to 11 pm. You can find this haunt at the Sacajawea State Park in Pasco. Admission tickets are $13.
Scaregrounds - Kennewick, WA

Scream Fair Halloween Haunt - Lynden, WA
Scream Fair is house of horrors Halloween haunt. It opens in October. Doors are open from 6:30 pm to 10:30 pm. Will you escape from the Dead Block? Note we have not seen updates on their 2016 dates.
Shadows Haunted Fright House Station - Tacoma, WA
Shadows is new with two scary heart pounding attractions located at the Annex Square Mall. Shadows Dare the Dark Maze and Bloody Mary are both unique attractions. Open 14 nights this year on Thursday, Friday, and Saturday nights starting on October 6th. Tickets are $15.
Stalker Farms - Snohomish, WA
Stalker Farms is themed as "Corn Fed Horror". They offer 2 haunted attractions plus a non haunted corn maze as one packaged ticket and the paintball event The Hunt for Zombies as a separate ticket. With either ticket you can walk the corn maze. It takes about 15-20 minutes to go through each attraction. Field of Screams and The Last Laugh both are haunts you can expect to find darkness, fog, loud sounds, strobe lights, and scary actors. Yes the Zombies are real and scary. Stop by any Friday and Saturday or some Thursday and Sunday nights in October beginning October 8th between 7 pm – 10 pm for the fright of your life. Double Dare tickets are $19.95. They offer a combo Double Dare and No Scare for $24.45. Check the website for Zombie paintball tickets.
State By State List of Halloween Haunted Houses
More Haunted Attractions
If you live in Southern or Eastern Washington, you may want to also consider a few more options on your haunted house search.
Haunted Houses in Idaho
Haunted Houses in Oregon
Find other fun things to do in Washington in October:
Oktoberfest in Washington
Washington Festivals
Washington Corn Mazes
Washington Ghost Tours
Pumpkin Patches in Washington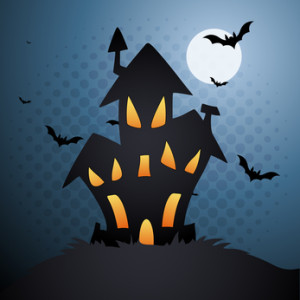 Help Me Out
Have you been to one of these haunted houses? Future readers would be interested in hearing what you thought. Did you have a great experience? Was it worth the money? Would you recommend it to others? Any tips to maximize your experience? I'll gladly publish what you send me and give you a super dooper hug.
If you are the owner or employee of a haunted house in this directory, or one I missed and need to add, I would love to have more information about the haunted house, photos, dates/times/hours for 2017, etc. Use the contact form to get in touch and I'll tell you where to email your answers to these questions.