Haunted Houses in Washington State for Halloween 2020
Find our complete list of Halloween haunted houses in Washington state for 2020 here at Funtober. We list all the popular haunted attractions including haunted trails, haunted houses, haunted hayrides, haunted corn mazes, and other popular Halloween events. Expect to find Hollywood type set designs, air blasters, live actors, animatronics, and creepy costumes. There are more than a few vampires, zombies, clowns, monsters, and creatures running around these haunt venues. The vampires at haunted houses in Washington state 2019 are always ready to scare visitors to their humble abode. In fact, you might say that they are evergreen, like the state's nickname, in that they relive the excitement of scaring their first person with every subsequent individual. Care to donate a little blood?
[DISPLAY_ULTIMATE_SOCIAL_ICONS]
Seattle Haunted Houses
Brads Boo Barn Haunted House - Spanaway, WA
The barn is open every Friday and Saturday night starting in October. It's open from 7 pm until 10 or 10:30pm. Attraction returns for 201 with 3D Slaughterhouse and Zombie Paintball attraction. It uses an old schoolhouse and 6 acres to bring terror to your family.
Carletons Fright Farm - Lake Stevens, WA
Farm Fright opens every Friday and Saturday in October 2019.  Gee what could be more creepy than a haunted swamp? There are three attractions featured here. Tickets are online for the Haunted Swamp, Zombie Farm, and the no haunt dark maze. A triple combo ticket is available. Oh they have added Zombie Paintball.  Box office open at 7 pm and closes at 10 pm. Attraction is open every Friday and Saturday nights in October plus a few other nights. They also have great daytime farm activities daily.  This place is lots of fun.  Check their website for details.
Cinema of Horrors - Kelso, WA

Kelso's "Cinema of Horrors" voted the second "Must See" haunted house in Washington this Halloween season! Cinema of Horrors Haunted House, in its fourth year at Three Rivers Mall in Kelso, WA will return to haunt the old, abandoned Three Rivers Cinema starting every Friday and Saturday in October 2019. This year's frightful fun includes two haunted houses, family friendly trick-or-treat nights and more nightly fun! Tickets range from $10-$20 and $15 pre-sale tickets are available online now. "Dark Legends of New Orleans," their newest attraction, offers a blood-curdling, very dark trip back in time to historic New Orleans where voodoo, witchcraft, spirits and more are thought to lurk… The Cinema will offer a wide variety of yummy Halloween-themed fair food and deep-fried goodies. For families wanting a not-so-scary experience, the haunted house will offer "Trick-or-Treat Nights" for families with children under 13 years of age.
Fright Factory - Buckley, WA
Attraction opens up late September 2019.  A realistic and horrifying show put on as a charity benefit. Tickets are $15. Attraction is open Friday, Saturday, and Sunday nights in October plus a couple other nights near Halloween. This is an all updated haunt at their same location facility. Most of the haunt is indoors.
Frightville Haunt - Oak Harbor, WA
Haunt begins the last two weekends in October 2019. Frightville is located at the Roller Barn and is put on by the Boys and Girls Club of Oak Harbor. The haunt is open on Friday and Saturday nights.
Georgetown Morgue Haunted House - Seattle, WA
Season begins September 27th, 2019.  Located at the old Georgetown Morgue, The attraction runs Friday and Saturday nights in September and Thursday through Sundays in October.  Doors generally open at 7 pm. Check schedule on website for both opening and closing times which vary greatly by day.  Admission is $24 but combo options and discounts available. Upon delving deeper into the bowels of the Georgetown Morgue earlier this year, We unearthed a terrifying secret buried far beneath the blood splattered floor boards. Come take a tour and see what our Janitor's Rigger and Mortis have been hiding all these years. Wonder below at your own risk to see if you can escape the body strewn sewers and private janitorial quarters of the Georgetown Morgue.
Haunted Forest of Maple Valley - Maple Valley, WA
Opens for the season in late September 2019. The Haunted Forest is a scary mile long "haunted trail" that supports local community groups in the area. It is held at Royal Arch Park on Friday and Saturday nights in October. It opens at 7 pm and closes at 11 pm. A less scary hour is held 5-6 pm on Saturdays.
Haunted Nightmare at the Nile - Mountlake Terrace, WA
This October, we dig up your favorite ghouls along with a few newly deceased ones. The 2019 Nile Nightmares Haunted House will feature six updated Attractions. The Curse of the Nile, Slaughterhouse, Infernum, the Doll House, 3D Circus and the always terrifying, Ballinger Asylum. If that isn't enough, we dare you to solve our 5 minute escape rooms. Can you make it to the 13th floor in our all new state of the art Fright Elevator?  Open every Friday through Sunday in October 2019.
Kitsap Haunted Fairgrounds - Bremerton, WA
The fun begins on October 4th, 2019.  The Kitsap Haunted Fairgrounds has been open for 15 years. The fairgrounds are open Friday and Saturday nights in October plus Halloween.  The open times are 6 pm to 11 pm. Tickets are $15, or lights on at 5 pm for $5. All proceeds benefit North Kitsap Rotary projects.  New attractions are Slaughter House and Zombie Paintball.
Madd Hatter's Haunt - Union Gap, WA
Runs Friday and Saturday nights in October plus lots more Thursday, Sunday, and Halloween dates. Check their web page or facebook for updates. Tickets are $13.  This is an Asylum type haunt so expect to meet some deranged creatures. Join the Hatters on visiting day when they must come face to face with the person they have wrongfully committed or so they thought.  As the electronic gate clicks into the locked position behind you and the lights violently flicker off you may find yourself wondering if you'll be able to make your way back unscathed from the onslaught of Section 12 victims.
Mill Creek Haunted Hollow - Mill Creek, WA
They are a residential outdoor yard haunt which endeavors to entertain and amuse the public every year with Halloween fun and warmth.  Visitors are welcome to walk through the (grave)yard and enjoy the decorations, we also host a cider cart each year, which provides free hot cider to any and all who need a cup of warmth on a cold Halloween night.  Mill Creek is located in the Pacific Northwest; a gentle township nestled between Seattle and Everett, Washington. Most decorations come out in early October, but the week preceding Halloween is when we really show the yard haunt. We keep the basic lights on from dusk to 10pm leading up to Halloween. Halloween night, we have everything running, which includes audio and projections. We also serve free hot cider and give out candy to trick-or-treaters.
My Morbid Mind Haunted House - Lacey, WA
Enjoy this season with opening night on October 4th, 2019.  A 5000 square foot walk through haunted house. This is the 16th year for the haunted house.  My Morbid Mind is opens at 7 pm and closes at 11 pm on the weekends and 10 pm on other nights. Open Friday and Saturdays in October plus lots of Thursdays and Sundays.  Check Facebook for schedule and details.  Tickets are $9 to $15 depending on the date.
Nightfall Orphanage Garage Haunt - Seattle, WA
Mr. Black Presents: Nightfall Orphanage – Garage Haunt Experience – West Seattle, WA "Bad Children go to The Bad Place. " This refrain was common many years ago when Nightfall Orphanage still stood. Many in the community thought it was merely an archaic form of discipline for unruly children, until they began to realize. . . that all the children were bad. Mr. Black invites you to step back into the Bad Place, a gateway into the phantasmagoric realm of the Dark Reach that exists in the shadows between worlds. The radiant abyss where spectral echoes of what once was, and what should not be, materialize and take shape. They burned Nightfall Orphanage to the ground years ago. . . But sometimes evil rises from the ashes, some echoes never really fade, and some shadows never see the light. 7:30pm – 10:30pm October 18, 19, 25, 26, 31 & Nov 1, 2 Admission is free but we will be accepting non-perishable food donations for West Seattle Food Bank.
Nightmare at Beaver Lake - Sammamish, WA
The Nightmare begins with opening night on October 11th, 2019.  This haunt is a 100% all charity and all volunteer haunted attraction. The full scare attraction runs from 7 pm until 10 pm or 11 pm nightly. They are advertised as the most terrifying haunted house on the eastside.  It runs Friday, Saturday, and Sunday nights in October plus the 30th and 31st. Every year in October a fearsome shadow falls over Beaver Lake Park. A group of demented, dedicated volunteers crawl out of the dark to put on an event that will leave you screaming. Come see the Nightmare At Beaver Lake, the Seattle area's largest indoor/outdoor haunted house. Fear follows as you wind through a trail of terror nearly a mile long that leads you to a dreadful haunted house…
Nightmare on 9th - Snohomish, WA
The Snohomish Slaughter House is the big attraction here following the gruesome death of one of the brothers. They are open Friday and Saturday nights from 7pm – 12am or 10pm on other nights. The fun starts weekends in October plus some daytime hours. Please check their web page.  This place is big on zombie paintball and a haunted hayride.  This is part of the Thomas Family Farm entertainment complex.
Pasco Jaycees Haunted Forest - Pasco, WA
This "walk with the dead" begins early October 2019.  The Jaycees operate the Haunted Forest every Friday and Saturday night in October plus Halloween night. The attraction is open from 7 pm to 11 pm. You can find this haunt at the Sacajawea State Park in Pasco. Admission tickets are $13.
Scaregrounds - Kennewick, WA
Scaregrounds is a popular haunt held annually at the Benton County fairgrounds.  It feature great scares and lots of zombie paintball.  Open every Thursday, Friday, and Saturday nights beginning around October 10th, 2019 plus also open Halloween night. Tickets are $15 for the haunt.
Scream Fair Halloween Haunt - Lynden, WA
The season begins and runs on October 18th, 19th, 25th, 26th, and 31st, 2019. Scream Fair is house of horrors Halloween haunt.  Doors are open from 6:30 pm to 10:30 pm. Will you escape from the Dead Block? When the lights go down and the crowds go home….who is there to hear you scream? Come one! Come all! To the show everyone has been waiting for! Amongst the carnival wagons and midway rides there is a place no one wants to be in the dark, a place where only the brave, or possibly insane, would venture. We see you've made it this far so STEP RIGHT UP…You're welcome to join our circus… but remember you may never go home.
Shadows Haunted Fright House Station - Tacoma, WA
Opening night is September 27th, 2019.  Shadows is new with two scary heart pounding attractions located at the Annex Square Mall. Shadows Dare the Dark Maze and Redemption are both unique attractions. Open nights this year on Friday, and Saturday in October. Tickets are $17 for individual attraction or $25 for the combo option. Frighthouse Station is Tacoma's longest-running haunted attraction. You are cordially invited to step into two haunted houses – SHADOWS and The REDEMPTION – filled with nightmarish creatures, the shambling dead, the unnatural and unrelenting.  Take a moment to forget the nightmares of your life and enjoy the nightmares waiting for you inside – unexpected, waiting, without mercy. Are you ready?
Stalker Farms - Snohomish, WA
Stalker Farms is themed as "Corn Fed Horror".  They are open most Friday, Saturday, and Sunday nights in October.  Check web page for calendar details.  They offer 2 haunted attractions plus a non haunted corn maze as one packaged ticket and the paintball event The Hunt for Zombies as a separate ticket. With either ticket you can walk the corn maze. It takes about 15-20 minutes to go through each attraction. Field of Screams and The Last Laugh both are haunts you can expect to find darkness, fog, loud sounds, strobe lights, and scary actors. Yes the Zombies are real and scary. Stop by any Friday and Saturday or some Thursday and Sunday nights in October between 7 pm – 10 pm for the fright of your life. Double Dare online tickets are $19.95. They offer a combo Double Dare and No Scare for $24.45. Check the website for Zombie paintball tickets.
If you live in Southern or Eastern Washington, you may want to also consider a few more options on your haunted house search. Check our listings on your neighboring states and then head to a haunt in
Idaho
or
Oregon.
Find other fun things to do in Washington in October:
Oktoberfest in Washington
Washington Festivals
Washington Corn Mazes
Washington Ghost Tours
Pumpkin Patches in Washington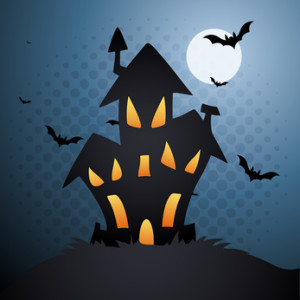 Check out the TOP 100 HAUNTED HOUSES FOR HALLOWEEN 2018 and our list of the Top 100 Haunted Houses 2017 in America.  Is your favorite haunted attraction on the top 10 and top 100 state list?
You may also be interested in our article on Haunted Houses and Horror Movies | History of Fear.
Add Your Feedback!
Have you been to one of these haunts? Future readers would be interested in hearing what you thought. Did you have fun? Was it worth the price? Would you suggest it to visitors here? Any tips to maximize your experience? I'll gladly publish what you send me and give you an over the Internet hug.
If you are the owner or employee of a house in this directory, or one we missed and need to add, we would love to have more information about your place, including the url, photos, dates/times/hours etc. Use the contact form on our advertising page to get in touch and we'll follow up if we still need your response to any of these questions.