Haunted Houses in Washington State for Halloween 2018
Find our complete list of Halloween haunted houses in Washington state for 2018 here at Funtober.  We list all the popular haunted attractions including haunted trails, haunted houses, haunted hayrides, haunted corn mazes, and other popular Halloween events.  Expect to find Hollywood type set designs, air blasters, live actors, animatronics, and creepy costumes.  There are more than a few vampires, zombies, clowns, monsters, and creatures running around these haunt venues.  The vampires at haunted houses in Washington state 2018 are always ready to scare visitors to their humble abode.  In fact, you might say that they are evergreen, like the state's nickname, in that they relive the excitement of scaring their first person with every subsequent individual.  Care to donate a little blood?
Featured Listing
Also check out our list of the Top 100 Haunted Houses 2017 in America.  Is your favorite haunted attraction on the top 10 and top 100 state list?
Last Major Update:
Haunted House Owner? Advertise Here.
Do you run a haunted house in the United States? More than 500,000 people came to Funtober last year looking for a haunted attraction to attend.  Please see our advertising page or contact us for more information.
Best Haunted Attractions in Seattle, Spokane, Vancouver, Yakima
Brads Boo Barn Haunted House - Spanaway, WA
The barn is open every Friday and Saturday night starting in  October.  It's open from 7 pm until 10 or 10:30pm. Attraction is again new for 2017. It uses an old schoolhouse and 6 acres to bring terror to your family.
Carletons Fright Farm - Lake Stevens, WA
Farm Fright opens October 6th.  Gee what could be more creepy than a haunted swamp? There are three attractions featured here. Tickets are online for the Haunted Swamp, Zombie Farm, and the no haunt dark maze. A triple combo ticket is available. Oh they have added Zombie Paintball.  Box office open at 7 pm and closes at 10 pm. Attraction is open every Friday and Saturday nights in October plus a few other nights. They also have great daytime farm activities daily.  This place is lots of fun.  Check their website for details.
Cinema of Horrors - Kelso, WA

Kelso's "Cinema of Horrors" voted the second "Must See" haunted house in Washington this Halloween season!
Cinema of Horrors Haunted House, in its third year at Three Rivers Mall in Kelso, WA will return to haunt the old, abandoned Three Rivers Cinema on Friday, October 5th, 2018. According to the Scare Factor, it's voted the "second must see haunted house in the state of Washington for 2018." This year's frightful fun includes two haunted houses, family friendly trick-or-treat nights and more nightly fun!
Presented by Treadway Events, KUKN, KLOG & The Wave radio stations, The Cinema of Horrors Haunted House at Three Rivers Mall will be open for thirteen scary nights this Halloween season. October 5-6th, 12-13th & 19-21st and 26-31st. 7:00pm-11:00pm Fridays and Saturdays and 7:00pm-9:30pm Sunday's and weeknights through – Halloween. Tickets range from $10-$20 and $15 pre-sale tickets are available online now.
Their two terrifying, top-notch haunted houses feature new scares, twists and turns! "FarmHouse", a fan favorite, is in its final season this year. The attraction is voted their most terrifying attraction: A nonstop adrenaline rush inside of Ma's dusty, demented old murder house where the family enjoys tormenting and enticing their visitors.
"Dark Legends of New Orleans," their newest attraction, offers a blood-curdling, very dark trip back in time to historic New Orleans where voodoo, witchcraft, spirits and more are thought to lurk… The Cinema will offer a wide variety of yummy Halloween-themed fair food and deep-fried goodies. This year's event features local high school actors from Kelso High, Mark Morris and other nearby schools along with volunteers from local community organizations.
For families wanting a not-so-scary experience, the haunted house will offer "Trick-or-Treat Nights" for families with children under 13 years of age. Children take a trip through the non-scary event and collect candy along the way! These nights take place October 28 & 31st from 4:00pm-6:00pm before the regular attraction opens. Candy bags provided!
Fright Factory - Buckley, WA
Attraction opens up on September 30th.  A realistic and horrifying show put on as a charity benefit. Tickets are $12. Attraction is open Friday, Saturday, and Sunday nights in October plus a couple other nights near Halloween. This is an all updated haunt at their same location facility. Most of the haunt is indoors.
Frightville Haunt - Oak Harbor, WA
Frightville is located at the Roller Barn and is put on by the Boys and Girls Club of Oak Harbor. The haunt is open on Friday and Saturday nights.
Georgetown Morgue Haunted House - Seattle, WA
Season begins September 22nd.  Located at the old Georgetown Morgue, The attraction runs Friday and Saturday nights through October plus Thursday and Sundays near Halloween.  Doors generally open at 7 pm. Check schedule on website for both opening and closing times which vary greatly by day.  Admission is $23 but combo options and discounts available.
Halloween Hellmouth - Lakewood, WA
An annual home haunt based in the small town of Lakewood. Stop by if you dare. Doors are open from 6:00 pm until 10:00 pm.
Haunted Forest of Maple Valley - Maple Valley, WA
The Haunted Forest is a scary mile long "haunted trail" that supports local community groups in the area. It is held at Royal Arch Park on Friday and Saturday nights in October. It opens at 7 pm and closes at 11 pm. A less scary hour is held 5-6 pm on Saturdays.
Haunted Nightmare at the Nile - Mountlake Terrace, WA
6 haunted attractions plus an escape room that is new for 2018. Open Fridays through Sundays from 10/5/18 to 10/28/18 plus Halloween.
Haunted Trails at Bastyr University - Kenmore, WA
Sorry folks!  Appears they had to cancel suddenly in 2016 and have not released information for 2017.  So they may be closed.  Check facebook or website for details. Featured haunts include Haunted Woods, Hades Labyrinth, Circus of Horrors, Cemetery Hall, and Mummy Tomb. This is the 17th year for this local popular event.
Hell's Gateway Haunted House - Tacoma, WA
Sorry everyone.  It appears this attraction has closed.
Kitsap Haunted Fairgrounds - Bremerton, WA
The fun begins on October 6th this season.  The Kitsap Haunted Fairgrounds has been open for 15 years. The fairgrounds are open Friday and Saturday nights from plus Halloween.  The open times are 6 pm to 11 pm. Tickets are $15, early bird $12, or lights on at 5 pm for $5. All proceeds benefit North Kitsap Rotary projects.  New attractions are Slaughter House and Zombie Paintball.
Madd Hatter's Haunt - Union Gap, WA
Check their web page or facebook for updates.
Mill Creek Haunted Hollow - Mill Creek, WA

My Morbid Mind Haunted House - Lacey, WA
Enjoy this season with opening night on October 6th.  This is the 14th year for the haunted house.  My Morbid Mind is opens at 7 pm and closes at 11 pm on the weekends and 10 pm on other nights. Open Friday and Saturdays in October plus lots of Thursdays and Sundays.  Check facebook for schedule and details.
Nightmare at Beaver Lake - Sammamish, WA
The Nightmare begins with opening night October 13th.  This haunt is a 100% all charity and all volunteer haunted attraction. The full scare attraction runs from 7 pm until 10 pm or 11 pm nightly. They are advertised as the most terrifying haunted house on the eastside.  It runs Friday, Saturday, and Sunday nights in October.
Nightmare on 9th - Snohomish, WA
The Snohomish Slaughter House is the big attraction here following the gruesome death of one of the brothers. They are open Friday and Saturday nights from 7pm – 12am or 10pm on other nights. The fun starts weekends in October plus some daytime hours. Please check their web page.  This place is big on zombie paintball.
Pasco Jaycees Haunted Forest - Pasco, WA
This "walk with the dead" begins on October 6th.  The Jaycees operate the Haunted Forest every Friday and Saturday night in October. The attraction is open from 7 pm to 11 pm. You can find this haunt at the Sacajawea State Park in Pasco. Admission tickets are $13.
Scaregrounds - Kennewick, WA
Scaregrounds is a popular haunt held annually at the Benton County fairgrounds.  It feature great scares and lots of zombie paintball.
Scream Fair Halloween Haunt - Lynden, WA
The season begins on October 13th.  Scream Fair is house of horrors Halloween haunt. It opens on Friday and Saturday nights the last 3 weekends in October. Doors are open from 6:30 pm to 10:30 pm. Will you escape from the Dead Block? Tickets are $12.
Shadows Haunted Fright House Station - Tacoma, WA
Opening night is September 29th.  Shadows is new with two scary heart pounding attractions located at the Annex Square Mall. Shadows Dare the Dark Maze and Bloody Mary are both unique attractions. Open nights this year on Friday, and Saturday in October. Tickets are $13-15.
Stalker Farms - Snohomish, WA
Opening night is October 7th.  Stalker Farms is themed as "Corn Fed Horror". They offer 2 haunted attractions plus a non haunted corn maze as one packaged ticket and the paintball event The Hunt for Zombies as a separate ticket. With either ticket you can walk the corn maze. It takes about 15-20 minutes to go through each attraction. Field of Screams and The Last Laugh both are haunts you can expect to find darkness, fog, loud sounds, strobe lights, and scary actors. Yes the Zombies are real and scary. Stop by any Friday and Saturday or some Thursday and Sunday nights in October between 7 pm – 10 pm for the fright of your life. Double Dare tickets are $19.95. They offer a combo Double Dare and No Scare for $24.45. Check the website for Zombie paintball tickets.
State By State List of Halloween Haunted Houses
More Haunted Attractions
If you live in Southern or Eastern Washington, you may want to also consider a few more options on your haunted house search.
Haunted Houses in Idaho
Haunted Houses in Oregon
Find other fun things to do in Washington in October:
Oktoberfest in Washington
Washington Festivals
Washington Corn Mazes
Washington Ghost Tours
Pumpkin Patches in Washington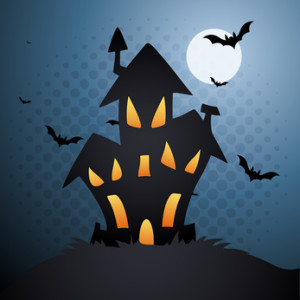 Help Me Out
Have you been to one of these haunted houses? Future readers would be interested in hearing what you thought. Did you have a great experience? Was it worth the money? Would you recommend it to others? Any tips to maximize your experience? I'll gladly publish what you send me and give you a super dooper hug.
If you are the owner or employee of a haunted house in this directory, or one I missed and need to add, I would love to have more information about the haunted house, photos, dates/times/hours for 2018, etc. Use the contact form to get in touch and I'll tell you where to email your answers to these questions.