Haunted Houses in Nevada for Halloween 2022
Find plenty of scary fun at Halloween haunted houses in Nevada for 2022.  Lots of ghouls and zombies run about haunted houses in the deserts in Nevada.  Bring your friends to the local haunted houses, haunted trails, scream parks, haunted houses near me, and Las Vegas haunts this year.  Expect to find more vampires, ghosts, zombies, and creatures of the darkness for a price similar to a movie ticket. Nevada haunted houses come complete with animatronics, live actors, air blasters, costumes and makeup for your thrills and chills. Find all the haunted houses near you below.
Last Major Update:
Asylum & Hotel Fear - Las Vegas, NV
Opens the season in early October.  Again located at Meadows Mall.  This is the longest continuously running haunt attraction in Las Vegas and certainly one of the scariest in Nevada. Tickets are $17 for Asylum attraction and $17 for Hotel Fear attraction or the entire combo ticket for $27. The attraction runs Thursday, Friday, Saturday, and Sunday nights in October. The times are 6:30 pm until midnight on Friday and Saturday or until 10 pm on other nights. See their web page for more details.
Boulder City Haunted Ghost Yard - Boulder City, NV

All new haunted attraction located in Boulder City. Check their web page for updated information in October.  Located all new at 600 Yucca St., Boulder City, NV 89005.
Freakling Bros The Trilogy of Terror - Las Vegas, NV
Sorry folks but sadly due to the virus situation in the local area the popular Freakling Bros attraction will not be running this fall.  They will return next year. The Freakling Bros have run haunted houses in Nevada for over 30 years.  Doors open at 7 pm.  This continues to be one of the best haunts in the state.  Freakling Bros has over 29000 Facebook likes.
HallOVeen at Magical Forest - Las Vegas, NV
Open Friday through Sunday nights starting in early October plus every night near Halloween in late October.  Another Opportunity Village fun event.  Haunted jungle ruins have taken over HallOVeen at the Magical Forest. The spooky beings lurking within will fit right in with the attraction's regular inhabitants – ghosts, goblins, witches, and creepy crawlies a plenty. There is also a cemetery filled with fresh jack-o-lanterns and an animatronic skeleton to read you a scary story. Interactive trees will keep you company as you make your way through the forest pathway. All the more fun in costume, Forest-goers can also enjoy nightly entertainment, trick-or-treat stations, midway carnival games, and festive pumpkin displays, along with gifts, goodies and more at our kiosks and in the Holiday Shoppe. There are also more food and beverage options than ever before – we're talking food trucks!
Haunted Harvest at Springs Preserve - Las Vegas, NV
Because of the virus situation Springs Preserve is currently for members only and not open to the public.  Springs Preserve operates numerous family friendly non haunt events through the year. During Halloween they run Haunted Harvest, a family friendly haunted attraction. Tickets are $8 at night ( 5:00 pm – 9:00 pm). Haunted Harvest consists of a haunted hay maze, trick or treat stations, a petting zoo, carnival games, and live entertainment.  It runs on Friday, Saturday, and Sunday.  Check their web page in October for information as to whether this annual event is running and open to the public.
Kingdom of Horrors - Reno, NV
Sorry folks but it appears that Kingdom of Horrors has closed.  Deep into the swampland find the Kilburn Reform School. Many have entered but no one has ever left. Open weekends starting around early October.  (Note:  Their website appears to be old.  Check their Facebook information for updates.)
Lazy P Adventure Farm - Winnemucca, NV
The Barn of Terror is open Friday and Saturday at popular Lazy P Adventure Farm. Join us for a shockingly frightening "Farmer's Harvest Barn of Terror". This is not for the faint of heart.  The legend has it that the barn is haunted by old Eli Slaughter.  If you dare, venture through the barn and see if the legend is true. Bring your friends as this is not a place you want to go alone.  It is open the last two weekends in October before Halloween.
Reno Fright Fest Slaughter House - Reno, NV
Located inside the Greater Nevada Field. Attraction opens 7 pm until 11 pm on Thursday, Friday, and Saturday plus a different event from 5 pm until 9 pm on Sunday. We've partnered with the Reno Aces to bring Northern Nevada's #1 Haunted Attraction to the Greater Nevada Field.  Free parking available across from the ballpark!  This year in addition to the Slaughter House getting a fresh layout and brand new scares, we have upgraded our 10 minute frightening ride on the Terror Train to include LASER TAG where you can zap zombies and win prizes!
Undead Maze - Las Vegas, NV
A local charity haunt at the Tivoli Village. Open Friday through Sunday, 7pm-Midnight EVERY weekend in October starting early October and on Halloween.  Also open the first weekend in November. Tickets are $15. Over 2000 square ft of twists and turns in a real maze full of monsters and creepy crawlies. Family fun walk throughs for the kids, with no actors on Saturdays and Sundays starting at 12pm, with tickets costing $5. Check their Facebook page as they may also be open on Thursdays.
For certain locations, it might be better to search for haunted houses in one of these neighboring states:  Arizona, California, Idaho, Oregon, and Utah.
Find other fall fun things to do in Nevada in October: Oktoberfest in Nevada Nevada Festivals Nevada Corn Mazes Nevada Ghost Tours Pumpkin Patches in Nevada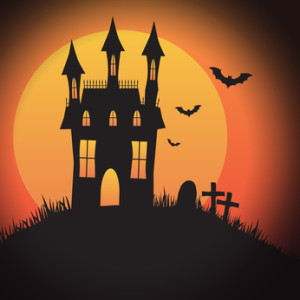 You may also be interested in our article on Haunted Houses and Horror Movies | History of Fear.
Add Your Feedback!
Have you been to one of these haunts? Future readers would be interested in hearing what you thought. Did you have fun? Was it worth the price? Would you suggest it to visitors here? Any tips to maximize your experience? I'll gladly publish what you send me and give you an over-the-Internet hug.
If you are the owner or employee of a house in this directory, or one we missed and need to add, we would love to have more information about your place, including the url, photos, dates/times/hours etc. Use the contact form on our advertising page to get in touch and we'll follow up if we still need your response to any of these questions.
Check out Black Friday ads, Cyber Monday ads, and holiday sale prices from top retailers this Christmas season.