Haunted Houses in Minnesota for Halloween 2020
Find local 2020 Halloween haunted houses in Minnesota. Find lots of fun at haunted houses this Halloween. It is the gopher state, after all, but these Minnesota haunted houses are all above ground, to the best of our knowledge. They do have live actors, animatronics, costumes and makeup, air blasters, scent dispensers, and more scary type fun. This October, take your friends to one of the many Halloween attractions in the land of 10,000 lakes. Funtober lists all the current haunted houses, haunted trails, haunted hayrides, scream parks, and more. Get more than a little scared by zombies, devils, demons, witches, and vampires. Check out our
TOP 100 HAUNTED HOUSES FOR HALLOWEEN 2018
and the
Top 100 Haunted Houses 2017 in America
. Is your favorite haunted attraction on the top 10 and top 100 state list?
Minneapolis Haunted Houses
[DISPLAY_ULTIMATE_SOCIAL_ICONS]
Dead End Haunted Hayride - Wyoming, MN
Advertised as Minnesota's Ultimate Horror Experience. They return for Friday and Saturday nights beginning September 20th, 2019.  They are open most Wednesday through Sunday nights during October.  There are three haunted attractions at Dead End Haunted Hayride. The haunt is open 7 pm – 11 pm on Friday and Saturday nights. The attractions are open from 7 pm – 9 pm on other nights. The haunt attractions are Sunnyvale Asylum which used to house the freaks and outcasts. Dead End Hayride, Departed Oaks Haunted Trail, and Site 66 Haunted Cornfield has lots of chainsaws and mazes.  Please not you are part of the show and they can and will touch you.  This is one of the most popular haunt attractions in the country.  Dead End has over 75000 Facebook likes.
Escape Frenzy - Edina, MN
Six consecutive families died in this house. After dozens of bizarre sightings by locals, no one goes near this haunted house… except you.  Your mission.  Choose a themed room and solve a series of puzzles and clues to figure out how to escape the room before time runs out.
Farmington Fright Night - Farmington, MN
Farmington Fright Night returns the first two weekends in October 2019.  Frightnight is sponsored by the Support Our Troops Organization. It is free to military but others should offer $5 donations to the charity. Doors are open 6 pm until 10 pm. Attraction is held 4 nights at the 4-H Building at the Dakota County Fairgrounds.  See webpage for details.
Fright Farm Haunted House - Maplewood, MN
Fright returns to Minneapolis this October 2019.  This location was the former poor farm for indigent and elderly people. Lots of ghosts roam the area. Fright Farm Haunted House operates a Halloween Horror Show in October for a $12 ticket price. Open Friday and Saturday nights in October. Fright Farm has been running for over 20 years.  See calendar for high scare and low scare event dates.
Fright Nights - Glenwood, MN
The haunted house is open every Friday and Saturday nights beginning October 4th, 2019.  They also run a separate Halloween themed escape room event on Thursday nights in September and October.  Tickets for the haunted house are $15.
Hamel Lions Haunted Acres - Corcoran, MN
Open 5 weekend nights plus Halloween in October 2019.  A fund raising attraction for the Lions and Jaycees their permanent home is now Corcoran Lions Park.
Haunted Shack - Duluth, MN
The Haunted Shack returns for 10 nights this October 2019.  It has been open for more than 20 years. It features a haunted hayride, corn maze, and a haunted house. Tickets are $15. Doors open at 7 pm for the hayride and 7:30 for the shack. Open Thursday, Friday, Saturday, and Sunday nights starting the middle of October. Check website for other Thursday and Sunday dates they are open.
Haunted Ship - Duluth, MN
Sorry folks but the ship is closed for renovation this year.  See you in 2020.
Hell Woods - Hugo, MN
Hell Woods is the new name for Woods of Terror.  Prepare to be terrified and scared to death on this 30-45 minute walk through the haunted wood, inspired by the haunts and horrors movies of the 70s, 80s, 90s. Enter at your own risk.  Tickets are $20-25.  Also available for additional cost: Concessions, Zombie shoot with paint balls (opens at 5:00 PM).  Opens starting late September 2019.  Runs Thursday through Sunday nights plus nights before Halloween,
House on Haunted Hill - Brook Park, MN
A mile long haunted trail walk that runs on October 17th and 18th.
Molitor's Haunted Acres - Sauk Rapids, MN
Join this fun haunted hayride in October 2019.  Molitor's has been operating for 20 years. After going through the attractions spend some time at the bonfire pit and concession stands or hunting zombies. Open Friday and Saturday nights in October plus a few other dates.
Monster Bash - Harmony, MN
Monster Bash is open Thursday through Sunday nights plus Halloween night starting on October 17th, 2019.  Welcome to the 8th edition of the Monster Bash Haunted House: Night Terrors! Imagine your worst nightmares come to life as you enter our scare floor!  Each year, we create a new theme and an entirely new layout for the haunted house. The haunt is built and manned entirely by local volunteer students, families and community members.  Our haunts are handicap accessible; this year there is a single vignette which will not be wheelchair accessible, but we have planned an alternate route which eliminates this single scare.  Tickets are $10.
Nightmare Hallow Scream Park - Chisago City, MN
Nightmare Hallow has 3 haunt attractions. It has operated for 25 years of fear. The scream park is open most Friday and Saturday nights in October 2019. The attractions are the Double Sided Haunted House, Terror Trail, and Zombie Hunt. Various combo ticket options available. Doors are open from 7:00 pm Friday and Saturday or 7:00 pm to 9:00 pm on other nights.
Nightscreams - Bena, MN
Nightscreams is open every Friday and Saturday nights in October 2019 plus Halloween night.  Last season we doubled the size.  Now we have doubled the scares. Our larger attractions that will surely delight screamgoers. Enter our haunted cabins, graveyards and dare to enter the haunted forest. There are a lot of haunted attractions that are themed base, or tell a story… NightScreams takes into consideration that people are scared by a variety of different things. Every year we make sure we take that into account, whether you're afraid of clowns, zombies, ghostly spirits or your own shadow, we have it all covered!
Northern Frights - Garden City, MN
Get 6 attractions for the low price of just $22.  Zombie paintball available but extra.  They are open Friday and Saturday nights in October beginning October 5th, 2019.  With six terrifying attractions, Southern Minnesota has haunts that'll unlock your nightmares.  Each ticket grants fright-seekers access to all six haunts.  Tall tales of terror have emerged, including Big Foot and ghosts rising from a sunken ship. What would happen if they were all in one place?  Along side the Wataonwan River under the old growth oaks, iconic legends of horror lurk.  Can you survive the gauntlet?  Run from Killer Clowns 3D.  Strap on your 3D glasses for this assault of the senses. Bright colors, neon lights, and killer clowns coming from all sides await you in this attraction.
Olson Haunted House - Chanhassen, MN

Open around two nights near Halloween 2019.  We had around 600 people go through on Halloween last year.  Admission is free, but we encourage cash donations which all goes to support Loaves & Fishes. For 16 years, the Olson Haunted House in Chanhassen, MN, has been the highlight of Halloween for thousands. Each year, the Olson garage is transformed into a maze of horror and is considered by many to be the best haunted house in the area. As a non-profit haunted house, we waive your admission fee, but respectfully ask that you to bring a cash donation. You can also donate via Venmo to @OlsonHauntedHouse. Thank you in advance for your generosity!
Rochester Fright At The Farm - Rochester, MN
Opens this season on October 11th, 2019.  Tickets available at the door or online in advance to Fright Farm, southern Minnesota's most horrifying haunted attraction. Doors open at 7 pm. Enjoy all Friday and Saturday nights.  The scary entertainment includes riding the hearse, the Haunted Bus, the all new Guillotine Room, the maze of terror, the Underground Clown Town, the Butcher Shop, and the Spiders Den. Enter if you dare at your own risk.  They operate both a haunted corn maze and a haunted house attraction.
Scream Town - Chaska, MN
The screams begin this season on September 28th, 2019.  Scream Town is an amazing haunted attraction. Tickets are $30-36. Gates open at 6:30 pm. Parking is free. The attraction is open Friday, Saturday, and Sunday nights in October.  Check their website for discounts on some nights. The attractions are Terror in the Corn, Redneck Resort, Circus Asylum, Oak Blood Forest, Funeral Home Visitation, Rabid Alley, and Sasquatch Investigation. Take your time and enjoy each of these attractions. There are new attractions for 2019. Scream Town is a bit unusual in that guests may re-enter any of the attractions multiple times on the same ticket. Also most haunted houses allow visitors in line to go through the haunts even after the normal closing time. Not at Scream Town. They close each night at 11 pm sharp.
Terrorworld Haunted Attraction - Minneapolis, MN
Terror World returns again for 2019 as a top rated haunted attraction in Northeast Minneapolis.  This 35,000 square foot haunt attraction will turn your worst fears into nightmares.  Three haunted attractions under one roof in their massive building.  The main feature is Bloody Acres Estates.  Experience Hell in this hair raising 1920's plantation.  Meet the mentally ill and deranged in the Oak Hill Asylum.  Finally we go 3D with deadly clowns at the 3-D Circus of Dennnnnnnnnath!  If you can't make it through this disturbing freak show remember we warned you.
The Abandoned Hayride - Chaska, MN
Minnesota's newest and most unique Haunted Hayride and Haunted House. Like nothing you have ever seen before in MN or the entire country. This immersive Haunted Hayride will scare you, and entertain. You will be dropped off in the woods, and Abandoned. One of the best Minneapolis, St. Paul, Twin Cities Halloween adventures. Four attractions, one low price. Opens 9/28/19 with hours every Friday and Saturday night (plus one Thursday and two Sundays). Ticket office closes an hour before the attractions, but it's $5 more at the office and they're cash only, so order online and save yourself some time!
The Haunted Farm - Moorhead, MN

The show runs Friday and Saturday nights starting October 4th, 2019. The Haunted Farm is a genuine farm of terror with thirty years experience in the haunting industry. The farm features various shocking creatures that lurk in woods, 15 energetic and spine-tingling haunted attractions, and a most hair-raising walk through the dark and dangerous woods.  Tickets are $22.
The Haunting Experience - Cottage Grove, MN
The season kicks off on September 21st, 2019.  Another full entertainment with movies, bonfires, live entertainment, a Ghoul Grill restaurant, beer tent, and Club Scream dancing. The Haunting Experience on Highway 61 has two haunted attractions plus Big Zombie Paintball. Schummo's Clown House and The Hayride. Doors open at dark and close at 11 pm on Friday and Saturday or at 10 pm on all other nights. Ticket prices vary depending on attraction. Save money and buy online. This area was first settled nearly two hundred years ago by people who ran into a very rough winter and resorted to cannibalism. Open every Friday and Saturday in October plus lots of Wednesday and Thursday nights.  See web site for details. There are lots of scary tales about that winter. This is their 31st year of terror. As an attraction, the working farm hosts a daily separate corn maze which runs from 11 am to 6 pm.
The Haunting Experience on Highway 61 - Cottage Grove, MN
Buy tickets online and save.  Tickets are $17-25 per person.  Haunting Experience runs from September 21st through November 2nd. 2019.  Generally on Friday and Saturday nights but they have discount nights available on added dates in October.  The Zywiec Family established the Haunting Experience as a Halloween attraction in Minnesota back in 1986. Since then, our complex features the perfect team of scare-actors, artists, builders, and human oddities. Together, we bring you an intensely scary haunted house experience, a humorously eerie haunted hayride, a twisted carnival, and mouthwatering concessions. Visit the Haunting Experience on Highway 61 this Halloween season, and enjoy the scare of your life!
Trail of Terror - Shakopee, MN
The season opens October 11th, 2019.  Trail of Terror is a full night entertainment experience. Basic tickets are $18-24 which covers basic haunted houses plus the midway which has food, beverages, and souvenirs. You can join the Zombie Pub Crawl for an additional price. Carnival Rides are $2. The Trail of Terror includes Howling Pines Woods Walk which covers a one mile walk through terror. Hotel 66 is a haunted corn maze. Grubbs Pest Control has all the spiders, snakes, flies, and roaches you ever want to see. Also lots of fun with zombie paintball.  Finally roam through Crystal Caverns, Chuckles Pizzeria, and Harmony's Department of Corrections. The attractions are open Friday, Saturday, and Sunday
ValleyScare at Valleyfair - Shakopee, MN
Open on Saturday and Sunday nights from September 21st and every Friday through Sunday nights in October 2019.  Strange things are astir at Valleyfair! On select nights, the fun takes a terrifying turn as the park transforms into ValleySCARE, the upper Midwest's largest Halloween event. With more than 75 rides, haunted mazes, scare zones and monsters prowling the park, there is something to satisfy everyone's devilish desire.  Tickets as low as $36.
State By State List of Halloween Haunted Houses
Don't drive hours to a haunted house when there's one right across the Minnesota border in another state. After you have considered the Minnesota haunted houses, consider whether one of these might be close to you as well:
Iowa,
North Dakota,
South Dakota,
Wisconsin
Find other fun things to do in Minnesota in October:
Oktoberfest in Minnesota
Minnesota Festivals
Minnesota Corn Mazes
Minnesota Ghost Tours
Minnesota Pumpkin Patches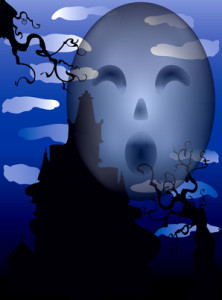 Check out the TOP 100 HAUNTED HOUSES FOR HALLOWEEN 2018 and our list of the Top 100 Haunted Houses 2017 in America.  Is your favorite haunted attraction on the top 10 and top 100 state list?
You may also be interested in our article on Haunted Houses and Horror Movies | History of Fear.
Add Your Feedback!
Have you been to one of these haunts? Future readers would be interested in hearing what you thought. Did you have fun? Was it worth the price? Would you suggest it to visitors here? Any tips to maximize your experience? I'll gladly publish what you send me and give you an over the Internet hug.
If you are the owner or employee of a house in this directory, or one we missed and need to add, we would love to have more information about your place, including the url, photos, dates/times/hours etc. Use the contact form on our advertising page to get in touch and we'll follow up if we still need your response to any of these questions.