Find a Minnesota fall festival to attend in 2019. Our events calendar for September, October and November 2019 has things to do across Minnesota including activities in Minneapolis, St. Paul, St. Cloud and Duluth. Our list includes festivals celebrating the local harvest, food, music, beer, Oktoberfest and more.
Featured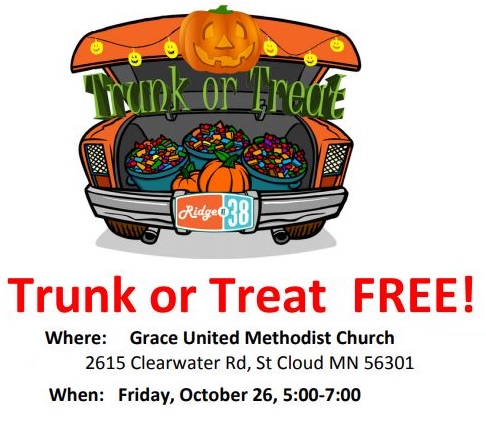 Last Major Update:
Great Falls Fall FestivalsMinneapolis Fall Festivals
Fall Festival Organizer? Advertise Here.
More than 500,000 people came to Funtober last year looking to attend a fall festival and another 500,000 were specifically interested in attending an oktoberfest. We can help increase attendance at your event through a sponsored listing, coupon giveaway, cross-promotion or other creative marketing initiative. Special deals for nonprofits. Please see our advertising page or contact us for more information.
2019 Festivals
Minnesota State Fair - St. Paul, MN - Aug 22 to Sep 2, 2019
Grandstand shows, live entertainment, food, shopping, agricultural exhibits and competitions, and more! Started as a territorial fair in 1854, it changed its name in 1859 after Minnesota became a state. Always the 12 days leading up to and including Labor Day. Nearly 2 million people attend the event. Held at the Minnesota State Fairgrounds.
MetaCon - Minneapolis, MN - Aug 30 to Sep 1, 2019
Minneapolis's comic book convention brings exhibitors, guest starts, interactive events, artists and entertainers, and costuming together in a three day celebration of geek culture and nerd life.
Radio Waves Music Festival - Grand Marais, MN - Sep 6 to Sep 8, 2019
Annual event held at Sweetheart's Bluff in Grand Marais Recreation Area.  It typically features over 30 music performances of various genres, with two stages and a dance floor, food vendors, and a children's area. Tickets are $10 for the day or $20 for the weekend, and kids under 12 are free.
Past Events
We know that you want current events. But we often don't have dates for the current year. We leave those events with their link here so that you can look for the new dates yourself. We hope you don't mind!
New Bohemia Oktoberfest - Golden Valley, MN - Sep 24, 2016

Frazee Community Center Oktoberfest - Frazee, MN - Oct 2, 2016
Live music, cash bar and German food hosted by the Frazee Area Community Club with proceeds used for community events. 2016 will be the 20th annual event. $12 per person. It happens annually on the first Sunday in October and is held at the Frazee Event Center.
Pink Pumpkin Oktoberfest - Ham Lake, MN - Oct 8, 2016

Duluth Balloon Festival - Duluth, MN - Sep 15 to Sep 17, 2017
Tethered balloon rides (free), craft brew village, helicopter rides.
Duluth Color Run - Duluth, MN - Sep 17, 2017
The Happiest 5K on the planet comes to Duluth, with a Colored Foam Zone and more.
Church of St. Matthew Oktoberfest - St. Paul, MN - Oct 7 to Oct 8, 2017

Spooktacular Fall Harvest - Hugo, MN - Oct 7 to Oct 29, 2017
Enjoy a fun day of family-friendly activities for parents and kids age 3-12. $6/person admission includes haunted trail through the woods (not scary), bouncy house, corn pit, hay maze, game stations, and campfire. Also available for additional cost: Concessions, smores and hotdogs, pumpkin painting zombie shoot with paint balls, face painting, hay rides and pony rides. Parking is $5/vehicle. When: October 7 – 29 (Saturdays and Sundays only, 10:00 AM to 5:00 PM) Where: Woodloch Stables, 5696 170th Street, Hugo
Pierz Oktoberfest - Pierz, MN - Aug 26, 2018
Organized by the Pierz Lions Club, it is generally held on the last Sunday in August unless it falls directly before Labor Day. 2016 will be the 32nd Anniversary of the festival. Last year's description: Start the day with the fun run at Pierz Healy High School for a 2 mile or 5K run for the whole family. Parade generally starts around 11 AM. Following the parade, they hold a festival in the park which includes petting zoo, exotic animals, inflatables, bingo and children's game. Purchase and wear their button to win one of the prizes in their giveaways. There are also brats & kraut, kettle corn, homemade pie and beer garden. Champions Forever, a traveling entertainment organization that performs at schools, colleges and halftime shows will also be there in 2014. Free shuttle bus transportion to the park from various parking lots – no unauthorized vehicles are allowed on Park Ave near the park. Related events take place for the week prior to the event. On Saturday night, for example, there will be a concert and fireworks. And don't miss their famous Medallion Hunt, with a $500 award to the winner.
Duluth-Superior Pride Festival - Duluth, MN - Aug 30 to Sep 2, 2018
Check out all the fun activities at this year's pride festival taking place in both Duluth Minnesota and Superior Wisconsin – Two beer tents, exhibitors and vendors, plus games and activities for children and families, live entertainment, the Foo Foo Choo Choo, drag show, block party, family picnic, Fruit float, 5K, Pride Parade, White Breakfast, worship service, and more!
American Pottery Festival - Minneapolis, MN - Sep 7 to Sep 9, 2018
Annual fundraising event for the Northern Clay Center, with national artists showcasing their work
Ely Harvest Moon Festival - Ely, MN - Sep 7 to Sep 9, 2018
A three day festival in Whiteside Park that attracts more than 10,000. Arts & crafts, live music, blueberry pancake breakfast, walleye dinner and more. Held annually on the first weekend after Labor Day.
Kellogg Watermelon Festival - Kellogg, MN - Sep 7 to Sep 9, 2018
Come on down to downtown Kellogg for a parade, the crowning of Miss Kellogg, and a variety of other events including a bean bag tournament, 5k, carnival, kiddie parade, beer crawl, soap box derby, live music and so much more!
Superior Fall Trail Races - Two Harbors, MN - Sep 7 to Sep 8, 2018
Choose a route from 26.2 – 100 miles of rugged, rucky, single track trail with near constant climbs and descents – a real challenge for a real athlete! The race takes place on the Superior Hiking Trail between Gooseberry Falls and Lutsen Mountains. Since 1991.
Fall into the Arts - Edina, MN - Sep 8 to Sep 9, 2018
15th annual. 250+ exhibitors, artists, sponsors and food vendors attend the event at Centennial Lakes Park. Nearly 20,000 attendees expected.
Monarch Festival - Minneapolis, MN - Sep 8, 2018
Celebrate the monarch butterfly at Lake Nokomis community center. Features music, food, hands-on art, plant sales, and workshops about this butterfly that migrates 2000 miles from Minnesota to Mexico.
Harvest Festival - Duluth, MN - Sep 8, 2018
25th annual. One of the region's largest farmer's markets, live music, crafts, exhibits, family activities and more – with free admission and parking
St. Paul Classic Bike Tour - Saint Paul, MN - Sep 9, 2018
Annual event benefiting BikeMN's education programs. More than 6,000 riders, live music, refreshments and beautiful views of St. Paul. Riders can choose a 15, 32, or 47 mile route, and there is a minimal amount of traffic along the routes, as well as rest stops with beautiful views, hot and cold beverages, treats, live music and more.
Ramble Jam - Farmington, MN - Sep 14 to Sep 15, 2018
Live country music at the Dakota County Fairgrounds. Camping also available
Carlos Creek Winery Grape Stomp - Alexandria, MN - Sep 14 to Sep 16, 2018
Three day event featuring over 300 teams stomping 10,000 pounds of grapes. Enjoy 12 bands on 4 stages, wine tasting, man cave featuring August Schell's & Fargo Brewery, logging camp show and vendors with food, juried art show, and more. Free shuttle from Douglas County Fairgrounds and several area hotels, plus on-site parking.
St. Paul Oktoberfest - St. Paul, MN - Sep 14 to Sep 15, 2018
The annual Saint Paul Oktoberfest will have German and American beer, live music, polish dancers, dachshund races, bed races, Paulaner Girls and children's games.
Gasthaus Oktoberfest - Stillwater, MN - Sep 14 to Sep 23, 2018
This German restaurant will throw up a huge festival tent with German food, beer and live music. Friday and Saturday admission is $5.00 from 5:00 pm to 11:00 pm. Sundays are family days with all ages welcome from noon-6 PM. Activities include free face painting, balloon twister, music, dancing. Be sure to taste the giant pretzels, cinnamon roasted almonds, Hammerschlagen, brats and chops, and of course lots of imported beers.
Craft Brew Village - Duluth, MN - Sep 14 to Sep 15, 2018
Occurring in conjunction with the Duluth Hot Air Balloon Festival, come on down to Bayfront Festival Park to enjoy craft beer and listen to live music! The Craft Brew Villa is designed to promote and further education patrons on the fast-growing local and national craft beer industries. The Duluth region is home to a growing number of microbreweries and brewpubs. Best of all, admission is FREE! Just purchase tickets for the beers you would like to sample.
Unplugged and Folk Artisan Marketplace - Grand Marais, MN - Sep 14 to Sep 16, 2018
The fall fundraiser for the North House features crafts, storytelling, music, and community along the lakeshore.
Arts and Crafts Festival - Hutchinson, MN - Sep 14 to Sep 15, 2018
Annual event for more than 40 years. Located at Liberty Square Park. Free admission and parking. Plenty of food vendors and arts and craft exhibits.
Lakeville Art Festival - Lakeville, MN - Sep 15 to Sep 16, 2018
Held the third weekend in September on the grounds of the Lakeville Area Arts Center, visitors can enjoy over 90 artists in a park-like setting. There will also be artist demonstrations, a Youth Art tent, performing and literary artist, food and more.
Wild Rice Festival - Roseville, MN - Sep 15, 2018
15th annual! A celebration of wild rice, Native American culture and Minnesota's harvest season. Pancake breakfast, live entertainment, food trucks and vendors. Located at the Harriet Alexander Nature Center.
Longville Oktoberfest - Longville, MN - Sep 15, 2018
Downtown Longville will have a German beer garden with music, arts and crafts on Saturday from 11 AM to 2 PM. The Longville Fire Hall will follow from 5-11 PM with its Oktoberfest Dinner Dance. Enjoy Friday nights karaoke entertainment and dinner specials at the Anchorage Inn.
Junk Bonanza - Shakopee, MN - Sep 20 to Sep 22, 2018
A place for antiquers, junkers, and flea market lovers to enjoy shopping experiences, guest appearances, workshops, and giveaways.
Gluek's Bar and Restaurant Oktoberfest - Minneapolis, MN - Sep 20 to Oct 18, 2018
Live music as the Golden Keg is tapped on 9/20 and festivities begin! Free Oktoberfest appetizers, a pint from the Golden Keg, and live polka music, and a closing party on 10/18 with specials, drawings, and a surprise giveaway. In between, enjoy an exclusive traditional Oktoberfest menu and a variety of Oktoberfest beers – and get a FREE giant pretzel for group reservations of 12+ during Oktoberfest!
Septemberfest - Eagan, MN - Sep 21 to Sep 23, 2018
A family event with food truck, games, face painting, photo booth, 3 bands and more. Put on by Faithful Shepherd School.
Gasthof - Minneapolis, MN - Sep 21 to Oct 13, 2018
Weekends. A Bavarian bar and eatery in Northeast Minneapolis that pitches a massive tent and brings in the picnic tables for a celebration of Germany. They'll have traditional German beer like Hacker Pschorr, Paulaner, Spaten and Warsteiner. Food options include brats, smoked pork chops, BBQ ribs, german potato salad, sauerkraut, soft pretzels and apfelstrudel. There will be live polka music and dancing, too. No cover charge. Bring your own beer mug or buy one of their 1/2 liter mugs. Tokens are $6. Location: 2300 University Ave NE Minneapolis, MN 55418
Utepils Oktoberfest - Minneapolis, MN - Sep 22 to Sep 30, 2018

Delano Oktoberfest - Delano, MN - Sep 22, 2018
The streets will be closed down and the tents will go up! Oktoberfest beers, food, and music.
Fall Festival - St Paul, MN - Sep 22 to Sep 23, 2018
Bingo, chicken dinner, silent auction, vendors, raffles, and more
Oktoberfest at Voyageur Brewing Co - Grand Marais, MN - Sep 26 to Sep 30, 2018
Grab your dirndls and lederhosen and head to Voyageur Brewing Company for a weekend of German music, food, games, and beer including barrels of a new Oktoberfest brew. Free admission.
Boats and Bluegrass - Winona, MN - Sep 27 to Sep 30, 2018
A family friendly music festival on the shores of the Mississippi River. Three day passes available for adults include camping. Kids 16 and under are free with adult.
Arab Film Festival - Minneapolis, MN - Sep 27 to Sep 30, 2018
Brings the best current, independent Arab cinema to Minnesota. The festival seeks to provide Arab American and Arab film artists support and exposure, build the local Arab American community, and present to the general public the diverse ways in which Arabs view themselves and the world they live in through the powerful and accessible medium of film.
Black Forest Inn Oktoberfest - Minneapolis, MN - Sep 28 to Oct 7, 2018

Art Along the Lake - Cook County, MN - Sep 28 to Oct 7, 2018
Enjoy the fall colors and meet artists in their studios with a driving tour of home studios and galleries.
Rock River Pumpkin Festival - Edgerton, MN - Sep 29, 2018
10th annual. Medallion hunt, 5K, corn maze, pumpkin race, carnival games, hay rides, paintball, pumpkin carving contest, pumpkin eater contest, trebuchet/catapult contest. Most of the activities will be held on Elizabeth Street between 4th and 5th Avenue
Minnesota Renaissance Fest Oktoberfest - Shakopee, MN - Sep 29 to Sep 30, 2018

Blue Moose Oktoberfest - East Grand Forks, MN - Sep 29, 2018
the biggest celebration of beer in the Valley! Weiner dog races, free beer tastings, stein holding competitions, a pretzel toss, German food and a HUGE selection of Oktoberfest beers are all on tap for the outdoor Oktoberfest celebration at The Blue Moose Bar and Grill! Bring the family as this event is family friendly with lots of games for the kids too!
Oktoberfest Pub Crawl - Grand Forks, MN - Sep 29, 2018
Visit Downtown Grand Forks on Saturday for the second annual Downtown Oktoberfest Pub Crawl! 2-10 PM. Up to 13 participating locations.
Mill City Oktoberfest - Minneapolis, MN - Sep 29, 2018
8 AM to 2 PM. Celebrate Minnesota brewing past and present as Mill City Museum and the Mill City Farmers Market team up for the 12th annual Mill City Oktoberfest. Enjoy the tastes, smells, sights, and sounds of Germany with activities inside the museum, outside in the Ruin Courtyard and at the Farmers Market area in the Train Shed and Chicago Mall next to the Guthrie Theater. Watch a cooking demonstration, enjoy music and dancing, and relax with a Minnesota brew and German fare in the Ruin Courtyard beer garden. View photographs of Minneapolis' historic riverfront breweries. Other activities include kids' games, History Player performances, and brewing history. Mill City Museum admission is required for certain activities inside the museum.
Strut Your Mutt Minneapolis/St Paul - St Louis Park, MN - Sep 29, 2018
Strut Your Mutt is a fun dog walk and fundraising event that raises money to help save the lives of homeless pets, supporting your choice of one of hundreds of participating shelters, rescue groups, and other animal welfare groups. There are Strut your Mutt events across the country.
Twin Cities Oktoberfest - Saint Paul, MN - Oct 5 to Oct 6, 2018
This Minneapolis-St. Paul Oktoberfest provides two days of live music, dancers, brats and Summit Oktoberfest beer.
New Ulm Oktoberfest - New Ulm, MN - Oct 5 to
This annual Minnesota Oktoberfest will take place at four locations in New Ulm on the first two weekends in October (Friday and Saturday). The four locations are the Best Western Plus, Downtown New Ulm, Morgan Creek Vineyards and Schell's Brewery. This has been ranked one of the top 25 events in Minnesota for many years. The Best Western Plus has two indoor band stage areas with German-style polka and bands playing party favorites for dancing. Downtown activities include horse-drawn trolley rides, hometown bands and tours of various buildings including the John Lind House, Hermann Monument, Schell's Brewery and the Minnesota Music Hall of Fame. Don't miss the 45 foot Musical Glockenspiel which is setup in the downtown area. Morgan Creek Vineyards generally has a Grape Stomp on the first Saturday of the festival.
Gull Lake Oktoberfest Pub Crawl - Gull Lake, MN - Oct 6, 2018

Medtronic Twin Cities Marathon - Minneapolis, MN - Oct 7, 2018
Called "The Most Beautiful Urban Marathon in America," this annual marathon is sponsored by medical technology firm Medtronic and involves running through downtown St Paul, along the river, past Lake of the Isles, Lake Calhoun, Lake Harriet and Lake Nokomis. Other run lengths, family event and expo are available that weekend.
Pelican Rapids Oktoberfest - Pelican Rapids, MN - Oct 10 to Oct 14, 2018
Four days of Oktoberfest fun starting on Thursday and ending on Sunday. This will be the 19th annual event. Be sure not to miss the lead up events, including the search for the Oktoberfest medallions and hunt for Mr & Ms Oktoberfest If you can solve the clues, you win a prize of $50 in Pelican Bucks. In the past, Thursday events have included the crowning of Mr. & Ms. Oktoberfest, open house at the fire department with light supper served, bingo at the VFW, and a wine & beer tasting with live music. Friday has held the largest pumpkin contest, chainsaw sculpting, more bingo and a salute to the troops with live music at the VFW. Saturday included the Lions pancake breakfast, 5K and 10K run, farmer's market and food court at the Pelican Rapids Fire Hall, pinochle tournament, live auction and more. Kids events included hay rides, pumpkin decorating and games at the PR Fire Hall. Or participate in the VolksMarch Walk for 11K. On Sunday, enjoy the "best of the wurst" sausage & beer sampling as well as the old-fashioned polka party. Proceeds go toward community beautification projects. Pelican Rapids is located in western Otter Tail County.
Twin Cities Book Festival - St. Paul, MN - Oct 13, 2018
Join 5000 of your fellow book lovers for this annual event in the Progress Center building at the State Fairgrounds from 10 AM to 5 PM. Author readings, exhibitors, used book fair and children's pavilion. Free admission!
Pumpkinfest - Aurora, MN - Oct 13, 2018
Held indoor and outdoor at the Aurora Community Center. Features lots of pumpkins, craft vendors, quilt show, children's games, wagon rides, and festival foods. Also a 5k pumpkin run.
Stillwater Harvest Fest - Stillwater, MN - Oct 13 to Oct 14, 2018
Chili Cook-Off, microbrew tasting, Giant Pumpkin weigh-Off, pumpkin regatta, live music, kids costume parade, food vendors, kids pumpkin pull, face painting, pie eating contest, and more.
Minneapolis Club Oktoberfest - Minneapolis, MN - Oct 13, 2018

Great Pumpkin Festival - Brainerd, MN - Oct 13, 2018
This annual event runs from 1-4 PM with free admission. Pie throwing, pie eating, sack races and a variety of other kids and parent/children activities. Small fee for horse rides.
Schell's Oktoberfest - New Ulm, MN - Oct 13, 2018
Between 11 am and 5 pm, enjoy German food, dancing, music and plenty of Schell's Oktoberfest beer inside the beer tent. Lots of fun activities for kids. Tickets are $10, kids free – tickets sold at the gate, and a portion of proceeds will be donated. Schell's is America's second oldest family owned brewery, started in 1860 by August Schell. It survived Prohibition and has been passed down through six generations of the family. They make German craft beer. In 2013, their Oktoberfest beer took home a bronze medal in the American-Style Lager category at the Great American Beer Festival in Denver. Since most Germans don't celebrate Oktoberfest for just one day, they even remind you to check out New Ulm's Oktoberfest downtown!
Moose Madness Festival - Grand Marais, MN - Oct 19 to Oct 21, 2018
Moose-related activities are planned throughout the weekend for both adults and children. Activities range from the athletic to the artistic with kids winning "moose bucks" for participation in scavenger hunts, races and arts activities.
Ruttgers Oktoberfest - Deerwood, MN - Oct 19 to Oct 21, 2018
The Oktoberfest will have dinner shows, arts & crafts fair, kids activities and polka dancing. The tentative schedule has a harvest buffet dinner show with live music by the Concord Singers and Alpensterne. Saturday and Sunday both start off with a breakfast buffet. On Saturday, over 150 vendors will take part in the Arts & Crafts Fair. Live music and entertainment will happen in two tents and there will be children's activities in the Kids' Kamp building. Eat dinner at the buffet featuring German music and end the evening with a free admission polka dance. Held at Ruttger's Bay Lake Lodge, which has been inviting guests to the lake and their resort for five generations of the Ruttger family since it opened in 1898.
Minneapolis Halloween Half Marathon - Minneapolis, MN - Oct 27, 2018
After 20 years, the Mill City Suds Run (aka the Blubber Run) was changed into the Minneapolis Halloween Half Maration, 10K and 5K, starting in 2017. It is part of a year-long MN RUN Series, a total of 7 races throughout the year. The Halloween Half starts and ends at Father Hennepin Park. Costumes aren't required, but they sure are fun to run in for this one!
Terror Trot 5K - Minneapolis, MN - Oct 27, 2018
A family-friendly Halloween themed run around Lake Harriet in Minneapolis. Benefits Children's Hospitals and Clinics of Minnesota.
Minnesota Monster Dash - St. Paul, MN - Oct 27, 2018
Half marathon, 10 mile and 5K runs on Halloween. Costume contest with prizes for the top three in each division.
Supernatural Official Convention – Minneapolis - Minneapolis, MN - Nov 2 to Nov 4, 2018
The stars of Supernatural, off the screen and in person, will be in town for three days of excitement, music, and fun.
Lake Superior Storm Festival - Grand Marais, MN - Nov 9 to Nov 12, 2018
Learn about Lake Superior and attend the beacon lighting to commemorate the loss of the Edmund Fitzgerald.
September:
Lowertown Concrete and Grass Music Festival – St. Paul, MN – Sept 10-12, 2015
Outdoor music festival at Mears Park.
Perham Harvest Fest – Perham, MN – Sept 26, 2015
October:
Meritage Oyster Fest – Saint Paul, MN – October 11, 2015
Johnny Appleseed Festival – Lake City – October 3, 2015
Food venders, 1K & 5K, inflatable rides, petting zoo, art & craft fair, kid's pedal tractor pull, quilt show, and live music.
November:
Harvest Jam Acoustic Music Experience – Minneapolis, MN – Nov 20-22, 2015
Find other fun things to do in Minnesota in fall:
Oktoberfest in Minnesota
Minnesota Corn Mazes
Minnesota Ghost Tours
Haunted Houses in Minnesota
Minnesota Pumpkin Patches