Fall New Jersey Festivals
Find a New Jersey fall festival to attend in 2019. Our events calendar for September, October and November 2019 has things to do across New Jersey including activities in Newark, Toms River, Camden and Atlantic City. Our list includes festivals celebrating the local harvest, food, music, beer, Oktoberfest and more.
Featured Events: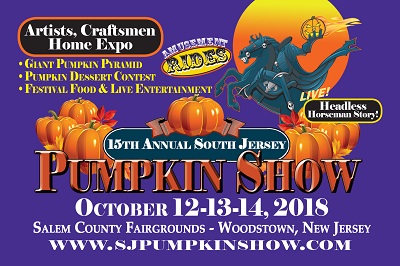 Last Major Update:
Atlantic City Fall FestivalsCamden Fall FestivalsEdison Fall FestivalsJersey City Fall FestivalsNewark Fall FestivalsPaterson Fall FestivalsToms River Fall Festivals
2019 Festivals
Morey's Pier Oktoberfest - Wildwood, NJ - Sep 20 to Oct 13, 2019
Morey's Piers brings a taste of Oktoberfest to the Wildwoods boardwalk with special German themed menus, an outdoor "biergarten," live entertainment, amusement rides, a kids "Rootbier Garten" activity area and much more. A kid's zone with a "Rootbier Garten" will be set-up near the Wave Swinger and kids can enjoy a variety of activities including a pumpkin and cookie decorating station. Wristband holders 12 years old and under will receive a free souvenir root beer cup with first fill free. Prices per kid activity vary. This event takes place annually on weekends in late September and October.
Collingswood Book Festival - Collingswood, NJ - Oct 5, 2019
Join booklovers and meet authors, browse through books and attend storytelling, workshops, panel discussions and kid friendly entertainment activities.
Morristown Festival of Books - Morristown, NJ - Oct 11 to Oct 12, 2019
Annual event. Come hear over 30 authors speak about their latest books at venues around Morristown. This festival is for everyone, of all ages and reading interests. Held at several historic venues include the Vail Mansion, local churchs, and the Morristown and Morris Township Libraries.
Sugarloaf Crafts Festival – Edison - Edison, NJ - Nov 15 to Nov 17, 2019
Explore artist and crafter booths at the NJ Convention and Expo Center for a weekend of artistic appreciation and entertainment for all. Enjoy over 250 top artisans displaying pottery, sculpture, glass, jewelry, furniture and art.  A festival for the whole family with live music, children's entertainment, live theater show, gourmet food and more.
Past Events
We know that you want current events. But we often don't have dates for the current year. We leave those events with their link here so that you can look for the new dates yourself. We hope you don't mind!
Oktoberfest in August - North Bergen, NJ - Aug 15, 2016
Celebrate the 141st Plattduetsche Volksfest Vereen with their annual Oktoberfest in August event at Schuetzen Park. Enjoy German foods, children's games, a little miss beauty pageant, and their famous beer stein holding competition. Music fun is provided by the Austrian Boys and the Bavarian Dancers. Tickets are $10. The fest starts at 12:00 pm.
Festival of the Sea - Point Pleasant Beach, NJ - Sep 17, 2016

Millionaire Chess Tournament - Atlantic City, NJ - Oct 6 to Oct 10, 2016

Morris Plains VFW - Morris Plains, NJ - Oct 8, 2016
We are holding a benefit Oktoberfest at the Morris Plains VFW on Saturday, October 8th from Noon til 6pm. Authentic German Music by Breitenbach, the Band, food, beer and games. Tickets are $25 prior to October 1st and $30 after the 1st. Tickets available for purchase online. Additional information or cash tickets by calling 201-704-9452. Event to benefit the Morris Township PBA and Community Hope, the leading non-profit saving veterans and veterans families from homelessness.
Ship Bottom Irish Festival - Ship Bottom, NJ - Sep 9, 2017
A tradition in the area with a 5k run, Irish music, food, crafts, vendors and traditions. Held at 10th and Shore Avenue.
Netcong Day Festival - Netcong, NJ - Sep 10, 2017

Deerfield Township Harvest Festival - Deerfield Twp, NJ - Oct 5 to Oct 8, 2017
Live music, major bands, family night discount, amusement rides, games, and great food. A great event with lots of family fun.
Golden Door International Film Festival - Jersey City, NJ - Oct 5 to Oct 8, 2017
Celebrates the talent of independent filmmakers and local artists.
Freedom Center for Wildlife Oktoberfest - Somerdale, NJ - Oct 13, 2017
Come on down to the Flying Fish Brewing Co for an Oktoberfest fundraiser benefiting the Freedom Center for Wildlife! This annual event includes a generous platter of authenic German food and two craft beers for each ticket holder, along with free brewery tours, a silent auction, and an opportunity to meet some of the Animal Ambassadors! Don't miss out on this fun way to support FCW in their mission to increase public knowledge and appreciation towards the conservation, protection, and preservation of native New Jersey habitats and animals!
Princeton Lodge Oktoberfest - Princeton, NJ - Oct 14, 2017

Resorts Casino Hotel Oktoberfest - Atlantic City, NJ - Oct 21 to Oct 22, 2017

Stratford Fall Festival - Stratford, NJ - Oct 28, 2017
FREE admission & parking, food, games, rides ($10 wristband), petting zoo–FREE, face & pumpkin painting, HUGE craft/business fair, photo booth, live entertainment on 2 stages, car show and much, much more!!. 5K supporting Autism NJ begins at 9am —registration at 8am directly across the street..(Rite Aid lot 100 Warwick Rd).
Delaware Valley Bluegrass Festival - Pilesgrove, NJ - Aug 31 to Sep 2, 2018
47th annual. A musical event with multiple stages and great bluegrass music. Unique event features jam sessions and a kid's academy with music instruction workshops. Also dance and clogging instruction.
Scandinavian Fest - Hackettstown, NJ - Sep 2, 2018
An outdoor entertainment covered event celebrating the music, food, crafts, arts, traditions of the Nordic countries of Denmark, Estonia, Finland, Norway, and Sweden. Possibly the largest Nordic event in North America.
Riverdale Street Fair - Riverdale, NJ - Sep 3, 2018
Annual Labor Day street fair featuring live stage entertainment, kiddie rides, climbing wall, face painting, open air cafes with food, shopping, crafts, art and fun for the whole family. Held on the Newark-Pompton Turnpike.
Roar to the Shore - Wildwood, NJ - Sep 6 to Sep 9, 2018
Wildwood motorcycle bike rally. Four days to explore the countryside, enjoy the crafts, foods, carnival rides, shopping, live entertainment, rides, demonstrations, and stunt shows.
Inked Out New Jersey - Secaucus, NJ - Sep 7 to Sep 9, 2018
Enjoy hundreds of tattoo artists plus food, drink and msuic in the cool indoors of the Meadowlands Expo Center. This is one of the largest tattoo conventions on the East Coast each year.
The Vampire Diaries/Officials Official Convention – Whippany - Whippany, NJ - Sep 7 to Sep 9, 2018
The stars of The Vampire Diaries and The Originals, off the screen and in person, will be in town for three days of excitement, music, and fun.
Superhero Glow Run - Jackson, NJ - Sep 7, 2018
Run an almost 5k through Six Flags Great Adventure at night while covered in UV glow powder, and represent one of the top DC superheroes as you run, walk, or boogey through the park, with a cape for every runner!
Atlantic City Seafood Festival - Atlantic City, NJ - Sep 8 to Sep 9, 2018
Family friendly event featuring all the best seafood AC has to offer.
New Jersey Taco Festival - Augusta, NJ - Sep 8, 2018
Annual celebration featuring tacos and margaritas. Lots of live music on stages, pepper and taco eating contests. Held at Sussex County Fairgrounds from 10am – 8pm.
Sheep & Fiber Festival - Lambertville, NJ - Sep 8 to Sep 9, 2018
A large animal show with four show stage buildings. Include various sheep contests and judging, plus demonstrations of spinning, weaving, and more. Great fun for adults and children of all ages.
Wood Street Fair - Burlington, NJ - Sep 8, 2018
48th annual. Over 25,000 visit this annual event featuring 175 or more artisans and crafters. Tour fine historic homes, enjoy live music, food, collectibles, art and family fun. Plenty of good foods including Gingerbread, Pumpkin, and Blueberry.
Wine on the Beach Festival - Seaside Heights, NJ - Sep 8, 2018
A dozen wineries and numerous food venus converge on South Beach at Blaine Avenue, with concerts, seminars and presentations
Hope Sheds Light - Seaside Heights, NJ - Sep 8, 2018
Shed light on the disease of addiction and to provide hope and resources for recovery with this walk, starting at Hiering Avenue Beach
Flying Fish 5k - Somerdale, NJ - Sep 8, 2018
5th annual. 5k with beer and family fund at Flying Fish Brewery in Somerdale, NJ.
Duffield's Fall Food Truck and Apple Festival - Sewell, NJ - Sep 8, 2018
Duffield's Farm kicks off the fall season with food trucks and music, while you enjoy a hayride to the apple orchards for you-pick, apple cider donuts and apple cider, plus face painting, pony rides, and more – Free admission!
BVN Oktoberfest - Clark, NJ - Sep 8 to Sep 9, 2018
Open to the public.
Vintage Automobile Club of Ocean County Annual Car Show - Seaside Heights, NJ - Sep 9, 2018
All cars that are at least 25 years old are welcome for judging. Over eighty trophies will be awarded! Proceeds benefit various local organizations. Sponsored by the Vintage Automobile Club of Ocean County. Free admission for spectators!
Schnitzelfest - Trenton, NJ - Sep 9, 2018
Entertainment by Willi Aust. All you can eat Schnitzel, with all the trimmings served buffet style. Bar opens 12 pm featuring special German Beers & Wines. Take-out platters also available.
Heroes & Villians Fan Fest - Edison, NJ - Sep 9, 2018
Celebrate your favorite celebrities, including cast members from Arrow, Gotham, and more, plus learn about behind-the-scenes info, participate in an obstacle course or games of skill, and enjoy more over the weekend.
Central Jersey Jazz Festival - Flemington, NJ - Sep 14 to Sep 16, 2018
The Central Jersey Jazz Fest is a full weekend of free live Jazz performances in 3 different venues: Friday at the County Courthose in Flemington from 6pm-10pm; Saturday on George St in downtown New Brunswick from 1pm-6pm, and, the highlight of the weekend, on the Somerset County Court House Lawn, Sunday from 1pm-6pm.
All About Downtown Street Fair - Jersey City, NJ - Sep 15, 2018
Join 30,000 visitors to downtown Jersey City for this one day street fair featuring Food Trucks, art work, jewelry, crafts, and hundreds of vendors. Enjoy live entertainment and music. Since 2011.
Medford Oktoberfest - Medford, NJ - Sep 15, 2018

Germania Park Oktoberfest - Dover, NJ - Sep 15 to Sep 16, 2018
Oktoberfest and Steuben Parade with live music.
Ridgefield Street Fair - Ridgefield Park, NJ - Sep 15, 2018
This giant town block party, on Main Street between Cedar & Park, will be held from 10am-5pm. Over 100 retail vendors, merchants and crafters, plus a kids zone, climbing wall, face painting, petting zoo, DJ, and more. Enjoy foot at the local restaurants along the street fair route.
Great Pumpkin Festival - Vernon Township, NJ - Sep 15 to Nov 4, 2018
Heaven Hill Farm has fun for your weekends, including over 30 activities like a pumpkin patch corn maze, arts & crafts, carnival rides, & more! Free parking.
Ridgefield Park's Annual Street Fair - Ridgefield Park, NJ - Sep 15, 2018
Main Street comes alive for a giant town block party with over 100 retail vendors, merchants, and crafters, plus kiddie rides, a climbing wall, face painting, and more for the kids in two kids' zones. There will be a DJ at town hall, and local groups performing. Local restaurants along the fair route will be open, so stop in for a bite.
Outlaw Music Festival - Camden, NJ - Sep 15, 2018
Great music lineup at BB&T Pavilion, with Willie Nelson, Van Morrison, and more.
WineFestNJ - Shamong, NJ - Sep 15 to Sep 16, 2018
Enjoy the best of Valenzano Winery wines and 10 other wineries, food trucks, 4 stages of music and entertainment, crafters & vendors, and more. Limited ticket sales to help prevent long lines, with no tickets sold at the door.
Pitman Craft Show - Pitman, NJ - Sep 15, 2018
Shop from hundreds of vendors, local food trucks, local businesses and eateries, and more!
Fanwood Street Fair - Fanwood, NJ - Sep 16, 2018
So much more than a street fair, the Fanny Wood Day will host a wide array of activities including a car show, scavender hunt, family zumba class, pancake eating contest, and a Kids Zone with a trackless train, petting zoo, pony rides, and more!
Elmwood Hills Family Fun Day - Blackwood, NJ - Sep 16, 2018
Fun for the whole family including games, bounce house, face painting, petting zoo, food & more.
Gloucester Township Food and Craft Beer Festival - Blackwood, NJ - Sep 16, 2018
Originally 9/9/18 but pushed back to 9/16/18 – due to stormy weather forecast. Over 20 food trucks will be set up, and a beer garden at the Gloucester Township Library, plus live music. Free admission!
Chimney Rock Inn Oktoberfest - Gillette, NJ - Sep 20, 2018
Get Oktoberfest started off with a Steinhoisting competition on 9/20, and keep it going with German food and drinks, prizes and giveaways!
Saint Peter and Paul Parish Oktoberfest - Hoboken, NJ - Sep 21 to Sep 22, 2018
Plan on celebrating with family and friends as Ss Peter and Paul teams up with Hoboken Catholic Academy for Hoboken Family Oktoberfest. Enjoy traditional Oktoberfest fare from bratwurst to strudel, along with some other great festival favorites. It wouldn't be Oktoberfest without some seasonal ice-cold brews, so raise a glass in toasting some delicious Oktoberfest drafts in our Biergarten located inside the Ss Peter and Paul parking lot. The fun does not stop there! Enjoy live music performed by "Nobody's Sheriff" and take the gang on a trip through our kid's village across the street at Stevens Park. From bouncy castles to basketball, there is surely something for everyone. Location: 404 Hudson St., Hoboken, NJ.
Hopewell Harvest Fair - Hopewell, NJ - Sep 22, 2018
32nd annual. Features hay rides, pony rides, petting zoo, children's games, food vendors and lots of farmers and their products. Also plenty of contests like a bake-off, vegetable, kids art, photography, and dogs. This event also works to provide the proceeds as grants to local nonprofits, and has donated over $200,000 to dozens of local groups.
South Jersey Wine & Food Festival - Mays Landing, NJ - Sep 22 to Sep 23, 2018
A waterfront event featuring food and wine from local wineries. Held at Lake Lenape Park East.
Mountain Creek Oktoberfest - Vernon, NJ - Sep 22 to Sep 23, 2018

German American Society of Trenton Oktoberfest - Trenton, NJ - Sep 22 to Sep 23, 2018
The German-American Society is proud to present Mercer County's Largest German Event. 7th Annual Oktoberfest – Traditional Beer Festival from 12 noon – 7:00 pm. Featuring beers by Samuel Adams as well as many German Beers! With music by the Austrian Boys and German Dance performances by the GTV Almrausch. The event will also feature a pig roast, traditional German food, vendors and crafts, bounce castles, kid activities and family fun! Join 94.5 PST live at the event from 2 pm – 4pm hosting a Stein holding competition. $5 admission, children 12 & under free and individuals in full traditional German attire get in free! Part of the proceeds benefit the Jeremy Fund.
Edison's Fall Family Spectacular - Edison, NJ - Sep 22, 2018
Two stages of live music and entertainment, pony rides and petting zoo, kids activities, wrestling ring, RC cars, and more!
Pig and Prince Oktoberfest - Montclair, NJ - Sep 22, 2018
The Pig and Prince Restaurant and Gastrolounge is holding its 4th annual Oktoberfest which will feature authentic German food and seven local craft breweries. Tickets are $20 per person which includes admission, authentic Oktoberfest beer mug, raffle ticket, and one token good for one beer or food station.
Heritage Wine Festival - Mullica Hill, NJ - Sep 22 to Sep 23, 2018
8 New Jersey wineries are present for tastings, plus food trucks, craft vendors, and live music. Special rate for Wine Club Members.
Camden County Fair - Blackwood, NJ - Sep 22 to Sep 23, 2018
Check out 4H exhibits, pony rides, live entertainment, rides and more, with free admission and free parking!
West Windsor Food Truck & Craft Beer Festival - Princeton, NJ - Sep 23, 2018
Food trucks, beer and wine tent, activities for the kids, live music, craft vendors, Alien Parade for people and pets
Que by the Sea BBQ Festival and Competition - Seaside Heights, NJ - Sep 23, 2018
10th annual. All day live music, artists and crafters, kids zone, BBQ competition and more.
Supernatural Official Convention – Secaucus - Secaucus, NJ - Sep 28 to Sep 30, 2018
The stars of Supernatural, off the screen and in person, will be in town for three days of excitement, music, and fun.
Evesham Harvest Fest - Marlton, NJ - Sep 29, 2018
Over 90 handcrafters and artists plus lots of live music, food, and family fun.
The Giant Pumpkin Carve - Woodstown, NJ - Sep 29, 2018
Meals on Wheels holds this annual fundraising event at the Salem County Fairgrounds. Event has lots of activities including high school and amateur artists who carve giant pumpkins. It attracts about 4,000 people each year and offers a pumpkin light show, free hayrides, kids crafts, straw maze, music and more family fun. Enjoy food trucks and farmer's market too!
Chester Lions Club Oktoberfest - Chester, NJ - Sep 29 to Sep 30, 2018
The Chester Lions Club will host its annual Oktoberfest charity fundraiser from noon to 8 PM. Enjoy authentic German food, beer, dancing, live entertainment and a 50/50 raffle at Chubb Park on Route 24 in Chester, NJ. The Oktoberfest is a family friendly event with entertainment, pony rides, games and live music for kids. Children under 12 are free. Admission is $6 for adults. All proceeds from the event will be donated to various charities. Location: Chubb Park, Route 24 West in Chester, NJ, 07930
Leonia Oktoberfest - Leonia, NJ - Sep 29, 2018
Annual Oktoberfest sponsored by the Rotary Club of The Palisades to support the Weekend Snack Pack Program at local schools. This is a family friendly event with food and drink, kids activities, and German competitions.
Ales 'N Tails Oktoberfest - West Orange, NJ - Sep 29, 2018

Our Lady of the Lake Oktoberfest - Verona, NJ - Sep 29, 2018
Seventh annual Oktoberfest under the grand tent in the OLL parking lot. Authentic German food, beer, wine, and live music. Festivities begin with ceremonial beer keg tapping. Advance tickets are $65 per person. Fourth annual Kinderfest under the tents in the Montrose Avenue parking lot is free but tickets are required for certain rides, games and crafts.
Jackson Street Oktoberfest - Cape May, NJ - Sep 29, 2018

Chowderfest - Beach Haven, NJ - Sep 29 to Sep 30, 2018
Saturday Merchants Mart features blow-out bargains from dozens of Southern Ocean County Chamber of Commerce members. Enjoy live music, specialty foods, and cold beer, and special activities for the kids. Merchants Mart is a free event that goes on rain or shine. Sunday is the Chowder Cook Off Classic, a ticketed event at the Taylor Avenue ball field, Ninth Street and Taylor Avenue in Beach Haven (across from Schooner's Wharf and Bay Village).
Faux-Chella - Seaside Heights, NJ - Sep 29, 2018
Two stages of music with 8 hours of music, plus food truck, craft vendors, yoga, kid zone, drum circles, foam party, and more
Asbury Festhalle Oktoberfest - Asbury Park, NJ - Sep 29 to Oct 21, 2018
Asbury Festhalle and Biergarten
High Caliber Festival - Camden, NJ - Sep 29, 2018
The Battleship New Jersey, docked in the Delaware River, plays host to an 18+ music festival with over 20 artists across three stages.
Glassboro Craft Beer Festival - Glassboro, NJ - Sep 29, 2018
Live music and sampling local brews
Wizard World Harvest - Flemington, NJ - Sep 29, 2018
$5 per person gets you into Readington River farm's barn for thie wizards and witches themed event. Get sorted into your wizarding school house, go geocaching, learn to make potions and say spells, plus regular farm fun like corn maze, hayrides, craft vendors, and food.
Bike MS: City to Shore - , NJ - Sep 29 to Sep 30, 2018
Two day event, with route options from 25-180 miles for all cyclists, takes you through South Jersey, with a family friendly afterparty in Ocean City, benefiting MS research
Swedesboro Day - Swedesboro, NJ - Sep 29, 2018
Dragon Run 5k, live performances on two stages, car show, historic reenactors, local vendors and more
Gloucester County 4-H Fall Fest - Mullica Hill, NJ - Sep 29, 2018

Paw Prints 5K - Eastampton Township, NJ - Sep 29, 2018
Off-road 5k through Smithville Park, with a 1 mile fun trail walk and a fundraiser for Burlington County Animal Shelter.
Oktoberfest at the Pilsner Haus - Hoboken, NJ - Sep 29 to Oct 20, 2018
Annual keg tapping followed by weeks of pork shank and pig roasts, Oktoberfest drafts, live music, and more. Fridays and Saturdays only. Entrance is on 15th Street between Grand and Adams.
Guinness Oyster Festival - Red Bank, NJ - Sep 30, 2018
A street festival featuring live music on two stages and local restaurant food booths with a wide variety of food options such as lobster rolls, filet mignon sandwiches, mini-ruben's, friend and raw oysters and of course plenty of Guinnes beers. Family friendly event with lots of vendors and activities for the kids.
Grand Harvest Wine and Music Festival - Hackettstown, NJ - Sep 30, 2018
Rutherford Hall is filled once more with music and food, craft and merchandise vendors, and several local wineries who are offering samples, and bottles for purchase. Free shuttle from parking at Panther Valley Mall.
Oktoberfest at Ho-Ho-Kus Inn and Tavern - Ho-Ho-Kus, NJ - Oct 3 to Oct 7, 2018
The proprietors of the historic Ho-Ho-Kus Inn & Tavern are ready to tap the kegs, raise their steins and shout "Prost" at the 1790-landmark's first-ever Oktoberfest. Celebrate in the Beer Garden on the heated outdoor patio from Wednesday, Sept. 21 through Sunday, Sept. 25. Daily Oktoberfest brew specials, full menu of traditional German fare, music, giveaways and more. No reservations required. Ho-Ho-Kus Inn & Tavern, 1 East Franklin Turnpike, Ho-Ho-Kus, NJ, 201-445-4115.
Italian Street Festival - Seaside Heights, NJ - Oct 5 to Oct 7, 2018
Features performances from Italy, arts and crafts, lots of vendors, a parade on Sunday, and lots of Italian foods.
Bordentown Cranberry Festival - Bordentown, NJ - Oct 6 to Oct 7, 2018
29th annual. Over 145 juried artists and crafters plus live music, kid's zone, and great food from local restaurants.
Hometown Harvest Fair - Highstown, NJ - Oct 6, 2018
16th annual. Enjoy a day of family entertainment with over 200 craft vendors, and three stages of live music and fun.
Quakertown Fire Company Oktoberfest - Pittstown, NJ - Oct 6, 2018
Annual Oktoberfest with food, beverages and activities for kids and adults.
Highlands Oktoberfest - Highlands, NJ - Oct 6, 2018

Smithville Oktoberfest - Smithville, NJ - Oct 6 to Oct 7, 2018
Music, kids activities, international food court and over 100 Juried Crafters in addition to the year round Village activities.
Riverdale Official Convention – Parsippany - Parsippany, NJ - Oct 6 to Oct 7, 2018
The stars of Riverdale, off the screen and in person, will be in town for two days of excitement, music, and fun.
Caldwell Street Fair - Caldwell, NJ - Oct 7, 2018
27th annual. Always on the first Sunday in October this event features great rides, beer garden, live band, great entertainment, quality arts and crafts, and delicious ethnic and regional food. Festival starts at noon.
Dunellen HarvestFest - Dunellen, NJ - Oct 7, 2018
Fun for all ages with free admission for live music, dancing, crafts, kids activities, a scarecrow contest, apple pie contest, carriage rides and so much more. This is an annual event held rain or shine at the Washington Memorial Park from 11:00 am to 4:00 pm. Enter your child in the children's art contest.
Mercer County Italian American Festival - Columbus, NJ - Oct 7 to Oct 9, 2018
Now at the Burlington County Fairgrounds! Live entertainment plus lot of Italian American traditions and fun. A food piazza, markets, crafts, bocce, cultural theater, dining and dance tents, carnival rides, and more
Pumpkin Festival - Whippany, NJ - Oct 7, 2018
Held at Whippany Railway Museum, this annual event features train rides and a Halloween crafts/vendor fair.
Saddle Brook Street Fair - Saddle Brook, NJ - Oct 7, 2018
Market Street transforms into a town block party, with vendors, kiddie rides, pony rides, good, live entertainment, and more.
A.C. Cinefest - Atlantic City, NJ - Oct 12 to Oct 14, 2018
Celebrating the art of independent moviemaking. Meet the celebrities from stage and screen up-close at this annual film festival.
Rakkasah East - Somerset, NJ - Oct 12 to Oct 14, 2018
A Middle Eastern Dance Festival held at the Ukrainian Cultural Center. Three days of dance workshops, dance, bands, and viewing of cultural traditions.
Oasis Oktoberfest - Franklin Lakes, NJ - Oct 12, 2018
Proceeds from this annual Oktoberfest benefit OASIS, a haven for women and children.
South Jersey Pumpkin Show - Woodstown, NJ - Oct 12 to Oct 14, 2018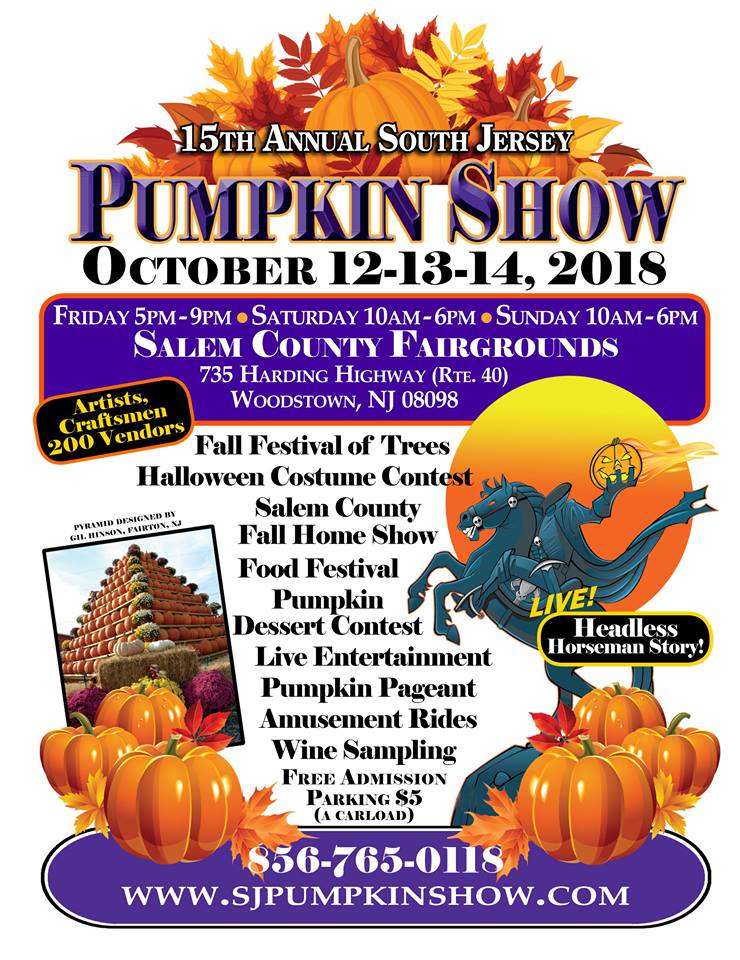 Salem County Fairgrounds, New Jersey; The 15th annual South Jersey Pumpkin Show will open on October 12, 13 & 14, 2018. This three day "Festival of Pumpkins" will be held at the Salem County Fairgrounds, 735 Harding Highway, Woodstown, New Jersey. The event has new show hours of Friday, 5pm to 10pm, Saturday and Sunday, 10am to 6pm. The South Jersey Pumpkin Show has become one of the best ways to welcome the autumn harvest with kids and parents alike. Festival goers visiting will enjoy pumpkin desserts, 100+ craftsmen, Salem County Fall Home Show, fun contests, give-a-ways, wine sampling, Food Trucks, NJ Largest Baked Pumpkin Pie, pony rides and hayrides around the fairgrounds. The festival will host a variety of live musical acts daily. The giant Pumpkin Pyramid, filled with pumpkins, gourds and mums, represents everything beautiful about the fall harvest. Each year many of our vendors create hand-crafted scarecrows and festival goers are invited to judge our entries. The "Fall Festival of Trees Exhibit" is a must see when visiting the festival. Colorful trees will be decorated in Halloween, Thanksgiving and Autumn themes. Tree lighting will be held indoors at 7:30pm on Friday, October 12th. Contest is open to adults, clubs and groups. Opening night, Friday, will showcase the reading of the Sleepy Hollow legend and the arrival of the Headless Horsemen. Two kid's friendly performances will take place in the graveyard. The Family Halloween Costume Contest & Trick or Treat Stroll begins at 6pm. Saturday activities includes the Decorated Wagons & Stroller Contest and the Adults Pumpkin Toss with over $500 in prize money awarded. The best pumpkin desserts are being sought for the Fun Pumpkin Food contest and free sampling. Come search for one of our Halloween Painted Rocks and win amazing prizes. Sunday features the All-Breed Fun Dog, Little Miss & Mister Pumpkin Show King & Queen Pageant, DJ' Pepper Paul and wine sampling all day. The Salem County Fairgrounds is located just a few miles from Delaware Memorial Bridge. Admissions is free, parking $5.00 a carload. Free shopping bags, free trick or treat bags, free pumpkins/gourds first 200 kids daily. Food Trucks, Home & Garden vendors, sponsors, craftsmen, artists and farm markets are being sought for 2018. Visit www.sjpumpkinshow.com for details. Call 856-765-0118. Portion of proceeds being donated to the ScottRWBailey Educational Scholarship & A Voice for Paws.
Annual HARVEST Celebration - Chester, NJ - Oct 13 to Oct 14, 2018
Free 2 day event in Historic Downtown Chester. Features Chester Food Fest plus antique apple press and blacksmith demonstrations, clows, antique car show, pumpkin painting and carving, face painting, and live music.
Roebling Museum's Oktoberfest - Roebling, NJ - Oct 13, 2018
2 p.m. – 7 p.m. Beer Garden featuring craft beer, South Jersey Pops Ocktoberfest Band, Dave Burr on Accordion, Food Trucks and Bacon Bread. Admission is $8 in advance and $10 at the gate. Cup reservations will also be made available on line for additional fee. VALID I.D. REQUIRED!
Deutscher Club of Clark, NJ Oktoberfest - Clark, NJ - Oct 13, 2018
Open to the public.
New Jersey's Best Oktoberfest and Vendor Fair - Warren, NJ - Oct 13, 2018

Duck Pond Oktoberfest - Demarest, NJ - Oct 13, 2018
Annual craft show and Oktoberfest with German music, German food, inflatable games and canoe rides. Event is hosted by the Demarest Nature Center.
Oktoberfest - Hamilton, NJ - Oct 14, 2018

Sea Isle City Oktoberfest - Sea Isle City, NJ - Oct 20, 2018
Location: Excursion Park – JFK Blvd. & Pleasure Avenue
Once Upon a Time Official Convention – Whippany - Whippany, NJ - Oct 26 to Oct 28, 2018
A farewell tour for the beloved show Once Upon a Time, which wrapped up its final season in May. Meet with stars from the show.
Street Fair / Fall Festival - New Providence, NJ - Oct 28, 2018
A giant town block party with kiddie rides, climbing wall, petting zoo, live band entertainment and music all day long, karate demonstrations, and dances. Enjoy food at open air cafes, plus hot dogs, ice cream, sausage and lots more fun.
New Providence Street Fair - New Providence, NJ - Oct 28, 2018
Sprinfield Ave will be transformed into a town blaco party with kiddie area, live entertainment, vendors, food, art and more.
September:
Jazz it Up Wine Festival – Allaire State Park, NJ – Sept. 5-6, 2015
Ocean City Airport Festival – September 12, 2015
Crab & Craft Festival – Hancocks Bridge, NJ – (not happening in 2016)
October:
Heirloom Garlic Tasting Festival – Hoboken, NJ – Oct 11, 2015
Indian Summer Weekend – Ocean City, NJ – October 10-12, 2015
Chatsworth Cranberry Festival – Chatsworth, NJ – October 17-18, 2015
Scarecrow Day at Meadowlands Museum – Rutherford, NJ – October 17, 2015
On October 17, 2015, from 12-3 pm the Meadowlands Museum will be hosting the annual Scarecrow Day, an event that is plenty of fun for families, scout troops, or kids at heart. Participants will make scarecrows using a combination of hay, old clothes, and imagination! We provide all the materials needed: hay, clothes, scarecrow posts, but guests are encouraged to bring items to make their scarecrow as unique as possible, like tiaras, hats, or even a team t-shirt. Scarecrows will be first come, first serve, unless otherwise reserved ahead of time. There will be additional activities such as pumpkin painting and a scavenger hunt. Admission to the event is $15 per scarecrow, and we recommend no more than 6 people working on each scarecrow. To participate in pumpkin painting, an additional $3 per pumpkin will be charged. Light refreshments will be available. The museum is open to the public during the event, and admission is free to see the exhibits. In the case of inclement weather, Scarecrow Day will be held on the next Saturday, October 24, at the same time. The decision will be made by 11 AM, and will be posted to the website and our Facebook page. There are a limited number of spots available. Advance registration is strongly recommended. If you would like to reserve a Scarecrow ahead of time, or if you have any questions about the event, please contact Jesse Gordon, manager of exhibits and volunteers at 201-935-1175. The Meadowlands Museum is located at 91 Crane Avenue in Rutherford near the intersection of routes 3 and 17.
Food-Truck-toberfest – Atlantic City, NJ – October 17-18, 2015
THE FOOD TRUCKS ARE COMING…TO WEST AC! Noon to 8 PM at Howard Johnson Hotel on 8029 Black Horse Pike. Celebrate the Start of Fall At This Gathering of Great Food Trucks and Great Local Bands for A Great Time! Craft vendors, inflated kids fun zone and more.
Find other fun things to do in New Jersey this fall:
Oktoberfest in New Jersey
New Jersey Corn Mazes
New Jersey Ghost Tours
Haunted Houses in New Jersey
Pumpkin Patches in New Jersey