Fall Oklahoma Festivals in 2019
Find an Oklahoma fall festival to attend in 2019. Our events calendar for September, October and November 2019 has things to do across Alabama including activities in Oklahoma City and Tulsa. Our list includes festivals celebrating the local harvest, food, music, beer, Oktoberfest and more.
Oklahoma City Fall FestivalsTulsa Fall Festivals
Last Major Update:
2019 Festivals
Oklahoma State Fair - Oklahoma City, OK - Sep 12 to Sep 22, 2019
Carnival rides, family fun zone, wine & beer garden, barnyard birthing center, frontier experience, Disney on Ice, food, Xtreme Bulls, live music and more. The 2019 Oklahoma State Fair runs Thursday, September 12 – Sunday, September 22. The 2020 Oklahoma State Fair runs Thursday, September 17 – Sunday, September 27.
LexiCon - Stillwater, OK - Sep 14, 2019
LexiCon 2019 is a FREE comic-con and fandom event intended to draw together community members who share similar interests and to provide library materials to those who enjoy pop culture. It features vendors, panels, cosplay, and gameplay, and displays for fans of comics, gaming, sci-fi or fantasy TV shows, movies and books, graphic novels, and anime. LexiCon will take place on Saturday, September 14, 2019 from 10:00 am to 5:00 pm. Events will be spread between the Stillwater Public Library, Prairie Arts Center, and Stillwater Community Center.
Tulsa State Fair - Tulsa, OK - Sep 26 to Oct 6, 2019
Disney on Ice, livestock shows, vendors, food, carnival rides, live music, and more. Since 1903.
Robbers Cave Fall Festival - Wilburton, OK - Oct 18 to Oct 20, 2019
Head to beautiful Robbers Cave State Park along the shores of Lake Carlton in the San Bois Mountains, where annually there are around 65-70 thousand people who visit during the 3 days of the event. The largest day is Saturday when the Fall Foliage Cruise hosts about 500 pre-1986 cars, some original, some restored, and some customized. The weekend kicks-off Friday with a Burger Social at the Wooldridge Ranch – head over for a free hamburger or hot dog while watching cars register for the car show.  On Saturday is the Car Show at Robbers Cave State Park. Car show participants start arriving around 7am. Registration opens at 8am. Throughout the day browse through and enjoy 1 of the largest craft shows in the state along with amusement rides, quilt show, food & entertainment including live bands. Dedicated Free Motorcycle parking. Free courtesy shuttle buses: "Parking to Event" and "Town to Park". On Sunday the Car Show is over but the festival is still going strong. If you missed out on any of the arts and crafts vendors this is a great day to go check them out along with enjoying live music and the carnival.
Past Events
We know that you want current events. But we often don't have dates for the current year. We leave those events with their link here so that you can look for the new dates yourself. We hope you don't mind!
Henryetta Labor Day - Henryetta, OK - Sep 1 to Sep 5, 2016

Chouteau Day - Salina, OK - Oct 8, 2016

Dickens on the Boulevard - Claremore, OK - Nov 18 to Nov 19, 2016
A Victorian-themed Christmas festival held annually on the weekend before Thanksgiving. Wagon rides, costume contest, living nativity, "Tales from the Top" tour, shopping and food. Admission is free.
Coweta Fall Festival - Coweta, OK - Sep 14 to Sep 16, 2017
Parade, rides, 5K, pageant and more.
Fin and Feather Fall Festival - Gore, OK - Sep 22 to Sep 24, 2017
Annual arts and crafts festival held at the Fin & Feather Resort near Lake Tenkiller. Browse through over 170 arts and crafts vendors.
Greek Festival of OKC - Oklahoma City, OK - Sep 29 to Oct 1, 2017
Hosted by St. George Greek Orthodox Church.
Wild West Festival - McAlester, OK - Oct 7 to Oct 8, 2017
Annual celebration of the birth of McAlester (the historic town) and the Wild West. JJ McAlester's original home and his mercantile buildings will be available for tour during the festival.
Watonga Cheese and Wine Festival - Watonga, OK - Oct 13 to Oct 14, 2017
Wine tasting, parade, Great Rat Race (10K, 5K and fun run), Race the Rail (bicyclists), cheese food contest and cheese demonstrations. 2 day pass for ages 13+ is $5.
Route 66 Pecan and Fun Fest - Claremore, OK - Oct 21, 2017
Head to the Nut House for a car show, pecan pie-eating contest, craft show and kids games.
Choctaw Oktoberfest - Choctaw, OK - Aug 30 to Sep 2, 2018
More than 50,000 people attend this annual Oktoberfest organized by Old Germany Restaurant, the City of Choctaw and the Choctaw Chamber. Enjoy beer, food, dancing and live German music. German food includes grilled chicken, ham hocks, brats and apple strudel.
Western Days - Mustang, OK - Sep 7 to Sep 8, 2018
Held each year on the first full weekend following Labor Day. Crowd size has been estimated as high as 30,000. Events include Storefront Decorating, Chili Cook-Off, Parade, Stampede Car Show, and Chuck Wagon Cook Off
Fassler Hall Oktoberfest - Oklahoma City, OK - Sep 7, 2018
Free outdoor German beer & food festival with live polka music and Oktoberfest contests. Kid friendly until 8pm, then 21+ with ID
Founder's Day - Piedmont, OK - Sep 8, 2018
Parade, food & craft booths, junklahoma (vintage & antique dealers), kid's activities (inflatables, pony rides, petting zoo)
Rogers County Free Fair - Claremore, OK - Sep 13 to Sep 15, 2018
Established in 1914. Carnival, chainsaw carvings, fair food, livestock and agricultural exhibits. Admission is free.
Scotfest - Broken Arrow, OK - Sep 14 to Sep 16, 2018
Celtic music festival and Scottish Highland Games, plus dancing, whisky tastings, and more.
Frontier Days - Tecumseh, OK - Sep 15, 2018
An annual event on the third Saturday of September, celebrating life in Oklahoma with a parade, kids area, car show, live music, food trucks, and a Made in Oklahoma vendors area.
Pioneer Day Festival - Shiatook, OK - Sep 15, 2018
Pioneer Day Festival starts with "Chalk the Walk" and the Color Run. Pioneer Day Parade starts at 9:00 am. Midway with food vendors, amusement rides, carnival games, talent competition, Petting Zoo, kid's fishing derby, chalk art contest, and more. Live music on entertainment stage. "Fantasy On Wheels" car show in the parking lot the West Rogers Campus of First Baptist Church.
Tulsa Greek Festival - Tulsa, OK - Sep 20 to Sep 23, 2018
Tulsa's oldest ethnic festival at Holy Trinity Greek Orthodox Church, with Greek food, KidZone, dancing and more!
Wizarding World of Tiger Safari - Tuttle, OK - Sep 25 to Oct 31, 2018
Tiger Safari is pleased to announce our first annual "Wizarding World of Tiger Safari!" Come in and join us September 25th through October 31st. There will be photo opportunities for wizards and witches of all ages to dress up in their Hogwarts robes and get their picture taken with our Eurasian Eagle-Owl. Pictures will be taken in front of a green screen so you'll be able to hold Luna or Hedwig while standing in front of Hogwarts itself!! Guests are more than welcome to show their house pride and bring their own wizards robes for pictures, but fear not if your house-elf has misplaced yours for we are more than happy to provide Gryffindor robes for witches and wizards big or small. Tiger safari was opened in 2003, on 45 acres just south of highway 37 in Tuttle, OK! Presently they have over 170 animals. They have a new education center, reptile facility, tiger overlook deck and welcome center. Open Tuesday through Sunday, 9 AM to 5:30 PM.
International Festival - Lawton, OK - Sep 28 to Sep 30, 2018
Parade of nations, music concerts and children's area. Held at Elmer Thomas Park. No admission or parking fee. Since 1979.
Oklahoma Regatta Festival - Oklahoma City, OK - Sep 28 to Sep 30, 2018
Three days of rowing, kayaking, dragon boats, whitewater rafting, and family fun.
Plaza District Festival - Oklahoma City, OK - Sep 29, 2018
A highlight of Oklahoma's artists, live musicians, and more, with children's activities as well.
Enid Oktoberfest - Enid, OK - Oct 5, 2018
A celebration of local Czech, Austrian, and German roots with Polka bands in downtown Enid on the first friday in October.
Oktoberfest Bartlesville - Bartlesville, OK - Oct 6, 2018
Several food trucks will be there, serving authentic German food as well as hot dogs, strudel and sweets. Also features a beer garden offering up cocktails, wine and beer, plus live polka music, folk dancers demonstrating authentic German, Swiss, and Austrian folk dancing, a costume contest, photo props, games (including a stein-holding competition) and children's activities, including a marionette theater!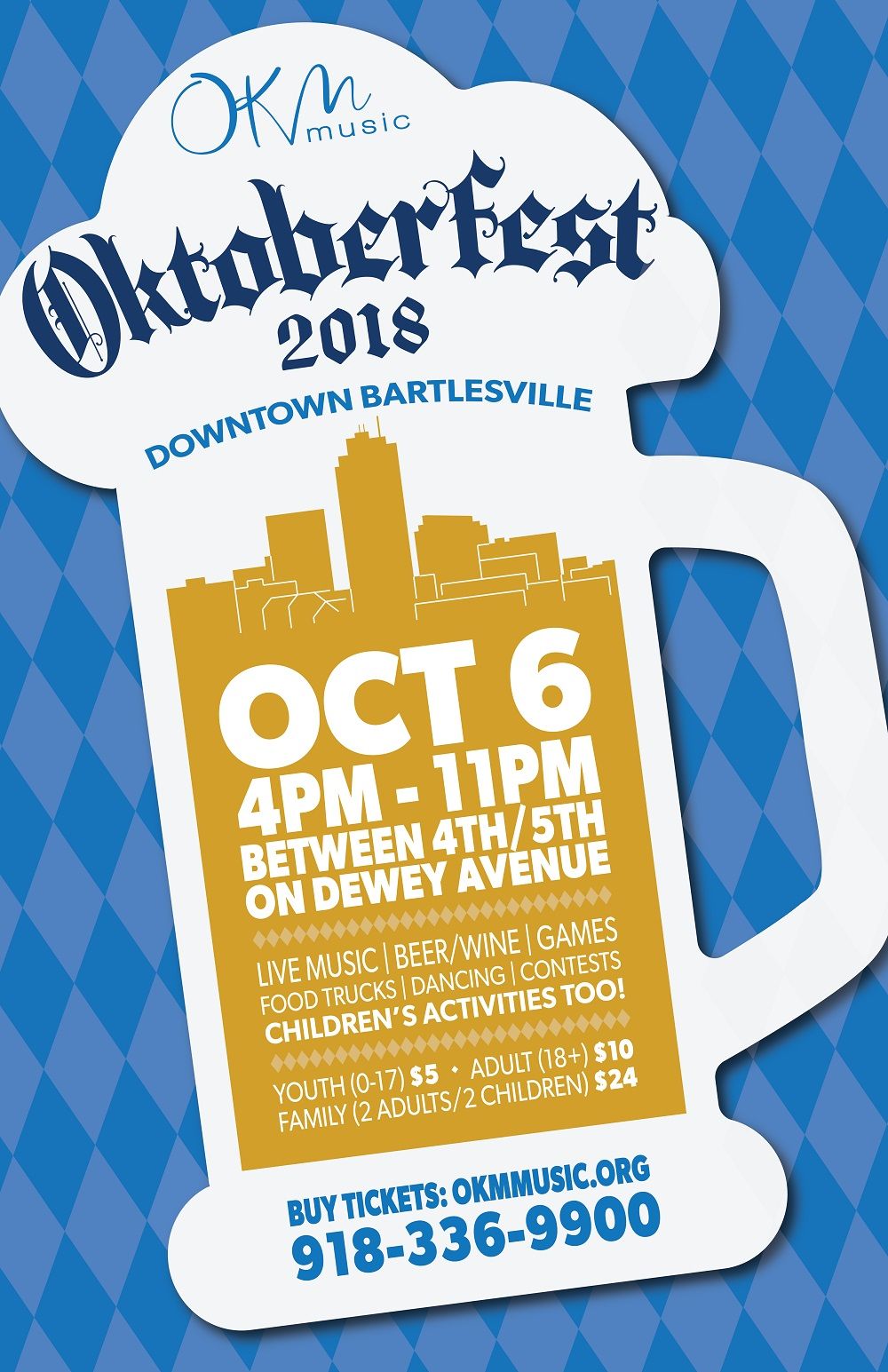 Pelican Fest - Grove, OK - Oct 10 to Oct 13, 2018
70s and 80s Throwback Weekend, arts and craft vendors, and more at Wolf Creek Park.
Vinita Oktoberfest - Vinita, OK - Oct 13, 2018
The Holy Ghost Catholic Church hosts the Vinita Oktoberfest on the second Saturday in October. Enjoy German brats, local entertainment, crafts, children's games, pony rides, and a silent auction. Location: 120 West Sequoyah, Vinita, OK 74301
Arbuckle Mt Park Bluegrass Jam - Wynnewood, OK - Oct 15 to Oct 21, 2018
Come on down to Arbuckle Mt Park for the fall bluegrass jam, with bluegrass music, gospel, old country, and some family-friendly fun! $3 walk-in fee, free admission if you're camping.
Tulsa Oktoberfest - Tulsa, OK - Oct 18, 2018
This Oklahoma Oktoberfest has been running for more than 30 years. It's been ranked one of the top Oktoberfest celebrations in the United States by several different media outlets. The Dachshund Dash, bier barrel races, a 5K and stein carrying and holding contests. Two bands from Germany bringing the party live music. Location: 2100 S Jackson Ave, Tulsa, OK
Poteau Balloon Fest - Poteau, OK - Oct 19 to Oct 20, 2018
Held on the LeFlore County Fair Grounds. Carnival rides, tethered balloon rides, helicopter rides and monster truck rides. Pageant, pet contest, mud race and mud tug of war. Free parking.
Talihina Fall Foliage Festival - Talihina, OK - Oct 27, 2018
Arts & craft vendors, food, quilt show, car show, 5K and more
Fall Festival Hallelujah Party - Oklahoma City, OK - Oct 31, 2018
Games, Food, Cakes, Face Painting, Moon Bounce Prizes, Giveaways, and Candy. Cost is FREE. Held at the Lincoln Park Senior Center from 6-8 PM.
Williams Route 66 Marathon - Tulsa, OK - Nov 17 to Nov 18, 2018
Enjoy a marathon, half marathon, 5k, fun run, and more, starting in downtown Tulsa (home of the largest amount of Art Deco architecture outside of Miami) and running through the diverse neighborhoods of Tulsa and the campus of Tulsa University. Many of the neighborhoods host block parties all along the course to welcome runners!
September:
Labor Day Carnival & Parade – Henryetta, OK – September 2015.  A four day celebration featuring a car show, parade, BBQ dinner, games, live entertainment, beauty contest, gospel concert, and ending with fireworks.  Activities throughout main street and at Cameron Field.
Oklahoma Indian Summer Festival – Bartlesville – Sept 17-20, 2015
Fine arts market, American Indian storytelling, Intertribal Powwow, gourd dancing and cultural demonstrations.
Gatesway Balloon Festival – Claremore, OK – September 18-19, 2015
Elk City Fall Festival – Elk City, OK – September 19-20, 2015.  Ann annual event for 38 years feature crafts and fun from all over Oklahoma.  See unique gifts, products and home décor.  Admission is free.  Hosted by Elk City Chamber of Commerce.
October:
Oklahoma Czech Festival – Yukon – Oct 3, 2015
49th annual event. Food, parade, dances and kolaches to celebrate Czechoslovakian culture annually on the first Saturday in October.
Soul Food Festival – Oklahoma, OK – October 3, 2015
A travelling music and food festival that attracts about 10,000 visitors per city. Internationally recognized artists. Ticket price depends on location. Options include early bird tickets, general admission, preferred viewing and VIP seating. Brought to you by the Kinfolks Foundation.
Fall Festival & Car Show – Holdenville – Oct 3-4, 2015
10 AM to 9 PM at the OKC Myriad Gardens. Live music, crafts and food to benefit Goodwill's youth programs. General admission is free.
Find other fun things to do in Oklahoma in fall:
Oktoberfest in Oklahoma
Oklahoma Corn Mazes
Oklahoma Ghost Tours
Haunted Houses in Oklahoma
Pumpkin Patches in Oklahoma