Haunted Houses in New Mexico for Halloween 2020
Funtober lists the best Halloween haunted houses in New Mexico. We have all the 2020 commercial and charity haunted houses, haunted trails, haunted corn mazes, and scream parks in October. Plan a night out with your friends to find some zombies, creatures, vampires, and witches running about the state. Expect to see Hollywood type set designs, air blasters, live actors, and professional makeup.
Last Major Update:
Albuquerque Haunted Houses
[DISPLAY_ULTIMATE_SOCIAL_ICONS]
Annual Haunted House at Hobbs - Hobbs, NM
Enjoy the Community Players of Hobbs as they put on their annual haunted house in October 2019. Wrecked on Pirate Isle.
Carlsbad Lions Club Haunted House - Carlsbad, NM
Annual charity event hosted by Carlsbad Mall and put on by the local downtown Lions Club and Carlsbad High School Mummers (a local theater group). Small $5 donations accepted.
Dragons House of Horror - Albuquerque, NM
Back again at the State Fairgrounds Expo hall for 2019.  It is open every Tuesday through Sunday in October. The scary event opens at 7 pm. Friday and Saturday it closes at 12 am, Sunday nights at 9 pm, and at 10 pm on all other nights. Michael, Jason, Pumpkinhead, and Clown Butcher are back to give you terrifying scares.  Open from October 3rd through early November.
Haunted Scarecrow - Albuquerque, NM
Albuquerque's only non-profit, Professional, not for the feint of heart, Scare House! Our proceeds will be donated to local charities. Warning we are New Mexico's scariest haunted house. "Be there and be scared!"
Horror Hall - Tularosa, NM
Haunting season starts October 11th, 2019 and runs Friday and Saturday nights plus Halloween night.  The "no touch" , Creepstyle Haunted House  is open  for public viewing only several days a year . With original sets, soundtracks , costuming, props, artworks , and various other genuine articles of interest ,you're sure to have  a memorable experience .Photo ops abound and are welcome.
McCall's Haunted Farm - Moriarty, NM
Farmer McCall still roams the fields with his axe looking for more victims. McCall's is open Friday and Saturday nights starting September 27th through October 2019. Doors open at 7 pm. The haunt attractions are The Haunted Cornfield and The Haunted Barn. Tickets are priced for a single haunt or a double haunt ticket. Lots of activities and party type atmosphere every night at McCall's. Pay a small fee $4.95 to enter the facility and join in the fun without actually paying to go through a scary haunt.
Quarantine: Origins - Albuquerque, NM
Quarantine returns for 2019 with their renamed haunted attraction: Phantasmagoria.  They are currently working on dates and location but auditions have started in July for their actors.  Check their web page for detail or call them at  Telephone: 575-652-6491.  Hosted by Blackout Theater.
Realm of Darkness - Albuquerque, NM
They are connected with Dragon House of Horror.  Check that listing for details on Realm of Darkness.
Scariest Place On Earth - Albuquerque, NM
A really scary place opens in October.  Open the last 10 days of October.  The 10.000 foot lay out offers chills and thrills at every turn. The actors costumes and make up will shock your imagination. $10. gets you in.
Slaughter House - Albuquerque, NM
The season begins on September 27th, 2019.  Doors open at 6 pm. A low scare runs generally from 6 pm to 7 pm. Full scare starts at 7 pm. Attraction runs Friday, Saturday and Sunday nights plus a number of additional October dates. General Admission tickets run $25 or low scare $20.  You should expect this to be very scary.  They even have a one night forfeit attraction that most people can't make it through.  Consider this an extreme haunted house.
St. Bernard Farms Corn Maze - Clovis, NM
Farm and corn maze admission is $10.  Haunted house and Haunted corn maze admission is $10 each. All include the hay bale maze, spider web, tire mountain, swings, and more.  St. Bernard Farms has teamed up with Mix 107.5 radio and the Clovis/Curry County Chamber of Commerce to bring you and your family the High Plains corn maze! The maze is the highlight of our attraction, but there is so much more to do and see. The corn maze covers more than 8 acres and you're gonna love it! Plan to join us this September for good ol' fashion, family fun.
If you are on the border with another state, your closest haunted house might not be in New Mexico. Also check these bordering states for more haunted attractions:
Arizona,
Colorado,
and
Texas.
Find other fun things to do in New Mexico in October:
Oktoberfest in New Mexico
New Mexico Festivals
New Mexico Corn Mazes
New Mexico Ghost Tours
New Mexico Pumpkin Patches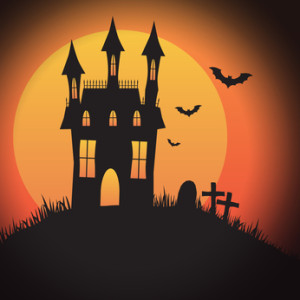 Check out the TOP 100 HAUNTED HOUSES FOR HALLOWEEN 2018 and our list of the Top 100 Haunted Houses 2017 in America.  Is your favorite haunted attraction on the top 10 and top 100 state list?
You may also be interested in our article on Haunted Houses and Horror Movies | History of Fear.
Add Your Feedback!
Have you been to one of these haunts? Future readers would be interested in hearing what you thought. Did you have fun? Was it worth the price? Would you suggest it to visitors here? Any tips to maximize your experience? I'll gladly publish what you send me and give you an over the Internet hug.
If you are the owner or employee of a house in this directory, or one we missed and need to add, we would love to have more information about your place, including the url, photos, dates/times/hours etc. Use the contact form on our advertising page to get in touch and we'll follow up if we still need your response to any of these questions.