Cleveland Haunted Houses For Halloween 2019
Cleveland haunted houses are some of the largest and best in the United States and Ohio including three listed on the popular Funtober 100 list. Spend a scary night out with your spouse, date, or friends. You will be terrified at these haunted attractions. For the price of a bowling night you can be part of the action as you come face to face with terror. Most use animatronics, great props, Hollywood sets, and actors with makeup beyond belief. You will be frightened. Find all the haunted houses, trails, corn mazes, hayrides, and Halloween fun attractions in the Cleveland area. Last Major Update:
7 Floors of Hell World of Nightmares - Middleburg Heights, OH
Their haunt season begins on September 20th, 2019.  Back again with 7 great haunted attractions.  They advertise themselves as the largest haunted event in the world. Tickets are $28 online. Doors open at 7 pm and close at midnight on Friday and Saturday or 10 pm on six other nights.  7 Floors runs every Friday and Saturday night through October plus a couple added dates near Halloween.  7 Floors of Hell has over 65000 Facebook likes.
Blood Prison - Mansfield, OH
Nothing like being scared.  This old prison is all about horror.  It once housed some very violent prisoners.  Many died here.  Some may be still here.  Visit every Thursday through Sunday nights starting September 27th, 2019.  Tickets are $25.  Wander in terror through the Ancient Gothic structure of the Haunted Ohio State Reformatory, Survive your incarceration…if you can!  BLOOD PRISON 2019 is waiting for you…ENTER if you dare, Escape if you can.  For the first time ever Blood Prison welcomes HELLZAPOPPIN CIRCUS SIDESHOW REVUE which is included with your Blood Prison ticket!
Buzzard Cove Screampark - Hinckley, OH
Buzzard Cove and Hinckleys Haunted Barn are open every Thursday through Sunday nights from September 27th, 2019.  Tickets are $20 for the barn.  They are returning for 2019 with a new Scarecrow Alley Haunted trail and Hayride attraction.
Carnival of Horrors - Cuyahoga Falls, OH
Extremely scary fun begins on September 27th, 2019.  Located at the Blossom Music Center ask yourself are you afraid of clowns? The Carnival of Horror attractions are Insane Asylum, The Fun House, The Wicked Woods, and The Freakshow 3D. Visit any Friday, Saturday, or Sunday night in October. A ticket is $22-23. The times are 7:30 pm until midnight on Friday and Saturday or 10 pm on Sunday. There is a food court onsite.  Carnival of Horrors has over 27000 Facebook likes.
Cedar Point's Hallo Weekends - Sandusky, OH
Lots of fall fun begins on September 13th, 2019 at Cedar Point.  Hallow Weekends has run for 20 years of monster fear. Cedar Point operates 10 haunted houses that are free with the park ride admission. Hallo Weekends hours are Friday night from 6 pm to midnight. Saturday runs from 11 am to midnight and Sunday. Note the park operates their daytime Great Pumpkin Fest on Saturday and Sunday the same weekends. Check the website for a variety of ticket price options and discounts.
Factory of Terror - Canton, OH
Opening night is September 21st.  The Factory of Terror with 160,000 square feet is advertised as the "World's Longest Haunted House." It takes about an hour to go through the four attractions. A $25-30 ticket admits you to the Portal To Insanity, Industrial Nightmare, Massacre on Mahoning, and Judgement Day in 3D.  Attractions are open Friday and Saturday in September and every Friday, Saturday and Sunday nights in October. The times for Sunday are 6 pm to 9 pm. The times for Friday and Saturday are 7 pm to midnight. Check web page for additional open dates.  You can wear costumes however masks or makeup are not allowed.  This very popular attraction has over 79000 Facebook likes.
Fall Fear Fest - Chardon, OH
Twelve scary nights at Pioneer Waterland and Dry Fun Park, starting September 21st and running every Friday and Saturday night after 7pm in October! 2019 attractions (North East Ohio's Largest Collection of Extreme Haunts) include Night Fright Trail of Terror (their premiere attraction) Corn Creepers, Cabin of Carnage, Killaways Freakshow & Deads End Haunt. You can also enjoy food, beers on tap, arcade games, and music.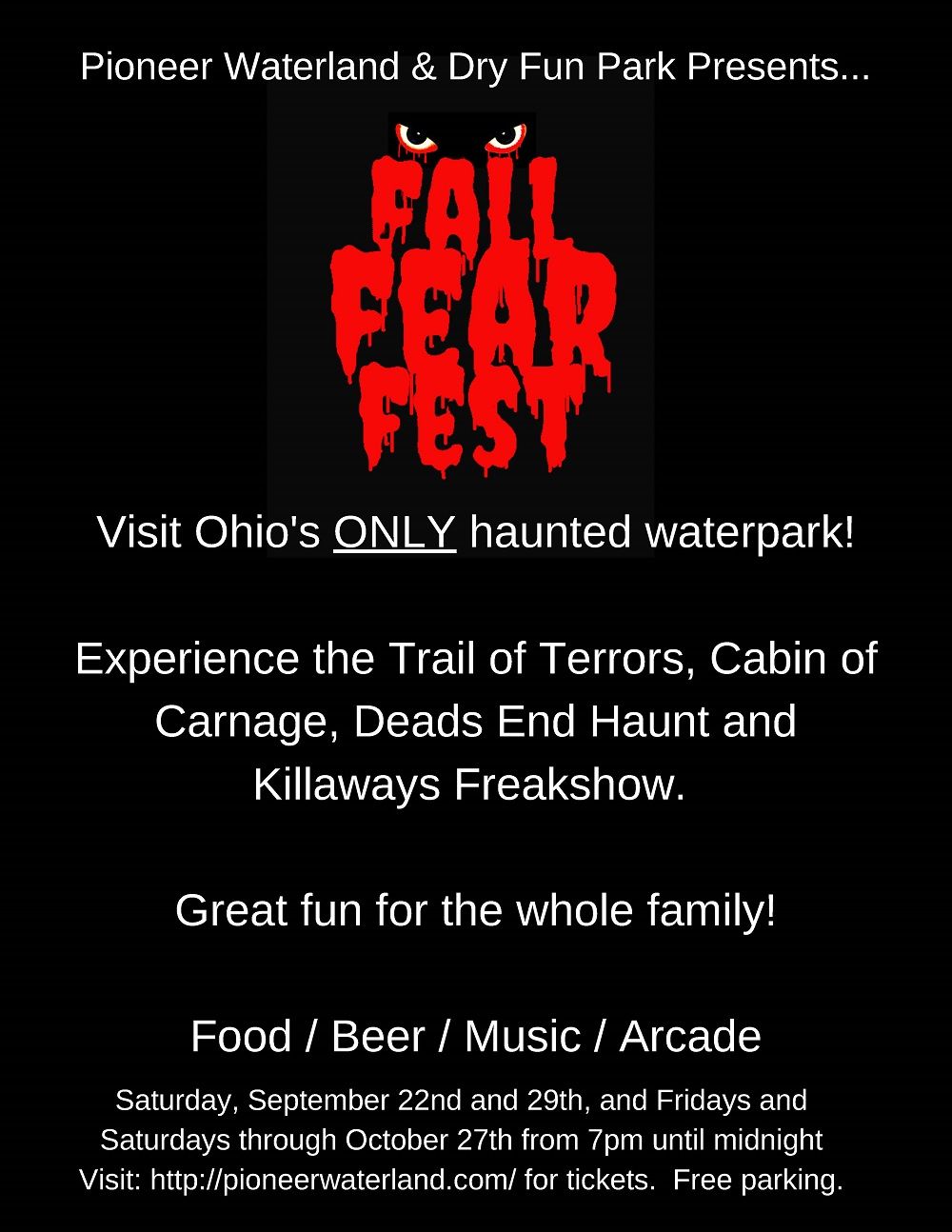 Haunt on Williams - Conneaut, OH
This is a family haunt that runs the week before Halloween.  Its been operating for over 29 years.  This year it is open on 9 dates beginning in October 2019.
Haunted Schoolhouse and Haunted Laboratory - Akron, OH
This popular haunt is open for the season on September 21st, 2019.  Open for more than 40 years the Haunted Schoolhouse and Haunted Laboratory has a combined 7 floors of terror. The haunt is a classic in the industry and still supports 50 actors providing lots of frights. It is open every Friday and Saturday nights after September 21st  Sundays in October. It opens nightly at 7:30 pm and closes at midnight on Friday and Saturday or 10 pm on other nights.
Hauntville - Elyria, OH
Opening night is late September 2019.  A Hauntville ticket is $20 but there are vip, combo packages and discounts available. Hauntville is located in the Midway Crossing Shopping Center. It is advertised as "Ohio's First 4D Haunted House". It has 5 attractions plus an all indoor waiting area. The attractions are Psycho Manor, Wicked Clowns 4D, Butch'r Barn, Zombie Hunt Paintball, and Cellblock 13. Each attraction has a storyline and every attempt is made to prevent you from making it out alive. It opens at 7 pm and closes at midnight on Friday and Saturday or 10 pm on all other nights.  Hauntville is open every Friday and Saturday nights.  Also open most Thursday and Sunday nights in October.
Lake Eerie Fearfest - Sandusky, OH
Two attractions open late September 2019.  Ghostly Manor and Lake Erie Fearfest.  They run every Friday and Saturday nights plus some Sundays through Halloween.  Tickets are $22.  Opens nightly at 7:30 PM.
Spooky Ranch - Columbus Station, OH
The spooky fun begins on September 27th, 2019.  New haunt attractions for 2019. Spooky Ranch has five haunt attractions for one low price. It has operated for over 29 years. The attractions at Spooky Ranch are Crazy Clowns 3D, The Famous Haunted Hayride, The Haunted Barn, and Funny Farmhouse, and the all new feature attraction Bloody Mary's Revenge Haunted House. Tickets are $25 for the most popular 5 attraction combo package. Gates open at 7 pm. Attraction closes at 11:30 pm on Friday and Saturday or 9:30 pm on other nights. It operates every Friday and Saturday nights in September plus most Thursday through Sunday nights in October. During the day you can visit the Old West Pumpkin fest running from noon to 5 pm. There is a family friendly Halloween trail with most attractions being suitable for children.
The Chippewa Lake Slaughterhouse - Chippewa Lake, OH
Slaughterhouse opens September 21st and runs every Friday and Saturday night through October 2019 plus Halloween night and some additional October and November nights.  Prepare yourself for the most realistic Haunted House experience Ohio has to offer! This haunted attraction is located inside the historic Chippewa Meat Factory and delivers high-quality set designing and professional actors. This is not your typical Haunted House, this is as real as it gets!  Over 50,000 square feet of horror awaits you.
The Fear Experience Haunted House - ,
This wildly popular and scary attraction has been open for years. Unfortunately they have yet to find a location for 2017.  They might be closed for this year.  Check back for updates.
State By State List of Halloween Haunted Houses
Haunted Houses in Ohio
Columbus Haunted Houses
Akron Haunted Houses
Cincinnati Haunted Houses
Indianapolis Haunted Houses
Pittsburgh Haunted Houses
Haunted House Videos
More Fall Activities in Cleveland:
Akron-Canton Haunted Houses
Halloween Events
Ghost Tours
Thanksgiving in Cleveland
Check out the TOP 100 HAUNTED HOUSES FOR HALLOWEEN 2018 and our list of the Top 100 Haunted Houses 2017 in America.  Is your favorite haunted attraction on the top 10 and top 100 state list?
You may also be interested in our article on Haunted Houses and Horror Movies | History of Fear.
Add Your Feedback!
Have you been to one of these haunts? Future readers would be interested in hearing what you thought. Did you have fun? Was it worth the price? Would you suggest it to visitors here? Any tips to maximize your experience? I'll gladly publish what you send me and give you an over the Internet hug.
If you are the owner or employee of a house in this directory, or one we missed and need to add, we would love to have more information about your place, including the url, photos, dates/times/hours etc. Use the contact form on our advertising page to get in touch and we'll follow up if we still need your response to any of these questions.