Haunted Houses in Ohio for Halloween 2017
Find lots of Halloween haunted houses in Ohio for 2017.  Funtober lists all the haunted houses, haunted corn mazes, haunted hayrides, scream parks and more for your October enjoyment.  Long has "Oh Hi Oh" been a sounding cry for those from the buckeye state.  Each Halloween season those turn to screams of terror.  Haunted attractions feature Hollywood type set designs, live actors, creative costumes, air blasters and more.  Expect to find some zombies, witches, vampires, devils, and clowns among your local haunts.
Besides the many haunted houses in Ohio you can visit you might want to take a side trip to Canton for the Pro Football Hall of Fame or Cleveland for the Rock and Roll Hall of Fame.  But don't let their apparent friendly nature fool you. 
Akron-Canton Haunted HousesCincinnati Haunted HousesCleveland Haunted HousesColumbus Haunted Houses
Last Update:
[fsb-social-bar facebook="true" twitter="true"]
Haunted House Owner? Advertise Here.
Do you run a haunted house in the United States? More than 150,000 people came to Funtober last year looking for a haunted attraction to attend in September or October. We can help increase attendance at your business or event through a sponsored listing, coupon giveaway, cross-promotion or other creative marketing initiative. Special deals for nonprofits. Please see our advertising page or contact us for more information.
We have separate attraction links and listings for haunted houses USA,  haunted corn mazes, haunted trails, haunted zombie paintball, haunted forests, haunted hayrides, and ghost tours.
7 Floors of Hell World of Nightmares - Middleburg Heights, OH
A new name and now 10 brand new haunted houses at the former 7 Floors of Hell. They advertise themselves as the largest haunted event in the world. Tickets are $23 online. Doors open at 7 pm and close at midnight on Friday and Saturday or 10 pm on six other nights. 7 Floors now World of Nightmares
Barber Haunt - Barberton, OH
This long time Barberton favorite haunt will not be open in 2016.
Carnival of Horrors - Cuyahoga Falls, OH
Located at the Blossom Music Center ask yourself are you afraid of clowns? The Carnival of Horror attractions are Insane Asylum, The Fun House, The Wicked Woods, and The Freakshow 3D. Visit any Friday, Saturday, or Sunday night in October. A ticket is $22 online. The times are 7:30 pm until midnight on Friday and Saturday or 10 pm on Sunday. There is a food court onsite.
Cedar Point's Hallo Weekends - Sandusky, OH
Hallow Weekends has run for 20 years of monster fear. Cedar Point operates 10 haunted houses that are free with the park ride admission. Hallo Weekends begins September 16th. The hours are Friday night from 6 pm to midnight. Saturday runs from 11 am to midnight. Sunday's start at 11 am and finishes at 8 pm. Check the website for a variety of ticket price options and discounts.
Clay's Park Wicked Weekends - N Lawrence, OH
Clay's Park located outside of Akron has opened Wicked Weekends for the last 4 years. In 2016 they run their Campground Trick or Treat only on October 15th and their Zombie Weekend on October 22nd. Check their web page for details.
Dayton Scream Park - Dayton, OH
All new trails and scares for 2016. What are you doing on Friday and Saturday nights between September 16th through October 29th? Perhaps you should visit Nightmare on Valley Street. Take the Hillbilly Hay Ride attractions. For a real fright spend 30 minutes going through the Haunted Trail with 30 scenes and 40 live monsters. A $20 combo ticket will get you into the hay ride, trail, and Rat Trap Maze. Enjoy Friday and Saturday nights from dark to midnight.
Factory of Terror - Canton, OH
The Factory of Terror with 160,000 square feet is advertised as the "World's Longest Haunted House." It takes about an hour to go through the four attractions. A $27 ticket admits you to the Portal To Insanity, Industrial Nightmare, Massacre on Mahoning, and Judgement Day in 3D. Factory of Terror opens September 23rd. Attraction is then open every Friday and Saturday and most Thursday and Sundays. The times for Sunday are 6 pm to 9 pm. The times for Friday and Saturday are 7 pm to midnight. You can wear costumes however masks or makeup are not allowed.
Fear Forest Haunted House & Hayride - Youngstown, OH
Fear Forest has two haunted attractions plus a great haunted hayride. It is open Friday, Saturday, and Sunday starting September 23rd. Fear Forest opens at 7 pm and closes at 12 am on Friday and Saturday and at 10 pm on Sunday. A ticket for the hayride is $10 per person. Buy a combo ticket to go through Insanitarium, Psycho Path Haunted Trail, and ride the hayride for just $25. More combo packages available. The hayride is 1 mile long. They have 68 acres of sheer terror.
Forest of Fright Haunted Trail - Philo, OH
Located just 10 miles from Zanesville, Forest of Fright in Philo, Ohio has given the small town 11 years of fears. Many consider this the best outdoor haunted attraction in the state. Every year the scenes and scares are all new. Walk the nearly mile long trail against the storyline of Kari, the mentally ill daughter of the Duncan family who in the mid 1800.s created Kari's Playhouse. A room made for torture, dismembered bodies, and mass murder. Forest of Fright uses strobe lights, sound effects, animatronics, fog machines, and terrific live actors. Walk deep into the woods, into the foggy maze, through the Tunnel of Screams, the Butcher Shack, Asylum in the Hillside, and past the blood thirsty Hillbilly Klowns. Ride with the dead bellhop on the working Hellavator down to Kari's playroom. The haunt has free parking, food and gift concessions, security, and nightly entertainment. They have a featured DJ, music, bonfire, and a big screen horror movie show. Tickets are $13 per victim. Military and seniors save $4. Demon Fast Pass VIP also available. Attraction runs Friday and Saturday nights in October.
Fortress of Fear - Garretsville, OH
Experience Fearanoia and Cagemaze at the Fortress of Fear Screampark. Park is open from 8:00 pm to 11:00 pm on Friday and Saturday nights or 10 pm other nights. Halloween is black-out night. The basic ticket is $15. A mega ticket for Fortress or Fear, Fearanoia, and Zombie Abomination is $20.
Halloween Haunt At Kings Island - Mason, OH
Kings Island Haunt takes over the theme park on Friday and Saturday nights through October 31st. The Friday times are 6 pm to 1 am. Most Saturday times are 11 am to 1 am. Caution since zombies, psychotic clowns, and twisted souls take over the park it is too intense for children under the age of 13 at night. Enjoy the park rides, featured haunts, mazes, and shocks. New attractions for 2016. If you have a Gold Pass season ticket you get in for free.
Haunt on Williams - Conneaut, OH
This is a family haunt that runs from October 23rd through October 31st.
Haunted Cave at Lewisburg - Lewisburg, OH
What's scarier than a real cave? The Haunted Cave at Lewisburg has added unusual cave creatures to their Water Monsters, and Great Maze attractions. Tickets are $17. Visit on Friday and Saturday nights from September 16th. The times are 7 pm until midnight.
Haunted Farm - Pleasantville, OH
An annual haunt for over 17 years. It features a haunted barn, corn maze, and haunted hayride. They have vendor concessions and lots of live entertainment on select night. Doors open at 7:30 pm and runs until 11:30 most nights. Tickets are $10 for adult admission into the Haunted Barn. Tickets are $16 for admission into the corn maze, hayride and Haunted Barn. Experience the fear of the evil on the farm. Hear tales of mass murder, torture, and what ever happened to the Wilson family? Find out if you dare. Open Friday and Saturday nights beginning September 23rd.
Haunted Hoochie Dead Acres - Pataskala, OH
Dead Acres is advertised as "The Worlds Most Extreme Haunted House". This is a strange haunted attraction that is working hard to make you sick. Tickets are $25. This is not your typical haunt attraction. It is very "hands on" and you should expect to be touched, grabbed, and maybe even choked or dragged. The unusual house opens Friday and Saturday from 8:30 pm until after the bars close. Thursday from 8:30 pm to midnight. While there check out the food and souvenirs.
Haunted Hydro Dark Attraction Park - Fremont, OH
This place is incredible. The Haunted Hydro has been unique for 26 years. The theme is based on movies of the Silver Scream. The two attractions are the classic Haunted Hydro themed "A Night at the Os-SCARES". The second attraction is Crazy Bob's Santarium & Psycho-path. Also they have a live preshow on the midway called Ghoul-A-Bration. Also enjoy the food concessions and fire breathing fright. The Haunted Hydro opens September 30th. Doors open at 7 pm and close at 11:30 pm on Friday and Saturday and at 10:30 on all other nights. Tickets are $20-25 for multiple attractions. As a real haunted house they also offer the opportunity for 4 – 10 people to stay overnight each night in October as part of their Ghost Hunter Overnight Package.
Haunted Planet Experience - Toledo, OH
This is the prison where Shawshank Redemption was filmed. Tickets are $25 to the night time Haunted Prison Experience. Food vendors and a gift shop are onsite. The box office opens at 6:30 pm while the attraction starts at 7 pm and runs every Friday, Saturday, and Sunday Attraction closes at midnight on Friday and Saturday, and 10 pm on Sunday. Opens September 23rd.
Haunted Schoolhouse and Haunted Laboratory - Akron, OH
Open for more than 40 years the Haunted Schoolhouse and Haunted Laboratory has a combined 7 floors of terror. The haunt is a classic in the industry and still supports 50 actors providing lots of frights. It is open Thursday, Friday, Saturday, and Sunday. It opens nightly at 7:30 pm and closes at midnight on Friday and Saturday or 10 pm on other nights. Starts running September 30th, 2016. Admission starts at $13-17.
Hauntville - Elyria, OH
A Hauntville ticket is $24 but there are vip and discount packages available. Hauntville is located in the Midway Crossing Shopping Center. It is advertised as "Ohio's First 4D Haunted House". It has 5 attractions plus an all indoor waiting area. The attractions are Psycho Manor, Wicked Clowns 4D, Butch'r Barn, Zombie Hunt Paintball, and Cellblock 13. Each attraction has a storyline and every attempt is made to prevent you from making it out alive. It opens at 7 pm and closes at midnight on Friday and Saturday or 10 pm on all other nights. It opens September 23rd.
Hudson Haunted House - Hudson, OH
The Hudson Jaycees have been sponsoring this attraction for the last 42 years. Ticket prices are $10. Open Friday and Saturday nights starting September 30th.
Lake Eerie Fearfest - Sandusky, OH

Land of Illusion Haunted Scream Park - Middletown, OH
What has live spooks, madmen, and lunatics with chainsaws? Of course it's Land of Illusion. The five attractions are Haunted Trail, VooDoo Bayou, Killer Klowns, Temple of Terror, and Dr. Psycho's Haunted Estate. When done with the five haunts enjoy the DJ, live music, bonfire, and stage show. The Scream Park is open on Friday and Saturday nights starting on September 11th. In October they are open Friday, Saturday, and Sunday nights. Stay until 2 am on Friday and Saturday or 11:30 pm on Sunday. Sunday tickets are $24.99. Friday and Saturday tickets are $34.99. New is a talent singing contest with real prizes.
Portsmouth Jaycees Haunted House - Portsmouth, OH
It is a monster infest maze and terrifying yard.
Riverside Jaycees Haunted Castle - Dayton, OH
The Jaycees have operated the Haunted Castle for 29 years. Tickets are $15. The two haunted attractions are open from September 23rd through October. The nights and times are Friday, and Saturday from dark until midnight and on Sunday nights until 10 pm. They feature both the haunted castle and a haunted trail.
Sidney Haunted Woods - Sidney, OH
For 16 years the nearby folks have enjoyed the Sidney Haunted Woods. A terrorized trail over a half mile long. Doors open at dusk. Open Friday and Saturday nights from September 23rd through October 29th.
Slash Moraine - Moraine, OH
Enjoy Zombie Fest at Slash Moraine this year on October 21-22, 2016.
Spooky Ranch - Columbus Station, OH
Two new haunt attractions for 2016. Spooky Ranch has five haunt attractions for one low price. It has operated for over 25 years. The attractions at Spooky Ranch are Crazy Clowns 3D, The Famous Haunted Hayride, The Haunted Barn, and Funny Farmhouse, and the all new feature attraction Bloody Mary's Revenge Haunted House. Tickets are $25 for the most popular 5 attraction combo package. Gates open at 7 pm. Attraction closes at 11:30 pm on Friday and Saturday or 9:30 pm on other nights. Open September 23rd. Runs Friday and Saturday nights plus every Sunday and Thursday starting October 9th. During the day you can visit the Old West Pumpkin fest running from noon to 5 pm. There is a family friendly Halloween trail with most attractions being suitable for children.
The Dent Schoolhouse - Cincinnati, OH
Tickets are $20 for The Dent Schoolhouse. The two attractions with 55 actors are the Dent Schoolhouse and the Detention Hall Maze. Visit starting on Friday , September 9th. Open every Friday and Saturday plus lots of Sundays and Thursdays. Check web page for schedule. The weekend times are 7:30 pm until 12 am. This is an amazing haunt and should be on your list of things to do this fall. If you have never been there then this is the place to go for a great scare. There are food concessions and souvenirs available onsite.
The Fear Experience Haunted House - Parma, OH
This wildly popular and scary attraction has been open for years. Unfortunately they are in the process of moving to a new location and will not reopen until 2017. They will be missed in 2016 but we look forward to even more scares next year.
The Fear Facility East Liverpool Jaycees - East Liverpool, OH
They were closed for rebuilding in 2015. Looks like they are working on it for 2016 but we have not seen any updates on their Facebook page.
The Haunted Orchard - Wooster, OH
What experimental Melrose apples caused death and murder around Wooster after World War II? Have a taste yourself on Friday, and Saturday nights starting October 7th.
The ScareAtorium - Dublin, OH
Doors open at 7:30 every Friday, Saturday, and Sunday nights starting September 30th. Also open most Thursday nights in October.. Northland Asylum and Rip's 3D Funhouse make up most of the 40,000 square foot scare attraction. Expect lots of scares with live actors in professional make-up working hard to make you jump out of your skin. Tickets are $20 at the box office or online. Doors close at midnight on Friday and Saturday or at 10 pm on other nights.
Walking Dead Mansion - Columbus, OH
This is the final year of this popular haunt. Tickets are $5. Open October 21st, 22nd, 28th, and 29th.
Wilmington Haunted Hollow Ride - Wilmington, OH
Experience The Ride, Nightmare Penitentiary, and Slaughter Hotel at one of the state's top haunts. Don't miss the excitement as fire breathing Semi's chase unsuspecting victims. The attractions are open every Friday and Saturday starting September 17th through October 31st. Get all three haunts for one low $25 "combo" price or buy them as individual tickets. Sorry, cash only. VIP available.
State By State List of Halloween Haunted Houses
Akron Haunted Houses
Columbus Haunted Houses
Cleveland Haunted Houses
Dayton Haunted Houses
Funtober also lists America's Best Top 100 Haunted Houses in 2013 (with videos).  Enjoy viewing the videos on each of the best haunted houses in the United States.
Nearby Haunted Attractions
Ohio borders a number of other states with a lot of haunted houses. So you might also want to consider the haunted attractions in these states in addition to the Ohio haunted houses.
Haunted Houses in Indiana
Haunted Houses in Kentucky
Haunted Houses in Michigan
Haunted Houses in Pennsylvania
Haunted Houses in West Virginia
Find other fall fun things to do in Ohio in October:
Oktoberfest in Ohio
Ohio Festivals
Ohio Corn Mazes
Ohio Ghost Tours
Ohio Pumpkin Patches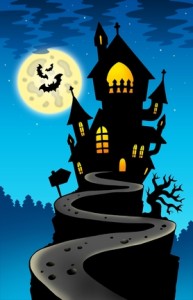 Did We Miss Something?
Have you been to one of these haunted houses? Future readers would be interested in hearing what you thought. Did you have a great experience? Was it worth the money? Would you suggest it to visitors here? Any tips to maximize your experience? I'll gladly publish what you send me and give you a great big hug.
If you are the owner or employee of a haunted house on this list, or one I missed and need to add, I would love to have more information about the haunted house, photos, dates/times/hours for 2017, etc. Use the contact form to get in touch and I'll tell you where to email your answers to these questions.