Funtober authors continue the 2013 interview series with The Haunted Lester Hospital one of the best charity Haunted Houses in Alabama. (We keep this interview up for any interest but it's been several years – please check the event's website for any changes since this interview)
I wish to thank Justin Frey with Scare 4 Charity, the group which owns The Haunted Lester Hospital located near Lester, Alabama. Justin graciously answered my questions and has wonderful information on his website: The Haunted Lester Hospital.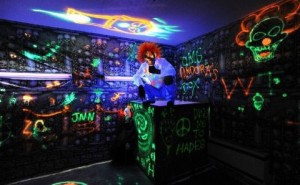 The Haunted Lester Hospital 2014
What is the history of your haunted attraction and how did you get started haunting?
Justin Frey: Before moving to The Haunted Lester Hospital we were Goodsprings Haunted House. Goodsprings Haunted House was open for over 20 years.
A lot of haunted houses support charities. Does yours? If so, how?
Justin Frey: We are a charity organization. Scare 4 Charity. We support the local volunteer fire dept., we have a scholarship set up with the local high school, and we do a Life South blood drive every year, etc.
What is the theme of your attraction or what makes your attraction scary?
Justin Frey: Zombie Attack!
What is new or changes for 2013?
Justin Frey: In 2013 we will be changing the path through the attraction as well as an overhaul of all rooms and actors.
What are the prices and hours for 2013?
Justin Frey: Hours are 7 p.m. – 12 a.m. Price: $10.00 per person.
Do you offer coupons, discounts, or group discounts?
Justin Frey: We offer a Military night one Saturday during the season with half price when you show your Military ID.
What are the busiest nights/times? What's the average wait during peak days and times? Is it possible to go to the front of the line by paying an extra fee?
Justin Frey: Saturdays are usually busiest. Average wait is usually only 5 or 10 minutes.
How long does it take to go through the haunted house?
Justin Frey: Usually takes 15-20 minutes to get through the Haunt.
How scary is your haunted house? Is it kid friendly?
Justin Frey: This is a hard question to answer. We do have a lot of kids that go through and love it but we also have a lot of people that don't make it all the way through and have to early out. So take it for what you will.
What is the parking and public transportation situation?
Justin Frey: It is parking lot parking and is free. We are not accessible by public transportation. We are out in the country.
Wayne Melton
Again I wish to thank Justin Frey for the information he supplied and also made available through their website.
This is a charity haunted house operated by Scare 4 Charity which does significant good throughout the Lester community year round.
The price is only $10 per person yet provides a wonderful entertainment experience. They are supported by 30 volunteer actors. The haunt continues each year to improve.
Dates Open 2014:
October 3, 4, 10, 11, 17, 18, 24, 25, 27, 28, 30, 31
You can find directions and photos here.
Funtober provides more information about Haunted Houses in Alabama at our Alabama website along with information about corn mazes, ghost tours, Oktoberfest, and more fall fun activities.