Haunted Houses in Texas for Halloween 2017
Find information on all the spectacular Halloween haunted houses in Texas for 2017.  As you might expect Texas is a big state with lots of really scary haunted attractions.  Funtober has a complete list of haunted houses, haunted trails, haunted corn mazes, scream parks, and more Halloween fun events.  Expect to find haunts with Hollywood set designs, live actors, creepy costumes, air blasters, and more than a few screams.  Look out for zombies, witches, vampires, creatures, monsters, and more than a couple Freddy's and Jason's roaming the Texas countryside in 2016.
Dallas Haunted HousesHouston Haunted Houses
Austin Haunted HousesSan Antonio Haunted Houses
Last Update:
[fsb-social-bar facebook="true" twitter="true"]
Haunted House Owner? Advertise Here.
Do you run a haunted house in the United States? More than 150,000 people came to Funtober last year looking for a haunted attraction to attend in September or October. We can help increase attendance at your business or event through a sponsored listing, coupon giveaway, cross-promotion or other creative marketing initiative. Special deals for nonprofits. Please see our advertising page or contact us for more information.
There are 63 haunts in Texas with some being the best attractions in the nation.  We have separate attraction links and listings for haunted houses USA,  haunted corn mazes, haunted trails, haunted zombie paintball, haunted forests, haunted hayrides, and ghost tours.
3HaunTs Haunted House - Shepherd, TX
"The Boogeyman loves to play for keeps" at Heart Stopper Fright. It has 13 acres of terror and an Army of Darkness. There are 3 haunts available separately or as a combo package. Parking is free and it runs from 8:00 pm to 11:00 pm. The haunts are Woods of Deception, Woods Maze, and House of No Mercy. The combo ticket is $25 with online coupon or $30 at the gate. Open every Friday and Saturday night starting September 23rd plus additional dates the week before Halloween.
Amarillo Scaregrounds - Amarillo, TX
Haunt doors open at 7 pm. The Pepsi Pass Combo ticket is $35 to enter Terror, Insanitarium, The Basement, Blackout, and Zombie Apocalypse. You can purchase individual tickets to these attractions for $15, $15, $20, $5, and $5 respectively. Open every Friday and Saturday nights starting September 30th plus October 30-31.
Boneyard Haunted House - Dallas, TX
All new location for 2016. "Experience the Fear" at the Boneyard. Doors open at 7 pm every Friday, Saturday, and Sunday in October 2016 plus every night last two week before Halloween. Season starts October 7th. Friday and Saturday nights they are open until midnight. Open until 10 pm other nights. Haunt is located at Southwest Center Mall. General admission tickets are $28.
Chainsaw Massacre - Amarillo, TX
A special 3D haunted house the 6th Street Massacre supplies 3D glasses. Tickets are $20. Haunt is open 7 pm to midnight. The season begins September 30th. Then attraction is open every Friday and Saturday nights.
Chaos Haunted House - Alvarado, TX
Presented by Chaos as Texas Scaregrounds there is more than a few blood and gore scenes to scare you senseless. A short drive from Fort Worth, get close and follow the screams. Tickets for the all new attraction Texas Scaregrounds are $22. Also visit Panic's Playground for free with games, face painting, concessions, and events. Mischief is open Friday and Saturday nights from September 23rd. Doors open at 7:30 pm and close at midnight on Friday and Saturday. Doors close at on other nights.
Circus of the Dead - Odessa, TX
This is a 2 haunt 8000 square foot haunted warehouse attraction put on by BloodyBill. Doors open from 7 pm until 10 pm. Featured are Def Con 1 Haunted Warehouse and Curse of the Dead. Def Con features zombies from beyond the grave. The curse is a murder maze. Tickets are $10. Open Friday and Saturday nights starting October 14th.
Cutting Edge Haunted House - Fort Worth, TX
Guinness marked Cutting Edge Haunted House as the "World's Largest Walk Through Haunted House". The dark attraction is filled with terrifying live characters, amazing special effects, and incredible monsters. Tickets are $29.95. How long does it take to go through Cutting Edge? The answer is how fast can you run. Actually it takes about 55 minutes to go through this haunt. Cutting Edge opens on September 16th.. Regular hours the doors open at 7 pm or 8 pm and runs until 10 pm or midnight. Check their schedule for details. Open every Friday and Saturday plus lots more dates in October. Voted one of the best attractions anywhere.
Dan's Haunted House - Lake Denton, TX
Dan's Haunted House Backstory for 2016 Dan's Haunted House presents Twisted Fate: The Death of Unkle Kreep For those of you who have been following the story arc of Dan's haunted house over the past three years the Japanese Demons of Dan's Haunted House have taken over the Haunted house industry by storm. In the beginning there was "Ancient Fear Rising", which was the onslaught of Japanese horrors invading a sleepy little town of Lake Dallas Texas. Lead by the Oni Demon Hachiman and his host of Yokai, they sought to enslave the locals and possess them with the spirits of the Japanese demons. There was but one that stood in the way, Slightly Deranged Unkle Kreep, who with his rustic magic raised an Army of Scarecrow to combat the Oni and their onslaught of at this Japanese Haunted House. The battle took its toll on Unkle Kreep and the following year Unkle Kreep had a psychotic break and in turn, came to believe that he was a Japanese School Girl by the name of Little Yuki who then opened the door for more Japanese demons and yokai to find forms to inhabit. This was the continuation of the story of Dan's Haunted House. This year with the continued advances of Hachiman and his host of demons we come to the next part in the saga of Unkle Kreep. "Twisted Fate, The Death of Kreep" After the struggles of losing his mind and the dawning realization of his place in this new world Unkle Kreep came to his senses and was able to rise from his foggy mental break down becoming aware of the previous year he has decided the only way to free himself from the Japanese Terrors is to take his own life. He has submitted to the Japanese God of War Hachiman and dropped the mantle of Yuki and in traditional Japanese manner decided to commit Seppuku (suicide) little does Unkle Kreep know this will allow his spirit to roam the woods of Dan's Haunted House now under the complete control of Hachi and his demonic host. It's said that the head of Unkle Kreep hangs from the belt of Hachiman and sometimes you can hear the lonely, dejected crying voice of Little Yuki drifting through the woods while Hachiman and his kindred spirits look for new souls to fill their ranks. BUT WAIT… Did Unkle Kreep leave a parting "gift" for Hachiman and the other creatures? Hmmm…. Stay Tuned. This is an outdoor attraction with real woods and a 6 acre outdoor maze. Ticket prices are $20. They are open from 8:00 pm until 11:00 pm
Dark Hour Haunted House - Plano, TX
This is the fourth year for this spectacular 47,000 square foot haunt. This is one of the most technical haunts anywhere with lots of animatronics, motion sensors, and QSC sound speakers. Tickets are $28. Open every Friday and Saturday night starting September 23rd plus Halloween night.
Fearshire Farms - Angleton, TX
The three attractions plus the courtyard are open 7:00 pm to 11:30 pm every Friday and Saturday night starting September 30th plus some dates just before Halloween. They also have a free courtyard that has a campfire pit for marshmallows, a pumpkin display, a shooting gallery, Bucking Bull, maze, food and drinks. They have three levels of scary entertainment. Tickets to the haunts are: Fearsons Farm House $20, Dead End Corn Maze $20, and Honkey's Fun House $20. The Fear Pass Combo ticket (all three) includes the courtyard entertainment sells for $30. Grounds admission is $5 for those who just want to join in the courtyard fun.
Hangman's House of Horrors - Fort Worth, TX
New House and new location with lots of new horrors for this 28 year old haunt. This is described as "The Best Place to get Spooked". There are 3 haunts at Hangman's House of Horrors. A full evening of entertainment with live bands, karaoke, festival game activities, food trucks, and free parking. The haunts are Hangman's which takes about 30 minutes to go through. Then 3D Wonderland takes you through a look at Alice through the rabbit hole. Finally Outbreak is infested by what else but Zombies. Tickets are $35. Notes specials are available online including season passes, coupons, group discounts, two for one tickets, and more. Check their online website for details. The story is back in 1882 a lynch mob ended the terror of Hezekiah Jones who hanged more than 100 innocent persons. The attraction opens Friday, September 16th. Doors are open 7:30 pm and close at midnight most nights. Open every Friday and Saturday night plus some added nights in October.
Haunted Landmark - Greenville, TX

Haunted Mayfield Manor - Galveston, TX
Mayfield Manor is open on various dates throughout the entire year including every day in July and August. During October it is open Friday, Saturday, and Sunday from the 1st through the 31st. On Friday nights it is open from 5 pm until 10 pm. On Saturday the hours are 2 pm until 10 pm. Sunday hours are 1 pm until 6 pm. Tickets are $10. October – Call 409-762-6677 for schedule.
Haunted Trails - Houston, TX
The Haunted Trails is very scary. A General admission Ticket for $25 gets you into both Haunted Trails and Psycho Hollow. Open every Friday, Saturday, and Sunday starting September 30th. Check web page for added schedule dates in October. Two attraction at one location. Enjoy clowns, Freaks, and a thrilling outdoor walk.
House of Torment - Austin, TX
All new location for 2016 that is twice as large. Now with more than 10 years of haunting the House of Torment has 3 haunted attractions for the price of one. Tickets are $19.99 – $32.99. It has long been recognized as one of America's top haunted attractions. Featured haunted houses include Dawn of Evil, The Frenzy, and Graveside Manor. Most Friday and Saturday nights have music, DJ, live radio broadcast, and undead dancers. House of Torment is open more than 30 dates during September, October, and November. Call (512) 407 9449 for details. Generally it is open every night from September 30th. Most Friday and Saturdays open 7 pm until midnight. Most other dates open 7:30 until 11 pm.
Houston Scream Fest - Houston, TX
Tickets are $35 for Screamfest including admission to Castle of Doom and The Sanitarium. It opens September 30th. Doors open at 8 pm and closes at either 10:30 pm or midnight. Expect big crowds and lots of fun at this place. However, parts of Houston Screamfest featuring the haunt Texas Chainsaw Maze are free including movies and live bands nightly. Adult beverages served at the bar. You get the haunted house, maze, and suspension show included for free. What a deal! Ten attractions including three new Zombie Paintball shoots all for one low price. Spend the evening at this fun entertainment facility. Open every Thursday, Friday, Saturday, and Sunday night in October.
Houston Terrordome - Channelview, TX
If you weren't scared at other places try Terror Dome. Open starting September 30th plus Friday and Saturday nights and more in October. See their posted Schedule on their website as some nights they open at 7 pm and close at midnight. They have many discount ticket nights. Full Terror tickets are $20. Also some nights include a live DJ and Zombie Dancers. The place is fully air conditioned (to keep the dead bodies cool).
Moxley Manor - Bedford, TX
New for 2016 is the addition of a second haunted house. Expect strange creatures, blood, and zombies at Moxley Manor Haunted House. A story of infidelity, jealously, debt, and murder at a local family home. Moxley Manor is open Christmas, Friday's the 13th, Valentines Day, and of course many dates before Halloween. Open every Friday and Saturday nights starting September 23rd plus Sundays in October. Doors open at 8 pm in September and 7:30 pm in October. If you want wear your costume however no face masks. Attraction closes on Friday and Saturday in October at midnight. Open until 10 pm on other dates. Moxley Manor kicks off their season in mid-September. This is an indoor haunt open rain or shine. Tickets are $20.
Nightmare on 19th Street - Lubbock, TX
There are 4 attractions at Nightmare on 19th Street. Doors open at 7:30 pm in October. Tickets are $20 on Thursday and Sundays. Tickets are $25 on Fridays and Saturdays. Nightmare kicks off September 30th. Open every Friday, Saturday plus most Sundays in October. The haunted attractions are Blood Moon Manor, The Wastelands, Clowntown 3D, and City of the Lost. Back for 2016 featuring ghouls and ghosts from Grimm's tales.
Nightmare on the Bayou - Houston, TX
Nightmare on the Bayou bills itself as America's scariest Halloween attraction as seen on the Travel Channel. It is located next to Houston's oldest graveyard. It is a large haunted house with over 15,000 square feet of terror. Nightmare opens at 7-7:30 and closes at 10:30-11 pm. Nightmare opens Friday, September 30th. Open every Friday and Saturday in October plus every night from October 20th. Tickets are $22 for either a single haunt or the combo ticket for $28-38 depending on the night. Check their website for family night, police, military and more discounted tickets.
Phobia Haunted Houses - Houston, TX
Back at the same location for 2016. They call themselves "Houston's biggest haunted house attraction". Phobia features 8 haunted attractions all at one location. There are separate lines and separate ticket prices. You should allow 15 minutes to complete each haunt. Tickets are $15 per haunt or combo packages at $30. Expect to find psycho clowns, robots, staggering zombies, eerie woods, and screaming chainsaws. The haunts are Dawn of the Machine, Genetic Nightmare, Exile, Darke World, Savage Ground, and Contagion.
RedRum Haunt - Richmond, TX
RedRum has three new haunted attractions for one low price. Tickets are $30 for the combo haunt entry. The themes change each year for all new shows. It beginning at 7:00 pm nightly. Open Thursday, Friday, Saturday, and Sunday nights starting October 13th.
Reindeer Manor Halloween Park - Red Oak, TX
There are three haunts named 13th Street Morgue, Dungeon of Doom, and Reindeer Manor. Find this haunt at Reindeer Manor Abusement Park. Tickets are $15 each or $25 for two shows, or a $35 combo price for all three. In October the attractions open at 7 pm on Saturdays and at 8 pm on Fridays. They are open Friday and Saturday from September 24th. Most nights they close at 12:30 am. The Morgue dates back to 1915 and has been the location of many paranormal investigations. It is the 2nd most real haunted house in Texas. The Dungeon of Doom is located in an old saloon haunted by 4 entities. Attraction has been recognized nationally for fantastic entertainment.
Scare For A Cure - Manor, TX
Scare hosts Final Judgement this year as a charity haunt that supports many community good causes. It features three attractions including Fairy Tale Nightmares, Murder at Ghost Town, and The Boneyard. Fairy Tale takes about 45 minutes to complete. From a Zombie wasteland to a carnival of lost souls you will find great entertainment at Scare for a Cure.
Screams - Waxahachie, TX
There are 5 major attractions at Screams Halloween Theme Park. Tickets are $30. Activities include the haunts plus games, actors, rides, karaoke, food and drink. The haunts are Castle of Darkness, 3D Pirates of Peril Point, Ghoul's Graveyard, Unkel Koy's Klown Maze, and Hotel of Horror. Screams opens 7:30 pm every Friday and Saturday starting September 30th. This park is open until 1:30 am on Friday and Saturday.
ScreamWorld - Houston, TX
ScreamWorld has been around for over 25 years. It takes about one hour to go through all five house attractions. Tickets online are $25 or $27 at the door. Online tickets currently are reduced for an unknown limited time. ScreamWorld opens Friday, September 16th. Doors open at 8 pm and closes at midnight on Friday and Saturday. Haunt closes at 10:00 pm other nights. It takes 45 minutes to an hour to complete this haunt. The haunts are Skull Cave featuring animatronics, VooDoo Swamp, and Psycho Farm House. Jakes's Slaughterhouse is a grim old style meat processing plant complete with slaughtered beef. Edge of Darkness features a morgue, hospital, and death row. Maze of Maniacs has meandering corridors, strobe lights, and ghouls. Finally Zombie Graveyard is an outdoor attraction with undead creatures. This place has received numerous awards for creativity and terror. Expect to be entertained. Open Friday and Saturday nights in September and October starting September 16th. Also open Sunday and Thursday nights in October plus the weekdays before Halloween.
Slaughterhouse - Garland, TX
New location in Garland, Texas. Slaughterhouse features 16,000 square feet of future terror. It is all redesigned for 2016. Tickets are $25. It will open Friday and Saturday nights from September 30th. It is open 7 pm until 1 am most night ad 2 am some nights. Check their ticket schedule for your exact date and time.
Strangling Brothers Haunted Circus - Grand Prairie, TX
Strangling Brothers will not open for 2016 but will return next season. They are working on opening a year around entertainment venue for 2017.
Tayman Graveyard - Midlothian, TX
It is open 7:30 pm until 12 pm most nights. Open every Friday and Saturday night in September and October beginning September 16th plus a few Sundays in October. Tickets are $25 for adults with discounts available on their website. Attraction features a maze, 3D clown experience, a walkthrough Gravedigger's Hollow, and the flagship attraction Funeral Home.
Terror Mansion - San Antonio, TX
Terror is 23 rooms of horror. Rats, roaches, and spiders are everywhere in the cold dark insane asylum. Some of the rooms are CSI, Maze, creepy clowns, Jason, Freddy, and the human meat locker. Expect to find bloody instruments of terror. Tickets are $20. They also have a paranormal tour. Terror Mansion opens the last Friday and Saturday in September until midnight. Open every Thursday, Friday, Saturday and Sunday nights in October. The doors open at 7 pm.
Terror Trail Haunted House - Cavutillo, TX
This haunt features 2 acres of haunted trails and a 19 room haunted house at the paintball facility of WinkeyDoodles Paintball Adventure. There are two attractions. Haunted Trail Haunted House has a ticket price of $16 or spend $29 and get the combo ticket with the Zombie Paintball Adventure. It seems zombies have taken over the sanitarium. Facility is open from 7:30 pm to 11:30 pm on Fridays and Saturdays. Terror is open Friday and Saturday nights starting September 30th..
The 13th Floor Haunted House - San Antonio, TX
Two haunted houses at one location and for one low price. The 13th Floor says they are the longest and largest haunted attraction in San Antonio. Warning the event may be too intense. Ever wonder why the 13th floor is missing in so many buildings. The two haunts are Groudup and Dwellings of the Dead. Tickets are $24.99-28.99. Doors open at 7 pm. Attraction is open most nights from September 30th through November 5th. Check their web page for dates. This is a Funtober Favorite 100 and a top 100 most popular haunted attraction in the country.
The Kingwood Asylum - Kingwood, TX
The grounds at Kingswood Asylum are tainted, ruined, and diseased. Dr. Blackman and his staff closed the asylum in the 60's. They are open weekends on Friday, Saturday, and Sunday starting September 30th. Tickets are $30.
Thrillvania Haunted House Park - Terrell, TX
Thrillvania Thrill Park is 4 amazing haunt attractions. Thrillvania is open rain or shine. Doors open at 8 pm. The five haunts are "The World Famous Verdun Manor" about a psychopathic werewolf. "Cassandra's Labyrinth of Terror" deals with clown horror. "Sam Hain's Trail of Torment" has lots of psychic madness. Finally the Thorn Hall is a chilling experience of sensory overload. Open Friday and Saturday nights starting October 1st plus two Sundays and Halloween. Tickets are $29.95.
Van Buren Frightmare – Mayhen - Amarillo, TX
The Clown gang battles Zombies at this haunted attraction. It is open Friday and Saturday nights from September 30th. It is open 7:30 pm to midnight. What is going on at the old downtown YMCA building? Is there really a battle at the newly discovered underground lair? Stop by and find out for yourself.
Virtual Haunted House Dallas - Dallas, TX

State By State List of Halloween Haunted Houses
Nearby Haunted Attractions
Everything's bigger in Texas. But if you don't have a Texas haunted house close by, you may need to look across the state line.
Haunted Houses in Arkansas
Haunted Houses in Louisiana
Haunted Houses in New Mexico
Haunted Houses in Oklahoma
Find other 2016 fun things to do in Texas in October:
Oktoberfest in Texas
Texas Festivals
Texas Corn Mazes
Texas Ghost Tours
Texas Pumpkin Patches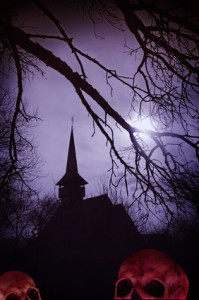 Add Info
Have you been to one of these haunted houses? Future readers would be interested in hearing what you thought. Did you have a great experience? Was it worth the money? Would you suggest it to our readers? Any suggestions to maximize the experience? I'll gladly publish what you send me and give you an over the Internet hug.
If you are the owner or employee of a haunted house on this list, or one I missed and need to add, I would love to have more information about the haunted house, photos, dates/times/hours for 2017, etc. Use the contact form to get in touch and I'll tell you where to email your answers to these questions.