Celebrate Halloween 2019 in Alaska.  The state is known for its beautiful wilderness and long winters. It is not known for zombies, demons, devils, creatures, freaks and other spirits known to frequent haunted houses.  So we were shocked to learn that a few ghosts decline to migrate south for the winter and continue to scare thrill seekers in haunted houses in Alaska around Halloween.
Last Major Update:
We've located a few haunted houses to enjoy in Anchorage, Fairbanks and Juneau.  We have separate attraction links and listings for haunted houses USA,  haunted corn mazes, haunted trails, haunted zombie paintball, haunted forests, haunted hayrides, and ghost tours.
Best Haunted Houses in Alaska
Fairbanks Asylum - Fairbanks, AK
One of the states most popular attraction is undergoing renovations to meet the Fire Marshall safety standards. We are unsure if this attraction will open in 2016.
Gatway to Darkness - Wasilla, AK
This popular attraction is closed for 2016.
Nugget Mall Haunted House - Juneau, AK
Nugget Mall hosts a number of Halloween events in October.
State By State List of Halloween Haunted Houses
Find other fun things to do in Alaska in October:
Oktoberfest in Alaska
Alaska Festivals
Alaska Ghost Tours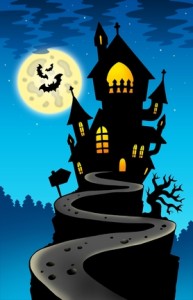 Help Me Out
Have you bought a ticket to one of these haunted houses? I would love to hear what you thought. Did you have fun? Was it worth the price? Would you recommend it to your friends? Any tips to maximize the experience? I'll gladly publish what you send me and give you a great big hug.