Haunted Houses in North Dakota 2020
Find the local "haunted houses near me" in North Dakota at our Funtober directory listing of 2020 Halloween haunted houses.  We know one thing for sure – the haunts in North Dakota will terrify you and your friends.  Spend a night out in October visiting with all the vampires, ghosts, creatures of the dark, zombies, and walking dead at some of the fantastic haunted trails and haunted houses in the country.  Check out our TOP 100 HAUNTED HOUSES FOR HALLOWEEN 2019 in America.  Last Major Update:
Acres of Terror - Leonard, ND
Open every Friday and Saturday nights starting in late September through early November.  Tickets are $25.  Lots of killers, monsters, werewolves and more creatures to scare the hell out of you.  Acres of Terror has everything from a scary corn maze to an old abandoned school, all decorated and ready for tours. More than 30 actors ready to put on a show as guests come through. Lace up your shoes and be ready for a great time!
Dark Acres - Williston, ND

Haunted Fort - Mandan, ND
The best scare in Fort Lincoln returns the middle of October.  Haunted Fort is located at Fort Abraham Lincoln State Park.  They have put this scare event on for the past 18 years.  Tickets are $15-18.  Doors open at 7 PM on Friday and Saturday nights in October.  They have a kids bash event also in October.  Again this year is a Zombie Battlefield paintball experience..
Jamestown ND Haunted House - Jamestown, ND

Nelson's Pumpkin Patch - Emerado, ND
Enjoy the 11 acre corn maze as you wind your way through Spookley's Maze, the haunted attraction, at Nelson's Pumpkin patch.  This farm has daytime and nightime fun complete with hayrides, pumpkins, mazes, games, rides, and farm fun. Also visit Gruesome Granary Haunted House.
The Crypt at Jacobs Manor - Leonard, ND
The Crypt runs the last two Friday and Saturday nights in October. Prepare for a THRILLING sensation filled with SCARES that  guarantees to DELIGHT! A CHARITY Haunted House, brimming with creativity and visual treats of the macabre. A GREAT date night destination and the only admission is anything non-perishable for the Fargos Women and Childrens Shelter at the YWCA.
You might be pretty far from a haunted house if you live in North Dakota. Might want to consider crossing the border into one of these states if you didn't find a satisfying option already:
Minnesota, 
Montana,
and 
South Dakota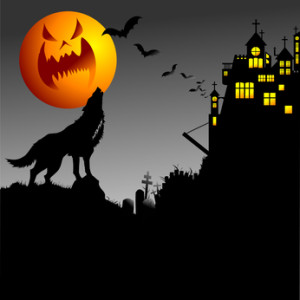 Find other fun things to do in North Dakota in October: Oktoberfest in North Dakota North Dakota Festivals North Dakota Corn Mazes North Dakota Pumpkin Patches
Check out Black Friday ads, Cyber Monday ads, and holiday sale prices from 100 top retailers this Christmas season.
Check out the TOP 100 HAUNTED HOUSES FOR HALLOWEEN 2018 and our list of the Top 100 Haunted Houses 2017 in America.  Is your favorite haunted attraction on the top 10 and top 100 state list?
You may also be interested in our article on Haunted Houses and Horror Movies | History of Fear.
Add Your Feedback!
Have you been to one of these haunts? Future readers would be interested in hearing what you thought. Did you have fun? Was it worth the price? Would you suggest it to visitors here? Any tips to maximize your experience? I'll gladly publish what you send me and give you an over the Internet hug.
If you are the owner or employee of a house in this directory, or one we missed and need to add, we would love to have more information about your place, including the url, photos, dates/times/hours etc. Use the contact form on our advertising page to get in touch and we'll follow up if we still need your response to any of these questions.