Today is an important day on the march toward Fall. Oktoberfest in Munich starts on Saturday, September 21st this year. By my count, there's only 100 days until the ceremonial keg tapping that kicks off the party. Fall officially starts with the autumnal equinox the next day, September 22nd. Of course, if you believe that Fall starts with Labor Day weekend, the count until Fall is already in the single digits.
If you make the trip to Munich this year, you'll be paying slightly more for your beer in the Weisn tents. Prices for a Mass of beer are up 3-5% this year, but still holding under 10 euros. Our quick conversion indicates that's about $13.12 for a liter of Oktoberfest beer.
In the United States, you don't have to wait until September to get the party started. Last year, we received reports around the Fourth of July that Oktoberfest beers were spotted at beer stores. There are reports that they are going to hit the shelf at your local beer distributor even earlier this year. Paulaner just issued a press release that its Oktoberfest Weisn will be in stores by the end of June. For those that want the party to go along with their beer, Paulaner's traveling beer garden is also going strong already. You'll soon be able to find Oktoberfest in July celebrations as well. Immaculate Conception Church in Willoughby, Ohio will start the festivities with a three day Oktoberfest on July 19th – 21st. The Isanti County Fair, held July 24th – 30th in Cambridge, Minnesota, is a celebration of German heritage and considers itself an Oktoberfest in July as well. And the Poconos' Wurst Festival will celebrate the best of Germany on July 20th and 21st. It may not be called Oktoberfest, but we think you'll enjoy it all the same.
While I'm talking about Oktoberfest here, I thought I would also draw your attention to the map of Oktoberfest locations in the United States that I released in May.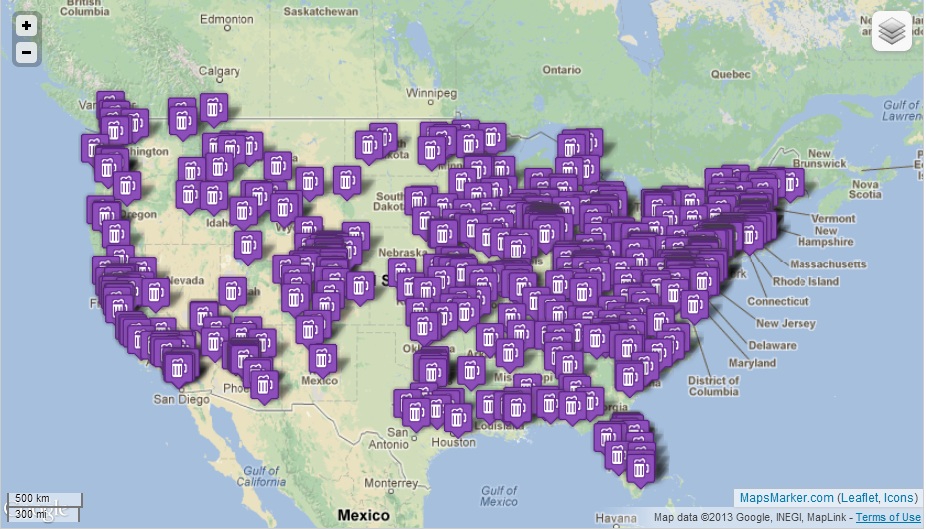 You can check out the live version on our US Oktoberfest page with individual maps on each state page. We'll be updating the map and our list of dates of Oktoberfests in the US regularly, as we receive important announcements about 2013 festivals. The La Crosse Oktoberfest, for example, has announced that its 2014 Oktoberfest will be four days long instead of nine. It is keeping the nine day schedule for this year, however.
If you would like to contribute to our Oktoberfest section, we'd love to have your help making it even better. If you have been to one of the Oktoberfests, feel free to leave more information about it in the comments on the appropriate state page. If you notice that we've got something wrong or they have posted dates to their celebration, that's helpful too! Thank you in advance for your help.
Preparations here at Funtober for Fall are proceeding nicely in other areas as well. We've come a long way since last November. Over Memorial Day weekend, I tracked down and updated a number of fall festivals for 2013. Our list of haunted houses is looking better than ever. It isn't quite ready for September, but it is looking great for the middle of June. We have now turned our focus to Halloween costumes for the next few weeks. This week, I took some time to make the costume pages load faster. As we work on costumes over the next few months, we'll be writing better product descriptions, adding additional costume photos, designing a better layout and offering more costumes for sale.
I continue to learn about running a business as well. It isn't easy. It's a constant struggle between building sections of Funtober which have long term value and getting caught up in the day to day operation of a website. I spent some time this week jumping through hoops to get a new SSL certificate. It should be a relatively simple process and it didn't go smoothly. Apparently, if you aren't listed in Dun & Bradstreet and the Yellow Pages, you aren't a business. I practically fell out of my chair. So we have a shiny new temporary SSL certificate up while they verify that Funtober exists.
Our short term goal is only 80 days away: Labor Day weekend starts August 31st. We're counting down the days and are very excited about another year of helping people have more fun in Fall!