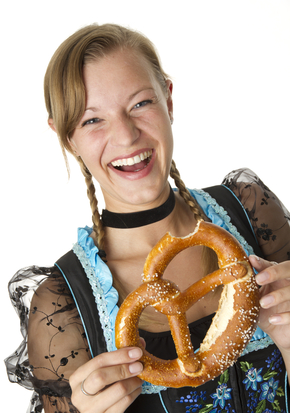 I've spent the past two days updating information about upcoming United States Oktoberfests. The website for every German festival describes in detail the wonderful authentic Bavarian food that will be served to their visitors. After two days of reading their descriptions, I'm ready to eat!
This morning, I started browsing photos on Tastespotting and Foodgawker. The result was this list of 22 recipes made by bloggers in 2013 that will get you in the mood for some German food at Oktoberfest. While they aren't all traditional German recipes, I think you'll be ready for Oktoberfest after looking at the photos from these recipes. There's just over two weeks until Oktoberfest 2013 starts in Munich so it is time to get excited. Oktoberfest season in the United States has already started with a handful of Labor Day weekend Oktoberfest parties.
I've pinned some photos from these recipes on our pinterest pinboard for Oktoberfest, so feel free to check them out there. If you've got a few weeks before your local Oktoberfest, grab your favorite seasonal beer and cook one of these recipes. I've talked to my mom this morning and we're going to embark on a cooking adventure this afternoon.
I'm thinking pretzel wrapped bratwurst. I'll let you know how they turn out. Prost!
Pretzels:
The Munich Oktoberfest is famous for its large, soft pretzels.
Spinach and Artichoke Stuffed Beer Soft Pretzels – Half Baked Harvest
Laugenbrezel Soft Pretzels – Spicy Treats
Pork Knuckle:
A roasted ham hock known in Germany as Schweinshaxe that is popular in Bavaria.
Beer Roasted Pork Knuckle with Honey-Mustard Glaze – Divine Cuisine
Bratwurst:
The popular German sausage that can be cooked in beer for Oktoberfest deliciousness.
Grilled Bratwurst – Kitchen Riffs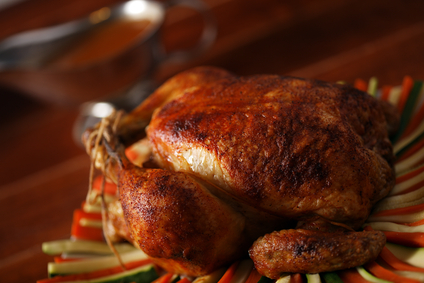 Roast Chicken:
You'll find oxen and duck at Oktoberfest as well. But hendl, the Bavarian word for chicken, is a staple of beer tents at Oktoberfest. In 2011, more than 100,000 were served at the Weisn.
Paprika-and-Pepper Roast Chicken – Tasting Table from Chad Colby of Chi Spacca
Birthday Beer Butt Roast Chicken – Domesticate Me
Lemon and Herb Roast Chicken – Best Recipe Box
Coconut & Lime Roast Chicken – Our Kitchen – Fisher & Paykel
Roasted Apricot-Glazed Rosemary Chicken & An Apricot Habanero Jam – Adventures in Cooking
Bavarian Roasted Chicken with Chard – Cooking in Sens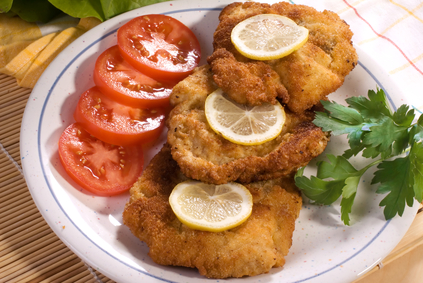 Schnitzel:
A boneless meat that is tenderized and coated with flour, eggs and bread crumbs before it is fried.
Pork Schnitzel – Tracey's Culinary Adventures
Chicken Schnitzel – Baked by Rachel
Chicken Schnitzel Sandwich with Tomato Avocado Salsa – Sips and Spoonfuls
Pork Schnitzel with Creamy Parsley Sauce – Slimming Eats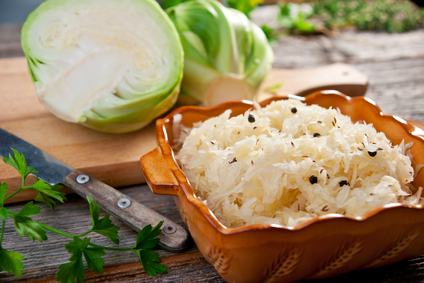 Sauerkraut:
A finely cut cabbage that has been fermented and is known for its sour flavor.
How to Make Easy Homemade Sauerkraut in a Mason Jar – The Kitchn
The German Grilled Cheese – BS' in the Kitchen
Homemade Sauerkraut – My Own Labels
Green Apple and Carrot Minute Sauerkraut – The Healthy Foodie
Desserts:
No good meal is complete without a delicious dessert!
Apple Strudel – Full Fork Ahead
Apple Strudel: The Perfect Pastry – Food Fanatic
Apfelstrudel – …and cherries on top
German Peach Streusel Cake (gluten free) – My Kitchen in the Rockies
I hope you enjoyed the Oktoberfest recipes. I collected a number of other German recipes for Oktoberfest last year. Be sure to check them out if you want to continue the food fun here at Funtober.
And if you missed our last post on Labor Day: Don't forget to enter to win our Halloween decorations or one of the prizes from the 30+ other bloggers participating in A Haunted Halloween Giveaway Hop.