Happy Labor Day! We hope you have a fun and relaxing work-free day planned. We've got something special for you to kick off the unofficial fall season here on Funtober: a great Halloween giveaway to put you in the autumn mood!
Old Friends: Last October, we had a lot of fun doing the Spooktacular Giveaway Hop hosted by The Review Wire. So we thought that we would kick off the unofficial fall season here on Funtober with another giveaway. This time it's a great box of Halloween decorations described below (with photos!). There are 32 other bloggers giving away great Halloween items on their blogs so be sure to visit the rest of the participants and see what you can win.
New Friends: Welcome to Funtober! We help our visitors find fall events. If you are looking to visit an Oktoberfest, corn maze, pumpkin patch, ghost tour or haunted house in the United States, we can help you find it. We also sell Halloween costumes to people who don't want to take the time to make their own. We know you are excited about the opportunity to win free stuff, so we'll get right to the Haunted Halloween Giveaway Hop.
Welcome to "A Haunted Halloween" Giveaway Hop hosted by
Mommy's Favorite Things
and
Mama's Baby Cupcakes
.
This hop is focused on items you'd want/need for Halloween. Whether its costumes, decorations, or candy, I'm sure you'll enjoy what all the bloggers have to offer. After visiting my giveaway, make sure you use the linky below to take a look at what the other blogs have to offer! Each blog has a minimum prize package of $25 per winner.
Mommy's Favorite Things is hosting the
Grand Prize
for this hop with great prizes from
buycostumes.com
,
Wall Slicks
, and
Yum Earth
. This package is valued at UP TO $245 based on winner's choice of Wall Slick Decorations. Michelle posted her
review
of buycostumes.com and then you can find a
review
for Wall Slicks, as well as a
review
for YumEarth on Heather's site. Open to US only.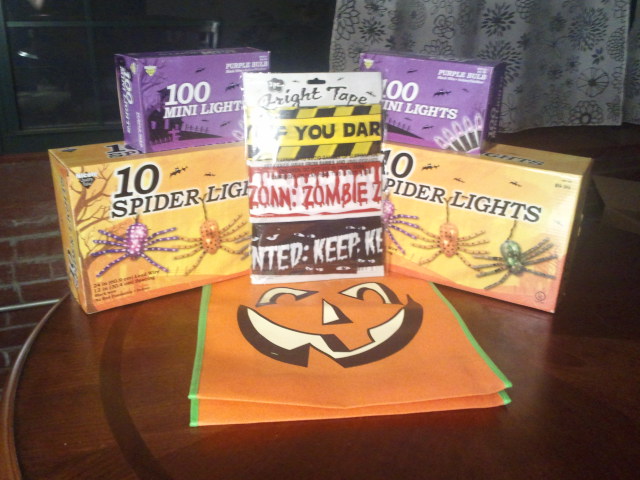 Here at Funtober, we put together an awesome prize pack of Halloween decorations to help you get in the mood for Halloween and decorate for your Halloween party. Included in the awesome box sent to the winner are two packages of 10 indoor spider lights, two boxes of 100 purple bulb indoor/outdoor mini lights, fright tape for your door and a glow in the dark Halloween tote!
Can't you see these spider lights hanging during your Halloween party?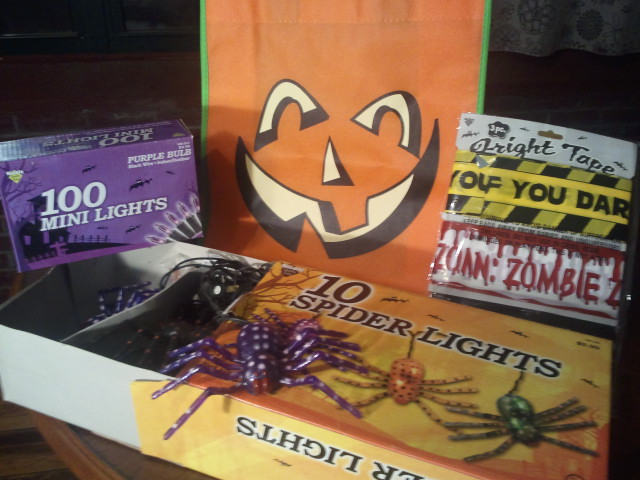 Entries close at midnight the evening of 9/16/2013 (EST) so enter today through rafflecopter. We will ship the box (at our expense – no cost to you!) to a U.S. postal address so the contest is open to U.S. residents only:
a Rafflecopter giveaway
There are a lot of great Halloween prizes being given away by the other bloggers. Be sure to visit them all, check out the free stuff that you can win and the awesome fall content that they are producing:


Don't forget to grab your Starbucks Pumpkin Spice Latte tomorrow. Happy Fall!