Hershey, Pennsylvania is a bustling little community of 14,000 people near the state capital of Harrisburg.  It is self described as "The Sweetest Place on Earth" in part because it is the headquarters town for the Hershey Chocolate Factory.  Hershey is just 14 miles from Harrisburg and 100 miles from Philadelphia.  The Hershey company makes 43% of all the chocolate sold in the USA.  If your looking for something to do this fall then this just might be the place for you.
I've visited Hershey a couple of times and it is a fascinating place.  The street lights resemble Hershey "Kisses" candy.  There are two exits for Hershey off the Pennsylvania Turnpike.  Each exit is about 10 miles from the attractions.  During Christmas they have one of the best and longest outdoor drive through lighted displays you will find anywhere in the country.
The area is absolutely amazing and worth the visit.  For such a small town it brings in world class entertainment year around especially in the fall.
Hershey Theme Park Attraction Remains Open This Fall

HersheyPark is a full amusement park with lots of rides, shows, and food for the whole family.  It features over 60 rides with about 12 roller coasters, over 25 kiddie rides, a water park and much more. 
In the fall for Halloween they feature "The Dark" with roller ghosters, spooktacular attractions, and the Hershey Trick or Treat Adventure.
  Friday nights in October are open from 5:00 pm until 10:00 pm.  Saturday's they are open from 10:00 am until 10:00 pm.  Sunday's they are open from 12:00 pm until 9:00 pm.   The fun begins at the Hershey Chocolate World factory store.  Not just a store but a complete attraction on its own.
Dates the Park is Open in the Fall:
August 1-31 everyday from 10 am until at least 8 pm.
September 1, 6, 7, 13, 14, 20, 21, 27, 28
October 17, 18, 19, 24, 25, 26, 31
November 1
Hershey Chocolate World Opens Everyday in the Fall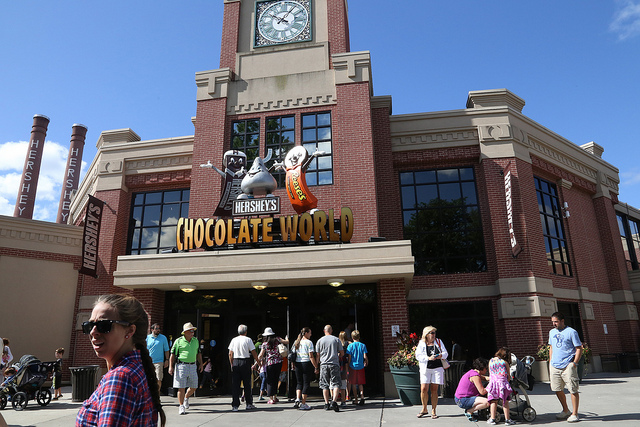 This factory store is really an attraction built to entertain.  Even their Times Square store in New York City can not compare to this place.  It features a ride through attraction called the Hershey's Great American Chocolate Tour complete with animation and movie.  There is a create your own candy bar area, a trolley works for the grounds, a dessert creation station, a tasting adventure, and a 4D Chocolate Mystery attraction.
There are places to eat real food and of course a Hershey's Bake Shoppe with more chocolate cookies, cupcakes, brownies, and cakes than just about anyplace in the country.  The store itself has all the Hershey candy sizes including mammoth candy bars.  We spent 5 hours in Chocolate World alone and still missed some things to do.
Chocolate World opens at 9:00 pm most mornings and closes at 11:00 pm most nights through August.  It closes at 6:00 pm most weekdays in September and October and 11:00 pm most weekends.  Check their calendar for exact hours and dates.
Concerts at The Star Pavilion at HersheyPark
Fall Concerts at The Star Pavilion outdoor concert venue include:
Jimmy Buffett on August 30th, 2014
Zac Brown Band on August 31st, 2014
Shows at The Giant Center
Disney on Ice presents Frozen nightly October 15-20, 2014 (9 shows)
Demi Lovato on October 24th, 2014
Cirque du Soleil presents Varekai: October 29, 30, 31 and November 1, 2
Fall Events at Historic Hershey Theatre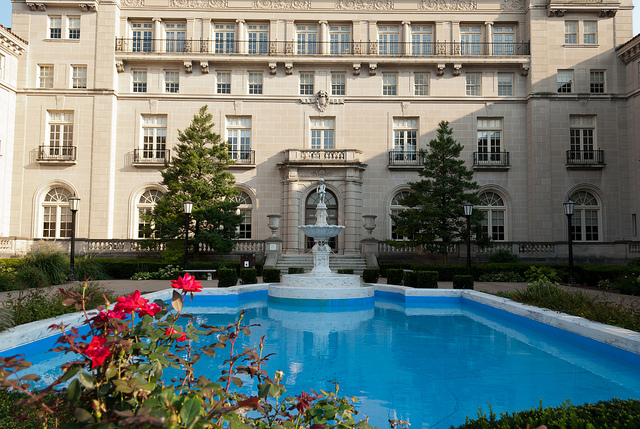 Hershey Gospel Music Festival:  September 5-7, 2014
Joseph and the Amazing Technicolor Dreamcoat:  September 23-28, 2014
Kevin James:  October 9 and 26, 2014
Disney Live! Mickey's Musical Festival:  November 1, 2014
Alton Brown:  November 11, 2014
Creatures of the Night at ZooAmerica
Visit ZooAmerica for live interaction with more than 200 animals and reptiles on this 11 acre wildlife park during their nighttime walk through attraction.  This is meant to be educational and not scary.  However it takes place during Halloween times and is adjacent to The Dark at HerseyPark.  Don't be afraid of snakes and reptiles at night.  Yeah right!
We hope you enjoy reading about the many fun things to do as we countdown to Halloween.  Today is day 103 on our countdown journey.