Over 17 million people visit Washington, D.C. each year.  Our nations capital has both many fee based and free attractions every fall for your enjoyment.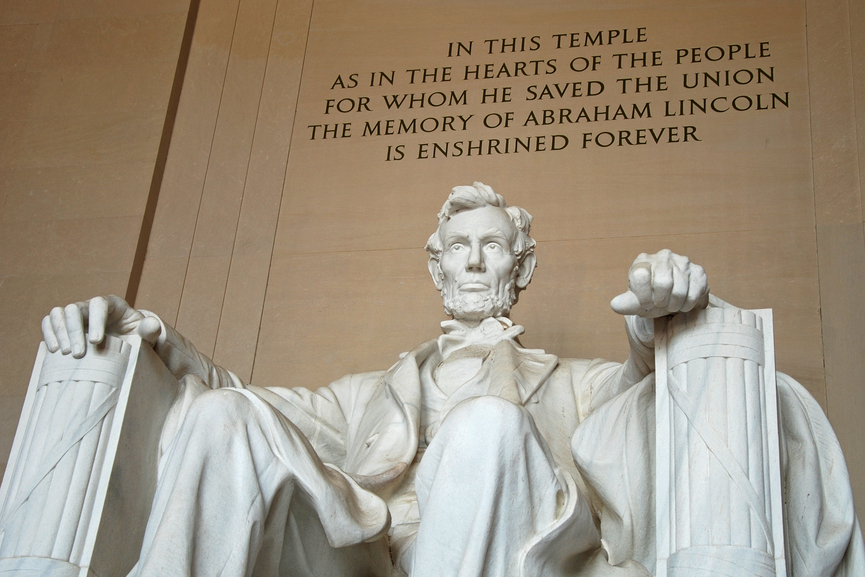 Lincoln Memorial – 2 Memorial Circle, NW, Washington D.C.

This is a must see tourist attraction.  It is free to visitors 24 hours a day every day of the year.  It is operated by the National Park Service.  Park Rangers are available to answer questions and there are hourly programs from 10:00 a.m. until 11:00 p.m..  The memorial houses this impressive statue of Abraham Lincoln our 16th President.
Smithsonian National Air and Space Museum – Independence Ave. at 6th St. SW., Washington D.C. 20560.
The National Air and Space Museum has the largest and best collection of aviation and space artifacts.  More than 8 million people visit its facilities each year.  There are wonderful free exhibits throughout the buildings including daily tours and children's programs.  You can see the Wright brothers 1903 Wright Flyer, Charles Lindbergh's Spirit of St. Louis, the Apollo 11 Command Module Columbia, and legendary artifacts.  There are some fee based programs at the Albert Einstein Planetarium and Lockheed Martin IMAX Theater.  The museum is open every day of the year except Christmas.  During September, October, and November the museums regular hours are 10 am to 5:30 pm.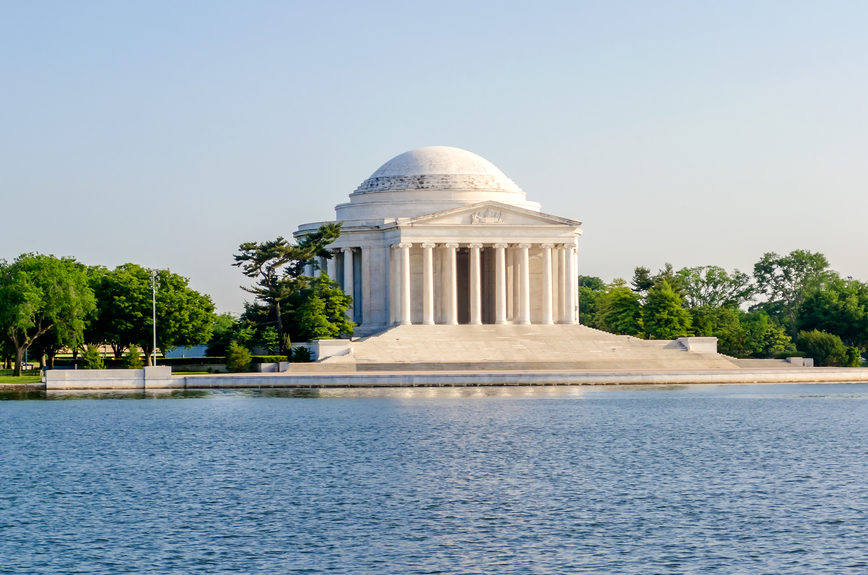 Thomas Jefferson Memorial – part of National Mall and Memorial Parks, Washington DC.
Another iconic structure that you must not miss on your visit to Washington DC..  Thomas Jefferson was our third President of the United States, a noted revolutionary era statesman, and principal author of our Declaration of Independence.  The Jefferson Memorial is open 24 hours a day all year.  Park Rangers are usually available at the memorial from 9 am until 10 pm daily.  Bring your camera and expect to come back both during the day and at night for a memorable tourist experience.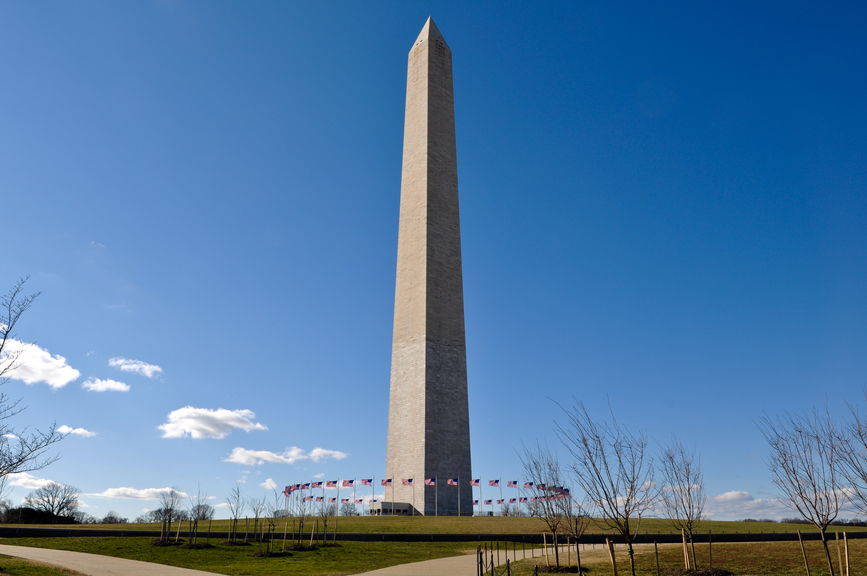 Washington Monument – 2 15th Street NW, Washington D.C.
Standing at 555 feet tall, the Washington Monument towers above the National Mall and is central to most of the iconic government buildings and museums in the area.  The Washington Monument is open every day except for July 4th and December 25th.  Tickets are required for entry.  The tickets are free and timed to tour the monument's interior.  However there is both an advanced online and in person ticket procedure.  From personal experience, let me say the in person process at the monument is not easy.  This is an extremely busy attraction with tickets for most times going fast.  This makes it important to plan ahead.  In my case I showed up just after opening and all the tickets for the day were gone.  It seems all the tour businesses stand in line beginning at 6 am and take most of the timed tickets.  Therefore order your tickets online well in advance or expect to get there well before the monument opens.  You can get up to 6 timed tickets.  The monument is open from 9:00 a.m. to 5:00 p.m. in the fall.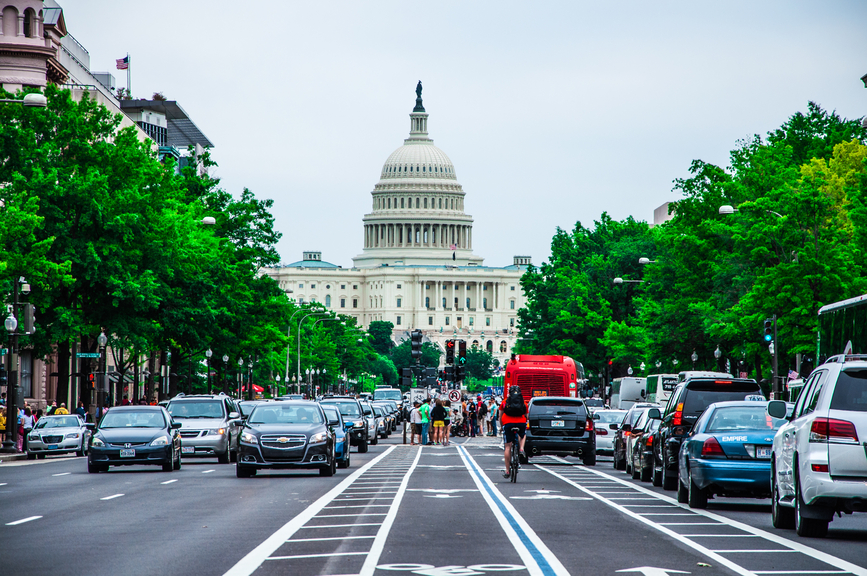 United States Capitol Building – First St. SE, Washington, D.C. 20004.
The Capitol Visitor Center is open 8:30 a.m. to 4:30 p.m. Monday through Saturday except for Thanksgiving Day, Christmas Day, Inauguration Day, and New Year's Day.  They operate a restaurant and gift shop.  To tour the actual Capitol Building you will need to order tour tickets online through an advance reservation system or go through the office of your state's Senator and House Representatives.  You might want to look into some of the tour operators around town who may have same day tour passes.  This is an impressive building and you may get to see a session of Congress taking place.
More Free Places To See During Your Tourist Visit To Washington D.C.
National Mall & Memorial Parks – Washington D.C.
The heart of tourism in Washington is the National Mall.  Park Rangers offer free tours everyday from 2:00 PM to 4:00 PM.  Find these places on or around the mall area:
Martin Luther King Jr. Memorial
Vietnam Veterans Memorial
World War II Memorial
Korean War Veterans Memorial
African American Civil War Memorial
Franklin Delano Roosevelt Memorial
Smithsonian Institution Building – 1000 Jefferson Drive SW, Washington, DC.
Smithsonian American History Museum – 12th to 14th Sts. NW, Washington, DC.
Smithsonian Natural History Museum – 10th St. and Constitution Ave. NW, Washington, DC.
National Zoo – 3001 Connecticut Ave. NW, Washington, DC 20008.
Arlington National Cemetery – Arlington, VA 22211.
The cemetery is open 7 days a week beginning at 8 am.  This is the final resting place for more than 14,000 veterans dating all the way back to the Civil War.  There are approximately 30 new funeral services performed every day.  The cemetery itself is home to the Tomb of the Unknown Soldier, President John F. Kennedy gravesite, the hourly Changing of the Guard Presentation, and the Memorial Amphitheater.  What I found amazing during my visit was the immense size to this honored cemetery.  It is free to visit and sits near a public subway entrance.  There are fee based tours available or you can simply walk the grounds with a map of the key attractions.  It is a moving experience to walk the grounds.
Washington is full of great attractions and is simply the best place in the country for free tourist entertainment.  There is one more free attraction I have not yet mentioned.  It is the White House Tour.  Because of security reasons, your will need to be nominated well in advance by your congressional representative and go through a series of security checks.  It is beyond the typical tourist time frame.  There are plenty of photo opportunities of the White House available behind the fences.
Funtober also has information on fall festivals, Oktoberfest, corn mazes, pumpkin patches, and apple orchards near Washington, D.C. in the states of Maryland and Virginia.