Rob Zombie's Great American Nightmare Comes To Phoenix
The ultimate horror attraction Rob Zombie's Great American Nightmare opens for the Halloween season on September 19th in Scottsdale, Arizona near Phoenix.  This places his three haunted houses in Arizona at the Westworld in Scottsdale event center.  Metal rock legend Rob Zombie is a talented musician, film director, screenwriter, and film producer who is a master at combining music and horror shock entertainment made for the masses.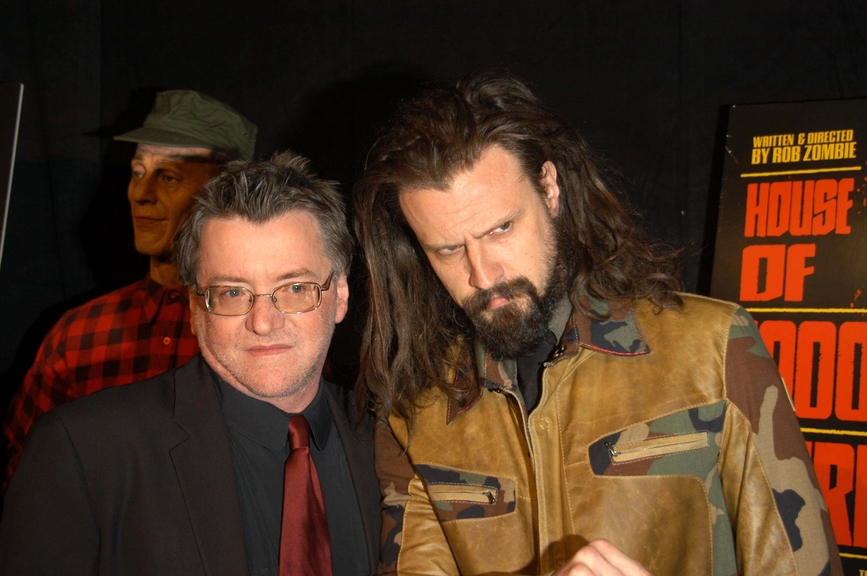 Last year's successful Great American Nightmare played in Los Angeles.  This year Rob brings the show to Scottsdale where more than 30,000 people are expected to attend the events across 20 dates.  Featured this year are three haunted houses named The Lord of Salem in Total Black Out, Captain Spaulding's Clown School in 3D, and The Devil's Rejects.  All three are based on films and movie characters from Rob Zombie's career.  His stated goal "is to make it sicker than last year".  You just have to love a guy that really gets into his work.  He brings a sick, disturbing, bloody, three-dimensional horror that includes a sick demented laughter to his projects.
Rob Zombie's Great American Nightmare is located at Westworld, 16601 North Pima Road, Scottsdale, Arizona.  Doors are open 7:00 PM – 12:00 AM on Friday and Saturday nights.  Thursday and Sunday hours are 7:00 PM – 10:00 PM.  Tickets are $25 at the gate.  Save money and get your discounted tickets online.  Opening night September 19, 2014 tickets go for $45 online and includes admission to all three haunted houses, the Bloody Boulevard midway, and Rob Zombie's tour concert.  Parking is controlled by Westworld and is $5.  Active military personnel have special prices at the box office.
Great American Nightmare dates:
September 19, 20, 26, 27
October 3, 4, 10, 11, 12, 16, 17, 18, 19, 23, 24, 25, 26, 30, 31
November 1
Three Haunted Houses For One Low Price:
The haunts are a little different than Los Angeles.  Expectations are for more shock, more sick humor, and a bigger badass event.   Try to avoid falling victim to the most hilarious and harrowing horror experience in the country.  Lord of Salem plays on your fear of darkness and claustrophobia.  Just try to traverse the sixty-degree maze.  At Captain Spaulding's Clown School you are immersed in pure hallucinogen terror.  The Devil's Rejects storyline is about a family of killers on a killing spree as they run from the law.  You are part of the police troopers chasing them.  The popular midway Bloody Boulevard includes music, games, themed foods, creepy situations, roaming characters, and freak shows.  Rob Zombie haunt accepts cash and credit cards.
Westworld event center:
The city of Scottsdale owns Westworld.  City council approved the plans for the Great American Nightmare in part because of the 150 new jobs the show brings to the area.  Westworld is a huge complex of buildings and parking.  The main attraction's permanent tent has 120,000 square feet of convention space.  The tent is an air conditioned climate controlled facility.  The haunted houses are now being constructed inside the tent.  The city expects to collect $82,000 in facility rent plus fees for souvenirs, food, and vendor sales.  They expect to sell 1000 nights of hotel rooms.  Westworld also is home to the area's premier horse training and show facility.  The famous Barrett-Jackson auto auction is held annually at Westworld.
More About Rob Zombie:
In case you have been living on another planet, Rob Zombie is a metal rock music iconic figure.  He founded the band White Zombie back in the middle 1980's.  His bands top record hit was Thunder Kiss 65 in 1993 shortly before he went solo.  As a 5 time Grammy Award winner his top albums are Hellbilly Deluxe, Sinister Urge, Past-Present-Future, Educated Horses, Hellbilly 2, and Venomous Rat Regeneration Vendor.

Today he is a very active entertainer on stage.  He constantly tours and in fact this September he will play in 13 cities including his Great American Nightmare concert.
The other concert locations are:
Roseland Theater – Portland, Oklahoma on September 8th.
Cuthbert Amphitheatre – Eugene, Oregon on September 9th.
Greyhound Park – Post Falls, Idaho on September 11th.
White River Amphitheatre – Auburn, Washington on September 12th.
Lithin Motors Amphitheatre – Central Point, Oregon on September 13th.
Discovery Park – Sacramento, California on September 14th.
City National Arena – San Jose, California on September 16th.
Vina Robles Amphitheatre – Pasa Robles, California on September 17th.
Westworld – Scottsdale, Arizona on September 19th.
Lonestar Amphitheatre – Lubbock, Texas on September 21st.
Brady Theatre – Tulsa, Oklahoma on September 23rd.
Mid-American Rec Center – Counsel Bluffs, Iowa on September 24th.
First Merit Bank Event Center – Saginaw, Michigan on September 27th.
Rob Zombie's Movie Career
Since 2000 Rob Zombie has been making movies.  He has produced, directed, and written some of this generation's best horror movies.  He has developed a cult following with movies such as House of 1000 Corpses (2003), The Devil's Rejects (2005), Halloween (2007), Werewolf Women of he SS (2007), Halloween 2 (2009), The Haunted World of El Superbeasto (2009), and The Lord of Salem (2013).  In his spare time he has written music scores on a number of main stream Hollywood movies, done voices for animated movies, written several comic series, and dozens of original songs.
Most of what Rob Zombie does is not aimed at children.  Great American Nightmare is not recommended for children under age 13.
Inside the Magic reviewed last year's Rob Zombie Great American Nightmare.  Ricky Brigante from Inside the Magic usually reviews Disney and other theme parks.  On October 23rd he wrote a review about his visit.  I found the review to be both entertaining and informative.  It feature over 30 pictures on his experience at GAM.  I highly recommend reading his review titled "Inside Rob Zombie's Great American Nightmare – a rude, offensive yet often silly Halloween haunt that's not entirely all there.".
Arizona is a hotbed for really scary haunted houses.  Phoenix in particular has some of the best beginning with 13th Floor Haunted House.  This was named by Funtober as the #1 Haunted House in Arizona last year.  Fear Farm, Chambers of Fear, and America's Original Scream Park should easily hold their own against the Great American Nightmare.  Even so Rob Zombie had more than 58,000 likes on his GAM Facebook page.  He has 4.7 million likes on his personal Facebook page.  Clearly whatever he is doing with the Great American Nightmare is working.  Do not miss this event if your in the area.
Thanks for reading our Fall Things To Do As We Countdown To Halloween Day 144 blog post.