Dominion of Terror Celebrates 40 Years of Scary Fun in Sheboygan Wisconsin
Dominion of Terror has been recognized as one of the best haunted houses in Wisconsin year after year.  Now celebrating their haunts 40th anniversary, the Sheboygan Jaycees return October 3rd – October 31st with Dominion of Terror.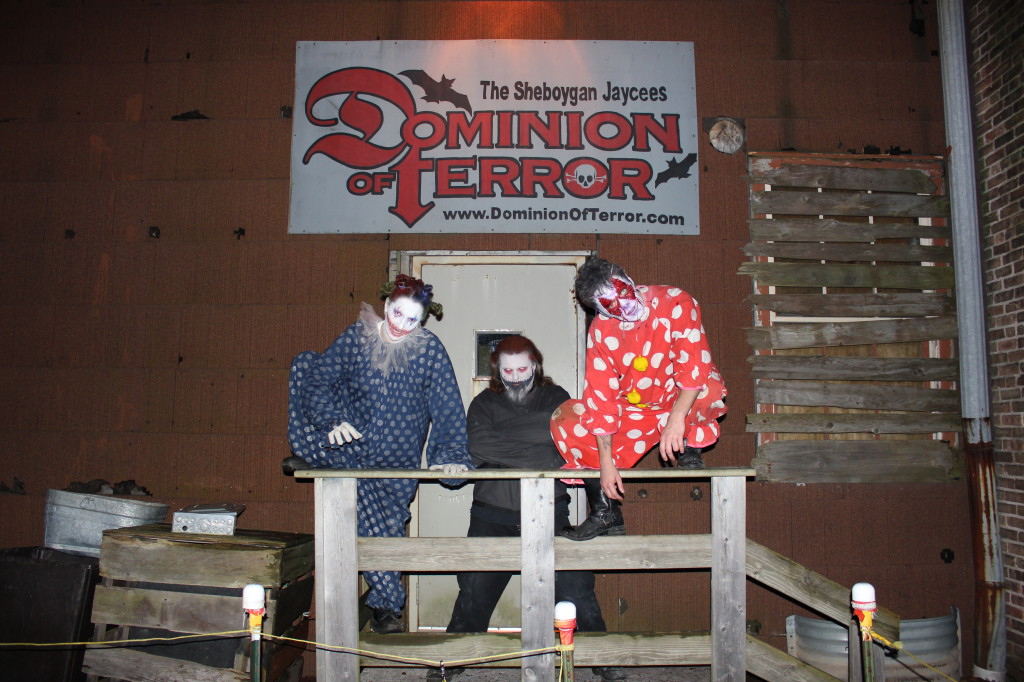 Dominion of Terror features 20 plus all new rooms as a maze of blood chilling horror.  Nothing is repeated from last year so each visitor gets a brand new horror experience.  This keeps people coming back year after year as they never know what to expect.  Tickets are only $14.  They do a "throwback weekend" on October 11-12 where tickets are only $10.  Dominion of Terror is located at 2024 N. 15th St., Sheboygan, Wisconsin 53081.
Sheboygan is located along Lake Michigan about an hour drive halfway between Milwaukee and Green Bay.  The city has a population over 50,000 and is known as "the spirit on the lake".  They are also the Bratwurst Capital of the World.  The Jaycees also host the annual Johnsonville Brat Day Festival.  They also bring fear to the city every October with Dominion of Terror.  Do not miss the blood, gore, and monsters at their haunted attraction.
Dominion of Terror Dates For 2014:
October 3, 4, 10, 11, 17, 18, 23, 24, 25, 30, 31
Hours:  7 pm – 10 pm
Special Kids Matinee Performance
On Saturday October 25th, they have a special kids-family matinee performance from 2 pm – 4 pm.  This is a lights on non scary event featuring a Trick or Treat show for $3 or combined Munch with Monsters event for $5.  All 20 plus rooms will be open with candy for trick or treats.  Munch with Monsters is a great photo opportunity complete with the gigantic blow up pumpkin, a fun craft area, games, and special eats.  Maybe even Frankenberry, a friendly monster who loves hugs, will stop by.
Q: How have the Jaycees kept this haunt going for 40 years?
"I must say the reason the Jaycees have maintained the house for 40 years is chalked up to several factors. We have a loyal crew of Jaycees that keep this project close to their heart and pass on this love to newer Jaycees to keep the passion going. Our dedicated volunteers who come back year after year, bringing their family and friends to enjoy with them the joys of scaring people. We have an amazing community that realizes how much this project actually gives back to the people who live in our community. Fresh ideas every year and a complete tear down of each house keeps our patrons coming back because you never know what we'll come up with. We are always evolving and growing as a haunt."  Thanks for the answer by Jenna Van Der Sande & Nina Pfeifer, 2014 Dominion of Terror Chairmen.
Sheboygan Jaycees:
I just wanted to give a shout out to all the Jaycees and volunteers who work so hard to make the Dominion of Terror such a great haunted house.  The local chapter Chairman of the Board is Brian Gensch.  Sarah Schwefel is President, Nina Pfeifer is Treasurer, and Mari Rose is Secretary.  Nina Pfeifer and VP Jenna Van Der Sande are Co-Chairs of Dominion of Terror.
The Jaycees use the proceeds from Dominion of Terror to help fund several local organizations including: Volunteer Fire Department, Sheboygan County Humane Society, Police Department K9 unit, The Salvation Army, and more.  They also work with a group of great sponsor such as RCS, Bethesda, Bourbon Street, City of Sheboygan, Dominos, and more.  They also support the community with projects such as bowling for Big Brothers Big Sisters, Street Clean-Up, Relay For Life, Punt-Pass-Kick, and more.  Check out this video which highlights last years Dominion of Terror haunted house.
Thank you for reading our Fall Things To Do As We Countdown To Halloween Day 143 blog article.  We have Dominion of Terror and more haunted houses at Haunted Houses in Wisconsin, Green Bay Haunted Houses, and Jaycees Haunted Attractions Across America.