Haunted House Reviews and Updates on Freaky Friday
It's freaky Friday on our list of fall things to do.  We begin with a look back at Lego and their Monster Fighters Haunted House that they offer online and in stores for $179.99.  (I am not an affiliate and do not offer this here for sale.)  It is just a cool collectible.  See the video and watch as they build this 2000 piece haunted house.

The Lego set includes 6 mini-figures which include the vampire, vampire's bride, zombie chef, zombie butler, and two glow in the dark ghosts.  The house is open in the back to complete the interior design.  Consider lighting this attraction.  If interested you can find more Lego reviews and information at The Brick Fan.  We also did a preview article here at Funtober titled Lego Haunted House Coming in September.
National Haunted House Day
We support asking the White House to declare the second Friday in October as National Haunted House Day.  With the growing popularity of haunt entertainment we hope you will join the cause.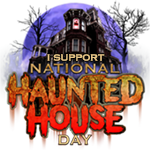 Wonderful Websites That Have Informative Haunted House Reviews
If you are looking for some haunted house reviews we recommend the following websites.  Also find these links on our Funtober Favorite Websites page.
Funtober Haunted Houses
Kitsuneverse Haunt Reviews 
InSanity Lurks Inside (Haunted House Reviews)
Haunt Jaunts
Oklahoma Haunted House Reviews
Hollywood Gothique
The Raven & Black Cat
Sorry, I did not realize I was following so many review sites.  I will list some more really good review sites I follow in the next couple of days.
What Does A Beer Cost Where You Live?
I came across a Venere Travel Blog which has a short article titled Compare Beer Prices Around The World by Mike Carson.  What do you pay for your favorite brew?  At my Fox and Hound (in Philadelphia) their Tuesday night Coors Light special is $2.  Applebees runs between $3 and $5 depending on the glass size.  Of course these are not the fancy craft beers.
Carson's Around the World Prices (half-litre glass) converted to dollars.  Of course these are average basic prices and not the trendy New York or London prices found at west end bars.
Munich $3.16
London $5.22
New York City $6.00
Rome $5.80
Prague $1.38
Do You Believe April 4, 2014 is "Zero G Day"?
According to recent rumors Zero G Day is when the planets are aligned changing the earth's gravity so that certain human beings will be able to float.  When this happens we get the noises and ghost effects that may account for all the paranormal activity around the world.  Want to know more then read Phil Plait's article he wrote for Slate's Bad Astronomy blog.
Hollywood Film Festival
Jon Fitzgerald and his company CineCause acquired the Hollywood Film Festival from founder Carlos de Abreu.  The festival will take place at ArcLight Hollywood on October 16-19, 2014.  The festival promotes the local film industry and grew to 7500 visitors last year.