I ran around town to do a few errands this morning and it was obvious that it is October and Halloween is quickly approaching.
The first stop was CVS – where there was an entire aisle of Halloween candy. My local pet store, Doggie Style, was ready for Halloween as well. They had dog costumes in the front and back of the store. And there were so many gourmet Halloween dog treats that I was in shock.
A quick lunch at Chipotle brought a flyer for Boorito. If you wear a Halloween costume at Chipotle on October 31st from 4 PM until close, you get a $2 burrito (or other item). Up to $1 million in proceeds from the event will benefit the Chipotle Cultivate foundation. While you are there, take a photo of yourself in costume and submit it to the Chiptle costume contest. The grand prize winner gets $2500. My camera phone photo of the flyer turned out blurry, so you'll just have to visit the Chipotle link for details.
Then I walked around to check out the Midtown Village Fall Festival in Philadelphia today. The roads were closed down and they were just finishing setting up as I walked through it. Should be lots of people there this afternoon with a beautiful fall day. I know that everyone reading this won't live in Philadelphia, so don't forget to check out our list of October festivals near you for other options.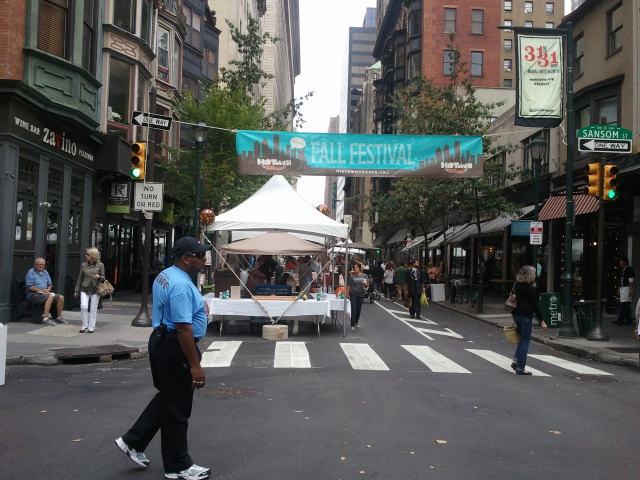 And, if you like to make crafts and decorate your home for Halloween, you should know that bloggers across the internet are producing alot of Halloween crafts. I have seen a number of different tutorials for decorating pumpkins cross the front page of Craftgawker in the past week. Even as I draft this post, I've got a Food Network pumpkin carving competition on the television. Although I bought myself a pumpkin last weekend, I haven't had time to carve it yet.
Let's see what else has been happening while I have been juggling my day job, Funtober and sleep.
On Monday, the fountain at Love Park was pink to kick off Breast Cancer Awareness Month. I also noticed pink on the accessories of football players on Monday Night Football. There are a few more October charities worth supporting as well. Next year, I'll be adding charities related to bird migration. The Fatal Light Awareness Program is definitely worth mentioning.
The Presidential debate on Wednesday generated a lot of election news coverage. It was the first Presidential debate that I have watched in years. After about twenty minutes, I had to move on to other things. I had reached my tolerance limit for listening to two politicians.
Fall leaves made Google's hot searches last week. The Weather Channel is once again keeping track of peak fall foliage in your area with its maps. If you are in New England this Columbus Day weekend looking for colorful leaves, be sure to check out the reports on Yankee Foliage and Jeff Foliage as well.
I've also been enjoying fall television all week long. From NBC's Revolution and ABC's Last Resort, my favorite new shows so far this Fall, to my returning favorite Person of Interest, I've been trying to keep up with them despite my busy schedule. I'm also looking forward to catching up on The Walking Dead before its Season 3 premiere next Sunday.
The MLB Playoffs started last night. I'm ashamed to say that I haven't mentioned Miguel Cabrera's Triple Crown here yet. Cabrera led the American League with his batting average, home runs and RBIs this year. The last time that a player has achieved the Triple Crown was 1967 by Carl Yastrzemski. It's quite an accomplishment. In other baseball news, the infield fly rule call during last night's game between the Atlanta Braves and the St. Louis Cardinals resulted in a stoppage of play as fans littered the field with debris in protest.
Only in October!