Can you believe Labor Day is only a month away? After a few weeks of hot and humid weather here in the Philadelphia area, milder temperatures have moved in to remind us all that fall is right around the corner.
With the cooler temperatures, it is once again possible to enjoy an extended afternoon outside. So we started working on the perfect burger here at Funtober. If all goes well, we will have found the right recipe for a delicious hamburger just in time for a Labor Day picnic. So if you are planning an outdoor bash, you should stay tuned.
When we were growing up, we had a huge backyard and frequently grilled hamburgers and hot dogs. Since I've lived in the city for the past few years, I haven't really had access to a grill to enjoy outdoor cooking. But my parents now have access to a grill in the courtyard of their building so we took advantage of it this weekend.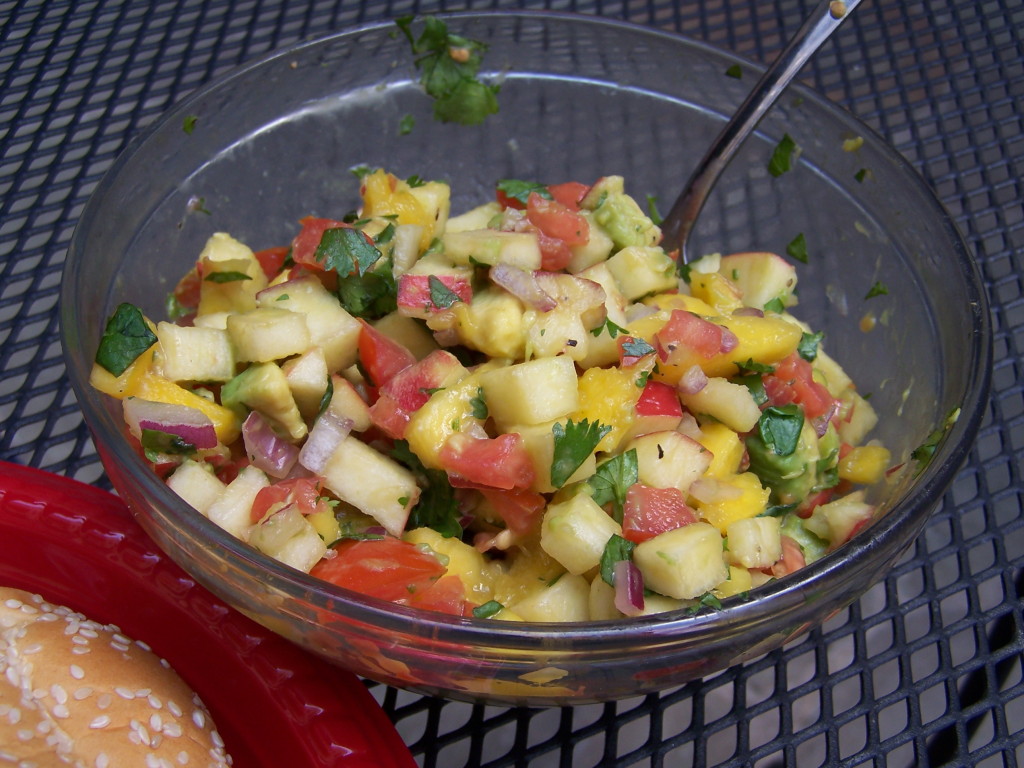 The first effort on this quest for the perfect burger was a mango apple avocado salsa. It was super easy to make and definitely a change of pace from the traditional lettuce, tomato, onion, pickles and ketchup to top a hamburger. It even worked as a chip dip, with the only problem that it was a little bit heavy for our chips so when we went to dip them, they frequently broke in half. Pro tip: use a spoon to dispense onto your chips instead of dipping.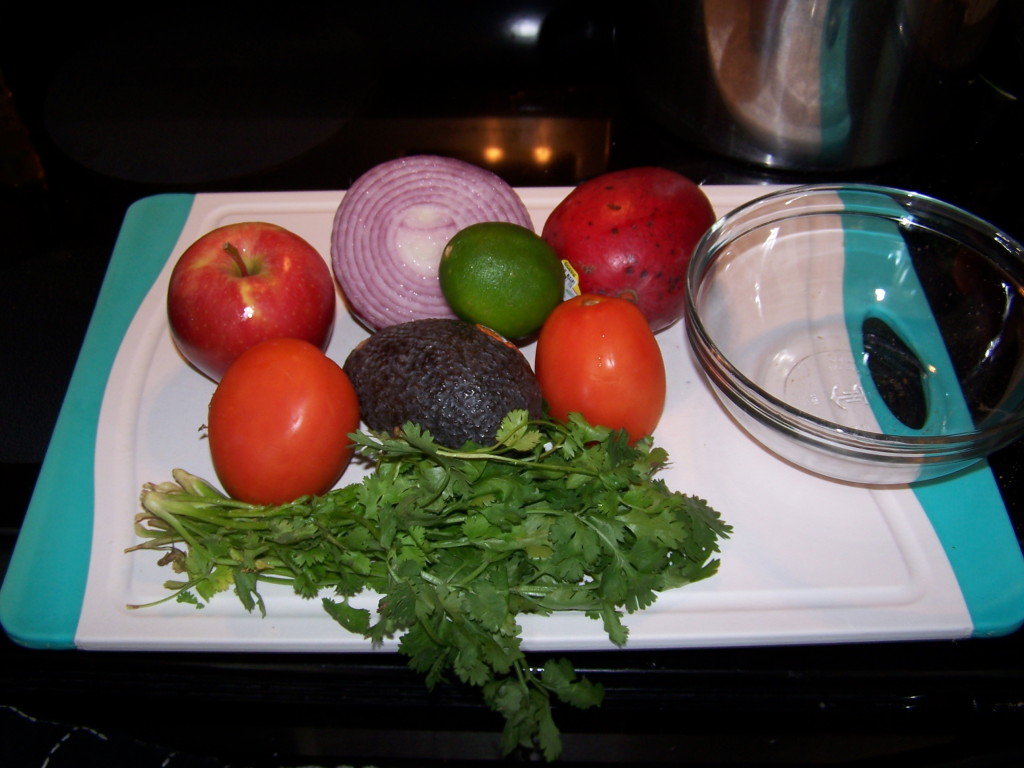 We started with a gala apple, an avocado, mango, red onion, 2 roma tomatoes, cilantro and a lime for the salsa. We borrowed liberally from this recipe for apple and avocado salsa from Family Spice, leaving out the jalapeno pepper and adding mango instead.
I put my sous chef (thanks mom!) in charge of dicing the ingredients for the salsa while I took a few photographs and then started on the burgers. We were on a bit of a time crunch as we only had the grill reserved for three hours and we burned the first hour on the shopping trip for the ingredients. Fortunately, everything came together pretty quickly and we were hauling things downstairs in no time.
The lime is the only thing that doesn't need to be chopped. Squeeze the lime juice onto the combined ingredients.
For the hamburgers, I made bleu cheese burgers. I had high hope for the burgers when I poured the crumbled bleu cheese, parsley, worcestire sauce and onion powder into a bowl with the ground beef, but I was reprimanded by my sous chef for doing it ALL WRONG. Apparently, I was supposed to create a small patty, put the bleu cheese on top of it, and then add another small patty on top to create a pocket of bleu cheese in the center. That was how it was done on the recipe for bleu cheese burgers on Pinch My Salt that I was using as a guide, but I obviously ignored some of the finer points (including the cream cheese).
Perhaps that is why we never got the gooey, dripping cheese that you would expect from a bleu cheese burger. I prefer to think that it was because I only put 3 oz. in with the 2 lbs. of meat and there was simpy not enough bleu cheese. Regardless, the burgers were pretty good and definitely a notch above a regular hamburger. On the positive side, the fact that there wasn't an overwhelming amount of cheese meant that the salsa was able to stand as the heart of the dish. It also leaves room for improvement on the next iteration.
We formed the burgers into 1/3 pound patties to try to match the size of the hearty seeded buns that we purchased, and then ran downstairs to the courtyard to throw them on the grill. We cooked them on a gas grill set to medium. They were on the grill approximately 15 minutes, with a turn in the middle of course to make sure they were evenly cooked.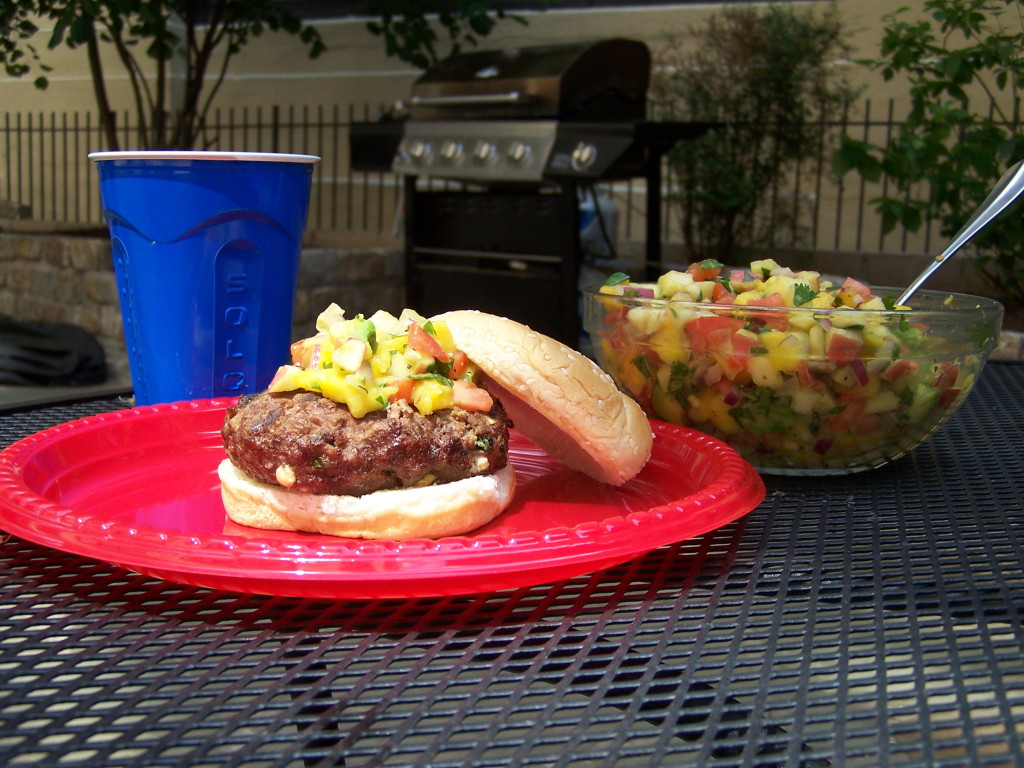 We invited a friend, grabbed a beer and enjoyed a nice Sunday afternoon outdoors. Well worth replicating over Labor Day weekend.
[yumprint-recipe id='1′]